Photographer Chancey Bush has been with The Gazette since 2019. To get to know Bush away from the camera, I asked her a few simple questions.
Question: What's the best part of your job? The worst?
Answer: The best part is the people I get to meet. I'm invited into someone else's life. I am there to capture intimate moments and tell their stories. I get to experience places, people and events that I would not have the opportunity to do without this profession. It is special and I am thankful to be able to witness and capture the human experience. The worst part of my job is documenting tragedies.
Q: What has been one of your strangest or funniest moments while on the job?
A: The strangest moment was at the start of the pandemic. I was working on a portrait series to document people at their homes during lockdown. It was bizarre to photograph people through their windows, having no contact with them except through a cellphone.
Q: What's the most memorable story you've worked on?
A: Getting the opportunity to fly with pilot Bill Klaers and his son in a B-25 bomber alongside a Douglas SBD-4 Dauntless, a U.S. dive bomber of World War II, during a flyover at the Air Force Academy. It was a wild experience having to crawl though passages in the plane to capture photos in the nose and tail.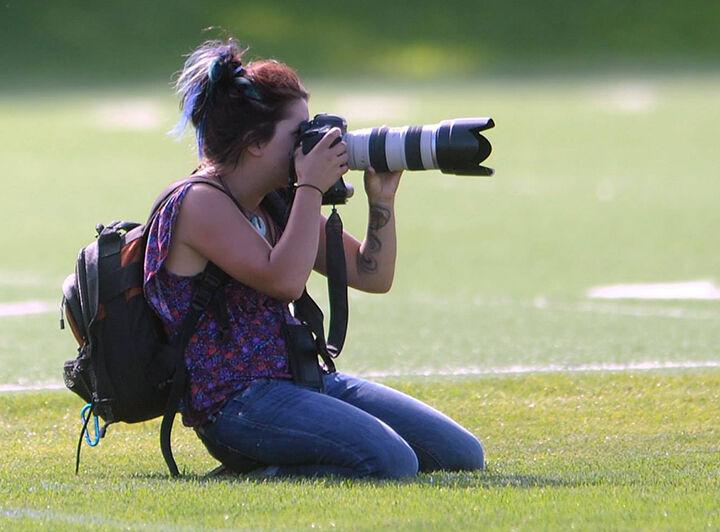 Q: Chancey is a unique name. Are you named after someone?
A: The story goes, my father was set on the name Chance for a boy. It was his turn to choose my name because my mother chose my older sister's name. When my parents found out I was a girl, my father was still set on the name Chance. My mother added the letter "y" to the end of my name.
Q: What is a passion you have that people might find surprising?
A: Hula hooping is a passion of mine that many people may find surprising. Hoop dancing is challenging, great exercise, exciting and rewarding. I also love gnomes and my ultimate passion besides photojournalism is traveling.
Q: Tell me about a time you were completely starstruck.
A: In 2015, I was accepted into the Eddie Adams Workshop in upstate New York. Each year only 100 photographers are chosen worldwide to attend the workshop started by photojournalist Eddie Adams in 1988. The four-day workshop included the world's top photojournalists sharing their experiences. I had a front-row seat to listen to and meet one of the greatest war photographers of all time, James Nachtwey. He was humble, quiet, and I will never forget that moment.
Q: When did you know you wanted to be a photographer?
A: It was not until my second year of college when I transferred from the University of Northern Colorado to Metropolitan State University in Denver and took my first photojournalism class. After the first day of class, I cried. I knew this is what I was meant to do. Unfortunately, I had to drop the class because I showed up with my mother's old 35mm Pentax film camera and the class required a DSLR camera to continue.
I eventually purchased a camera, re-signed up for the class the next semester and joined the college newspaper. I took a chance and discovered making photos came naturally to me. I could not imagine doing anything else in my life. It is more than a career and passion; it is who I am.