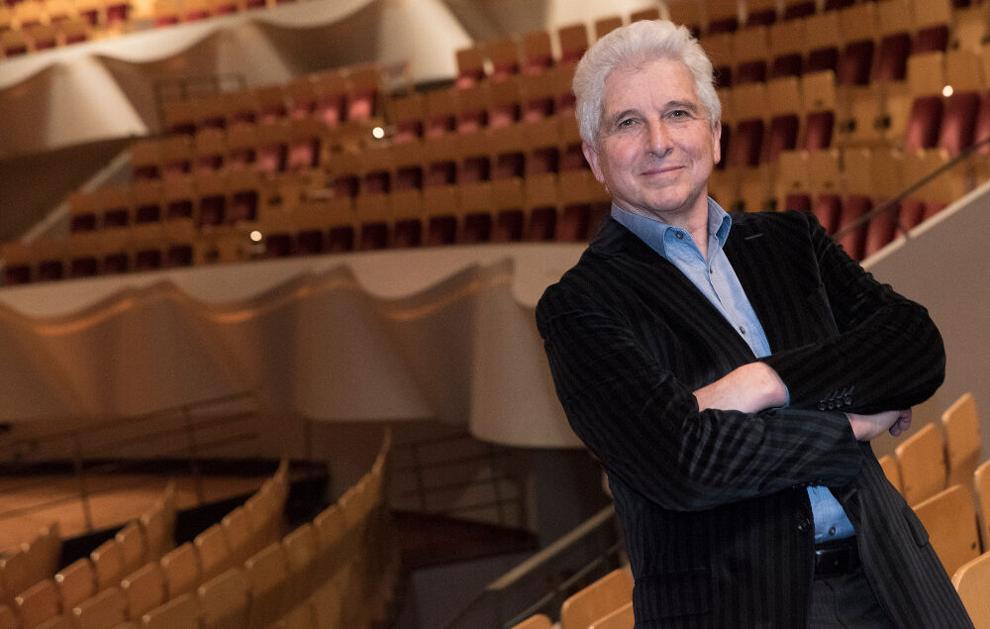 Peter Oundjian, the newly named Principal Conductor for the Colorado Symphony, loves to talk sports. You name it: Soccer, tennis, cricket, rugby – he played them all as a kid born in Toronto and raised in Surrey, England. His large household was made up of an ensemble of music lovers and sports fanatics.
His brother, Haig Bertrand Oundjian, was a three-time British national champion figure skater and two-time Olympian who trained at the Broadmoor in Colorado Springs. His nephew, Ben Smith, won a Stanley Cup with the Chicago Blackhawks in 2013 and even played for the Colorado Avalanche for all of four games in 2016. 
Alas, poor Peter's "best" sports story is also a horrific one. It happened in 2004, when he broke his collarbone diving to catch a baseball while playing with his son at their home in Connecticut. Two days and a hospitalization later, he was on a flight to Denver to conduct Stravinsky's opus "The Rite of Spring" with his immobilized right arm in a sling. "I did everything using my left hand," Oundjian said. "But they played it fantastically." 
In sports and, apparently, the symphony, they play through the pain. And Oundjian thinks there are lessons from sports that should inform the new direction of the Colorado Symphony.
Sports are inclusive, uniting a city's fans across every demographic. Kids grow up playing and watching, so their knowledge of the games and their affection for their hometown teams lives in their bones and grows along with them. Classical music doesn't have that – or the thrill of not knowing the final score, for that matter.
But the biggest advantage sports have, Oundjian said, is that they make their fans feel like part of the team.
"There was a long period of time in classical music when we didn't feel any responsibility to make people feel welcome," he said. "That sense of inclusiveness was always missing. We thought that just because our music is so magnificent that people should just want to come. And indeed, they did – until about 50 years ago."
That's when rock music started to take over the world: Classic bands like the Beatles and the Rolling Stones and Pink Floyd that Oundjian still rocks out to today. 
"Rock music is immersive and exciting, and when an electric guitarist like David Gilmour (of Pink Floyd) plays a riff, it just goes right through you," said Oundjian, 66. "When I was young, I couldn't stand going to orchestra concerts because I thought all the musicians looked unbelievably bored. You can't just walk on stage, turn your back to the audience, conduct for two hours and then go home. Not anymore. We have to invite people into our world and speak to them and let them know a little bit about who we are and what this music means to us." 
This, he says happily, is beginning to change. "There is a much greater commitment these days to performance and visual energy from orchestras all over the world," he said.
That's what Oundjian focused on during his 14-year tenure as the Music Director of the Toronto Symphony Orchestra, "and we expanded our audiences immensely – and quickly," he said.
Oundjian brings five decades of experience and a definite agenda to his new role with the Colorado Symphony, which publicly begins with performances of Gustav Holst's "the Planets" on March 25-27. That platform includes:
• Getting new people both into the seats and behind the conductor's podium.
• Presenting more concerts written by living people.
• Essential renovations to Boettcher Concert Hall. 
• Raising musician salaries.
Distilled, Oundjian says: "Stop making it boring."
Oundjian grew up listening to all kinds of music, but he pretty much knew his life's direction when he was 11. Young Peter sang in his school choir – and it was a good one. So good that composer and conductor Benjamin Britten included them on his seminal 1966 Decca piano recordings called "Songs from Friday Afternoons," which makes up much of Wes Anderson's 2012 "Moonrise Kingdom" soundtrack. "At that point, Britten was the most famous musician in all of England," Oundjian said. "The Beatles were just the naughty boys with the very long hair."
From that moment, he said, "I knew what I wanted to be because I realized that, in the hands of a great musician, extraordinary things take place."
Although Oundjian briefly played in a high-school rock band, "I knew early on that my ambition was to be a classical violinist," he said. "As a performer, I was never destined to do anything else."
As a teenager, Oundjian played concertos, recitals and chamber music throughout England. He attended the Royal College of Music in London, where at age 19 he was presented the Tagore Gold Medal by none other than Queen Elizabeth. There, and purely by chance, he met the great violinist Pinchas Zukerman, who persuaded Oundjian's father to send Peter to New York. There he attended The Juilliard School, "and I have never gone back to England since," he said.
A change in direction
Oundjian became the longest-serving first violinist in the history of the Tokyo String Quartet, at 14 years. His transition from professional violinist to conductor happened much the way an athlete turns to coaching: An injury. His was called focal dystonia. By age 39, he had already played in more than 2,000 concerts around the world, "and I got to the point where my left fingers decided they didn't want to cooperate anymore," he said. Oundjian had worn out his finger muscles from overuse, forcing him to play in intense pain. "It became clear to me that my career as a violinist was coming to an end, and I had better stop playing before everybody realized that. That's when I became a conductor."   
Oundjian started spending 10 hours a day studying scores, techniques and interviewing contemporaries such as composer and conductor André Previn. "He is a good friend and was extremely helpful to me both in teaching me and also giving me opportunities," he said. "From there, my career developed pretty quickly, and, I have to say, very fortunately."
And, in the hands of a great musician, extraordinary things took place. 
In 2004, he became music director of the Toronto Symphony and, in 2012, of the Royal Scottish National Orchestra. If you want to know everywhere he has conducted, just pull out a globe and start spinning: Berlin. Finland. Glasgow. Israel. China. London. Amsterdam. Prague. St. Louis. Dallas. San Francisco. Detroit. Los Angeles. Thirty-two years at the Yale School of Music in his primary home in Connecticut. Keep spinning.
In 2019, Oundjian was named Music Director of the Colorado Music Festival in Boulder, where he and his wife of 32 years, Nadine, share a 100-year-old bungalow. Their daughter is an avant-garde dancer in Montreal and their son is a guitarist in Toronto.
Oundjian is a familiar face to Colorado Symphony fans going back 20 years. Kyle MacMillan wrote for The Denver Post that hiring Oundjian as the orchestra's Principal Guest Conductor from 2003-06 "was one of the smartest – and most prescient – moves the Colorado Symphony has made in years." He's been back often since.
A new model
That history is largely why Oundjian accepted the Colorado Symphony's offer to become its first Principal Conductor, shaking up an organizational model that previously would have called him "Music Director."  
"I wanted this job because I have always really cared about this orchestra," he said. "I'm like a cousin who lives quite far away but really enjoys visiting the family. So when the orchestra approached me about this new structure, It just seemed to be an ideal fit."
That new structure grew out of pandemic brainstorming sessions imagining what a 21st century orchestra should look like in a city like Denver. Typically, a symphony season consists of 18 weeks of concerts, with the Music Director conducting the vast majority of the classics. Oundjian plans to take the podium for only six weekends, allowing for a greater diversity of guest conductors. Christopher Dragon, the symphony's charismatic Aussie Resident Conductor since 2015, will conduct at least two weekends per year through at least 2024. But with Oundjian handling less of the overall load, he said, "we have a real opportunity to bring in eclectic people from all over the place, and of all generations."
Anthony Pierce, the symphony's Chief Artistic Officer says the appointment of Oundjian "is a transformational moment for our orchestra and our organization."
But he faces two obvious and ongoing challenges: The Symphony's seemingly constant existential crisis since it was established in 1989 as the successor to the Denver Symphony Orchestra – and the future of its home for more than 40 years, the city-owned Boettcher Concert Hall.
"This is an excellent orchestra, but it hasn't quite had the luck of some orchestras in terms of funding and backing and salaries," Oundjian said – "and those salaries are still really low, especially for a city like Denver."
But, he says, "I think the Colorado Symphony is probably healthier financially right now than it has been at most times in its history. The endowment is in a much better place than it was before the pandemic, and I look forward to raising awareness among corporations and foundations and individuals about the importance of having a great orchestra in a city like Denver."
Then there is the poor, beleaguered Boettcher, which back in the 1970s became the first concert hall in America to be built in the round – at a capacity of 2,600, which most experts now say was at least 800 too many. Over the years, the fate of the Boettcher has had more crescendos and falls than Beethoven's Symphony No. 5. In 2014, the city proposed tearing it down and replacing it with an outdoor amphitheater. The symphony countered with a $40 million plan to instead renovate the existing hall. In 2016, the city announced a plan to completely remake the Denver Performing Arts Complex, replacing the Boettcher with a smaller, 1,200-seat venue. None of that happened, of course. But in 2019, the landlord and tenant entered into an agreement committing $16 million in city bond money to help the symphony build a new hall "anywhere within the Denver city limits."
Oundjian doesn't think building a new hall has even a chance of happening in his lifetime. He'd rather use that bond money to make pragmatic improvements to the Boettcher that would deliver a better and more immediate acoustical experience for more people.
"Yes, the Boettcher needs help," he said. "But personally, I think it would be irresponsible to simply smash down that massive building and start over. It's obviously too big, but If you sit in the best seats acoustically, the sound is incredibly beautiful. That, you cannot buy or guarantee in any hall."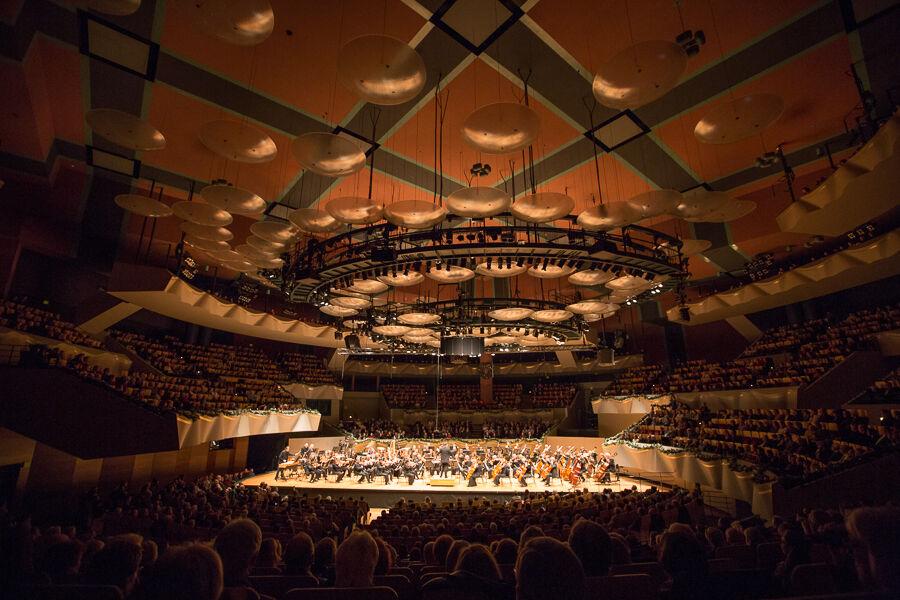 Oundjian would love to experiment with "significant but inexpensive changes" that would shrink the current capacity of the hall, such as building a temporary shell on the back side of the stage that would reflect the sound back to the audience.
"There's almost no other concert hall that you could name anywhere that doesn't have a shell," Oundjian said. "Boettcher needs that."
Oundjian is at a point in his life where he really doesn't need the new challenge that lies before him. "But we have a love affair with Colorado," he said of his family. And with his ongoing commitment to the Colorado Music Festival (this summer, he has John Adams coming to Chautauqua Park), he said, this really is a perfect fit.
"Denver is not my home city," he said. "But whenever it is that I stop doing this, I really hope I will have contributed to the stability and the ongoing artistic and financial success of this orchestra so that Denver can be confident they will have both a solid orchestra, and an ever-improving orchestra, for the rest of time."