Go ahead and deport Alejandro Fuentes-Mena. But if you do, you will be deporting the Dean of Culture and Climate at Compass Academy, a singer in the Denver band Pink Hawks and the founder of a K-8 arts charter school opening in Denver next year.
Go ahead and deport Tania Chairez. But if you do, you will be deporting a teacher, the founder of a nonprofit that promotes student leadership programs and one of Time Magazine's 2012 "Inspiring Latinas Under 25."
Go ahead and deport Cristian Solano-Córdova. But if you do, you will be deporting a recent student-body president at Metropolitan State University of Denver.
These three undocumented immigrants have lived in the U.S. for all but a few unremembered years of their lives. But their continuing place here is threatened by the imperiled status of DACA: Deferred Action for Childhood Arrivals, a compromise and compromised U.S. immigration policy that turns 10 years old on Wednesday.
Go ahead and deport them all. But Fuentes-Mena speaks for all three when he says: "This country would be foolish to lose me."
When DACA was signed into law by President Obama on June 15, 2012, it gave some children brought to the U.S. from other countries temporary protection from deportation, and made them eligible for college and jobs. It did not provide permanent legal status to anyone, and it requires all applicants to re-register their tracking information every two years at a steep cost of $500.
Last July, a U.S. District judge in Texas issued a permanent injunction calling for a complete termination of the DACA program – an order that is now being appealed by President Biden. That leaves everyone currently enrolled in limbo, and anyone who would have since become eligible for the program's protections ... well, unprotected.
Deportation is more than a question of decency, says Fuentes-Mena. It is also one of math and economics. And he dives fully into that question as a participant in Motus Theater's "UndocuAmerica Monologues," an ongoing storytelling project that recently put 14 local undocumented community leaders though a 17-week writing workshop that turned their personal narratives into performance monologues. The idea was to humanize one of the most demonizing issues of our time.
"If this country continues to deport the undocumented community, it is missing out on courageous, strong, intelligent, family-loving, hard-working people of great value." – Alejandro Fuentes-Mena 
In his story, Fuentes-Mena tells how, at age 8, he joined his father at his business rebuilding the outsides of other people's houses – even though they had no home of their own. And to the future math teacher, the math just didn't add up. Contractors who wanted a $20,000 job would see his father's undocumented vulnerability and offer half. Take it or leave it.
Eventually, Alejandro said, "That is who my father came to believe he was: Half the man I thought he was. Half the value of any other human being."
Alejandro watched his mother leave for a three-day babysitting job that promised $300 and come home with $100. "She saw that as a blessing," he said. "I saw that as an attack on my family."
Amplifying the stories of those who historically live in the shadows, from immigrants to the incarcerated, has been Kirsten Wilson's calling since she started her insistently political Motus Theater in Boulder just as DACA was signed into law 10 years ago. Since 2012, an estimated 300,000 have heard them.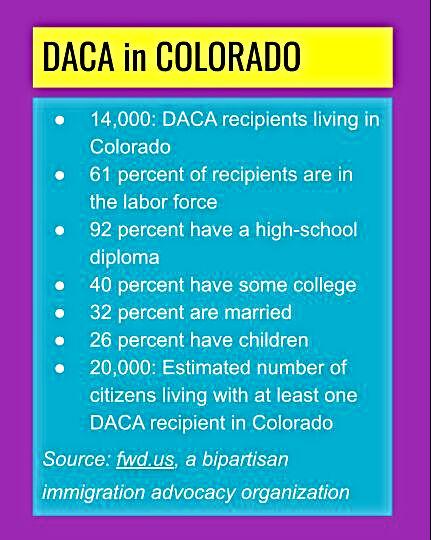 "These stories are medicine," she says. Medicine for those sharing them, and for anyone who is scared of the undocumented. People who are scared of undocumented people, she firmly believes, are people who don't know any undocumented people. Or don't realize they do.
Of the nation's 636,000 DACA recipients, about 14,000 are living in Colorado, according to the bipartisan political organization fwd.us. An estimated 20,000 U.S. citizens in Colorado live with at least one DACA family member. Wilson's goal is to bridge the remaining gap.
"The closest distance between two people is a story," Wilson said. And an enemy, she added, "is someone whose story you have not yet heard."
"Our former president and his followers might try to caricature my little 3-year-old self as a diseased toddler criminal rapist gang member in the making. But I'm not part of some invading army fighting against America. Like many of you, I'm fighting for the American ideals I think we can live up to." – Cristian Solano-Córdova
Solano-Córdova was born in Chihuahua, Mexico. He migrated to Denver with his parents and baby sister when he was just 3. They were joined by sister D'naayi in 2008. His father died when he was 14. 
Cristian's story tells of the well-founded panic his mother felt on the night of the 2016 election. If the new president followed through on his campaign promise to dismantle DACA (and he did), what would that mean for this Denver family of four? If one, or all three, were deported, what would that mean for 8-year-old D'naayi, the lone U.S. citizen in the family?
"My mom and I were in complete shock trying to absorb what had just happened to the country," Solano-Córdova said, standing before TV cameras and a live audience at the Buell Public Media Center last month. But he did not tell a political story. Because, too often, he said, the humanity gets lost in the shouting over the politics of immigration.
Wilson created the "UndocuAmerica Monologues" to uplift those like Solano-Córdova and other young undocumented community leaders who are caught in the crosshairs of U.S. immigration policy. Telling his story, and knowing it would be heard, Solano-Córdova said, gave him a rush like he had never felt before.
"As a little kid growing up in this country, I was always being told to shut up and never say anything to anyone because your story can and will be used against you," he said. "But I am tired of being silent. I want to scream at the top of my lungs."
Wednesday's anniversary is one that no one will be celebrating, exactly. While DACA provides protections the undocumented community desperately needs, it has been no more than a Band-Aid. Or, as Fuentes-Mena puts it: "It is the crumbs of the cake that we need to put together" in the ongoing quest to secure a permanent, reasonable and fair path to citizenship.
DACA itself has been a source of anger and aggravation that is evident to some in its name: "Deferred Action" – and that action is deportment.
"Every two years, I have to gather $500 and get down on my knees to beg my own country to renew my DACA and not kick me out," said Motus monologist Victor Galvan. "It is humiliating. I was told as a kid growing up in Colorado, 'You can be anything you want to be if you work hard enough. Dream. Dream big!' And I worked hard, and I dreamed big. But what they failed to explain was that there is an immigration checkpoint at the gate to fantasyland."
To observe, if not honor, DACA's 10th anniversary, a recording of a recent live presentation of four "UndocuAmerica Monologues" will be made available on demand all day Wednesday on the Rocky Mountain PBS website, an event that will bring the "UndocuAmerica" stories to a national and international audience for the first time.
"This will be a very powerful opportunity for people not only to hear stories that will help them to become better citizens within their democracy, they also will be inspired by some really courageous people," Wilson said. 
But the point of the monologue project, she added, is not to engender sympathy or pity. It is to shift the focus of disengaged Americans who have birthright citizenship to the part of the picture that should be in everyone's direct sightline.
"When you start to listen closely to a person on the front lines of the immigration issue, you also learn about the other threats that are lurking about and will ultimately threaten you and yours," Wilson said. "These people are on the front lines of our failure as a country. And their fight is ultimately our fight."
"Have you seen the pictures from our borders?... Do you see a war? Do you see at least a resemblance to concentration camps? Can you feel your own heart telling you this is urgent? Please listen to your heart. Not just for me, or for the undocumented community, but for your own humanity." – Tania Chairez 
Chairez was born in Chihuahua and raised in Phoenix. Through DACA's protections, she graduated from the Wharton School of Business at the University of Pennsylvania before receiving her master's degree in education from Grand Canyon University. She is the Founder and CEO of Convivir, an organization that aims to support immigrant and refugee students in Colorado. It means "coexist."
"I often hear that the only way to get people to care about my struggles as an undocumented woman is to ask them to imagine me as their daughter or their sister," Chairez says in her monologue. "But I have my own family, and my mere humanity deserves respect."
The lesson she took from participating in the "UndocuAmerica" project is one she teaches in her own classrooms.
"I tell my students that if you don't tell your story, someone else is going to tell it for you," she said. "It is so important for me to tell my story using my own words and my own experiences. And maybe if you are paying attention to my story, which happens to be highly visible, maybe you'll see someone else who is not in the public view a little differently."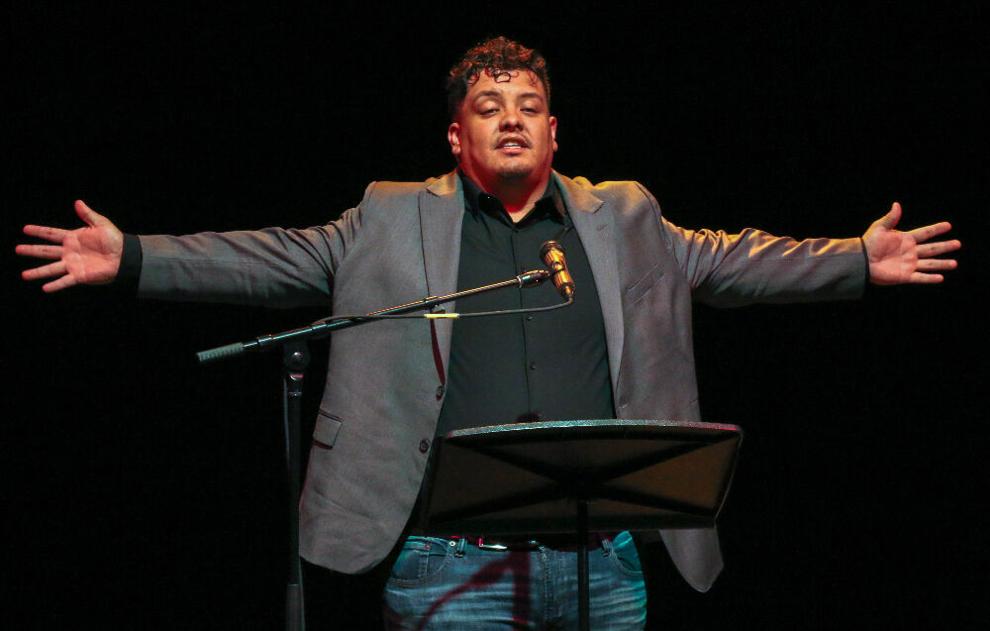 "I am not an illegal. My name, Reydesel, has its ancestral root in Rey de Sol, or 'King of the Sun.' I was made for the light. I am a warrior for the light. And no human being is illegal on these stolen lands." – Reydesel Salvidrez-Rodriguez 
There is something intrinsically soul-stirring in hearing those words from an undocumented Mexican American, a graduate student at the University of Denver, and a man who is legally deaf. And there is something intrinsically soul-stirring in hearing those same words as read by two-time Pulitzer Prize-winning writer Nicholas Kristof: "I am undocumented, unashamed, unafraid and unapologetic. Welcome to my brilliant, shining, beautiful life."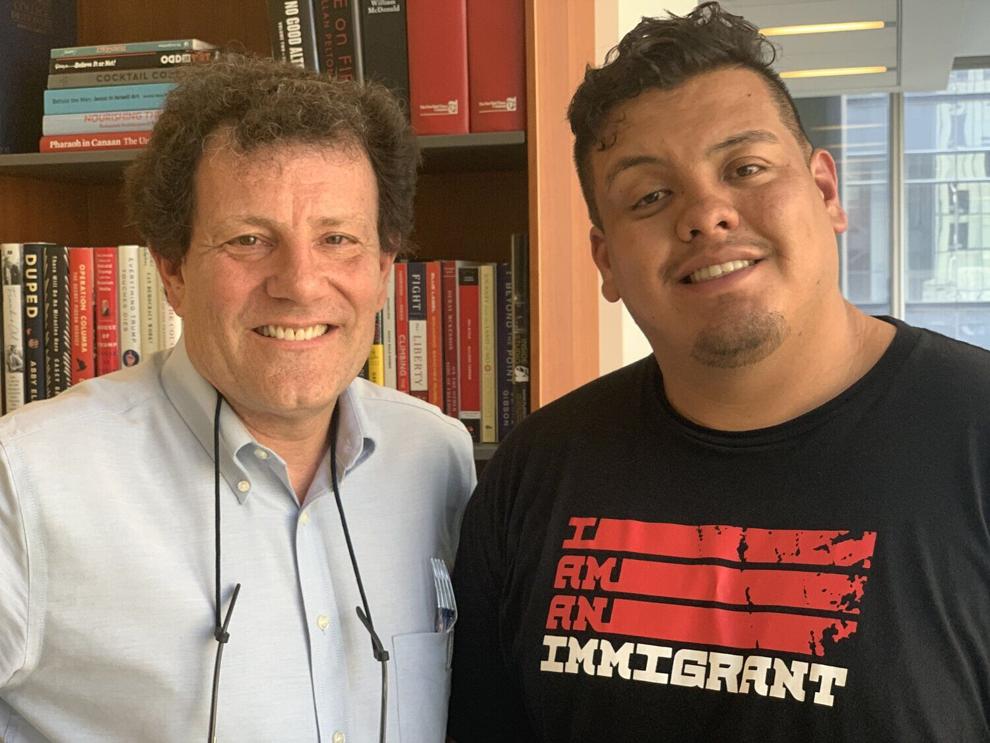 Wilson's instincts told her early on that one way to both reach a wider audience and potentially impact public policy would be to put her writers' words into the mouths of the very leaders whose decisions affect the undocumented community. That turned into "The Shoebox Stories Podcast," which features political, religious and civic leaders reading an "UndocuAmerica" monologue out loud. One example: Former Miami Police Chief Art Acevedo, who is suing the city for wrongful termination after speaking out against corruption, read the story of a young mother's experience with DACA.
Other notable readers have included World Central Kitchen founder Chef José Andrés, Univision anchor Jorge Ramos, feminist icon Gloria Steinem, Black Lives Matter co-founder Patrisse Cullors, Naropa University President Charles Lief … and Kristof, who, in reading Salvidrez-Rodriguez's essay of marginalization, self-doubt, suicide and disempowerment, discovered a surprisingly uplifting story of empowerment.
"I think one of the challenges is that a lot of Americans see immigrants through the prism of burden, and I think Reydesel very clearly underscores that one can also see immigration through the prism of asset. And that's what immigrants are – national assets,"  said Kristof, whose father was a refugee from World War II.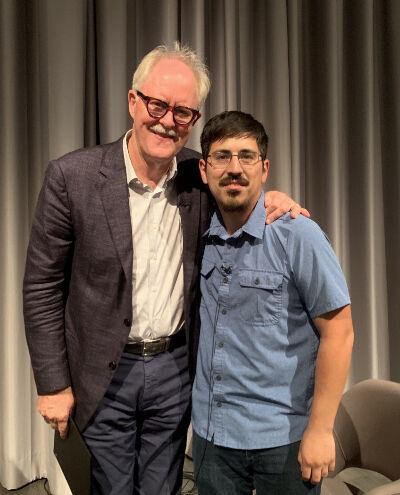 Actor John Lithgow ("The World According to Garp"), who helped with the creation of Boulder's Local Theater Company, recorded a monologue written by Irving Reza of Denver that comically recounts the stress he faces each time he goes through an immigration checkpoint.
"We're in a moment of crisis – a crisis of empathy – in this country," said Lithgow. "And it seems to me that the whole thrust of this project is to address that crisis."
The "UndocuAmerica" project is a true multimedia endeavor, with music and art adding powerful components. A series of 12 huge murals created by Edica Pacha have been placed in curated locations throughout Denver and Boulder, each 8 feet by 14 feet and featuring a different Motus monologist. Each has a QR code allowing passersby to instantly watch the accompanying monologue on their phones.
"These murals are another one of the medicines within this project," Wilson said. "The undocumented community is so often reduced to the size of a pawn in a political game, so to see these big-hearted, big-minded, brilliant folks taking up entire walls is just so glorious."
The murals will stay up through September. The same probably can't be said of DACA. A decision on the White House's appeal of the Texas decision to dismantle it is expected soon, and is expected to fail. The monologists are preparing for that.
"I want to be real," said Solano-Cordova. "If the Supreme Court overturns what was supposed to be the federal law of the land in Roe v. Wade, then I have no hope that DACA is going to survive." But, he promises: DACA or no DACA, "There are going to be people coming to the border, regardless of any law that you put in place." Some to escape war, violence, gangs, poverty or climate disasters. Others to leave life under authoritarian governments.
The monologists say they bear no resentment over the country's contradictory "open doors, open arms" approach to Ukrainian refugees, even if the only significant difference is the skin color of the arrivals.
To the contrary, "This is exactly what needs to be happening," Fuentes-Mena said of the country's commitment to welcome 100,000 Ukrainian citizens fleeing Russia's aggression. "If there is any country in need, and we can provide the services necessary for their survival, then we should. But it shouldn't only just be for European and Eurocentric countries. It should be for all displaced people."
Chairez hopes those same everyday U.S. citizens who embrace the urgency of the Ukrainian situation afford the same urgency to their own. And fast. If DACA falls, all those previously protected DACA recipients would have no assurance that they won't be deported from the only country they have ever known.
And, Fuentes-Mena forebodingly reminded: "They have all our information." Meaning that all the details DACA recipients have willingly provided the government to comply with the renewal application process will be accessible to whoever wins the next presidential race, and could be used to easily find and deport them.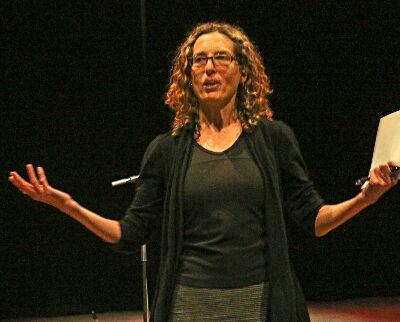 "This country has a long history of false demonization of Mexican Americans, including mass deportations during the Depression," Wilson said. "I call it the third scar of American history, along with slavery and genocide. It can get really bad, and it has. … And it could get much worse."
But just as trauma happens in community, healing has to happen in community, too. 
 "Our lives depend on your willingness to show up," Chairez said. "This is urgent. It's urgent for us all the time. And somewhere deep inside, you must know that it is urgent, too." 
"I am 100 percent committed to this country in which I was raised. This country that constantly seeks to spit me out. Lose me … you lose my value. Not just the money I pay in taxes, and the money I pay into Social Security which I will never be able to benefit from. But you lose my ability to inspire, connect and engage. You lose the knowledge that I bring to my students, who are your children. … Deport me. Deport me. But in the end ... it's your loss." – Alejandro Fuentes-Mena