Miss Shirley does not like to read stories to children about monsters. Like the one about the 31 monsters who recently gathered into a little army in Idaho intent on inciting a riot at a nearby Pride event. That's a real-life story that comes with the disquieting message that sometimes monsters are merely men. But men can be even more horrible than monsters.
Miss Shirley likes to read stories to children like "Perfectly Norman," by Tom Percival. It's about a little boy who grows a pair of wings, but he is unsure how people in his life will respond to them – so he covers them up with a coat. But when he does, he soon realizes he can't do all the things he wants to do. So he blames his wings – when really it's the coat that is the problem.
"My goal is to celebrate and encourage inclusion and diversity," said Miss Shirley, the alter ego of Denver third-grade teacher Stuart Sanks, who is further known in national drag-queen circles as Shirley Delta Blow. Her message to children is one that should only threaten those who are threatened by inclusion, fairness and equality.
"I teach children that there are different types of people in the world, and different ways to live your life – and just because they are different doesn't mean they are bad or wrong," Sanks said. "If we don't get to know people who are different from ourselves, then how can we ever make a human connection?"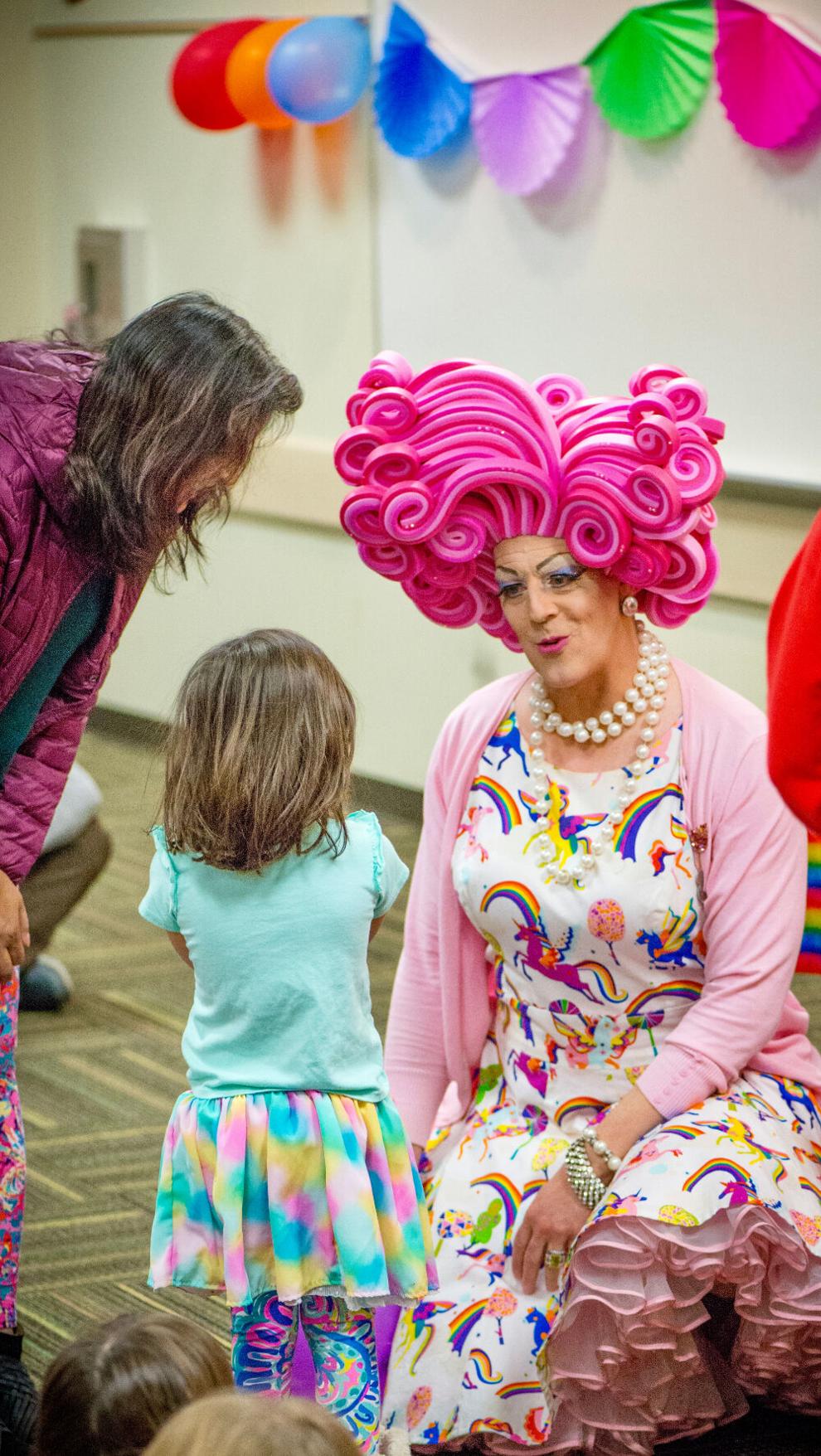 That's the beating heart behind the radically embracing (and therefore inherently threatening) "Drag Queen Story Time," when Miss Shirley gathers with children and their families at local libraries and bookstores to read stories that teach lessons on diversity, self-love and an appreciation of others.
But in 2022, that seemingly uncontroversial message finds itself in the eye of a perfect storm in the battle over freedoms and free speech. In the immediate aftermath of dismantling Roe v. Wade on Friday, Justice Clarence Thomas called for the Supreme Court to revisit precedents protecting gay marriage and other LGBTQ+ rights. And it comes during Pride Month, when increasing millions of queer people and their allies are gathering around the world to celebrate the freedom to simply be themselves.
And the louder that cheer becomes, so does the backlash.
In 2019, Miss Shirley hosted a "Drag Queen Story Time" event at Bookbar in northwest Denver. A man from a white nationalist hate group called Patriot Front arrived to disrupt the event and was arrested for vandalizing a storefront window.
In the past year, tensions have only escalated. The "Don't Say Gay" education legislation that passed in Florida is now moving forward in other states. And increasingly, far-right politicians are targeting drag-queen events for kids. Florida Gov. Ron DeSantis recently suggested that he might urge the state's child-protective services to investigate parents who take their children to drag shows.
After Colorado Rep. Lauren Boebert learned that a Texas bar was hosting a "Drag Your Kids To Pride" event that was targeted by protesters, she Tweeted: "Take your children to CHURCH, not drag bars." Georgia Rep. Marjorie Taylor Greene joined the chorus of outrage, tweeting: "It should be illegal to take children into Drag Queen shows and strip clubs" – as if there were some equivalency. And Florida Rep. Matt Gaetz, who is under FBI investigation for allegedly sex-trafficking minors, retweeted this post: "They say it's innocent. They say it's just about inclusion and acceptance. They say no one is trying to confuse, corrupt, or sexualize kids. They lie."
What's changed in the discourse, Sanks said, is that once upon a time, if parents didn't want to take their kids to "Drag Queen Story Time," they simply did not. "But now that has turned into, 'I don't want my kid to go to Drag Queen Story Time – so no kid should go to Drag Queen Story Time,' " he said.
But the success of their efforts, Sanks says, has only emboldened protesters and amplified the toxic rhetoric. On June 9, a pastor in Texas named Dillon Awes of Stedfast Baptist Church in Watauga went online and proclaimed that "every single homosexual in our country should be … lined up against the wall and shot in the back of the head," because, he claimed, "That's what God teaches. That's what the Bible says."
That kind of incendiary talk, Sanks said, is putting the LGBTQ+ community increasingly at risk. Libraries and bookstores that schedule storytime events are receiving coordinated advance angry emails and phone calls (mostly from out of state, Sanks says) calling for the events to be canceled – and issuing threats if they go on.
"They are attempting to scare people from attending these events, and that's why I say these are incidences of domestic terrorism," said Sanks, who is now often accompanied by a guard for security. Friends and allies have formed a group called the Parasol Patrol who go to all "Drag Queen Story Time" events and create a human wall with rainbow-colored flags and umbrellas as a protective (and stylish) barrier between families and any protesters who might show up.
Here's the part Sanks doesn't get: "No one has been able to tell me what is objectionable about these stories," he said. "I read to children about unicorns and cupcakes." But then he puts his finger squarely upon the open wound:
"It's not what's in the book that's offensive (to them) – it's what's in the dress," he said. "If I dressed as a boy and read these same stories, no one would be offended."
But the problem with bullies is that bullying works. Sanks has had several scheduled events canceled, most recently June 18 at the Denver Botanic Gardens. Officials there were caught unprepared for the coordinated advance protest, and they had no precedent for how to handle the situation if it went on and the worst happened.
Jennifer Riley-Chetwynd, Director of Marketing and Social Responsibility for the Botanic Gardens, called canceling a heartbreaking decision, and one the organization did not want to make. "After receiving threats of violence and monitoring recent disruptions at similar events around the country, we made the difficult decision to cancel out of concern for public safety," Riley-Chetwynd said. "This decision was not taken lightly, and we remain an institution committed to inclusion."
Sanks gets that. But, he added: "Canceling events because we feel pressure from a vocal minority saying violent, hateful things sends a very dangerous message to our queer youth that, 'Yes, there is something wrong about you. There is something controversial about you.' And that's a dangerous message to send to anyone." 
And one Nicole Sullivan is not prepared to make. She's the owner of Bookbar and, now, The Bookies in Glendale, where the next "Drag Queen Story Time" will go on, she promises, on July 1. "We do have history with these guys," she said of the protesters – and she will not be intimidated by them.
"The political environment has become much more contentious in recent years," she said. "Given that, I think it's even more important that we stand up against those threats. It just makes me want to stand my ground even more firmly. It is now more important than ever for these events to happen and not be silenced. The message we want to send is that we are all about being inclusive and supportive of our LBGTQ+ customers and readers."
GerRee Hinshaw, a Wheat Ridge mother and local actor, has not yet attended a "Drag Queen Story Time" event but, she said, "Hearing about what happened at the Denver Botanic Gardens makes me want to specifically redouble my efforts to go to the next one, and to enlist other parents and their kids to do the same. Because if I can show up for the LGBTQ+ community simply by entertaining my child with a wonderful storyteller – I don't know how it gets any easier than that."
What's lost in all of this, Sullivan said, is that "Drag Queen Story Time" is simply about promoting literacy and making storytime fun. "These kids don't see politics," she said. "They see unicorns and glitter and fabulousness. And if that makes them more excited about literacy, then ... all the better."