On an iconic TV game show where everyone eventually comes out a loser, Denver actor and college professor Jeff Parker sure is feeling like a winner right now. And why not? Parker fulfilled a 30-year dream by appearing on Thursday's episode of "Jeopardy!" — the Olympus of American game shows.
He didn't win, but he sure didn't lose.
"It was everything I had hoped for and more — aside from a couple of questions I am kicking myself over," Parker said a day after his episode aired. "I had a blast. It was like playing my favorite game with some really smart people."   
The dapper theater professor from Metropolitan State University Denver brought a childlike joy to his Quixotic pop-culture quest, which was abruptly ended by a buzz saw named Cris Pannullo. But only after Parker gave the New Jersey card shark and now six-day champ his most competitive game to date.
Parker's enthusiasm, intensity, wardrobe and impeccable diction earned him plenty of both gentle teasing and swooning fan adoration on social media. One Twitter viewer immediately called for Parker to be added to the show's "Second Chances" tournament roster. Another suggested he might make for a good guest host. And Parker's "professorial costume," as he put it — a slightly loose tie over a vest with cuffed-up sleeves and hiking pants — inspired its own Twitter hashtag: #VestBlessed. Even Parker's hero, host and mega-champion Ken Jennings, said at one point: "You do look exactly like a theater professor."
And then there was the guy who Tweeted: "I had Jeff's hairdo … in 1933." 
"Jeopardy!" dates back to 1964 and just began its 39th season. Until I told him, Parker was happily unaware that "Jeopardy!" is the most-watched show on broadcast or cable TV, with an average daily audience of 9.2 million viewers. "I just rolled back in my chair, closed my eyes and slapped my face," he said in response.
Parker taped his episode in early August and was sworn to secrecy about its outcome until Thursday. He couldn't even tell his own super fan of a mom how it came out.
"My mother literally said to me, 'I carried you for nine months and gave birth to you, so you at least have to tell me whether or not you made it to the Final Jeopardy round," he said. Translation: Parker's mom had to know whether her son finished with a score of zero or less, which is the only way you don't get to participate in Final Jeopardy. "Yes, that was the one thing she needed to know," Parker said with a laugh. "And I didn't tell her."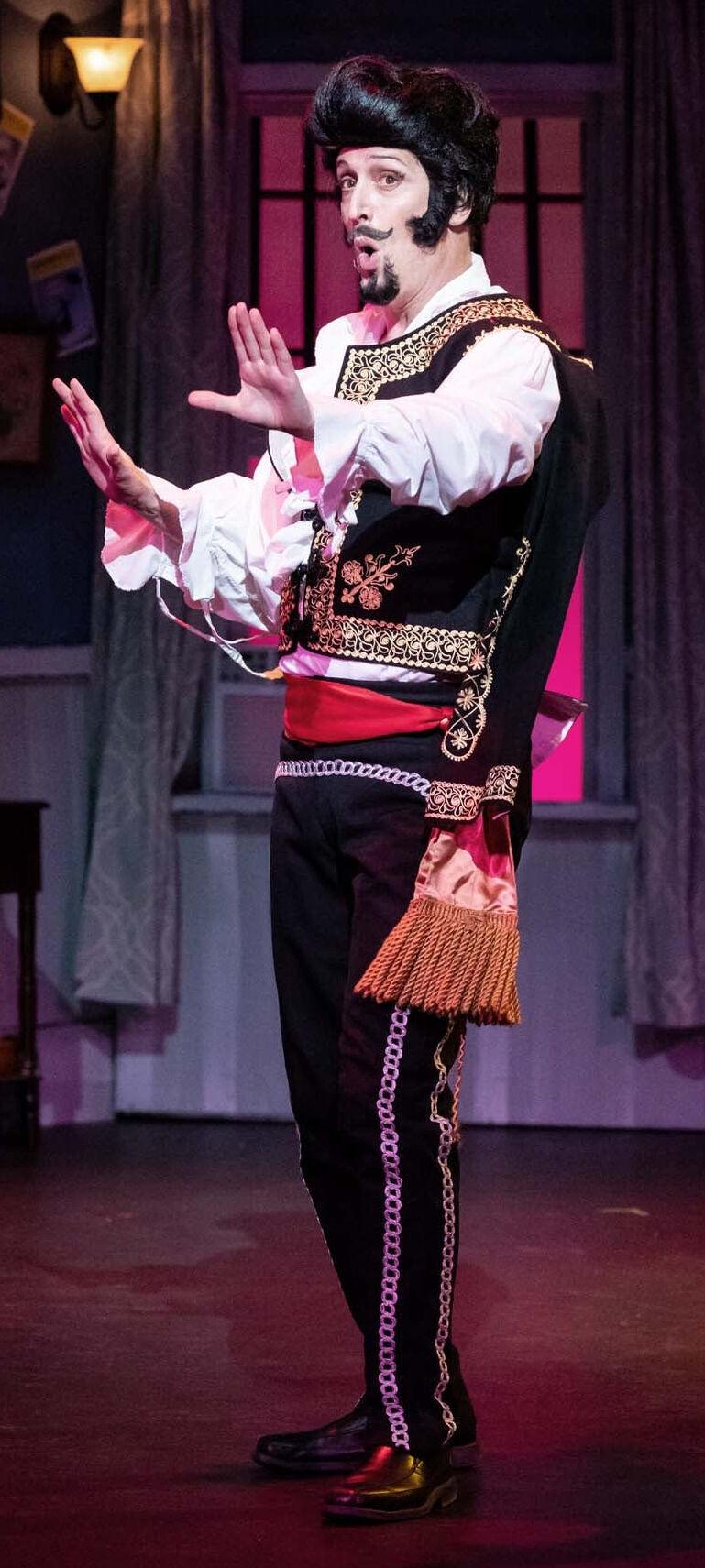 Parker has wanted to appear on "Jeopardy!" since he was an 11-year-old kid in San Diego watching most every night with his folks. When a neighbor got on as a contestant, that's when young Parker realized that real human beings can be on TV. Not that Parker wasn't already a performer.
"I am a theater kid at heart," he said. "When I was 2, I stood up on stage to recite 'The Pledge of Allegiance,' and people would just look at me and beam."
Parker, who's been known to croon a sultry Sondheim tune, just won a Henry Award for his performance in the musical "The Drowsy Chaperone" for Performance Now Theatre Company. He is set to star next in the Cherry Creek Theatre Company's "Peter and the Starcatcher," opening Oct. 28 at the Mizel Center.  He is also in high demand for his skills as a dialect coach for the Colorado Shakespeare Festival and DCPA Theatre Company, among others. And he's the co-author of a tongue-twister of a book (even for a diction expert) titled:  "Experiencing Speech: A Skills-Based, Panlingual Approach to Actor Training." It's a beginner's guide for actors of all backgrounds and identities. Parker got to put his elegant elocution to work when a "Jeopardy!" clue came up about bodies of water in Scotland, which allowed him to authentically respond, "What is a Lochhhhh?" (which, of course, did not go un-poked on Twitter).
From tryout to taping, it's uncanny how much of Parker's "Jeopardy!" experience mimicked his life as a professional actor. It started in January with an intellectual "audition" called the "Jeopardy Anytime Test," a 15-minute, 50-question online quiz that you can take, yes, anytime — but you have to mean business, because you can only take it once a year. 
Those who pass are invited to take a second, nearly identical online quiz. The smartest of the smarty-pants are then "called back," much like an actor making it through the audition process. Here, the most intriguing hopefuls are interviewed about their personal lives — it's sort of like speed-dating followed by, yes, more quizzing. Parker thinks that's where he landed the part.
"I had two advantages at my callback," he said. "I think I was the happiest person there. They could see that my professor persona just delights in knowledge." And when they again put him to the brain test, his categories were, I kid you not: Broadway musicals and Marvel superheroes — which may be Parker's two very favorite nerd hobbies.
"I did walk away from that round thinking, 'Well, I don't think that could have gone any better,'" he said with a laugh.
Parker got the call on July 1 that he would be on the show one month later. It was his last day on dialect duty with the Colorado Shakespeare Festival in Boulder.
"And I was trying not to scream and dance around on the phone," he said.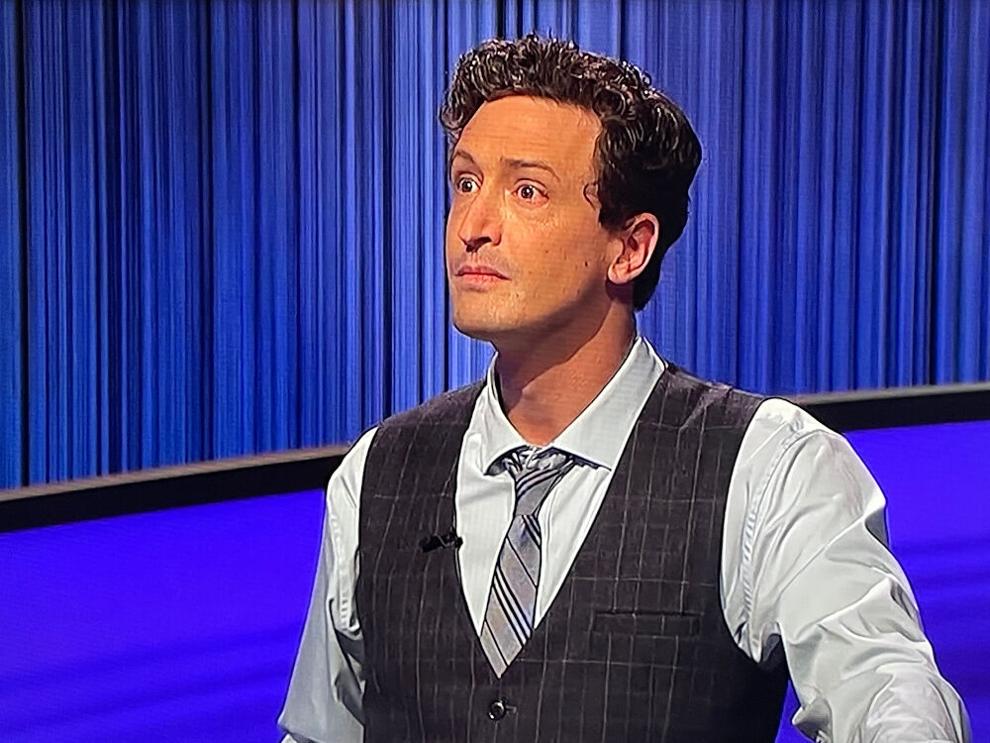 Parker's instinct was to cram a lifetime of learning into the next month, but he said you eventually have to become secure in the knowledge that you know what you know. Instead, he drew on his actor training by rehearsing the actual game conditions in his living room. So when the show came on TV, Parker stood up, clicker in hand, and played along as if that day's fourth contestant. Turns out, he said in retrospect, "my best training for the show were my 35 years of playing video games — because it's all about the buzzing."
"Jeopardy!" tapes five episodes in a day over an eight-hour period. Parker spent his morning at the Alex Trebek Studio with the other contestants being briefed, bonding and playing practice rounds. The players are then kept in a room on the nearby "Wheel of Fortune" set waiting to be randomly called for their game. Parker's name came up for the fourth game of the day. When he walked onto the stage, he was greeted by bright lights, Ken Jennings, that famous "Jeopardy!" theme music and cheers from just the show's fourth live studio audience since the pandemic. It felt to Parker like opening night of a play, having just gone through hair, make-up and costumes. Parker was in his element. He was nervous, sure, but he wasn't going to let that spoil the moment.
"I thought, 'I have been practicing for this moment for 30 years, and if I am nervous through the whole thing, then I am just going to kick myself later," he said. "Because this isn't a burden. And this isn't a test. It's a game, and it's supposed to be fun." 
The game itself was a nail biter, with Parker making a huge run in the Double Jeopardy round to put a big scare into the champ. The "Jeopardy!" gods give, and the "Jeopardy!" gods take away. Early on, they taunted Parker with a category called "Musical Alter Egos." Right up his alley, right? Wrong. 
"I was so happy when that category came up — and I was so sad when I saw what the clues were," Parker said. Sorry, Jeff. No: "The Real Name of the Phantom of the Opera" for you. Instead, he was asked the name of Gregory Jacobs' (aka Shock G) alliterative underground dance craze of 1990. You know: The Humpty Dance.
And suffice it to say, Parker will be having some post-"Jeopardy!" trauma over Desmond Tutu and Misty Copeland. But fate also threw him a bone with questions about Sarah Brightman and his own former union, the Actors Equity Association.
Now Parker is part of a quintessentially American TV tradition that dates back to "Truth or Consequences" in 1941. One that, Parker believes, can be explained by three things:  Hope, fame and schadenfreude — the pleasure we derive from another's misfortune.
"At least since Horatio Alger, there has been this idea of the American Dream and upward mobility and the potential of fortune," said Parker. "Then there is the desire for 15 minutes of fame — which for this generation is more like 15 seconds of fame.
"And yes, I do think game shows provide us with some schadenfreude. It's fun to feel smarter than someone when we know something they don't."
Through it all, Parker looked like a kid having the time of his life on his birthday.
"The whole experience made me check back in with that idea that I really do find joy in playing," Parker said. Acting. Teaching. Living. Play is an attitude he's honed and embraced over 20 years enduring the often immobilizing pain of Crohn's Disease.
"The concept of play is so important in every aspect of my life," Parker said. "And when I got to go on 'Jeopardy!' I got to play with knowledge. That was a dream come true."
Didjaknow? Jeff Parker's Insider 'Jeopardy!' Tips
There's one thing Denver's Jeff Parker wants you to know about competing on "Jeopardy!" — just because you didn't buzz in first doesn't mean you didn't know the answer.
"That buzzer is the most brutal part of the game," said Parker.
Did you know that a contestant can't buzz in until after the host has completely finished speaking the final syllable of the clue? That's when an LED light goes on telling the contestants they can now buzz in. If you click in even a moment too soon, you are locked out for 0.25 seconds — which doesn't sound like much, but it can be the difference between game-show life and game-show death. Suffice it to say: Every contestant misses out on answers they know because of that damn buzzer.
Those are just a few of the "dijaknows?" Parker picked up on that faithful "Jeopardy!" viewers might find interesting. Like, didjaknow:
• Contestants have to find their own way to Culver City, Calif., and provide their own lodging.
• Contestants have to bring their own snacks and water. (It's a COVID thing.)
• Because the show tapes five episodes in one day, you have to bring five changes of clothes, just in case you keep winning.
• The quiz categories are assigned to a specific game long before the contestants are chosen for that game — so there can be no charges of favoritism. 
• That iconic Jeopardy font is called ITC Korinna.
• The clues written in that font are actually posted far away from where the contestants stand, and can be quite hard for them to read — "especially those of us who are too vain to wear our glasses on television," Parker joked.
• If you get chosen for the show and you have time to bone up on just one subject, Parker said, make it geography — "especially bodies of water."
• And perhaps his most valuable piece of advice: "If you ever are on 'Jeopardy!' … stay off of Twitter the next day."