Singer Amanda Hawkins' young life so far has played out like three periods of a hockey game.
She got out to a very big lead, winning the World Championships of Performing Arts – essentially the Olympics for aspiring performers – at just 14. Five years later, she landed in the "American Idol" Top 50.
She spent the second period in life's equivalent of the penalty box after having to undergo career-threatening vocal surgery.
But the third period has been an unending series of empty-net goals, with abundant blessings, including marriage, motherhood and, most recently, being named the primary National Anthem singer for most of the Colorado Avalanche's home hockey games.
And, at only 34, Hawkins' game is really just getting started. The Aurora native, who is planning her debut album, wants to become a Pink-like role model for cradle-rocking mothers – who rock.
"I think Amanda was the perfect choice for the gig," said predecessor Jake Schroeder, who held the mic for 25 years and more than 1,000 Avalanche games. "She does a fantastic anthem, and she is a sweetheart. I hope she is there for 1,000 games, too."
Hawkins may be new to the job title, but she's already sung an Avalanche of anthems in her life, dating all the way back to an event at her Falcon Creek Middle School. This was right around the 9/11 attacks. Someone from KOSI radio heard about it, called Amanda's mother, Denise, and asked to have Amanda sing the anthem on the air. The response was so positive, the station just started playing the recording every morning to start the day.
"Back at school, they would put a mic up to the radio and play it over the school intercom," Hawkins said with a laugh. "It was a little embarrassing."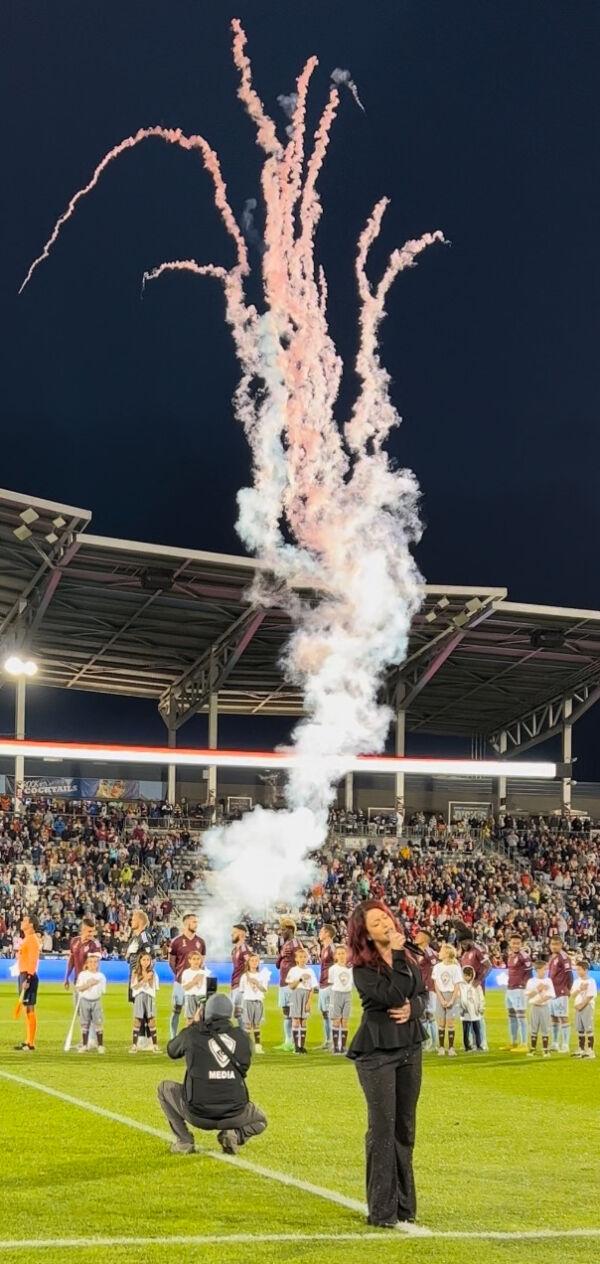 Before long, Hawkins was singing "The Star-Spangled Banner" everywhere from Denver to Texas: Denver Nuggets games. Bandimere Speedway. The X Games. The MLK Marade. Charity runs.
But Hawkins learned the hard way that the anthem life is an international affair. At just 14, she was asked to sing for a Colorado Mammoth lacrosse match. The opponent was a Canadian team. She didn't find out she also would be expected to sing "O, Canada" until she got to the then-Pepsi Center. She didn't know the song. Like, at all. So she winged it.
"And I ruined it," she said. "Like, I completely ruined it – to the point where I just held the mic out and let the crowd finish the song." Young Amanda soon learned just how cruel the Twitterverse can be. And, to make things worse, her own Grandview High School lacrosse team was in the house.
"That was the most embarrassing moment of my career," she said.
But who called the next day to salve her wounded 14-year-old pride? None other than Jake Schroeder.  
"I just told her, 'Do not ever judge yourself by whatever anyone else says,'" Schroeder said.
Well, Hawkins remembers Schroeder offering one other helpful tip.
"He told me: 'If you are going to do this anthem thing, you really are going to have to learn that song,'" she said. "And then ... he taught it to me."
For real. And now, she said, "I sing the hell out of that song."  
Not that that will ever stop the boo-birds from the north, Schroeder warned.
"Even after 25 years, every time I was on (Canadian TV), some clown who lives in his mother's basement would go on Twitter and say I was disrespecting their country," Schroeder said. "But Amanda never needs to worry about what anyone says, because she has a beautiful voice."
Child prodigy
At age 11, Hawkins briefly joined a prominent youth-performing group called KidSkits. But, frankly, live theater terrified her. One day in rehearsal, she remembers, "I heard people singing upstairs and I was like, 'Mom, I want to go up there.'"
That's where they found Stuart Whitmore, who ran a school called Academy of the Arts. After singing for him, she said, "Stuart chased us down in the parking lot and told my mom, 'We have to get her competing right away.'
"We went from zero to 100 – and I was like, 'Let's go!' "
Four years later, in California, Hawkins bested contestants from 70 countries to win the world championship. That brought her both exposure and an addiction to what she calls the human connection through music. But, she adds, "It cost me blood, sweat and tears for that trophy."
While still in middle school, Hawkins was hired as a session vocalist by a local producer named Nathan Reid. That's when songwriters who don't sing (which is most of them) write a tune that singers like Hawkins record for producers, who then pitch it to stars to record for themselves. Reid threw every style of music at Hawkins: Christian, rock, country. More than 250 songs in all. Hawkins found her first love in hip-hop.
She was soon asked to sing at her Grandview High graduation – "Breakaway" by Kelly Clarkson, fittingly – and was admitted to the prestigious Musicians Institute, a college of contemporary music in Los Angeles.
Back home after graduation, Hawkins became the frontwoman for a pop-rock band named Della, and she worked on a hip-hop project that got her signed with the U.K. label Strictly Rhythm. She also dabbled in an alter-ego band she called Jane Doed, which got the attention of a Westword writer, who called Hawkins "a pierced, badass b**** whose vocals sear with near-pitch perfection."
In 2014, at just 25, an entire world of possibility seemed to be opening up in front of Hawkins. A world that, out of nowhere, suddenly closed on her like a choked breath.
"I was heavily gigging at the time, but something felt wrong with my voice," she said. " I went to see a vocal doctor and was told I had to have emergency surgery on my vocal chords. That stopped everything."
Including her ability to speak to her newborn child.
The third period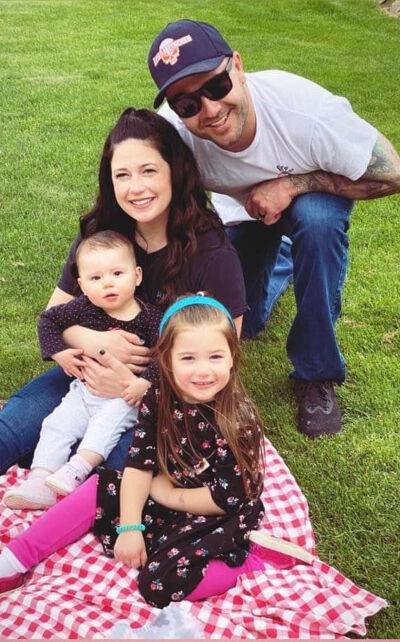 To her friends, Amanda Hawkins is Amanda Chipp, wife of Eric Chipp, a lineman with Xcel Energy. They have two daughters, 6 and 3 years old.
"Motherhood was a much-needed slowdown for me," she said. "I had finally found the love of my life. This has been a whole different, wonderful world for me."
In 2017, Hawkins had just the sweetest, strangest, briefest reencounter with fame. Her band, Della, had split up and her former guitar player, Lane Phillips, was working at Southwest Airlines when he came up with a silly idea to spread holiday cheer at Denver International Airport. He asked Hawkins to sing Christmas carols through those awful employee handset microphones at random boarding gates. Hawkins' lifelong professional mantra served her well in that moment: "Say yes to everything."
She said yes.
Never mind that no one can understand a word that is ever spoken (or sung) through those tinny little mics. Her go-to tune, appropriately enough, was "The Christmas Song." (That's the one with "chestnuts roasting on an open fire.")
One day, a St. Louis TV news anchor who was passing through Denver recorded some video of Hawkins on his phone and put it on the air back in Missouri. That led to 100,000 YouTube hits.
"Everybody is always so angry at the holidays," Hawkins said, "and that just seemed to put people in a good mood."
Over the years, Hawkins has been called upon to replace Schroeder from time to time when his real-world schedule conflicted with an Avalanche home game. (And yet, oddly, she has yet to meet even a single Avalanche player.)
When the Avalanche began their dominating 16-4 playoff march to the Stanley Cup in May, the team informed Hawkins that Schroeder would be unavailable to sing the anthem the rest of the way because he would be in France running his nonprofit there called the D-Day Leadership Academy. Hawkins stepped in, after which Schroeder announced that 25 years had been enough. The team asked Hawkins to clear her calendar for most every home game in the upcoming 2022-23 season.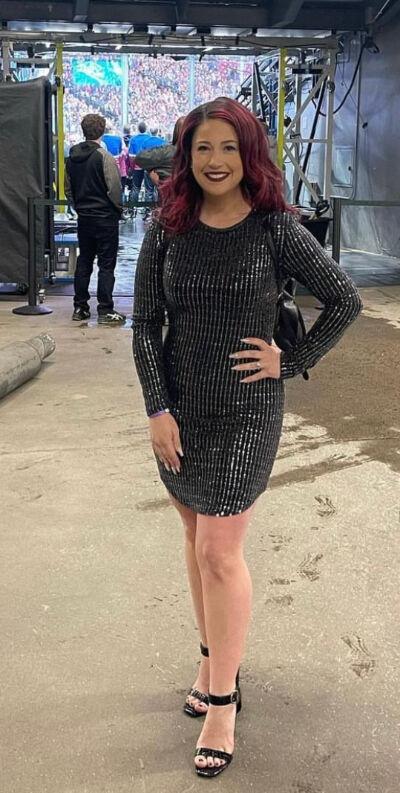 "When they asked me, it went in one ear and out the other. I just couldn't believe it," Hawkins said. "I thought, 'They cannot possibly be asking me to do this. Jake is just a legend.' "
This time, she did not say yes – right away, anyway. She reached out to Schroeder first. His advice: "Take it. You are going to love it. It's going to be epic."
She said yes.
Since the playoffs, which put Hawkins on national TV for several games, her social media and Spotify channels have exploded.
"People from all over the country have been reaching out to me looking for my music, and that definitely has caused some momentum that I was not expecting," she said. "But I am just super-grateful for this opportunity."
Grateful and ever-grounded. Motherhood – and bills – will do that to you.
For 12 years, Hawkins has worked a day job for an "incredibly supportive" local broker called Speer Insurance Services, which she says is made up of some of her biggest fans. Her website bio there says: "Amanda handles all the day-to-day insurance details for Speer Insurance, including customer service work and renewal processing. She is also a singer and performs around the Denver area."
One person who is particularly thrilled for Hawkins in this moment is her longtime friend and fellow rocker, Jenna Moll Reyes, who has sung behind and with Hawkins for 15 years. She also watched Hawkins rebuild her personal and professional lives after her surgery first-hand.
"When you are a singer and you lose your voice, it really does feel like you lose a limb," Moll Reyes said. "Not being able to comfort her own child with her voice must have been so incredibly difficult. But Amanda's story is a reminder that even when you lose everything, you can be reborn from the ashes. She's resilient, she has longevity and she is ready to rock."
She is already rocking again with two cover bands, one called the Barre Chord Bangers – a late '90s pop punk cover band – and Loveland, which is fronted by none other than Steve Manshel, former lead singer of the seminal Colorado band Firefall.
But Hawkins is also exploring her own songs now – and she recommends newcomers to her music start with a tune called "The Way I Feel." She describes her sound as soulful pop influenced by Bonnie Raitt, Bruce Springsteen, Amy Winehouse, Luther Vandross and her brother's musical heroes, Kris Kross.
"What I find so captivating about Amanda's songs is that she is not afraid to share her vulnerability with her audience," said Moll Reyes. "When she is on stage it's like you are being invited into her soul."
Hawkins' long-term goals include finishing that first album, touring with her family in tow and proving that working women really can have it all.
"It is extremely hard trying to maintain yourself and your career and your dreams while also keeping the household afloat," she said. "But my advice for all women, whether you have kids or not, is to keep fighting for it and keep enjoying it."
But first there is the more immediate matter of the Avalanche's season-opener on Oct. 12, when the team raises the Stanley Cup banner – and Hawkins raises her voice – to the rafters.
As the team's new primary anthem singer, Hawkins says she feels a new responsibility, especially in these divided political times. Avalanche fans put their own signature, board-banging spin on the anthem whenever they scream out the patriotic words "our flag was still there!" – a tradition Schroeder says began in the minor-league Denver Grizzlies days of 1994-95. To many fans, the anthem matters – while others would like to see it retired from sporting events altogether.
"There's definitely an added weight to the song these days with the state our country's in," she said. "For some, the anthem is a moment to honor those who have served. Some use that time to think of a family member or friend. For some, it's a moment to sing out loud and proud. For others, it's the big kickoff that sets the tone and energy before a big game. And sometimes it can lend space for peaceful protest. Every time I sing that song, I hope I can be that moment for whoever's listening."
Get ready: The puck is about to drop on Hawkins' new life.