"The reason we are doing 'The Rocky Horror Show' is because disabled people are sexy!" proclaims Ben Raanan, Artistic Director of Denver's groundbreaking Phamaly Theatre Company, which exists to create a home for artists with disabilities.
Think of this latest annual big summer musical offering as Year 33 of Phamaly's continuing education class in defying audiences' expectations, challenging their preconceptions and upending conventional narratives.
Like when they presented the heroine of "Beauty and the Beast" as a booksmart beauty who dances divinely — and walks with a noticeable gait. Or when they turned a mirror on the audience by proudly presenting themselves as the "carnival freaks" of the musical "Side Show."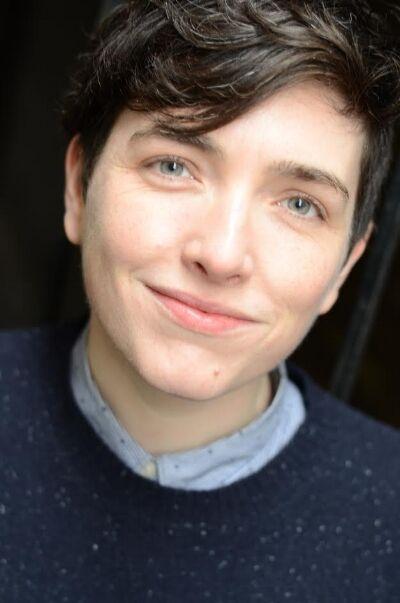 The award-winning new documentary "Imperfect," which follows the making of Phamaly's 2019 staging of the musical "Chicago," opens with a scene showing its wheelchair-using director waking up and starting her day without the use of her legs. It is an unexpected invitation for viewers to see the disabled body up close in all its imperfect perfection.
What better next summer offering, then, than "The Rocky Horror Show," the enduring cult musical favorite that preaches the ultimate message of empowerment and the realization of one's potential: "Don't dream it. Be it." That might as well be the Phamaly mission statement.
That or … "Disabled people are sexy!"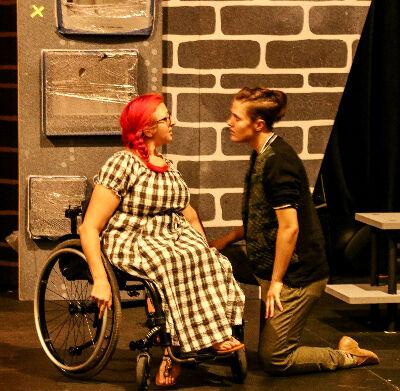 "'Rocky Horror' isn't exactly Shakespeare, but a community has been built around it of people who feel like they don't belong," Raanan said. "Phamaly is a community, too, where people of all disabilities feel like they can fully be themselves — instead of a shell of themselves."
Phamaly encourages its artists to own who they are and how they navigate through the world — unapologetically. And they are fully owning the gender-fluid camp of 'The Rocky Horror Show' right down to its leather spikes, riding crops and gold-lame booty shorts.
"The Rocky Horror Show," opening Friday and running through Sept. 4 at the Su Teatro Performing Arts Center, is the nearly 50-year-old liberation story of two wholesome American sweethearts, Brad and Janet, who stumble upon a spooky old mansion where they are relieved of their inhibitions (and virginities) by the seductive Frank-N-Furter — the sweet transvestite from transsexual Transylvania.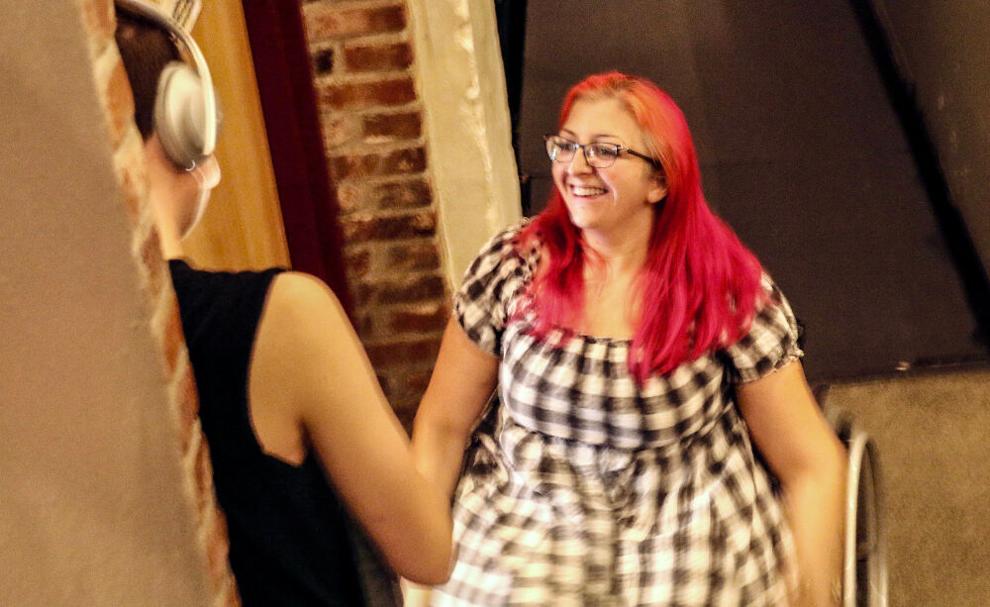 This is a show where everyone gets to be sexy. And nothing makes Phamaly newcomer Jasmine Gonzalez, a 34-year-old trained opera singer from Pueblo, happier than the chance to let an entire lifetime of disappointment and cynicism navigating the able-bodied performing-arts world out of her system. By letting it all hang out on the stage — as sexy Janet.
"My life in the performing world has been immensely frustrating," said Gonzalez, who was born with Osteogenesis Imperfecta, more commonly known as brittle-bone disease, and uses a wheelchair. ("I just like to say it means my bones are just not as strong as yours," she says.)
"When I was pursuing opera for 10 years, I was always praised for my voice. And yet, people I went to school with would always get a whole bunch of opportunities that I didn't. That has been my whole life. It didn't matter how good I was. I was never good enough because my wheels somehow offended people. That's just been my experience."
Just hearing those words out loud makes first-time Phamaly director Caitlin Lowans audibly groan with sadness. Lowans is the four-year artistic director at Theatreworks, the professional theater company that operates out of the University of Colorado at Colorado Springs.
"Non-disabled people tend to be super-aware of disabled folks' bodies, but always in a way that strips away the sexuality or the sensuality of those bodies," said Lowans. "So I am really excited about the sexy parts of 'Rocky Horror.' "
Disabled people, Gonzalez agrees, are often seen as asexual — "and that is very frustrating," she said. "That's one of the reasons I was excited to do this. I was like, 'Oh my God. I get to sing and I get to be sexy? That's (bleeping) great, because I feel like I am sticking it to the man."
Lowans, who uses they/them pronouns, is considered a visionary yet level-headed artist with uncommon compassion for the actors and crews they work with. Which, Gonzalez said, is exactly what makes them a perfect match with Phamaly — a company that approaches the creative process line no other.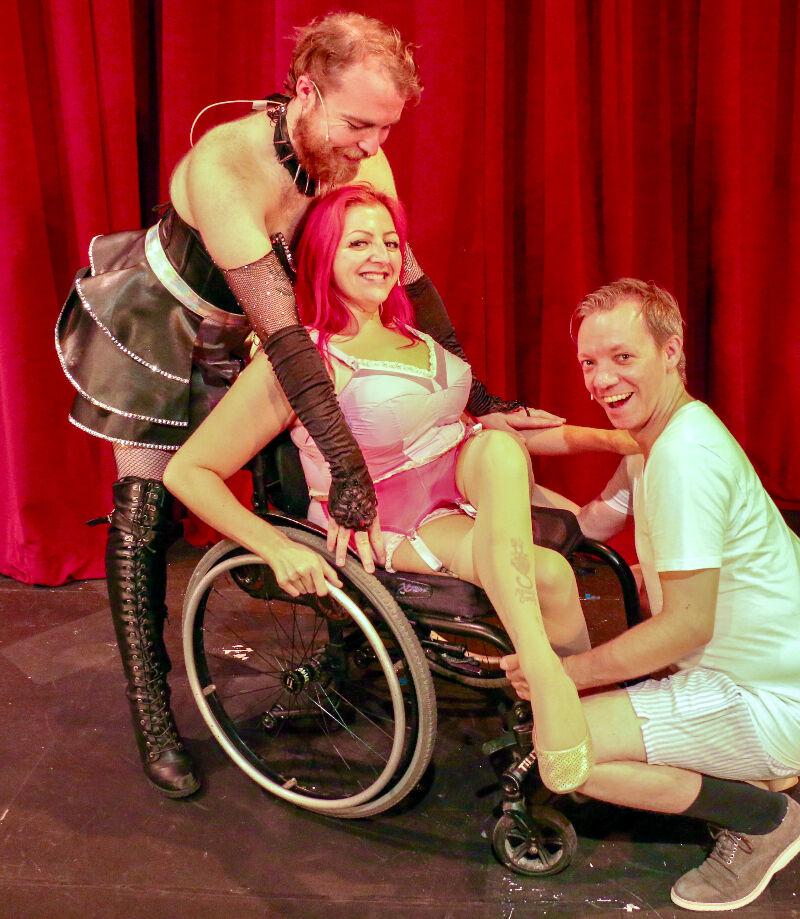 The first few moments of every rehearsal are an essential emotional and physical check-in. An actor with mobility challenges just wants everyone to know he's feeling a bit wobbly today. Another with sensory issues is not having the best day processing information. Assistant Director Graham Bryant takes a moment to pass out little mementos of St. Genesius, the patron saint of actors, as gifts to anyone who wants one.
"People in this company are uncommonly open and up front about what they need on any given day, and about how they are moving through the world. That's both awesome — and it took some getting used to," said Lowans, who is able-bodied and has only seen one previous Phamaly production — a recent staging of the touring musical "The Spitfire Grill."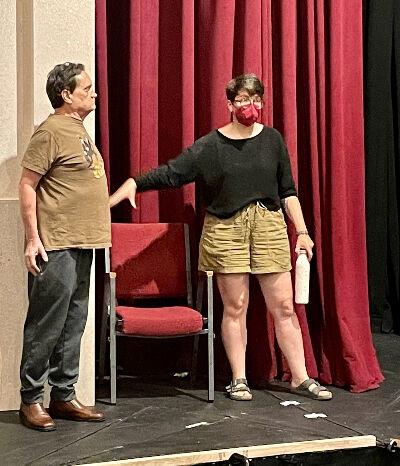 There is a sense of urgency as Lowans begins this rehearsal, just one week before the first audience will arrive on Friday. But Lowans has created a safe, respectful and nurturing environment. Using words and touch, Lowans gently guides Don Mauck, a veteran blind actor who plays the Narrator, as he makes his way down a ramp. Lowans paints a word picture to show Mauck how he will be perfectly framed by a particular set piece if he stops at just the right spot.
"I think Caitlin has had to adjust to the different challenges that Phamaly brings," Mauck said, "but (their) big, warm heart helps with that, I think."
Time is then made for all of the actors to work through every on-stage interaction with any other cast member that involves touch. It's called an "intimacy runthrough," and it is an essential exercise in respecting each actor's personal boundaries and comfort levels.
In "Rocky Horror," there are many … many … moments of touch. Today, Lowans is thoughtfully steering the scene where Frank-N-Furter has sex with both Brad and Janet interchangeably. And because of Lowans, Gonzalez says, she feels perfectly safe.
"Caitlin is really collaborative as a director, really willing to listen to us, and I don't feel any condescension coming from them," said Gonzalez. "That is really refreshing to me."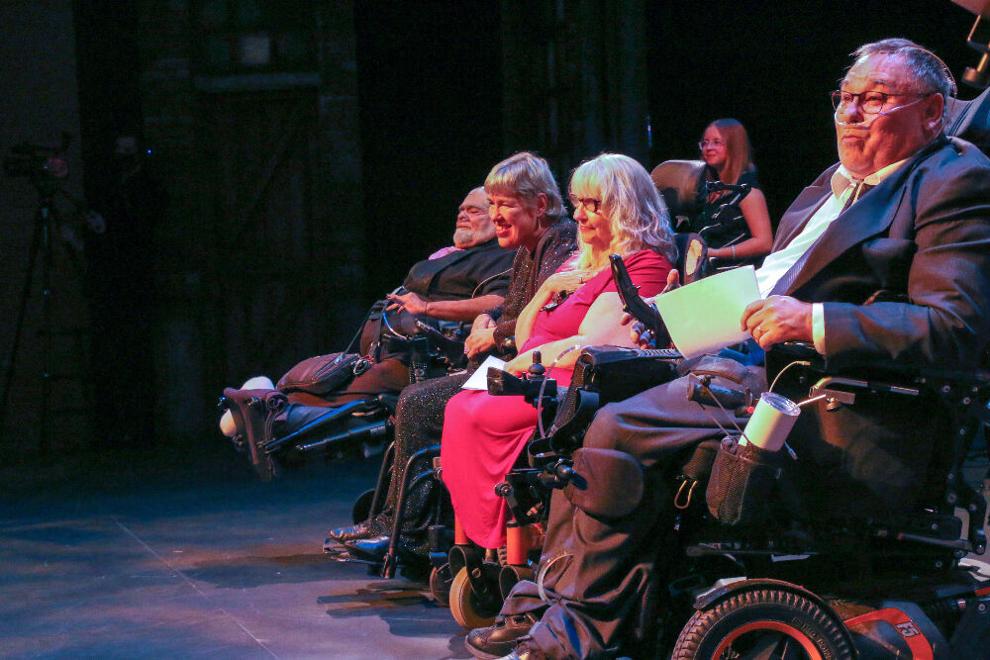 As a company, Phamaly is generally careful when it needs to be careful — and hilariously provocative whenever a stage moment allows for it. That's been the company's signature since five rebel Denver theatermakers started Phamaly in 1989 because there were no other performance opportunities for people with disabilities.
Like in 2019, when the "Chicago" courtroom lyrics "We both reached for the gun" were winkingly sung by an actor with no right hand. Those are the kind of funny, self-deprecating (some might even say "disarming") moments Phamaly relishes in. Even if they can be jarring for first-time directors.
Lowans' "Oh (bleep!)" moment came at the very first rehearsal, when the cast gathered to read the script aloud for the first time. It was when Columbia — Frank-N-Furter's sexy young groupie — tells Brad, "You're very lucky to be invited up to Frank's laboratory. Some people would give their right arm for the privilege." And the actor playing Brad says back to her: "People like YOU, maybe."
The thing is, the actor Lowans cast to play Columbia is Madison Stout, a young woman with  "limb difference" — meaning her right arm is shorter than her left. "In that moment, I was like, 'Oh, no! I am so embarrassed, and I feel so awkward," Lowans said.
No worries. These are the kinds of moments Phamaly usually seeks out, plays up and puts an exclamation point on top of. Sure enough, when Lowans asked Stout how she felt about saying the "right arm" line, Stout was all in. "When I first read that in the script, I said to myself,' That's my part!' " said Stout. And, sure enough, Lowans added: "Now she's made a great bit out of it."
Like Janet (and Columbia), these actors have tasted blood. Now they want more.