Like a lot of '80s kids, GerRee Hinshaw grew up in a big, splintered, multigenerational and mostly loving American family. And at the heart of it, it was GerRee, her mom — and Linda Ronstadt. 
It was GerRee curled up in a papasan wicker chair wailing "When Will I Be Loved?" into an old–school shoebox audio recorder her mom gave her when she was 4.
It was GerRee and Liz Lopez sailing down I-35 on spring-break road trips along the Gulf Coast in their '82 sky-blue Dodge Colt with the queen of rock on blast.
Hinshaw was raised by her village — and "Raised on Ronstadt." Which happens to be the name of her combination biomusical and tribute to the woman whose singing voice was cruelly robbed by Parkinson's disease 15 years ago.
"When I say I was raised on Ronstadt, I mean she was prominent throughout my entire childhood," said Hinshaw, whose love letter to her hero — and to three generations of her own family — opens Oct. 20 at eTown Hall in Boulder.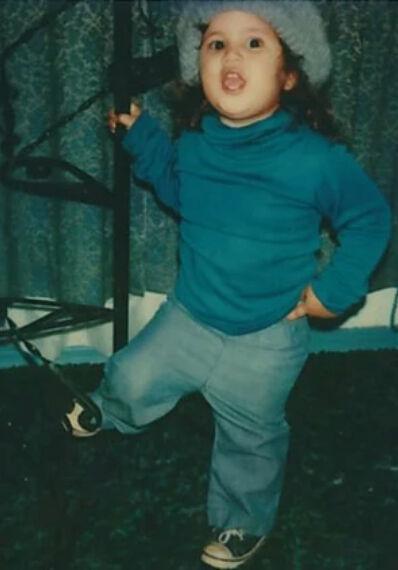 Hinshaw grew up listening to her mom singing to Ronstadt. Which means she discovered her own voice while singing in a power trio that consisted of herself, her mom and the voice of a legend who has sold 100 million records spanning an unprecedented array of genres.
Consider that from 1980-86, Ronstadt performed in a New York Shakespeare Festival production of the opera "La Bohème"; she appeared on Broadway in "The Pirates of Penzance"; and she dropped a new-wave album, a rock album and three compilations of standards with Nelson Riddle and his Orchestra. Then, in 1987 alone, she released both an album with Emmylou Harris and Dolly Parton that produced four top-10 country-music hits — and her first Spanish-language album, which remains the best-selling non-English record in U.S. music history. Who else can claim that kind of range? Only the first female in history to release four consecutive platinum albums.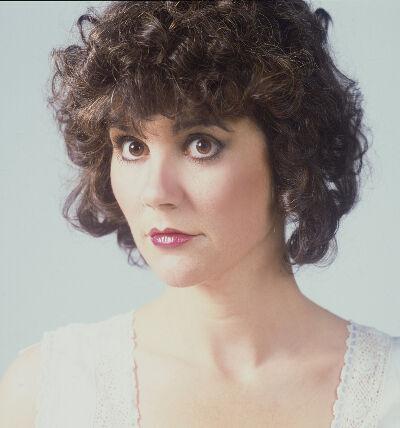 "I learned from the best interpreter of song there ever was," said Hinshaw, a prominent singer, actor and storyteller in the Denver theater community since 1999. For more than 20 years, she has also hosted the Bug Theatre's monthly, all-comers open-mic variety show "Freak Train."
"Linda taught me how to belt. And because of that, I learned at an early age that I had a vibrato that I didn't quite know what to do with," said Hinshaw, who grew up in Texas at a time and in a school where her survival skills told her to pull back at an early age.
"I had an instinct that it could get me in trouble with my peers to shine too brightly," she said.
Not for long.   
An American story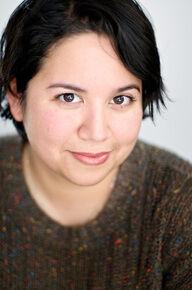 Hinshaw considers herself one of the first batch of America's "every-other-weekend" kids. But at a time in the late 1970s when the divorce rate was nearing 50 percent, she said, "I also believe my folks were among the first parents who were really trying to co-parent."
Liz Lopez and Mike Hinshaw had a classic love story. They were high-school sweethearts who broke up and later reunited while she was a mechanic for the Air Force. He joined her in Arkansas, where she was stationed, and took a job at a local newspaper. She was sent on a 90-day assignment to London only to learn she was pregnant, and GerRee simply lights up recalling how the scenario played out in those prehistoric days of 1976. "She wrote him an actual letter telling him they were going to have a baby," she said. "A letter she licked shut and stamped and sent across the ocean, only to be opened weeks later." So what did he do in response? He wrote her a letter back, naturally.
"He took a couple of pieces of paper and taped them together and he just drew this huge red grin," she said with a burst of laughter. Then he, too, licked the letter shut, stamped it and sent it across the ocean, only to be opened weeks later. They named their daughter GerRee at the suggestion of her maternal grandmother. It's a made-up feminization of Gerard, the patron saint of expectant mothers.
The couple divorced three years later. Both parents remarried. There were soon half- and step-siblings and a typically complicated American family tree. There was drama, sure, but for the most part, Hinshaw says, "we were all just trying to figure things out." One thing was certain: GerRee did not sing "When Will I Be Loved?" as a 4-year-old from personal experience.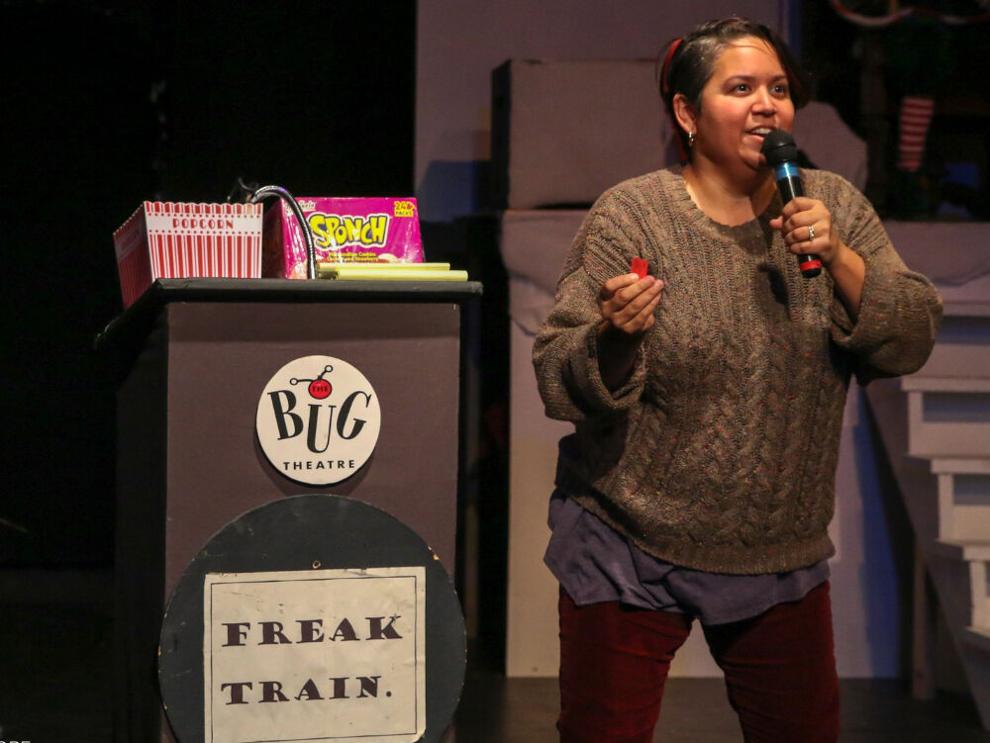 She realizes now that "I absolutely knew who I was when I was 4 — I just didn't know that I knew it until I was much older. I was a kid who loved to be with her family, who loved to sing with her family, who loved to hear and tell stories. That's who I am, and that is who I have always been."
But part of that epiphany was the complicated process of discovering, reconciling and more fully embracing her own heritage — thanks in no small part to Ronstadt herself.
GerRee's maternal grandparents were Dorothy and Manuel Lopez, who picked cotton in Stamford, Texas. He was also a bandleader whose Manuel Lopez Band toured dance halls in the Great Plains states playing a mix of conjunto and jazz orchestra standards. In the mid-1960s, they moved with their three children for greater opportunities near Fort Worth.
They taught GerRee's mother, Liz, to assimilate from an early age, and that her Spanish would be a liability. Emphatically.
"My mom was spanked for speaking Spanish on the playground back in Stamford," said GerRee, who never learned Spanish and eventually drifted away from Ronstadt. Imagine how thunderstruck she was when she finally discovered "Canciones de Mi Padre" ("Songs of My Father"), Ronstadt's first album of Mexican traditionals.
That album had been released in 1987, a time when, Hinshaw said, "I was holding Mexican music at arm's length because I didn't understand the words, and I let the language create separation. I just didn't know what those songs were about.
"But 30 years later, I put that album on and I had this absolute moment of realization. And that was, 'Wait a second: The belt that she is doing in this ranchera — that is the same belt she has been singing with this entire time, in all of these different genres.' That was a pivotal, life-changing moment for me because that's when I realized the belt that Linda had taught me since I was a little girl actually comes from this style of music. She has been connecting me to my heritage this whole time."
Remember 'to tend the fire'
Ronstadt wasn't officially diagnosed with Parkinson's until 2013, but it had already effectively ended her public singing career six years before. Hinshaw calls it "the moment when this unchangeable thing happened to this force of nature."
It was Ronstadt who gave Hinshaw the courage to finally unleash her own powerful voice at a school talent show. In retrospect, there is an unspeakable cruelty in the fact that Ronstadt helped Hinshaw find her voice, then lost control of her own.
"When I found out she would record no more, I had this feeling of like, 'Oh, you forgot to tend the fire,'" she said. "And if there will be no more records, I thought, 'then I now need to go back and savor every morsel that she has left us.' "
"Raised on Ronstadt" arrives now as something of a rite of passage – Hinshaw further immortalizing Ronstadt's songs and wrapping them in the warm blanket of her own memories. She hopes her musical, to be presented by Boulder's Local Theater Company, inspires audiences "to find who their Linda is." After all, Ronstadt had hers. It was Lola Beltrán, one of Mexico's most acclaimed singers of ranchera and huapango music.
It brings tears to Hinshaw's eyes to even think what watching "Raised on Ronstadt" will mean to her parents, who are coming from Texas to see it.
"My childhood was happy and it was hard, and we navigated a lot," she said. "The truth of it is, going to these emotional places of the origin of our little threesome that lasted only a few years has been so healing. It's a chance to celebrate a sweet little thing that had an end — but there was real love nonetheless."
And the chance to tell that story with Ronstadt's catalog as the soundtrack?
"I'll just say there is a moment when I dance as my pregnant mom while singing a Linda tune — and I've yet to get through it without a lump in my throat," she said. "I think this show is going to be the closest that I could possibly ever come to a thank-you."
FIVE THINGS ABOUT LINDA RONSTADT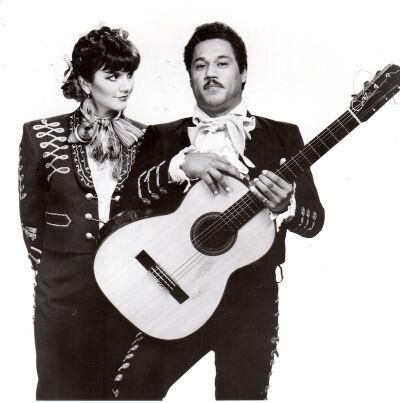 • While serving as Ronstadt's backing musicians, Glenn Frey and Don Henley formed the Eagles.
• Ronstadt had Australian media mogul Rupert Murdoch figured out as far back as 1983. "He's bad for journalism," Ronstadt famously said then — 13 years before he launched Fox News.
• Ronstadt sold record numbers of her 1987 album "Canciones de Mi Padre," but she was recording in Spanish as early as 1977. That's when she released "Lago Azul" — the Spanish counterpart to "Blue Bayou."
• Ronstadt's ninth album, "Living in the U.S.A.," was a big seller with covers of Elvis Presley, Smokey Robinson and others. But Elvis Costello was not a fan of her interpretation of "Allison," which he nastily called "a waste of vinyl."
• Her grandfather, Lloyd Groff Copeman, was an American inventor who owned hundreds of patents, including the first electric stove.