Aging is weird. I'm often reminded of this while watching movies, TV shows or listening to music. Something that meant one thing to you 20 years ago might mean something else now. That's perfectly exemplified by a movie I watch every summer at the height of baseball season — "Field of Dreams."
When "Field of Dreams" came out in 1989, I was 18. I viewed the film as an odd yet enjoyable baseball movie co-starring the voice of Darth Vader.
Now I see "Field of Dreams" as a movie about a father and a son. There are plenty of not so subtle clues scattered throughout the movie that illustrate this, including the first line of the film. "My father's name was John Kinsella," says Ray Kinsella (Kevin Costner) in a voice-over as pictures of his father are shown.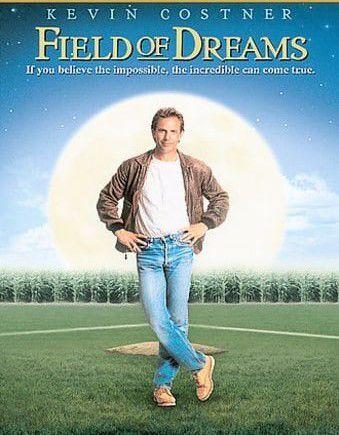 Through his opening monologue we learn about John and Ray's tumultuous relationship and the one thing they had in common: a love of baseball. After Ray's mother passed away when he was little, he was raised by his single dad and they frequently were at odds. After leaving for college, Ray never went back home. John died before meeting Ray's wife and daughter.
Without truly realizing it, Ray has issues with his dad he couldn't resolve until Shoeless Joe Jackson (Ray Liotta) came into his life. I never picked up on the father/son theme as a teenager. But now as a middle aged father of two, this film resonates loudly as a parent and as a son.
The plot: While walking through a cornfield one day, novice Iowa farmer Ray Kinsella hears a voice whisper to him, "If you build it, he will come." Ray tries to ignore the voice but it persists and he soon has visions of a baseball field. Compelled by the voice and encouraged by his wife Annie (Amy Madigan), Ray builds a field believing that the "he" the voice refers to is disgraced baseball legend Shoeless Joe Jackson, his father's favorite player.
Shoeless Joe eventually appears along with several other ball players.
While he's completed what the voice has asked, Ray doesn't feel like his job is done. A road trip with one of his literary idols, reclusive author Terence Mann (James Earl Jones) helps Ray along his journey. At the end of the film, viewers realize that the "he" the voice was referring to was Ray's father, a former minor league baseball player who has been playing at the mystical field with Shoeless Joe. Ray introduces John Kinsella to his family and the film ends with father and son playing catch.
Five things to know: 1. The film initially was titled "Shoeless Joe," after the book it's based on by WP Kinsella, but test groups didn't like it.
2. In the novel Ray seeks out real-life author JD Salinger, not fictional author Terance Mann.
3. Jeff Bridges, Tom Cruise, Harrison Ford, Mel Gibson, Bruce Wilson and Patrick Swayze were all considered for the role of Ray.
4. The Chicago White Sox and the New York Yankees played a game Thursday on the Iowa field where the movie was filmed, which is now a tourist attraction.
5. The address for the movie site is 28995 Lansing Road, Dyersville, Iowa. You can see what it looks like today if you look it up on Google Maps.
Best and worst reviews: "Field of Dreams" has an aggregate score of 57/100 on Metacritic and 87% on Rotten Tomatoes. Candice Russell of the South Florida Sun-Sentinel said the film is "a special experience, sort of an 'It's a Wonderful Life' for the late 80s.'" People Magazine's Ralph Novak said the film script "goes from charming to preposterous to preachy."
Most rewatchable scene: There are plenty of options, including James Earl Jones' dramatic speech about baseball that's been played at Major League ballparks for years. However, I have to go with scene where Ray gets to see his father at the end of the film and all the threads of the story come together. It makes me cry like a baby. Now if you'll excuse me, I have to call my dad.
Gazette TV critic Terry Terrones is a member of the Television Critics Association and the Critics Choice Association. You can follow him on Twitter at @terryterrones.