You wouldn't think a book titled "Glory Guitars, Memoir of a '90s Teenage Punk Rock Grrrl" would be set in Fort Collins, of all places. Where the place to be back then was a bluegrass concert in the old-town square headlined by Larimer County's closest thing to Joan Baez, or maybe a stop at the Foothills Fashion Mall for some Swensen's Ice Cream.
That was not Erin Barnes' so-called life. Erin at 15 was sneaking spiky-haired boys into her pink bedroom. Erin at 16 was hanging out with 24-year-old Misfits-like skater punks with bongs and 'tudes. Erin at 17 was prowling local strip clubs.
Hers was an adolescence defined by shotgunned PBRs, $12 tattoos and tracking down some dude who scrawled his digits onto a coffee-shop bathroom stall.
There was always a danger but never an overt self-destructiveness to her rebellion, she says. A lot of it, she believes, actually came from a healthy, even joyful lust for life in the swirling suffocation of utter rural boredom.
"Ironically, there was an innocence to my deviant, corrupt behavior because Fort Collins is not New York," said Barnes. "It's just this cute little super-White suburban college town where if you had orange hair, everybody literally thought you were going to rob them. So we felt like complete outcasts."
This was the time just before Columbine. Before 9/11. Before the financial collapse sealed her generation's fiscal fate. But all the while, there was something seriously messed-up boiling just underneath the surface. And not just the jock-first mentality at the new Fort Collins High School. It was the men who followed her around her neighborhood. The neighbor who lured her to his house and offered her cocaine at 15. The old man who sexually harassed her on a bus that same year while a crowd of passive adults looked on.
All you have to do is watch the documentary "Woodstock '99," Barnes said, to understand that "sexism was absolutely terrible everywhere – and the rape culture was running rampant." And if she ever called anyone out on their bad behavior, she said, "I was punished more than the person who was doing it."
Every time Barnes left her home, "it felt super-hostile," she said. "At school, at the mall … it was just not safe." Even at parties, like when a girlfriend passed out and some American idiot teenager thought it would be funny to put a hundred hits of acid in her mouth.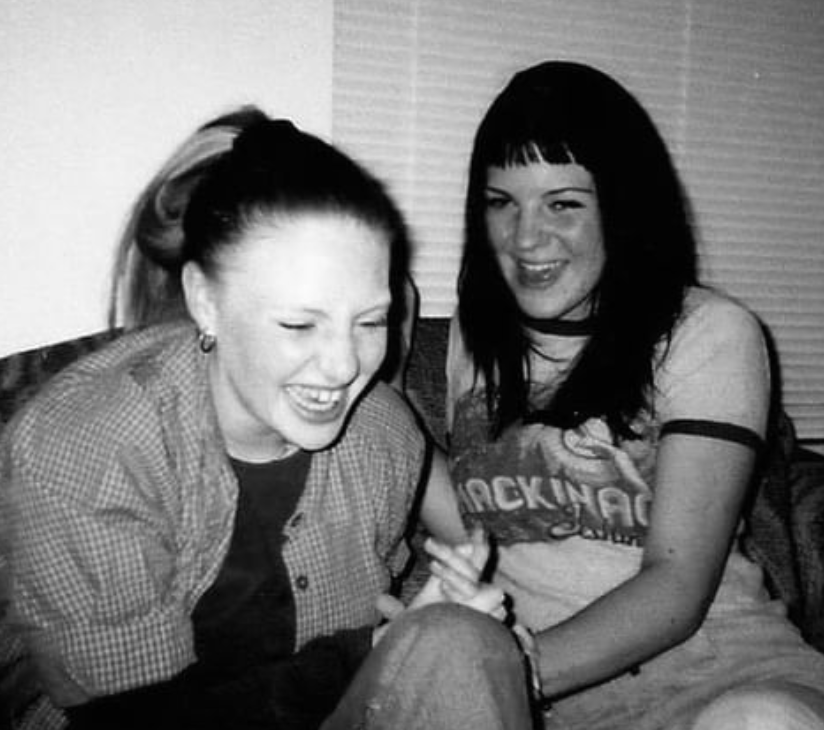 Since the dawn of time, teenagers have observed the hypocrisy of adults, felt their own anger and sensed the death of the American Dream just around the corner. "But for us, it was more like the American Dream was about to explode," said Barnes, who did not respond by becoming a wallflower. She became, well, a very loud teenage punk-rock grrrl.
"Life in Fort Collins was kind of sheltered and suffocating at the same time, which resulted in us turning into these almost monstrous versions of punk rockers," Barnes said. "All I knew when I was 14 was that I hated school. School hurt, and outside felt good. I just wanted to dye my hair and wear tank tops with spaghetti straps. That's how the rebellion started."
Like several million hormone-fueled teenagers of her generation, Barnes turned to Nirvana. And L7. And the Vandals. And Goldfinger. And Rage Against the Machine. Her anthems, comic and serious, included "Violet" by Hole, "Punk Rock Girl" by the Dead Milkmen and "Detachable Penis" by King Midas. Bands like All and The Defendants came out of Fort Collins.
"You would not imagine gritty punk rockers to be there, but Fort Collins did have this super vibrant power-punk and ska scene," said Barnes, who admits – and this is hard for someone who grew up to become a music journalist to admit – that her playlist also included Blink 182. "My tastes got better," she said with a laugh.
Barnes was a smart kid who took Honors English and actually won her school's anti-drug DARE essay contest between snorts of cocaine. But every day of her life felt like a scene from "American Beauty," a film Barnes took as a cautionary tale for what was to come of her own life.
"We all thought our lives would be empty like that – and to us, that was the worst thing that could ever happen in the world," she said.
But the joke was on them: A lot of worse things were coming.
Birth of an alter ego
Barnes describes "Glory Guitars," to be released Oct. 11 by University of Hell Press, as a chronicle of all the misadventures she and her girl gang got into from 1995-99.
"We were witchy girls, riot grrrls, hippie girls and punk girls – and we were pushing boundaries," she said. But her book should not be mistaken for the life stories of, say, Amy Winehouse or Courtney Love.
"It is actually a very fun read, and it has this very Gonzo, beatnik feeling to it," she said. Cazz Blase, a reviewer from the U.K. website "Louder than War" described the book "as if 'Howl' had been written by a 15-year-old fanzine writer who's high on life, booze and illegal pharmaceuticals."
It's a party story that, for the record, is officially authored by Gogo Germaine. That's one of many pen names Barnes has adopted throughout her life – though she prefers to think of them as alter egos.
She picked "Gogo" in part for the band The Go-Go's and in part "because it's kind of this manic punk girl-sounding name," she said. And she's loved the word "Germain" ever since making the Saint-Germain-des-Prés stop on the Metro as a young girl during a family visit to Paris.
"When I first sat down to write "Glory Guitars," the only way I could coax it out of myself was to write it as Gogo Germaine," said Barnes. "I had convinced myself that I would never tell people who I actually was. But that was just a coping mechanism for how I could trick myself into telling the truth."
Barnes' writing is rooted in synesthesia, a brain condition she considers to be a creative gift. "It's when you hear music, but you see shapes," said Barnes. "When I listen to music, I can actually see the music in my mind's eye, like an artist painting in different colors."
At 18, Barnes took the "high" road from Fort Collins High School to another couple of lost years partying with her sister in Boulder. Then she found the Metropolitan State University of Denver writing program, where she fell in love (with words) and found her passion.
Barnes has since written about local music for Westword and The Denver Post. But she really made her hipster mark when, on a lark, she launched the Donnybrook Writing Academy – an elitist writers collective comedically self-described as "a secret society made up of clearly perfect people." For a few years, Donnybrook was Denver's go-to pop-culture website.
"The joke was that we were this group of fantastically wealthy fancy people from a Wes Anderson film, and we all had these preposterous pen names," said Barnes, aka Angora Holly Polo. It was all in good fun. But eventually, like Peter Pan, we all have to grow up.
Do as I say ...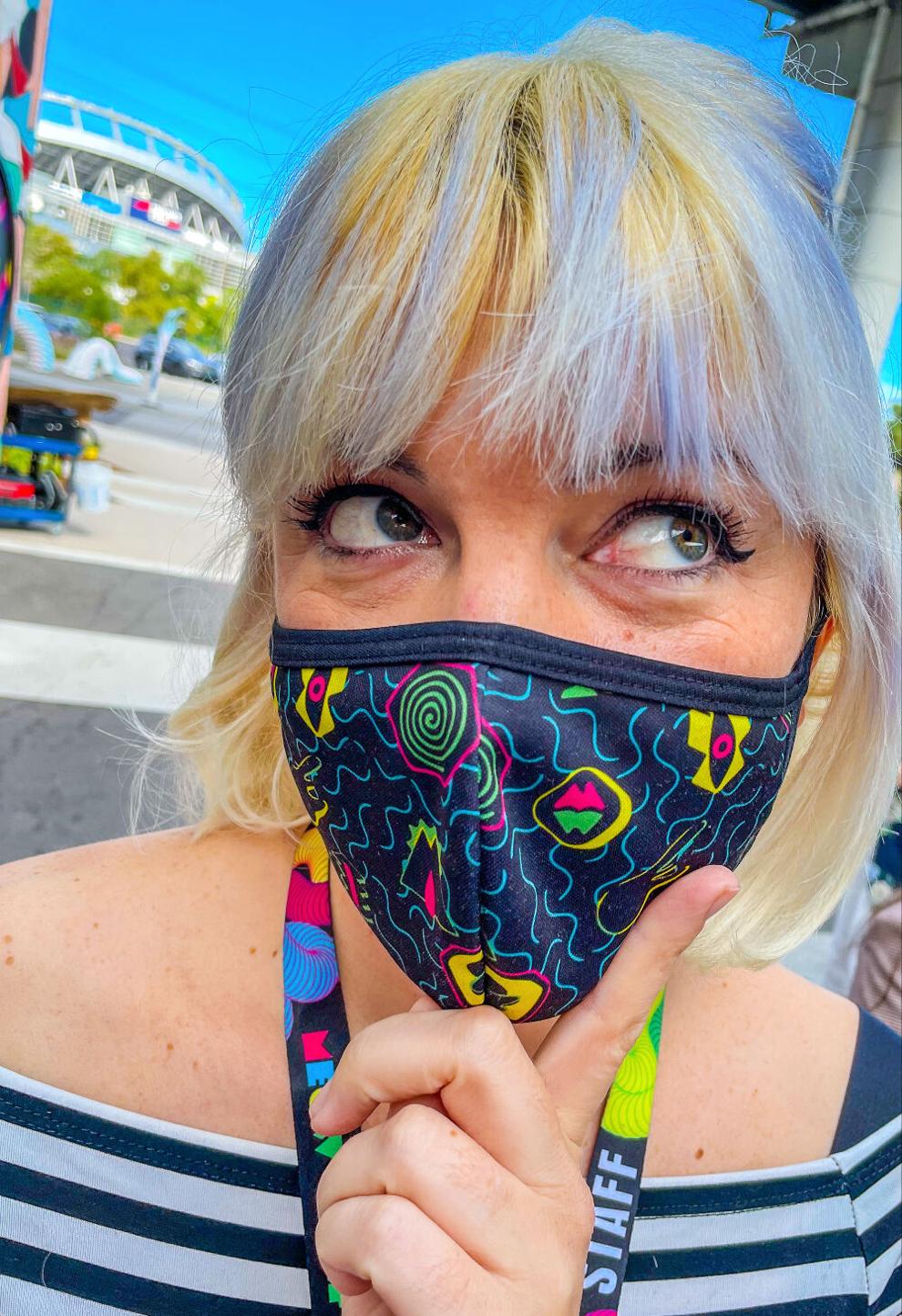 Barnes is now working what she calls the perfect job for, as she describes herself, "a neuro-diverse maximalist with a goth-kitty heart": She's the Public Relations Manager for Meow Wolf Denver.
She's also a 39-year-old divorced mother who still can't keep her hair the same color for even two weeks in a row. "My hair has been every single color in every combination," she says. Today that combo is blue with a little bit of green.
With a daughter now 9 and a son who is 7, Barnes thinks back very differently on that party when someone put 100 hits of acid in her friend's mouth. After all, that could be a single pill of lethal fentanyl today.
"This kind of thing has been on my mind from the second I had kids," she said.
"When I was a teenager, the adults in our lives really didn't understand us at all. My parents were super sweet and they are so loving, but they were like, 'No, you are not going to look like a punk kid, because a punk kid is a bad kid.' I have definitely raised my kids differently. That's not me being a better parent. It's just that the culture is different."
Parents, she says, have more resources today to talk to their kids about everything from unacceptable adult behavior to sexual abuse.
"My message to my kids is to speak up for yourself and have your own voice," she said. "The sole reason for a lot of my own bad behavior and a lot of the bad things that happened to me was that I didn't feel like I had a voice. But I do have faith in my children. They are a lot better at advocating for themselves. I want them to feel comfortable talking with me, no matter what."
Still, they surely will rebel against her one day, and she is prepared for that ironic rite of passage.
"It's going to happen, but given everything I have been through, I am going to be harder to trick," she said. "I suppose they could out-smart me. They could join the Republican committee at their school."
Barnes says she wrote "Glory Guitars" not to shock readers with her tales of delinquency but to inspire them to feel … something. Like the fleeting thrill you get when you ditch a class. "All of my misbehavior was about, 'How much can I feel? How much can I experience? How much fun can I have?'" she said.
"I wrote this book because there is a lot of hopelessness in the world right now. We're all trying to make the world a better place, but it gets exhausting. That's when I think we need to go to our subversive place for inspiration. So if someone finishes this book and then just walks out of class or work … I will be super happy."