Matt Bliss is about to make it rain Christmas trees in his Denver condo.
No living trees will be harmed during this holiday storm.
The dark-haired entrepreneur, hunched over his laptop at a makeshift desk/kitchen table opposite his general manager, Marina Lucero, is making the holidays look a little untraditional for customers around the world. He's the force behind The Modern Christmas Tree, a tree based on a 1966 midcentury design by his forward-thinking grandfather, Lawrence "Bud" Stoecker.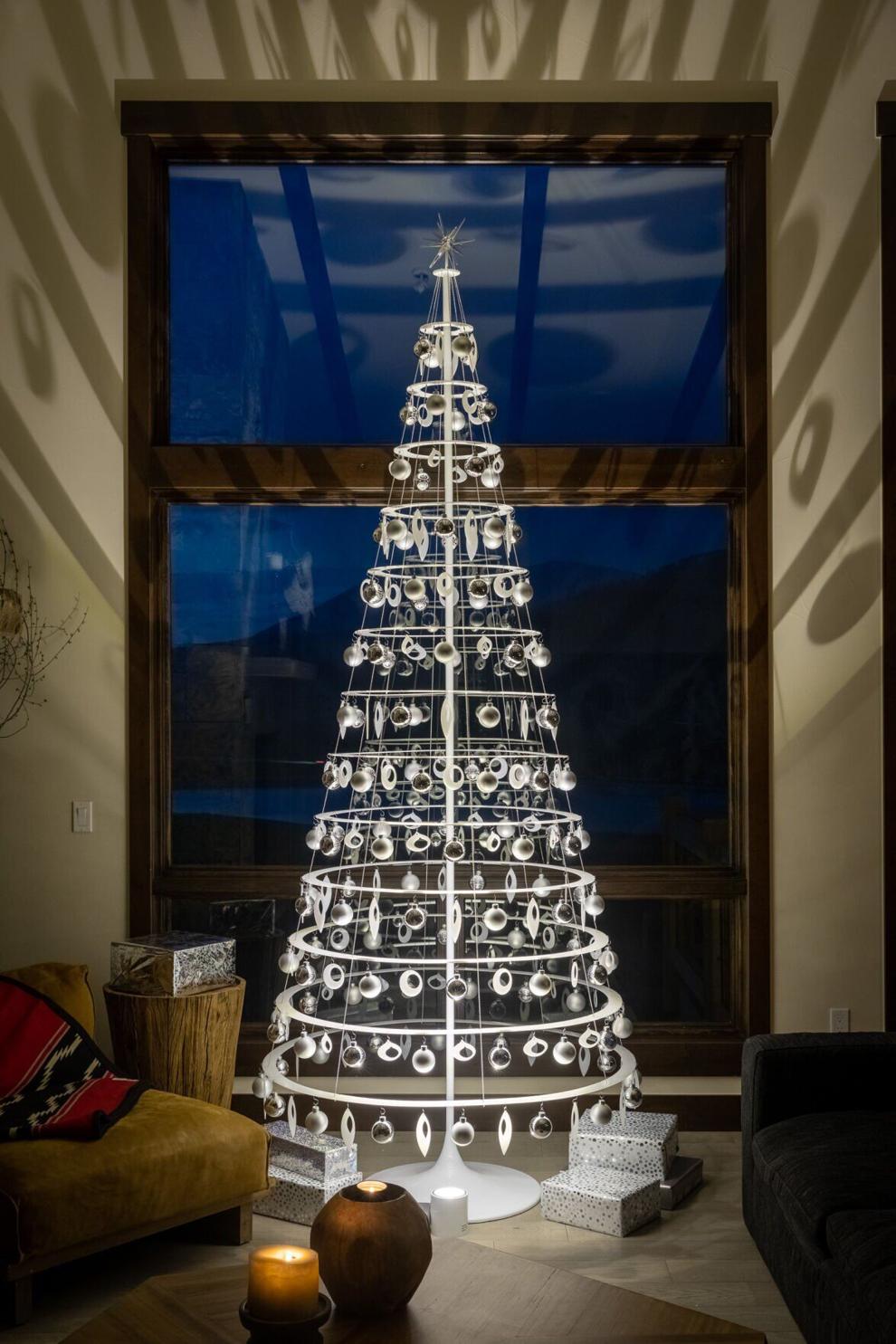 These aren't your typical artificial trees from a big-box store. These are minimalist, futuristic trees George and Jane Jetson might have installed in their Skypad Apartment in Orbit City on the old animated science-fiction TV show "The Jetsons."
"It's a Christmas tree designed for certain types of people who have a certain design aesthetic," Bliss said. "It doesn't resonate with the mass market. We're focused on people who understand its caliber of design."
And much like the Ghost of Christmas Past in Charles Dickens' "A Christmas Carol," the distinctive trees have the ability to whoosh Bliss back in time to his grandparents' Broomfield home.
Once a place of ruin and hard memories, Colorado Springs native restoring childhood landmark
"When I was maybe 6 or 7, my brothers and I would crawl under the tree and face up," he said. "Our grandfather would rotate the tree, and it looked like a kaleidoscope. I didn't know at that age it was something he had made. It wasn't as though I loved it because he made it. I loved it because it was whimsical and interesting."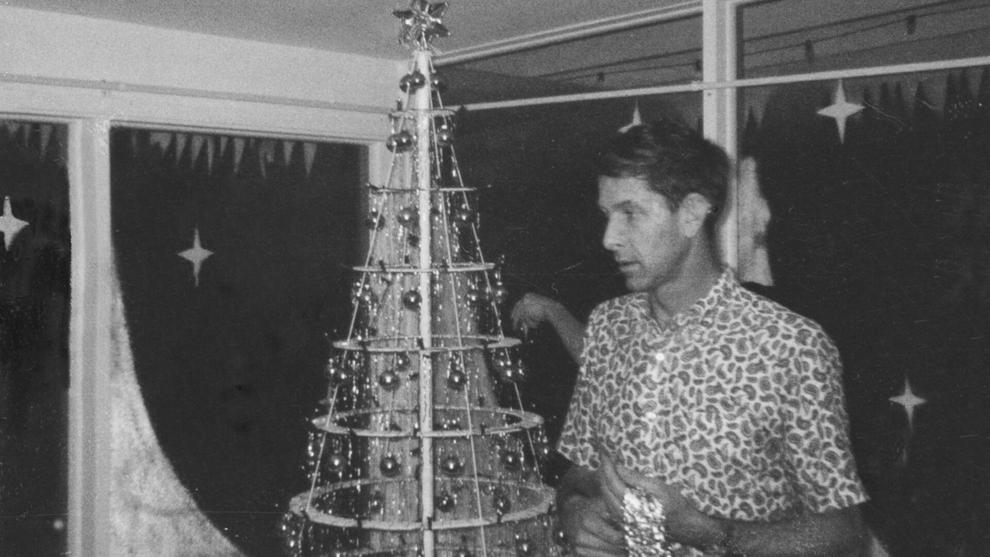 You don't have to water these trees, clean up needles or figure out where to recycle them. They also store easily — the concentric plastic rings are strung together with metal chains to create the conical shape and collapse flat when Santa has come and gone. And they're more environmentally friendly than other artificial trees because they use less plastic.
They come in four models: wall-mounted ($597), table top ($297) and 10 feet or 8 feet high and designed to hang from the ceiling or fit in a stand ($1,597 to $2,197). You can get them with or without shiny ornaments to dangle from each precisely distanced hole in the rings.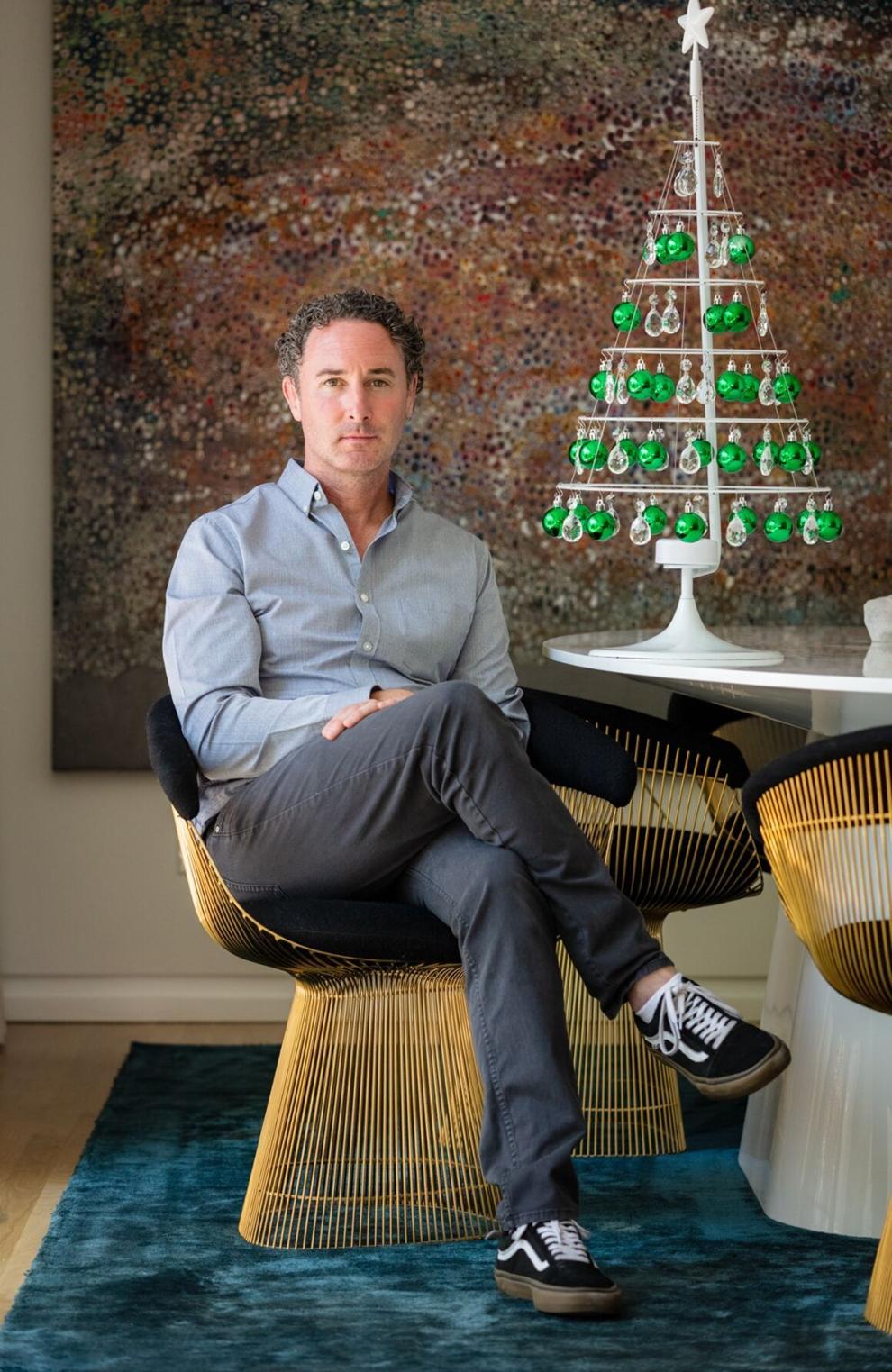 Some come with LED lights you can change with a phone app, and different holiday toppers, including a heart for Valentine's Day and a shamrock for St. Patrick's Day.
"People are looking for more joy and leaving their trees up all year," Lucero said.
Bliss makes about 1,000 to 1,500 trees every year, each one engraved with a copy of Stoecker's signature from his 1966 tax return. The last two months of the year are especially chaotic for Bliss and his team of human elves, which sometimes includes his mother and his nephew. Sales spike the day after Halloween, and they must stand for hours in his light-filled living room in the Central Park neighborhood, threading metal chains through tiny holes in plastic discs, packing the trees up in boxes, and preparing them for twice-daily FedEx pick-ups.
"I'm motivated by carrying on this tradition," Bliss said. "The stories we get from people around the world about the experience they get from the tree is overwhelming."
Stoecker, an engineer who built rockets for NASA Apollo missions, also built more than 400 A-frame cabins across the Rocky Mountains. He made only a few trees during his life, but kept track of his ornament patterns in a ledger for three decades. Bliss took his concentric ring architecture and abided by his grandfather's less-is-more design principal.
Colorado Springs man's collection of license plates is decades in the making
"I love it. I have a very modern home and the tree fits perfectly," said customer Dee Chirafisi. "I went for many years without a tree, and now that I have Matt's tree I'll be putting it up every year. It's fun to put together and every guest who comes over during the holidays just loves it."
Breaking into tree business
After his grandfather was diagnosed with Alzheimer's in 2010, Bliss, who worked in mortgage banking, decided to pay homage to Stoecker by developing the trees part time in 2011. That same year, he displayed one at the Denver Modernism show and received a positive response. Days after Stoecker's death in 2012, Bliss received his final patent design for the tree, and in 2014 he quit his job to became a full-time entrepreneur. His first customer? Disneyland Hotel, with an order for 16 trees for Christmas displays.
Bliss got a boost during his 2017 appearance on ABC's "Shark Tank," where a panel of sharks, aka potential investors, listen to entrepreneurs pitch their business or product and deem it worthy or not of financial support. "Shark" Barbara Ann Corcoran was enchanted by the trees' "dazzling ornaments, sparkly crystals and shimmering rings," and struck a deal with him. She's now a silent partner who still has equity in the company.
Doing the show was an especially emotional experience for Bliss, one that can still make him tear up.
"I'm no one special. I struggled in high school. I had a learning disability," he said. "But I showed my nephews if you want to do something and feel passionately, dare to fail. Pick yourself up and try again. You don't have to be the most brilliant person in the world."
New Denver museum exhibit to feature history of horses in Colorado
Now a decade in, his trees have been featured on almost every continent, in such locations as the Colorado Governor's Mansion, the Fairmont Dubai hotel, One World Trade Center and Ritz-Carlton luxury hotels and resorts. A tree will make its way into an upcoming Frito-Lay commercial with Jimmy Fallon, and a bunch of trees have been purchased for next year's reboot of "A Christmas Carol" starring Ryan Reynolds and Will Farrell.
Through sales and auctions, the trees also have given back to the community. Bliss has raised $10,000 for the Denver chapter of the Alzheimer's Association, and he donates trees to nonprofits, including Boys and Girls Clubs of America and The Center on Colfax, an LGBTQ organization in Denver, which use the trees to raise money.
"I see this as a gift from my grandfather to allow me to be creative and make things that didn't exist," Bliss said.
"Most people don't get that opportunity. I'm embracing and redefining how success is defined. I can't define it by what's in my checking account. I'm not somebody who's motivated by money. I'm motivated by carrying on this tradition and the stories we get by people who purchase the trees."
Contact the writer: 636-0270