PUEBLO • It may be mid-August, but prom season was in full swing for Amaria Granger Thursday evening. 
Amaria, who will turn 14 later this month, has a rare neurodegenerative disorder called Niemann Pick C. The disease affects Amaria's ability to metabolize fat such as cholesterol and lipids within cells, causing them to malfunction and eventually die. The disease causes progressive loss of function of the nerves, brain and other organs. There is no known cure for Niemann Pick C, and it is fatal. 
Amaria can no longer talk or walk on her own as a result of Niemann Pick C. Though when she was able to speak, she had the dream of being a prom queen and a movie star, according to her mother, Mandy Baxter. This year, Baxter decided to make her dream a reality for her birthday but it is the start of an ongoing tradition for kids of all needs. 
Thursday night, Amaria celebrated in style with a prom night with a Hollywood red carpet theme at the Eagleridge Event Center in Pueblo. The night was complete with a DJ, a live singer, photo booth, popcorn machine, chocolate Rice Krispies and cupcakes, conga lines and a room of teenagers singing every word to Taylor Swift's "Shake it Off."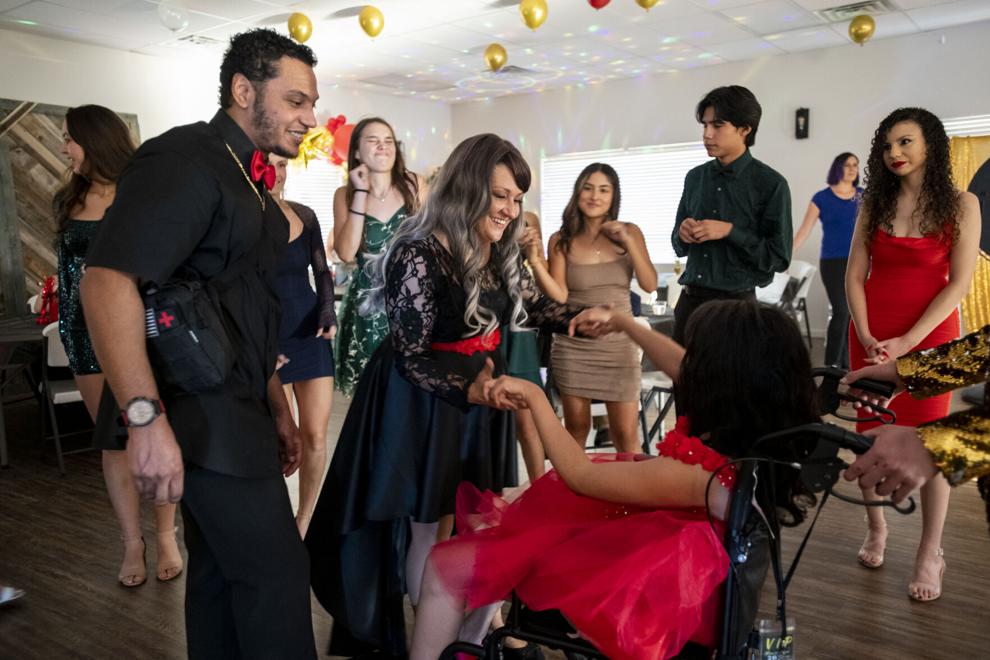 Amaria was, of course, crowned prom queen on her special evening alongside 16-year-old Chase Hart, who has autism and was named prom king. For Baxter, the event wasn't just about her daughter but giving other children of varying needs the opportunity to experience an evening of wonder.  
"This is really, really special, and I want you to continue doing things like this for kids in the community because it's not just my daughter," a teary-eyed Baxter said to a room of special-needs teenagers and their parents, high school students and others. "We're going to do this every year, and every year it's gonna get bigger and we're going to celebrate all the kids who deserve celebrating."
Baxter first realized something might be wrong with her daughter around age 5, when Amaria wasn't able to write her name after being fully able to do so a year earlier while in a Head Start program.
Even so, Baxter said Amaria's life was relatively normal. Baxter recalls that her daughter was sassy and the boss of the house at times, especially when she would kick her mom's friends out of the house so that she could be read a bedtime story. When Baxter told her she loved her, Amaria would respond by saying, "that's why I chose you to be my mom."  
However, Baxter and stepfather Phillip Potter had some concerns about Amaria's ability to learn. She would understand concepts and be able to memorize certain things such as the alphabet, but would have trouble reciting what she knew back to teachers. 
Baxter said medical professionals in Florida tried to say Amaria had attention deficit and hyperactivity disorder or mental retardation or was overweight. Unsatisfied with those answers, the family moved to Colorado in search of help through of help through cannabis-based products. Unfortunately, it was in Colorado where Amaria had her first seizure just over five years ago. 
It would not be her last and with every episode, young Amaria lost a little more of herself, eventually losing the ability to talk and within the last year, walk by herself. 
She was diagnosed with Niemann Pick C 4½ years ago. The family exhausted their financial resources flying to Chicago every couple weeks for procedures that were non-FDA approved. Nothing has slowed down the progress.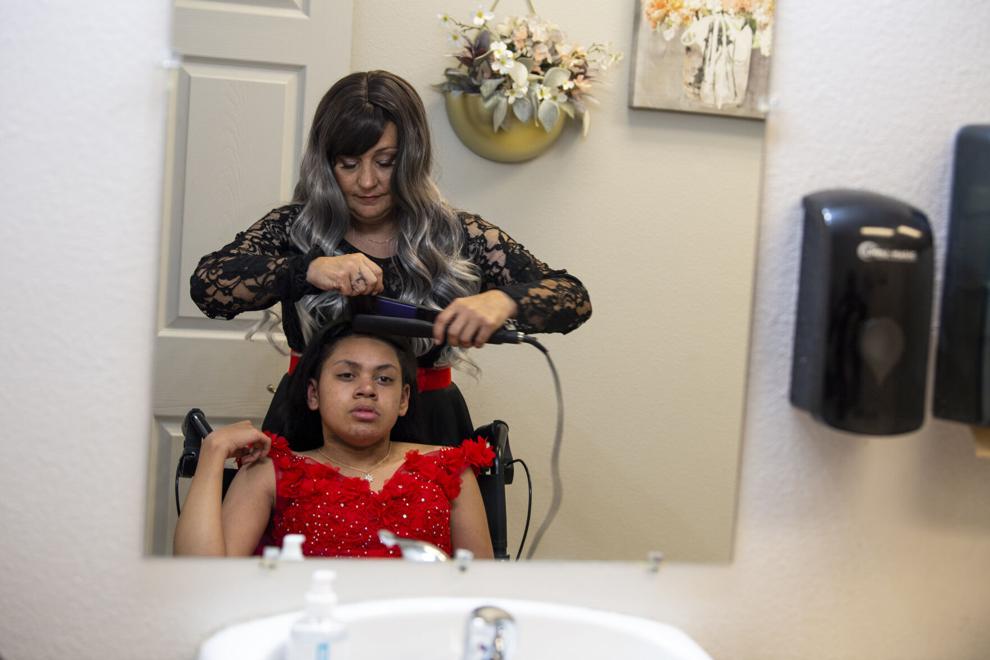 The American Cancer Society estimated that nearly 2 million people in the United States would be diagnosed with some form of cancer in 2021. According to the National Library of Medicine, just one person per million is diagnosed with or treated off-label for Niemann Pick C. And Amaria's case is especially rare, because most people diagnosed have one gene mutation and she inherited two. The rarity means the disease doesn't get a lot attention, limiting funding and options for Amaria's family. 
"There was a time when I prayed for cancer," Baxter said. "There are options with that; there are no options with this."
Amaria's family and surrounding community have bonded together, taking care of her. One such example is her brother Marcus Swint, who graduated from Trinity International University in Illinois and moved to Pueblo to be with the family. He commutes daily to work as a football coach for The Classical Academy in Colorado Springs. 
Baxter said the family doesn't go out much and has spent time taking care of Amaria and watching a lot of Disney Plus. 
"We watch so much Disney, one of Amaria's therapists told me, 'You guys talk about those Disney characters like they're family,'" Potter recalled. 
But, after COVID-19 robbed Amaria of precious time, Baxter said she wants to make memories with her daughter. 
Amaria's birthday is Aug. 30 and she and the family will be at a ranch in Montana, enjoying horseback riding, canoeing, hiking and other activities as part of the Hope Kids Week of Hope.
Thursday's prom was another experience.
When Baxter told her story, the owners of the EagleRidge Event Center allowed her to use the venue free. Baxter and her family transformed the space into a dance venue straight out of a high school yearbook, complete with balloons, strobe lights and the electric slide.
Dozens of local high schoolers even showed up, dressed to the nines, to give Amaria and other special needs children attending the dance a true prom-like experience. 
"I think high school dances are just a huge piece of coming of age, and I think to be able to give someone that is just huge," said Pueblo East student Skylar Clark. 
According to Erika Cordova, the president of the school's Distributive Education Club of America, a teacher at the school knew the family and encouraged students to take part in the celebration. 
"It just shows that we're able to come together when it's a time of need," Cordova said. "We really wanted to make this special for her and try to represent, bring as many people as we could to make it more special."
Baxter isn't giving up on a cure for her daughter, but understands time is precious. Despite all that's happened, with every eye roll and the way she sometimes rocks her neck, Amaria continues to show off that sassiness that makes the whole family light up. 
"A lot of people don't think she's in there," Baxter said of her daughter. "But I know she is."