SEVERANCE • Folks here have a tradition when it comes to Rocky Mountain oysters: Don't tell the kids what they are.
"They're chicken fingers," James Anderson recalls telling his 6-year-old daughter back when. Chicken fingers, other parents still say today.
And they do appear that way in the baskets at Bruce's Bar. Why, they even taste like it, just like chicken.
But what's with those murals on the walls? Those distressed cartoon bulls clutching their private areas?
Yeah, the kids catch on. "She stopped eating them," Anderson says of his daughter.
He and his wife, Leslie, are here at the bar enjoying tonight's special: two-for-$25 plates of steak and shrimp. But put a basket in front of them, and they, like most locals, won't hesitate to chow down on the Western classic otherwise known as cowboy caviar, or swinging beef, or tendergroins.
Or, more accurately, balls.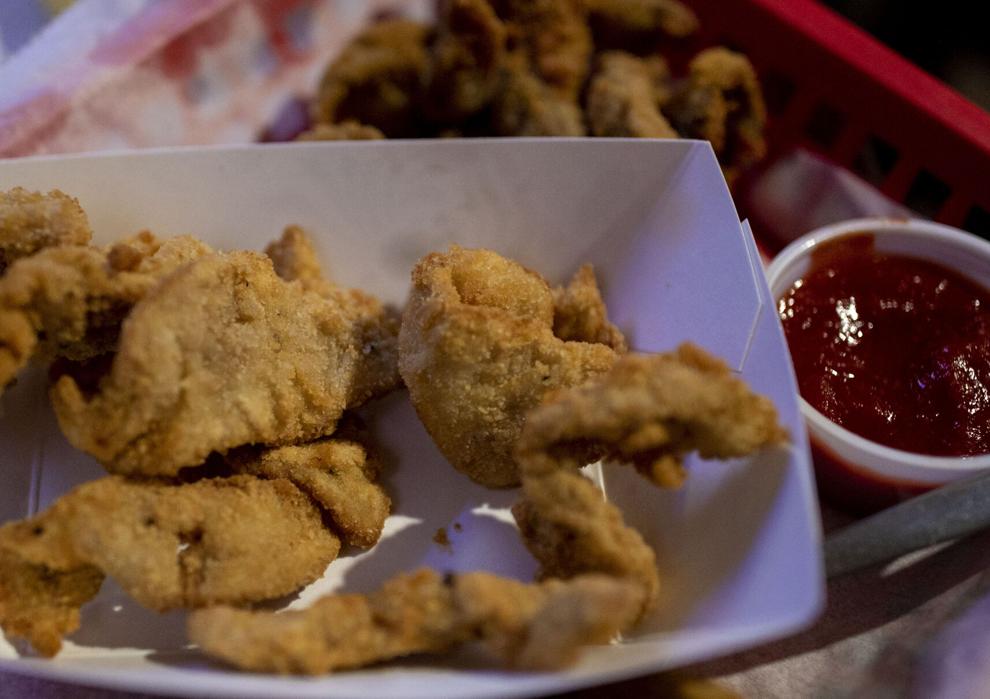 "Mind over matter!" Anderson instructs the doubters.
Seriously, cook Devon Carter wonders: What's the big deal?
"Like, you eat everything else on the cow," he says. "You know why they call it rump roast? Because nobody'd eat it if they called it cow ass."
Love 'em or hate 'em: Rocky Mountain Oysters
Explaining why maybe the fried genitalia came to be called oysters. But oh, you should see non-Westerners' faces when they come through Bruce's and think the menu item refers to the delicacy on the half shell.
You should see the manly men especially.
"I get a lot of dirty looks, nasty faces," waitress Jen Palma says. "No way, they don't eat nuts."
Well, they might try, as so very many have for 60 years now, joining the tradition in Severance, about 130 miles north of Colorado Springs.
The town name, by the way, is a mere coincidence — for the sake of settling pioneer David Severance, not for the castration. It's also coincidence that today's owner is named Bruce, no connection to original owner Bruce Ruth, who's commemorated in a frame above the longhorns on the wall.
"We bought 48,000 pounds of oysters last year," Bruce Carron says. "So we're typically right around there, 40,000 to 50,000 pounds that we do a year. I don't know anybody that does more than that. That's a lot of oysters."
Inside the mission to revive an abandoned Colorado ski resort
It's believed that Ruth started serving them in 1959, a couple of years after he moved into the old Severance Recreation Hall. Some who knew him say he had enough oyster cookouts with the farmers around town to think the dish might go well at his bar. He was right.
Yes, Rocky Mountain oysters were perfect for a place like Severance, just as they were for ranching families and rowdy roundups of the old West.
Testicle clipping was, and is, as practical as branding. And so the thought was to toss the protein on hot coals or an iron, as it is now to toss them in a fryer, for a good farmer knows better than to waste.
And a good businessman knows he needs a niche. Whether Ruth knew that — whether he knew the oysters would become the phenomenon they are at Bruce's — it's uncertain.
But he went on to donate the sign across the street from the bar's corner, welcoming travelers to Severance. "Where the geese fly and the bulls cry," it says.
Says today's Bruce: "It really is the place that put Severance on the map."
Says the old Bruce's cook who still cooks at the bar: "For the longest time, we were the main business in town. Before it grew up and everything, there wasn't a whole lot other than the post office across the street. We had a small liquor store, and we had a gas station. Other than that, it was an itty-bitty town.
"It's funny," Dennis Guffy continues, "a lot of people knew where Bruce's was, but they didn't know where Severance was."
The welcome sign used to report a population of 106. Now it says 3,500, and old-timers swear that's low.
Now people know where Severance is, evidenced by the houses covering former pastures. Now Severance has a fancy brewpub. Now down the road there's a Costco and a Kohl's and a Whole Foods among other big-box stores that keep creeping closer.
Yes, the Front Range boom has reached Severance.
"The town's turning into the suburbs," Dan Raunig says over a cold beer. "But Bruce's still holds onto that old Severance feel. It's our home away from home."
Out on the plains northeast of Colorado Springs, a whimsical refuge for car and man | Colorful Colorado
It's as Ruth would have it. There's still the all-you-can-eat oyster days. Still, the goose hunters come to partake.
Ruth would be at the bar to greet them, a mug of Coors in hand, cigarette smoke swirling around him. He'd sell ammo if they needed any. Otherwise he'd point them in the direction of the blinds he set up on land he leased.
"That was the mid-'70s through probably the early 2000s," says Guffy, who started at the bar in 1974 when he was 16. "Then what happened was the area grew. Everything got developed. All that went away."
Then came a dark day in 2006. Bruce Ruth passed away.
Guffy tried to keep the institution going, but he didn't have the capital. The bar's doors closed, what Severance feared would be for good.
Less than two years later, the new Bruce came along. The place was packed reopening weekend, a line stretching down the street.
Best of all, new Bruce didn't change much.
Coexisting in fruit and hippie-filled Paonia | Colorful Colorado
He had to bring the place up to code so, sure, there were those changes. And there had to be changes in the Wild West behavior of the past — he banished that in favor or a more family-friendly atmosphere.
Still, after touchdowns on Broncos Sundays, he'll buy the guys a round of shots. And still, the bull balls hit the fryer.
Still the process is the same: sliced, tossed in cracker meal, dropped in 350-degree oil. No seasonings, no nothing. "Keep it simple," cook Carter says.
Still, you'll find dirt-stained farmers at the bar after a long day in the fields. Still, you'll find smiling faces.
"Everybody knows everybody," Leslie Anderson says.
"We're still a small community," adds husband James. "But we're exploding. I'm about to get outta here."
But while he's here, he'll have some oysters, please. And so will his daughter, who's no longer that oblivious 6-year-old eating "chicken fingers."
Now she's 32 and living her own life, away from Severance. But she'll come back to visit family, and she'll go with them to all-you-can-eat days, and she'll eat oysters knowing exactly what they are: a taste of home.