BUENA VISTA • At her little restaurant impossible to miss along the main drag through town, a neon ice cream cone-topped fixture since 1955, Lois Huyck reluctantly agrees to a photo shoot.
"My husband was the showboat," the 83-year-old quips. "I wish he were here."
Charlie was the love of her life, her husband of 50 years before his death in 2011. Lois wishes he were here often.
Near Coors Field, a guaranteed hit: Denver's Home of the Fried Taco | Craving Colorado
But here remains a pride and joy of his: K's Dairy Delite, where he was slinging old-fashioned burgers and shakes and calling out famous names close to the end, all while locals and tourists and young employees grooved to the tunes of the '50s and '60s. So it goes today.
"Here's that spoonful of sugar, honey. Where are you, Miss Mary Poppins?" the manager, Paula Milner, says with ice cream at the ready. She calls into a microphone, into which she's also known to sing. That would make Charlie proud.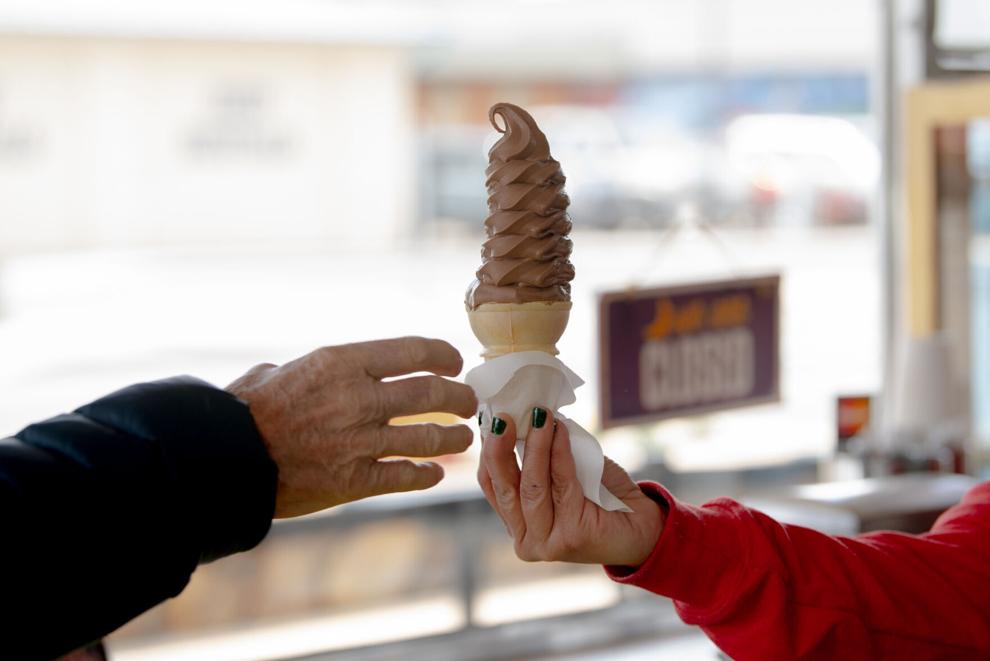 The famous names, given to customers rather than boring numbers, was a Charlie idea. The idea was, if you stopped at K's — "One location serving the nation," goes the motto — then you were famous.
"Dad would always be out front with the customers; he was the one who always called the names," says his son, DJ. "Dad made it fun."
Charlie had other ideas upon taking over the business alongside his wife in 2000. The burgers and ice cream, however, he would keep the same — maintaining the tradition spanning five decades before his and Lois' arrival to Buena Vista.
They came to retire here, to relax in the Arkansas River-cut valley framed by 14,000-foot peaks. In Denver, they had spent much of their lives running Western wear and retail stores. There were other entrepreneurial efforts along the way, successes and failures.
"They always had a real hankering for something quirky," says their daughter, Teresa.
But nothing quite as quirky as K's.
It was not their idea, Lois clarifies. "This was not my idea of retirement," she says.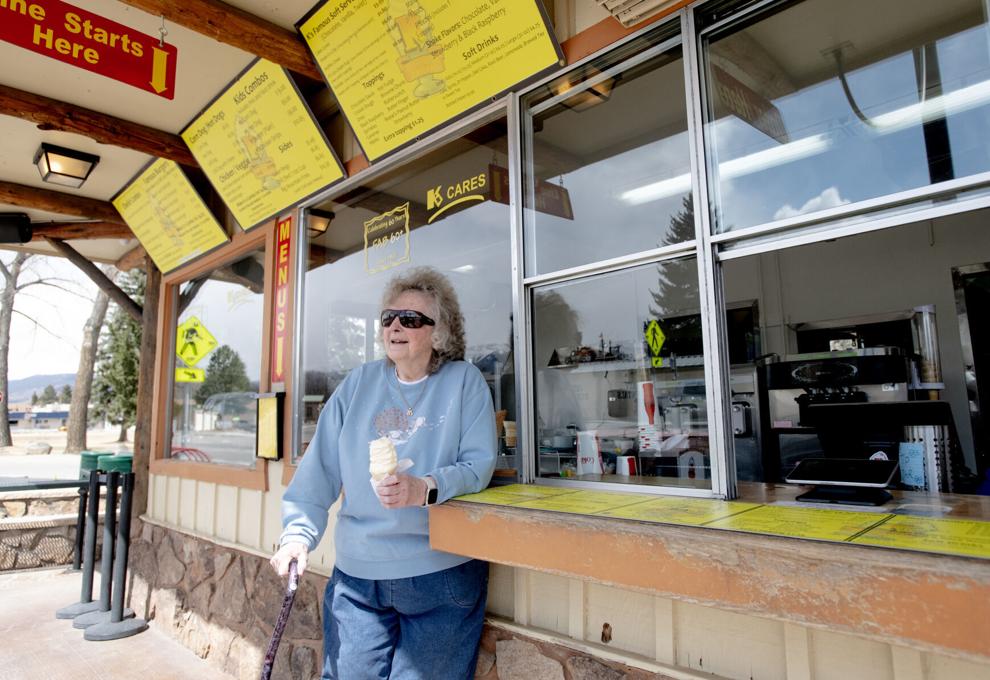 Where tradition is sturdy as a rock, and the fried chicken is tasty as ever | Craving Colorado
But Charlie couldn't help himself. And as always on their adventures, ever since their cross-country travels out of high school, Lois went with it.
What was it that appealed to him? The history, for one. The history that made K's Dairy Delite the nostalgic staple it was, putting smiles on the faces of resident families long before the place was an itinerary stop for vacationers.
At the beginning in 1955, the local paper noted the owners of the "dairy queen" giving out free cones to kids. The name K's didn't come until the 1970s, for the woman who took ownership at that time.
However much ownership changed, K's stayed much the same. The soft serve treats kept flying.
Around the time Charlie and Lois took over, a Meadow Gold ice cream rep told a local reporter: "K's is probably one of the better accounts in the state as far as volume is concerned." Nowadays on a summer day, as many as 300 cones are sold, the manager says — not counting equally beloved shakes, malts, floats and sundaes.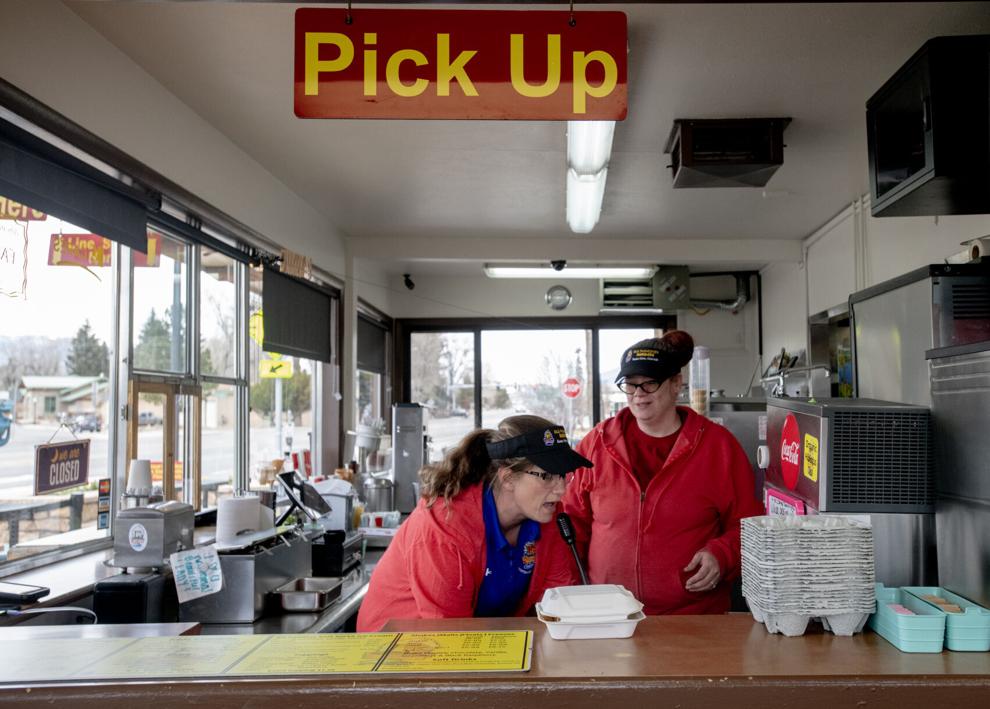 At Denver area eatery, a potato tradition meets an unlikely twist | Craving Colorado
So much for retirement. Through the long days and nights, Lois would stop and look out to smiling faces. She took on a certain mindset: "You can't have a bad day when you sell ice cream."
And at least K's was seasonal, she figured. It would open near the start of spring and close toward the end of October — or however early and late Charlie could stretch it.
"He loved opening day at Coors Field," DJ says, "but I think even more he liked opening day at K's. That was his day."
For the family now, it's an emotional day.
When Charlie died in 2011, there was a thought to sell. It was only a brief thought.
"My husband absolutely loved the business, just loved it," Lois says. "And I loved him. So there you go."
She finally got to retire. The kids, DJ and Teresa, oversee the business now while Lois does whatever she wants.
It's not often she comes by K's.
"It's hard for her to be there," DJ says. "It was Dad's place."
She obliged to be there this day. Obliged to take photos and tell of the good days. They were, indeed, good days — sweet as her favorite vanilla cone.
"Are you hungry?" the manager asks.
"No, darling, thank you," Lois replies. "I'll get an ice cream before I leave, though."
Sisterly love and a taste of home at a country classic | Craving Colorado
On the menu
The most popular of Charlie's Combos: #1 or #3, the quarter-pound or double cheeseburger with fries and a drink ($13-$16). Other combos feature chicken strips and an impossible burger. The fries and drink are often subbed for onion rings and a shake or malt.
Burgers alone start at $8, topped with lettuce, pickle, onion, mustard and ketchup, with choice of adding bacon, grilled onion and chili for extra. Chili and cheese cover the Big Mountain Fries ($10). Along with burgers and chicken, kid combos ($9) include hot dogs and corn dogs, two other quick hits also ordered with chili and cheese.
Soft serve ice cream ($4-$7) enjoyed in regular cones, waffle cones and as sundaes. Sundaes are complete with whipped cream and cherry and choice of classic toppings, from hot fudge, brownie, cookie dough, Oreo and other candies.
Those toppings available for "freezes" of vanilla, chocolate, strawberry and black raspberry ice cream. Those flavors for shakes, malts and floats ($6-$8).