Tom Weis left the King Soopers on Table Mesa Drive in Boulder on Wednesday morning feeling empowered. 
Weis, a south Boulder resident, has been shopping at the store for as long as he can remember, he said. On Wednesday, he went inside for the first time in 324 days but quickly left with only a carton of chocolate almond milk in hand. 
"I'm here to honor the people who died and I wanted to show we don't succumb to fear in Boulder," Weis said.
Hundreds of people joined Weis on Wednesday morning at the store as it reopened for the first time since a mass shooting that took the lives of 10 people on March 22.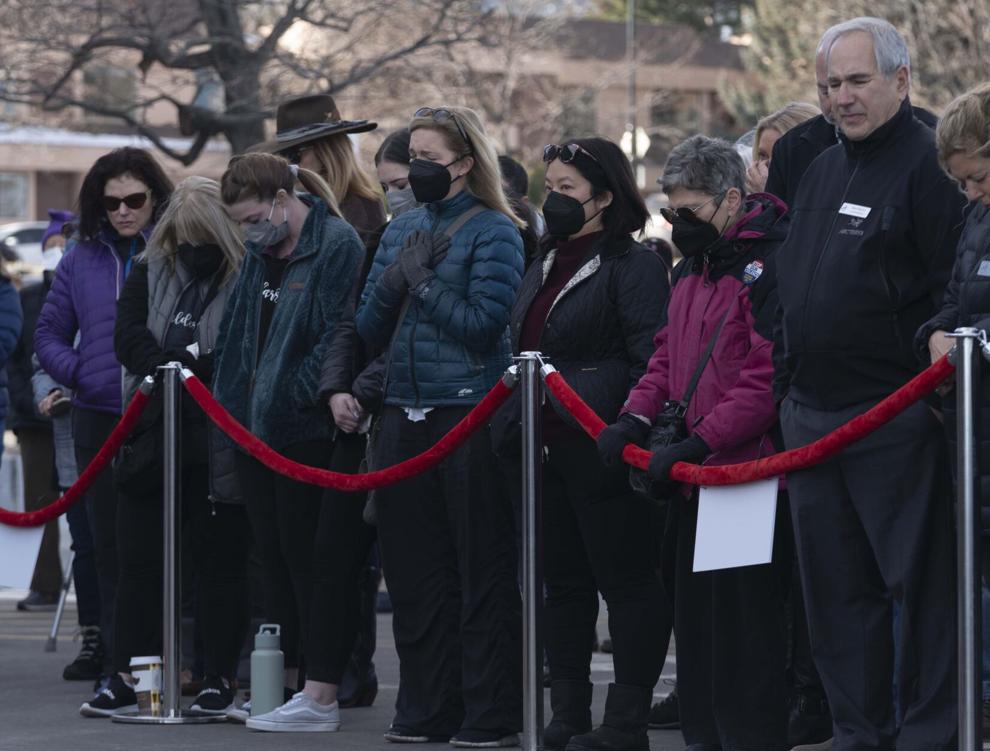 Before the store officially reopened shortly after 10 a.m., King Soopers President Joe Kelley, Boulder Mayor Aaron Brockett and Gov. Jared Polis held a reopening ceremony.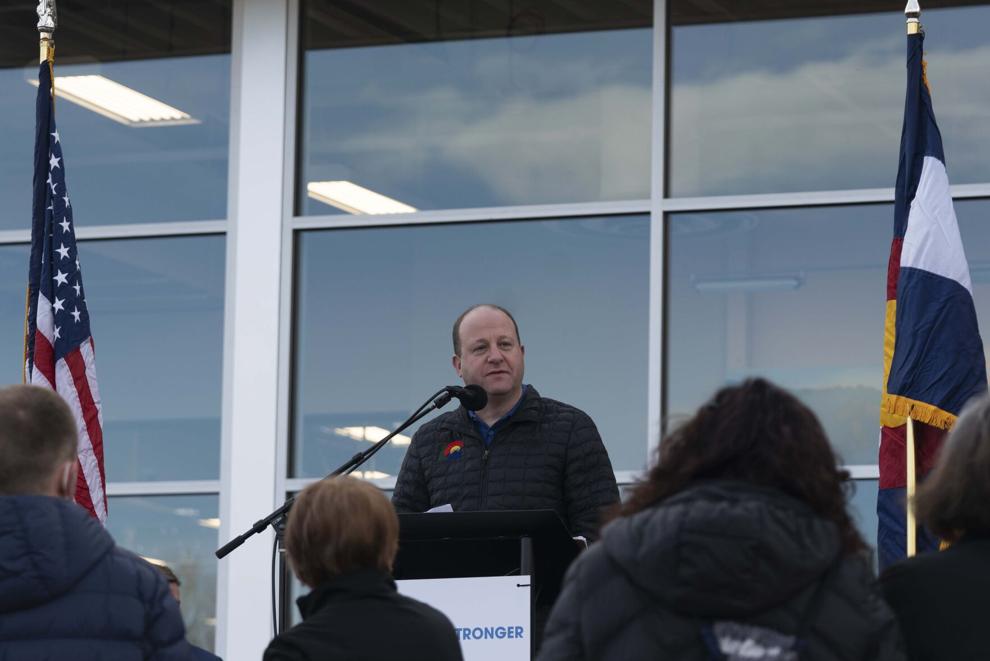 Cheerleaders from the Denver Broncos and Nuggets along with the University of Colorado Boulder's marching band escorted the store's employees to the front of the ceremony as the school's fight song echoed outside the store. 
"Nearly a year ago, our lives were forever changed by a senseless act of violence, an unimaginable tragedy that left our hearts broken," said Kelli McGannon, regional director of corporate affairs for King Soopers. "The lives of Tralona Bartkowiak, Suzanne Fountain, Teri Leiker, Kevin Mahoney, Lynn Murray, Rikki Olds, Neven Stanisic, Denny Stong, Eric Talley and Jody Waters — they will forever (be) etched upon our hearts."
The crowd then went silent to pay its respects. Some people held one another, some recorded the moment, some cried and others were motionless.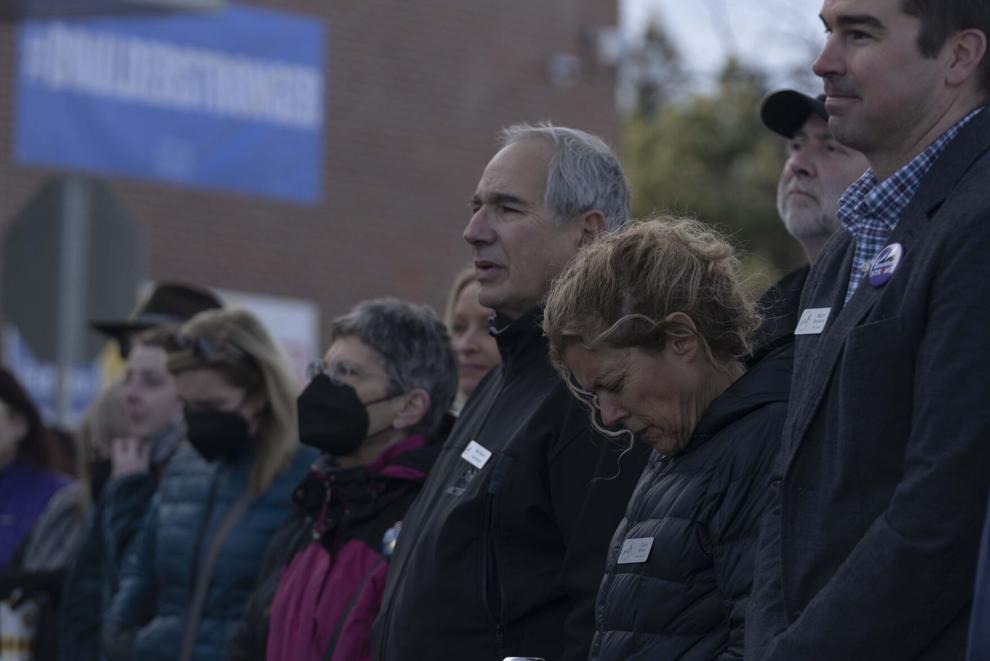 South Boulder resident Gina Barajas was one of the crowd members who showed their emotions on Wednesday morning. She said she skipped shopping on Sunday — her normal grocery day — to reclaim the store she has shopped at for 16 years.
Lillas Morgan said she came to show her respect to those who died during the mass shooting and to be there for her community members. 
Brockett, Boulder's mayor, said March 22 will forever be etched into Boulder's memories and hearts. He also said he hopes the store's reopening will continue to help people grieve and move forward together.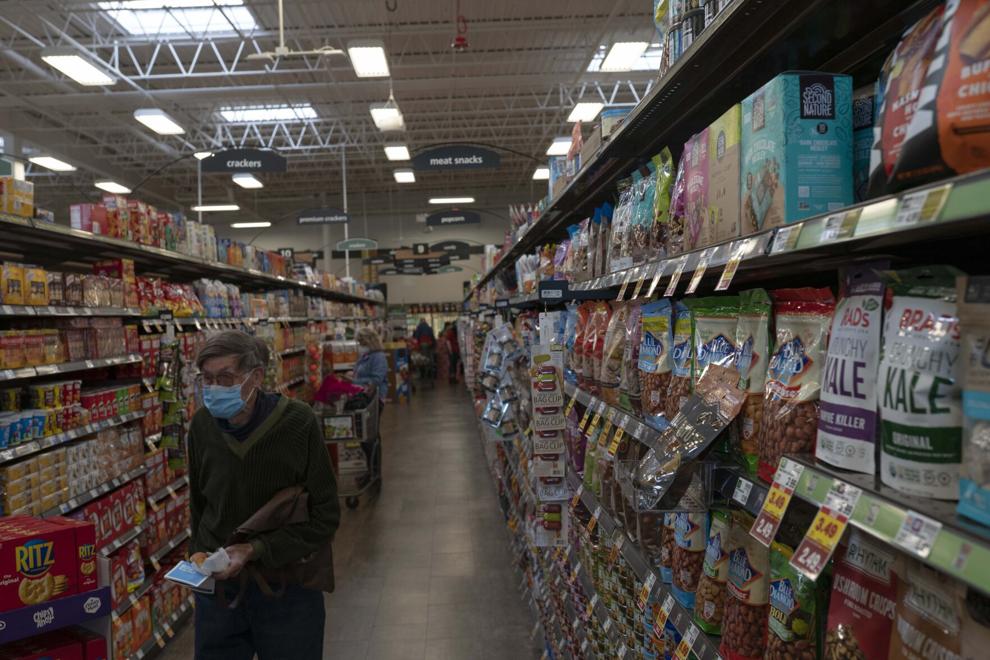 "It's my hope that we turn our anger and grief into courage and resolve to confront the difficult issues of our day," Brockett said. "I know that reentering the store will be a difficult thing for many to do who were impacted by the tragedy. But I encourage you to walk shoulder-to-shoulder with the many other community members, because we are here for you. This is our (store), our community. Let's reclaim it together."
The ceremony concluded in an untraditional manner. There was no ribbon cutting but instead two dark blue ribbons that read #BoulderStronger — one from the employees and one from the city — were tied together to signify "strength, unity and the unbreakable spirit of our associates and community," said Jessica Trowbridge, a King Soopers spokeswoman.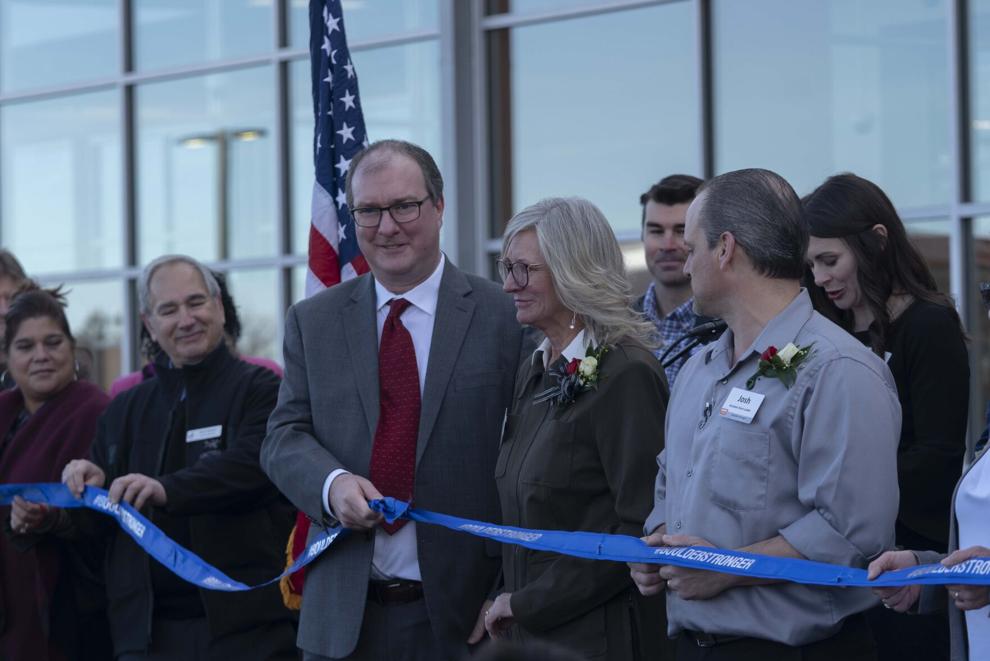 About 60 store employees then marched into work through a tunnel formed by the Broncos and Nuggets cheerleaders. Hundreds of shoppers and community members followed and were greeted with coffee, doughnuts, cookies and maps of the store's new layout. Officials said they designed the layout after the company gathered feedback from employees and members of the Boulder community. 
Some shoppers told The Denver Gazette that they were relieved to return to their neighborhood grocery store and loved the new design. Barajas said she loved the amount of open space and noted it looks like a brand-new store.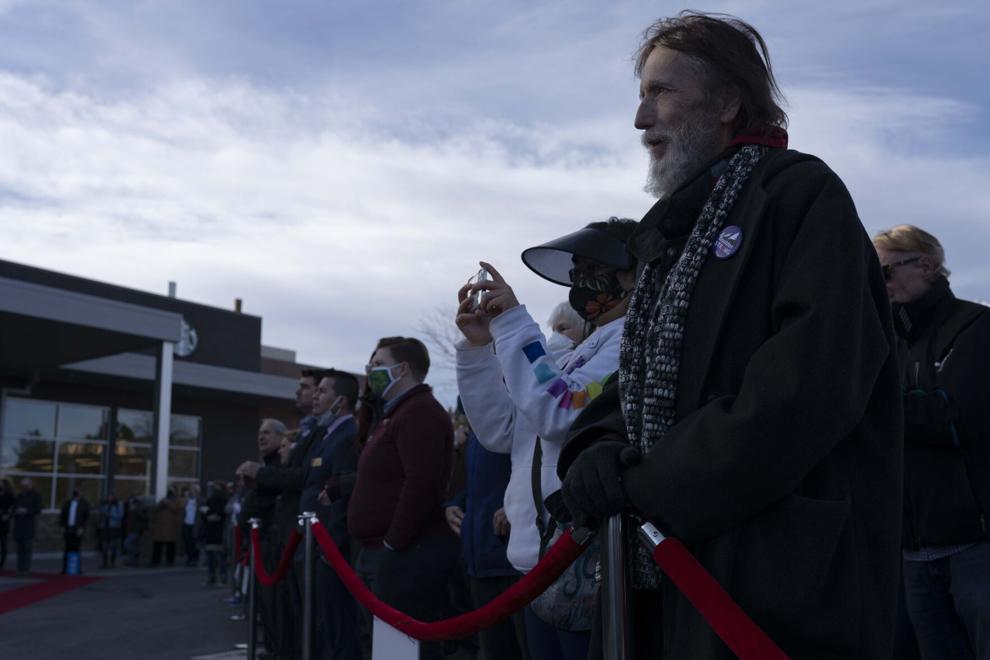 "I'm in love with the store and how it looks," Barajas said. "It definitely wiped away the image of that day."
Barajas also said the emotions of the day were overwhelming. After she went inside and grabbed a few items, she decided to go home. 
"I came home and cried," Barajas said. "It was just so emotional."
Boulder native and now Littleton resident David Link said he drove up for the store's reopening to honor his late father. They would go to the grocery store together in the 1960s and '70s and he felt the need to be there.
Link said he believes the redesign will help the community heal and come closer together.
"It's a model for healing in the face of tragedy," Link said. "So many people are here, coming together and embracing one another. It's just really great to see."
In addition to the changes to its exterior signs and interior, McGannon said a memorial garden will be planted on the west side of the store. Ten trees will be planted to honor each of the victims killed.
Of the many changes made at the store, the most impactful was the addition of "Table Mesa" on the store's exterior signs, former Boulder resident Ann Marie Jennings said.
She said it not only brings hope to the community but shows its resilience.
"What an awesome way to take back ownership and to take back our community space," Jennings said. "It's a beautiful honor for the victims and our entire community."