A week before a Sept. 30 deadline for first responders and other city employees in Denver to be fully vaccinated against COVID-19, a group of seven Denver police officers has sued their chief, the city's public health department, its director and the mayor over the vaccine mandate.
In the lawsuit filed Thursday, the group of officers claim the vaccine mandate issued Aug. 2 for city employees and workers in high-risk environments or occupations does not have legal force and harms their "fundamental" civil rights. They have asked a judge for an injunction against the requirement.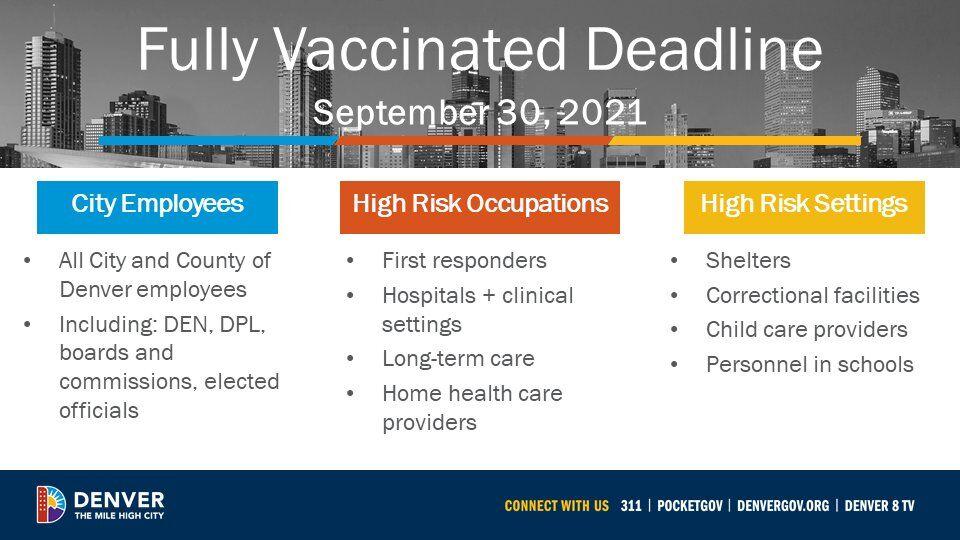 The officers suing include Jonathan Christian, Dewayne Rodgers, Bart Stark, Rich Ziegler, Nick Elliott, David Curtis and Les Tucker. Their lawsuit names the DDPHE and executive director Bob McDonald, Mayor Michael Hancock and Chief Paul Pazen in their official capacities.
"During the pandemic each of these Plaintiffs loyally worked the front lines, yet now, they are precipitously placed on the edge of unemployment," says the complaint.
Court documents also claim "hundreds" of Denver police officers have reached out to the attorneys to be included in the lawsuit and many are considering quitting.
An attorney for the group of officers, Randy Corporon, was unavailable for comment Friday.
The lawsuit's central claim is that the vaccine order is void because it doesn't fall under authority Hancock and McDonald have under the state constitution, law or the emergency declaration issued by Gov. Jared Polis in March 2020. McDonald did not go through a proper rulemaking process for a public health order, according to the complaint, and improperly relied on Hancock's declaration of a local disaster emergency last March to issue the vaccine mandate.
"Indeed, the circumstances that applied in March of 2020 are significantly different than the landscape today," says the complaint.
It also claims Hancock does not have authority to issue generally applicable rules to address COVID-19. In July, Polis rescinded the emergency declaration made in March 2020 and replaced it with the Disaster Recovery Executive Order.
The lawsuit claims Pazen's enforcement of the vaccine mandate is "premised upon an error of law."
In a statement to The Denver Gazette, Hancock spokesperson Mike Strott said, "We're still in a pandemic and through this public health order, we're doing what is necessary to save lives. We're incredibly proud of how our employees have stepped up to keep themselves, their co-workers and their community safe and healthy."
Eighty-two percent of the Denver Police Department is vaccinated, according to Strott. He declined to comment specifically on the lawsuit.
A spokesperson for the police department referred The Denver Gazette to the city attorney's office for comment.