Fewer Coloradans are choosing to be vaccinated and the state's numbers are dropping, a trend Gov. Jared Polis attributed to a mix of hesitancy and laziness.
Residents over the age of 15 has been eligible to receive the coronavirus vaccine for more than three weeks. But instead of vaccine uptake increasing, the state's numbers have been steadily declining. The seven-day average of first-dose vaccinations has fallen by half compared to a peak two weeks ago, according to data from the state Department of Public Health and Environment.
As of Tuesday afternoon, 2.5 million Coloradans have received at least one dose, and 1.7 million have been fully vaccinated. In order to reach herd immunity, the state needs at least 70% of its population to be inoculated. To hit that number, the state will need roughly 4 million vaccinated residents, more than double the current total after four months of vaccinations and several weeks of wide-spread eligibility.
Speaking at a press conference Tuesday, Polis said that "upwards of 80%" of Coloradans are willing to be vaccinated. Currently, he said, 54% of the eligible population has received at least the first dose. But the state may have already vaccinated the population most eager and ready to receive it.
"But for many of them, it is a matter of hesitancy or laziness to get it," he said. "The people that really wanted it have gotten it."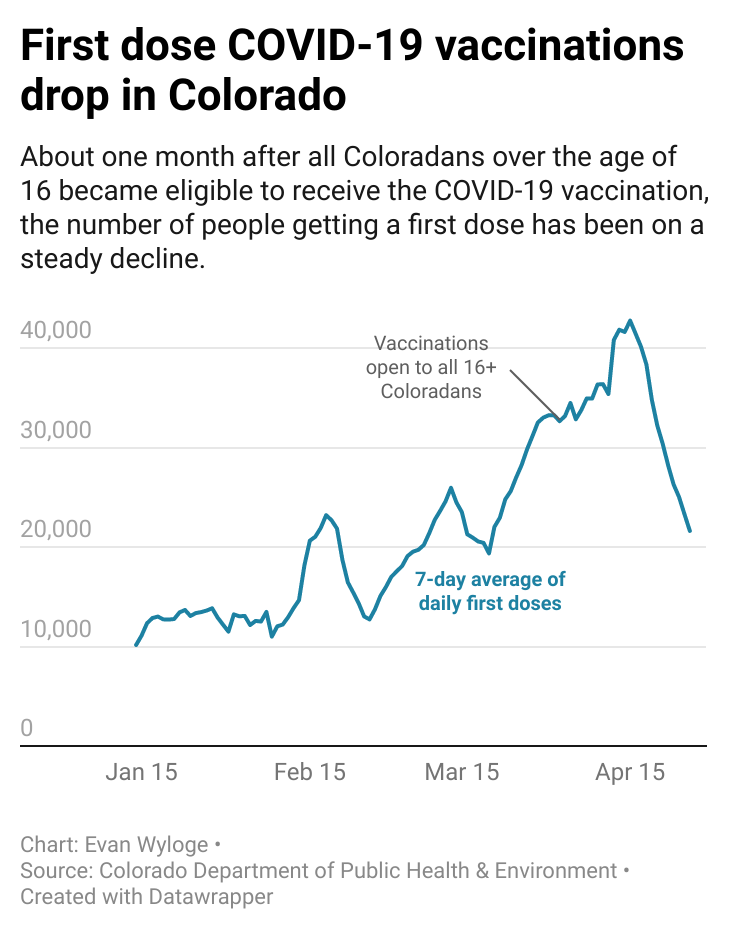 Other data gives some insight into the recent, sluggish uptake. A Gazette analysis found parts of the state that supported then-President Donald Trump had lower vaccination rates than those areas won by President Joe Biden. Those distinctions were greater, depending on the margin of victory of the area's winning candidate. Last week, state health officials told reporters that Hispanic residents were still receiving significantly fewer doses than they should be, based on their proportion of the population. 
Asked why he thought laziness played a factor, Polis again pointed to survey results that show the overwhelming majority of Coloradans are at least interested in the vaccine. If 54% of the eligible population has received a dose, he said, then that means there is 30% or more who are interested but haven't received it.
Glen Mays, a department chair at the Colorado School of Public Health, echoed that sentiment. The state's early vaccination efforts focused on high-risk -- and highly motivated -- groups, most of which hit herd immunity levels of uptake. 
But the lower-risk populations, Mays said, will be harder to hit.
"Vaccination among lower-risk populations is likely to require more time, as these individuals may be more sensitive to scheduling constraints and some may not prioritize vaccination quite as highly as earlier cohorts," he said.
Polis said substantially the same thing, and to help address it, he announced that all six of Colorado's mass vaccination sites can now take walk-in appointments. He remained confident that the vaccination numbers will tick upward, despite the current trend.
"They will get the vaccine, but it's not immediate in their minds," he said. "That time is now, step up and get it."
Mays and Polis both said the decision to suspend the Johnson & Johnson vaccine may play a role, as people who preferred a single-dose jab have held off. 
Still, despite the languishing vaccine numbers, the jabs have slowly begun to wield more influence over the pandemic's footprint here. Rachel Herlihy, the state epidemiologist who spoke with Polis on Tuesday, said the COVID hot spots in the state were those areas with low vaccination rates. 
Deaths and hospitalizations among the state's oldest residents have plummeted since early vaccination efforts targeting them, according to state data.