A 24-year-old man is accused of stabbing a Cripple Creek man possibly more than 20 times in a truck at the Barr Trail parking lot near the Manitou Incline Monday night after the victim offered his attacker a ride, according to an arrest affidavit obtained by The Gazette.
Million Zimmerman admitted to the stabbing, according to the affidavit, after he was arrested around 6:10 a.m. Tuesday covered in blood and in possession of a Swiss Army-style knife near where he was allegedly last seen on surveillance footage leaving the scene of the crime.
Zimmerman, who is described as transient and has a Washington state driver's license, told investigators 60-year-old Eric Snay gave him a ride Monday night, but the two had never met before. Zimmerman said he stabbed Snay because he "felt creeped out" by him, the affidavit said.
Witnesses said they saw Snay's truck crash into a retaining wall in the Barr Trail parking lot shortly before 7:39 p.m. Monday. A passenger in the truck was allegedly making stabbing motions at the driver before the passenger, believed to be Zimmerman, exited the vehicle and walked toward Manitou Springs.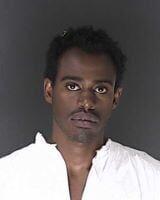 Four witnesses called 911 and attempted to help the wounded driver, who exited the truck bleeding.
When law enforcement arrived on the scene, they found Snay lying on the ground with apparent stab wounds to the head, neck, shoulder and chest, according to the affidavit. Blood was found inside the truck on both driver and passenger side, on the ground and down the hill toward Manitou, where Zimmerman had allegedly walked.
Manitou Springs Fire Department conducted life-saving measures on Snay at the scene before he was taken to a hospital. Snay underwent surgery and is expected to survive, according to the El Paso County Sheriff's Office.
As law enforcement wrapped up processing the scene around 6:10 a.m. the next morning, a Manitou Springs police officer witnessed Zimmerman exit the woods where he was allegedly last seen on surveillance camera footage provided by a local business. The officer arrested Zimmerman and brought him in for questioning.
Zimmerman told a detective that he "knew what he did was wrong, so he turned himself into law enforcement to serve his time." The affidavit also said Zimmerman did not care to know what happened to Snay.
At the time of the stabbing, there was a warrant out for Zimmerman's arrest in Aurora, according to the affidavit. The warrant classified him as armed and dangerous.
Court records show Zimmerman faces an attempted first-degree murder charge and is being held on a $1 million bond. He will make a first appearance in El Paso County court on June 2.