Colorado will pour nearly $20 million of federal funding into fire prevention this year ahead of what could be the worst fire season in the state's history, officials announced on Friday. 
On the same day, the state House passed House Bill 1007, which would create a grant program for organizations that conduct wildfire mitigation outreach in hazard areas. The bill would also extend an existing income tax deduction and create a new state income tax credit to reimburse homeowners for the costs of performing wildfire mitigation measures on their property.
The additional federal funding announced by state officials will pay for additional contracts with air tankers and helicopters, expanded dispatch services and new technology for on-the-ground coordination, said Senate President Steve Fenberg D-Boulder. The additional funding came from Federal Emergency Management Agency reimbursements. 
The resources are needed to prepare for the worst-case scenario, he said. 
"We may very well be heading into the worst fire season in our state's history," he said. "I hope I am terribly wrong."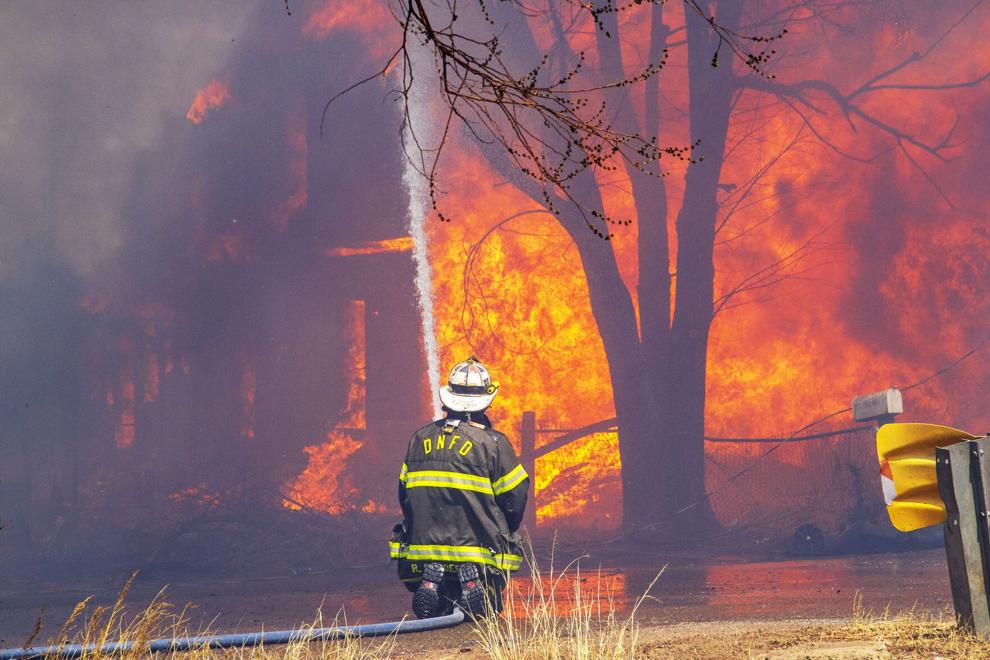 The state is planning to extend its contract with a large air tanker and to add a contract with a second large air tanker. Two Type 1 helicopters, some of the largest and fastest, also will be added, Gov. Jared Polis said.
The contracts will ensure aircraft are available to fight fires in the state quickly. With 19 other states vying for federal aircraft, at times they have not been available when the state needed them, said Mike Morgan, director of the Colorado Division of Fire Prevention and Control. 
The officials made the announcement on the same day the state is facing the worst fire conditions the state had seen in over a decade and a fire that prompted the evacuation of 500 homes in Colorado Springs. The fire near the InterQuest Parkway and Interstate 25 exit was quickly extinguished despite the high winds. 
To help ensure more fires are doused while they are small, the funding will also pay for 24/7 dispatchers so that local fire departments have quick access to state dedicated aircraft and other support to help stop fires early. Currently, the state relies on a national dispatch system that is seasonal, Fenberg said. 
"It will save lives, and it will save property," Morgan said.
The new on-the-ground technology will provide satellite imagery of where firefighting trucks and aircraft are located and help improve coordination, particularly in areas with poor cell phone reception, Fenberg said. 
A new Office of Climate Preparedness will work with other state offices on how they can still achieve their missions during natural disasters. The office will also focus on how to respond in the wake of a disaster.  For example, rebuilding the 1,000 homes destroyed in the Marshall fire is going to be a logistical nightmare with crews and construction equipment all working at the same time, Fenberg said, and this office could help with that. 
It will also work to ensure when community's rebuild they are more resilient for the next disaster. 
"We are living through the early stages of the climate-change crisis right now," Fenberg said. 
Acknowledging that Coloradans will face an ever-increasing number of wildfires, legislators have hunkered down to confront the state's grim reality through several measures. Some of their work predated December's Marshall fire.
The grant program in House Bill 1007 would provide approximately 30 grants per year, averaging $10,000 each, to local governments, counties, municipalities, special districts, tribal agencies and nonprofit organizations. The tax credit would reimburse 25% of the wildfire mitigation expenses — up to $625 per year — and would be available to landowners with taxable income of up to $120,000.
"The time to act on wildfire prevention efforts is now," said Rep. Donald Valdez, D-La Jara, the bill's sponsor. "My heart goes out to all those displaced by the recent wildfire in Monte Vista and yet this is another reminder of why we need to invest in prevention efforts to protect communities and build a safer state."
Another bill would increase the amount of lost property insurance providers have to cover upfront and extend the time frame victims have to rebuild their homes, ensuring that wildfire victims would get more immediate and substantive help.
The proposed change, however, would only apply to future fire disasters.
"There's no question there are going to be more. That's the unfortunate reality," said Fenberg,  who sponsored the bill. "This is something that, unfortunately, is not going to provide much relief to those who have already gone through these horrible disasters. But it is something that many of us have learned from those disasters that we can apply to right the policy and make it a better situation for those in the future."
Another measure would invest $5 million in expanding resources for volunteer firefighters in Colorado. The proposal would add the funding to the Local Firefighter Safety and Disease Prevention Grant Program and expand it to cover replacement firefighting equipment. It would also make volunteer fire departments eligible for reimbursement for wildland fire suppression activities and provide behavioral health care services to firefighters.
The legislative responses build on initiatives by the Biden and Polis administrations to provide help to survivors of the Marshall fire and other recent disasters.