During the lucid moments, when she was out of meds and walking the streets of Colorado Springs for days and nights on end, too afraid to sleep, Cait Pfeifer would often ponder the seemingly random domino fall that brought her down.
Born to a solidly middle-class family, she'd had a healthy childhood and "incredible, loving and devoted" parents who valued education and encouraged advocacy.
But, as a young teen, she was sexually molested and suffered a breakdown that led to a diagnosis of bipolar disorder and PTSD. She fought her way back with the help of her parents, doctors and medications, and by her mid-20s, she was working as a consultant and pursuing her second master's degree.
It took just a few months, and a cascade of health and life misfortunes, to wipe out all that progress.
The girl who'd been born with a "silver spoon in her mouth," who at 25 was not only managing her illness but launching a career and planning a startup, found herself homeless, sick and running out of hope.
"I was cold and hungry and so afraid. I did spend a lot of time out there, walking and thinking, trying to blame one person," Pfeifer said. "Sometimes I'd blame myself, and it would really weigh heavy on my shoulders that I did this.
"Sometimes it was the ripple effect and that there's this overall system here that really let this happen."
And if it could happen to her, she reasoned as she trod alone and terrified, it really could happen to anyone.
"So many people with depression and anxiety don't reach out because they're embarrassed, ashamed or lonely. When they do, we should be doing everything we can to help them. And we're not." — Karen Fallahi, Depression and Bipolar Support Alliance
Despite plenty of sunshine, a booming economy and an unparalleled reputation for physical fitness, Colorado's residents rank among the most mentally ill people in the country.
It's estimated that about 20 percent of the state's adult population — about 832,000 people — is living with some kind of mental health condition, according to a 2019 report from Mental Health America, and nearly 450,000 of them aren't being treated for that illness. That singular crisis lies at the root of so many others: homelessness, poverty, substance abuse and violence, as well as harrowing episodes of personal and family ruin.
Colorado's efforts to make health care effective, accessible and affordable have been inconsistent at best and a failure at worst.
Scores of interviews with mental health experts, counselors and people struggling with mental health diagnoses and their families revealed:
• Hospital emergency rooms have become the primary first stop for mental health crises in Colorado, in large part due to a lack of accessible providers. Across the state, mental health crises resulted in more than 112,000 emergency room visits and 11,600 inpatient hospital stays over a recent 12-month span, the Colorado Hospital Association reported.
• In some areas of the state, children who require inpatient mental health care are routinely sent hours away to clinics elsewhere in the state because there aren't enough open psychiatric beds locally to meet their needs. What's more, Colorado children are routinely transferred by expensive ambulance or airplane trips to institutions in other states because of a lack of in-state beds, according to Children's Hospital Colorado.
• Many people simply can't pay for mental health care, and a decade of attempts by state and national lawmakers to make that care more affordable and accessible still precludes thousands.
• More often than not, the destination for those who fall through the wide cracks is the criminal justice system. More than one-third of all prison inmates have moderate to critical mental health needs — a far higher rate than that of society as a whole.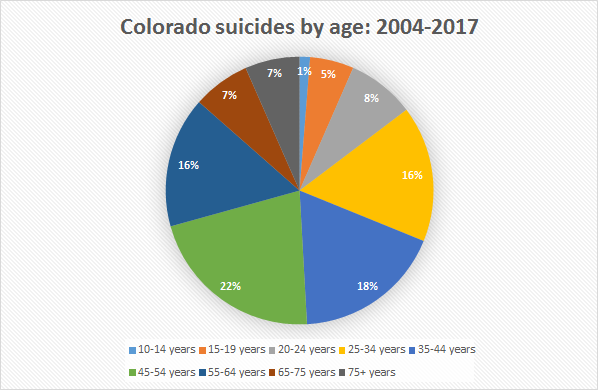 More than half a century after the deinstitutionalization movement began in the 1960s, jails and state prisons have effectively become warehouses for the mentally ill. For a time this year, demand for beds led the state's psychiatric hospital system to temporarily freeze all new admissions of patients who weren't already facing criminal charges. The freeze ended in February, with the state opting instead to pay what could be millions of dollars in fines.
Residents who aren't inmates and seek treatment often are forced to navigate a system so confusing and costly it can be overwhelming.
"It is a ruthless cycle," said Sgt. Jason Garrett, a negotiator who leads crisis training for the El Paso County Sheriff's Office. "And it destroys families. It destroys the people."
Even the suggestion of a coherent mental health system is a fallacy, experts say. Heidi Baskfield, vice president of population health and advocacy at Children's Hospital, points out, for example, that the state's system for juveniles does not interface with adult care. At 18, the mentally ill child ages out.
"There really is not a mental health system in Colorado," said Nancy VanDeMark, interim president and CEO of Mental Health Colorado and former director of the state's Office of Behavioral Health. "Especially if we think of mental health as including substance use services."
"The problem is they emptied out the hospitals, but they didn't always have the support that the person needed to be able to live in the community." — Carl Clark, president and CEO of Mental Health Center of Denver
To understand mental health care today is to go back more than 60 years, to a time when care was centralized in large state-run institutions rife with abuse. Patients were severely stigmatized.
President John F. Kennedy sought to change that, spurring a movement that promised better care and less stigma, with people seeking treatment in their communities while living at home and managing their symptoms with new and game-changing psychiatric drugs.
But the money to fully realize that dream of transforming care never followed, advocates say. Outpatient and community-based treatment centers never received enough funding to become viable options for the tens of thousands nationally packed behind hospital walls. The results were predictable.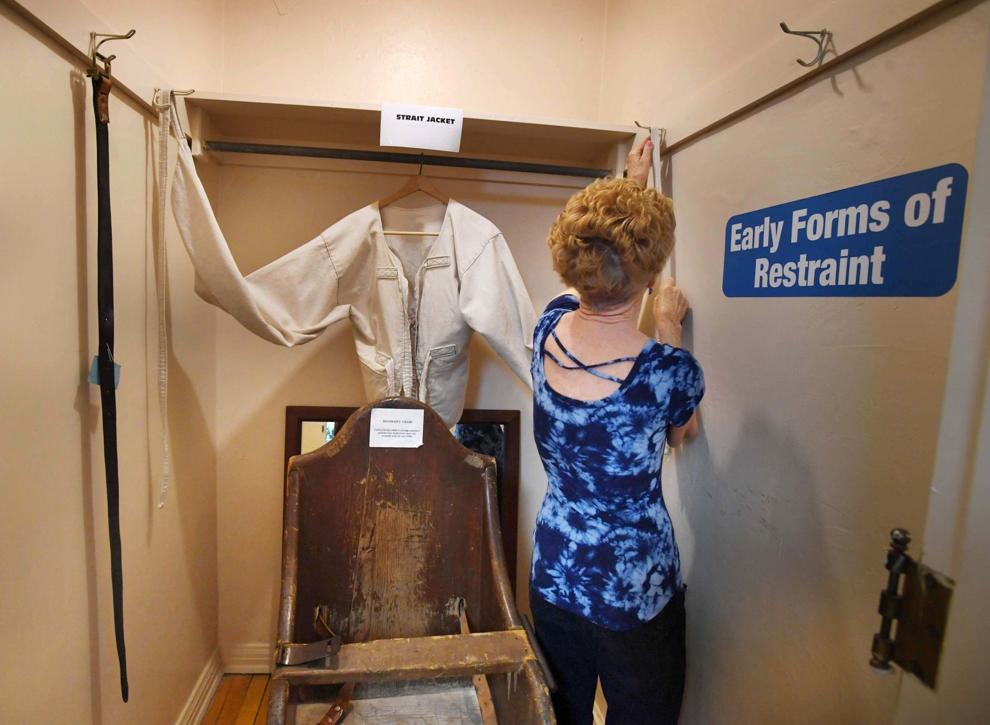 In 1961, more than 6,100 people were treated at the Colorado Mental Health Institute at Pueblo, a state psychiatric hospital that more closely resembled a village, with 75 buildings spread across a 300-acre compound and a 5,000-acre dairy farm. Over the next five decades, the number of patients there dropped more than 90 percent. By 2008, that number had dwindled to fewer than 500 people.
The history is clear: Without a rob ust system to ensure the mentally ill received care upon their release from the sprawling state hospitals, many ultimately were swept into the criminal justice system.
Today, roughly one-third of imprisoned men in Colorado — and four out of every five women inmates — say they have some type of moderate to critical mental health need, according to the Colorado Department of Corrections. State prisons house 13 times more mentally ill people than do the state's psychiatric hospitals, though not all prisoners require such high levels of care.
"We just switched institutions," said Clark, of the Mental Health Care Center of Denver and a decades-long practitioner in the state. "We went from asylum care to prison care."
"That's the nature of mental illness. It's like the universe knows you're sick and your plate just piles up with a bunch of stuff." — Cait Pfeifer
For someone living with a mental health diagnosis or mood disorder, the line between thriving and crisis can seem like a fine one.
For Pfeifer, who's now 32, the tumble into despair began in 2013, when she learned she'd be aging out of the insurance coverage she'd had through her father's policy.
At the last minute, Pfeifer's parents were able to get a temporary emergency extension to the coverage, but that adjustment came with a new doctor who wanted to change her medications and get her off lithium, which is the only drug Pfeifer says has ever successfully managed the dramatic mood swings that are a symptom of bipolar disorder.
Pfeifer started rationing her pills, and "that's when things got very scary, very quick."
"I was trying to apply for Medicaid for working adults with disabilities … but nobody was really helpful in terms of how do you get this insurance. All my phone calls were unreturned," Pfeifer said. "And I didn't know what I was doing. Nobody prepares you for this."
She accepted a job in California with the hope of restarting her life, and her treatment, after the move. But then came a battle with hypomania brought on by the opiates prescribed in the wake of elbow surgery. And then the job in California fell through.
Too ashamed to skulk back to her parents for help, Pfeifer stayed in hotels until her money ran out. She moved to a shelter but lost that bed after an emergency room visit led to a two-week stay at Cedar Springs Hospital in Colorado Springs.
A 4½-month odyssey, living in shelters and on the streets, came to an end after a nine-week inpatient stay at Colorado Mental Health Institute at Pueblo, during which Pfeifer reconnected with her parents — and rediscovered her voice.
"We're down and out, we're exhausted, we're sick, and the onus is on us to shout louder than ever … to get the care, respect and dignity we deserve," said Pfeifer, who's now "back on her feet" and her meds and happily married to Nick, who also serves as her in-home caregiver.
"Most people aren't like me, and they give up, or turn to suicide, addictions or chronic homelessness. The cycles of social illness are pervasive and keep the mentally ill both disenfranchised and chronically sick."
"Every community that we go to identifies mental health or behavioral health as one of the top health-related challenges that they are dealing with." — Jeff Bontrager, director of research and evaluation, Colorado Health Institute
Pfeifer was one of the lucky ones: able to access help and survive the moments, days and weeks when help was out of reach.
In a single hour manning the phone on a mid-February afternoon, Karen Fallahi took two calls from Springs residents hoping the Depression and Bipolar Support Alliance could connect them with a local psychiatrist for an emergency appointment.
One caller was a woman, in the depths of depression and desperate for an alternative because her usual provider couldn't fit her in until late May. Fallahi gave the woman names and numbers for five local psychiatrists who accept Medicare.
"Hopefully they will be able to fit her in … but you can't just call a therapist and get an appointment. They're all booked up," Fallahi said. "What does that lady do between now and May, if no one can get her in?"
On paper, Colorado ranks well for residents' ability to access care, coming in 10th among the states in the recent Mental Health America report. That's due, in part, to the state's rock-bottom uninsured rate of 6.5 percent.
But the challenges described in a wide range of interviews also show that such rankings can be deceiving.
About 382,000 Coloradans living with mental illness said they couldn't get the treatment they needed, according to the 2017 Colorado Health Access Survey by the Colorado Health Institute.
"It's not that Colorado is doing a good job, period — it's just that there are so many other states that are doing a worse job," said Theresa Nguyen, Mental Health America's vice president of policy and programs.
In addition to the state's discouraging statistics about those who suffer from mental health issues, 67,000 more people reported an inability to get the substance abuse services they need.
Colorado had 560 opioid-related deaths last year as part of a national epidemic involving prescription painkiller and heroin use. That, combined with a rise in methamphetamine deaths, pushed Colorado's drug fatalities above 1,000 in 2017 for the first time on record.
To Ted Ulibarri, substance abuse is a feeder, and outcome, of the failures in mental health care.
"What comes first, the chicken or the egg? The trauma or the substance abuse? We need to focus on the individual struggling with addiction and mental illness in their families, and their families need just as much support as the individual," said Ulibarri, an addiction counselor and clinical supervisor at Rocky Mountain Behavioral Health in Cañon City. "If we as treatment providers, medical and mental health, if we can't all get together and work on this together, we're going to lose this battle."
Half the state's population lives in areas without enough mental health care providers, according to the U.S. Department of Health and Human Services' Bureau of Health Workforce. Forty-nine of Colorado's 64 counties do not have a single mental health inpatient bed as of 2017.
One reason Colorado has so many mental health care deserts, even in its cities, is because insurance reimbursement rates for behavioral appointments typically pay less than treatments for physical ailments, experts say.
That means new psychiatrists and therapists can still expect loads of student debt but less income to help pay it off.
"In my case, I used my military GI bill … but a lot of my peers are going to be in $80,000 worth of debt," said Mari Moxley, a clinical social worker and volunteer with Pikes Peak Suicide Prevention. "They're not lawyers, who can do pro bono work. They cannot get out of school and offer free counseling."
A stigma, it seems, still looms not just over those with mental health diagnoses but over the industry itself.
"Mental health isn't valued, and social services aren't valued, at all, in our culture. So what they're experiencing is the cause and effect of a cultural problem," Moxley said.
"Coverage is good. Now we need to work more on access." — Nancy VanDeMark, Mental Health Colorado
Even when insurance covers treatment, it often does so at only a fraction of the actual — and practical — costs.
When Daleth McCoy's then 8-year-old daughter, Emma, began throwing herself down the stairs and off the top of her bunk bed, McCoy knew there was more going on than the autism Emma had been diagnosed with as a toddler.
A third trip to the emergency room at Children's Hospital Colorado in Aurora, and a 24-hour suicide watch, led to eight days of inpatient treatment for Emma in the hospital's Neuropsychiatric Special Care unit, which serves children up to age 18 who have autism spectrum disorders and neurodevelopmental disabilities, in addition to medical or psychiatric conditions.
Emma then transitioned to the Aurora hospital's outpatient therapeutic program, the only location in a five-state radius offering such treatment. It meant a 160-mile daily commute and temporary leave of absence for McCoy, who had just finished her master's degree and was working part time for the Fountain-Fort Carson School District.
Like a growing number of people, McCoy turned to GoFundMe, a fundraising website.
"If you have a child who has to be inpatient, like Emma has, obviously you can't work at the same time … and there's no not doing it. It's not elective," said McCoy, whose daughter is now 11. "Going three weeks with no pay is really impacting when you're living month to month. We didn't have any savings, and that GoFundMe account allowed us to pay for those trips and also make our car payment and not have the electric cut off at home."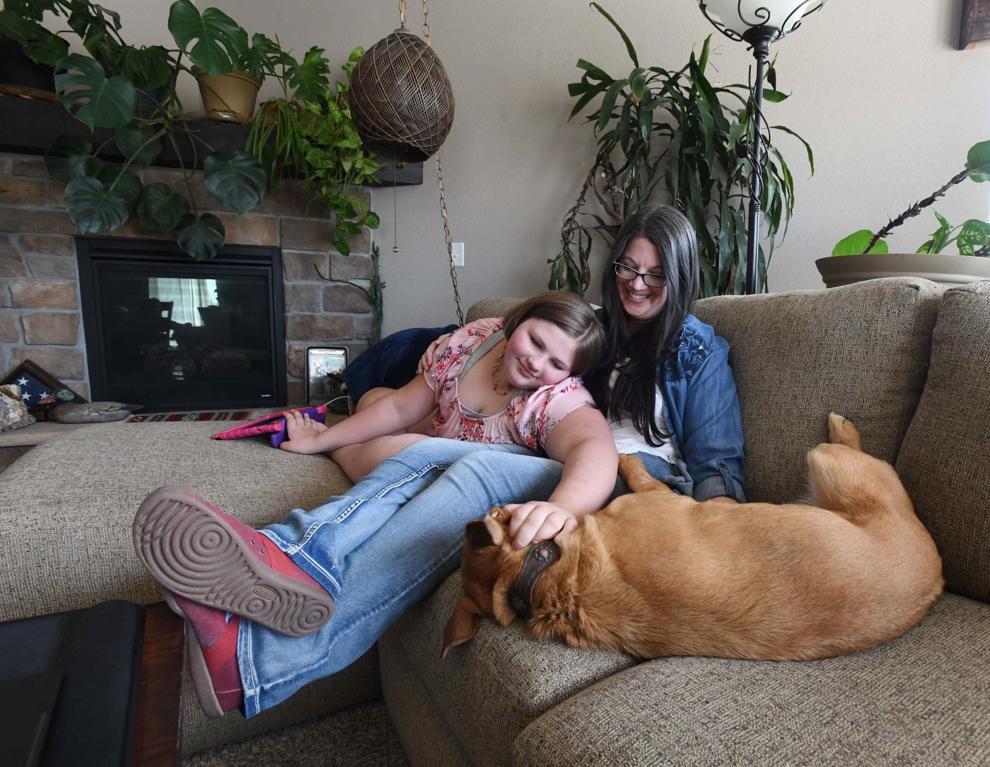 For many families, when money's tight and insurance doesn't pay — or doesn't pay enough — mental health treatment is a luxury.
"My family has had a lot of hard financial situations, so when you need therapy, it's the cost, how many times, can insurance cover it, all of that," said 17-year-old Karolina Vida, a student at Pikes Peak Community College. "It became, like, 'You can only go to therapy if we have the resources for it. We will not pay if insurance doesn't cover all of it.' It was really hard, and I know a lot of teenagers out there who need therapy can't get it."
Health policy experts say laws designed to make sure insurance companies adequately cover therapy and other mental services have yet to fill gaping holes in many consumers' plans — private insurance or government-sponsored coverage.
Called parity laws, they are meant to ensure that behavioral health benefits are covered at the same level as physical benefits. But protections still aren't mandatory for Medicare or half of all employer-based plans — specifically, plans offered by large companies that insure themselves. And the issue is especially pressing for substance abuse coverage.
A study by the Seattle-based actuarial firm Milliman found that mental health professionals receive 30 percent less from insurers than other health care providers. Also, patients in Colorado are forced to go out of network for mental health and addiction treatment seven times more often than for physical care, according to Mental Health Colorado.
Enforcement of the parity laws appears to be severely lacking, said Jalyn Ingalls, a policy analyst with the Colorado Health Institute.
Rather, the onus is on people needing care — even if they're psychotic or in a crisis — to make sure their insurance company is following the rules.
"There's a lot of research showing that people aren't necessarily willing to do that," Ingalls said. "They just want to get treatment and figure out how to get better. They're not thinking 'Oh, my insurance company isn't doing this for me; we're going to file a lawsuit.' "
"That's the whole other side of the work that we're doing from the education and awareness piece of it … changing the way people view and think about and see mental health." — Jarrod Hindman, Colorado Department of Public Health and Environment
Even the man in charge of the Colorado Department of Human Services' Office of Behavioral Health admits, "We could do better."
"There are many components of our system that work well," said Robert Werthwein, the agency's director. "The bigger question is do they work well together? And the goal really needs to be that every Coloradan gets the behavioral health services they need.
"I'm not sure that's happening today. And I think it's time for us — for everybody — to sort of re-evaluate the system as a whole."
Still, state officials say there are glimmers of hope amid this crisis.
Reeling after the mass shooting at an Aurora theater in summer 2012, Gov. John Hickenlooper and lawmakers set aside $20 million to create the state's first crisis response network for people in a mental health emergency.
The system included the establishment of a crisis hotline, for people to speak with someone 24 hours a day, seven days a week.
Eleven walk-in centers called Crisis Stabilization Units opened up and down the Front Range, along with one in Grand Junction and two in Alamosa — allowing people in crisis to connect with a mental health provider and talk through a problem, get a referral to a therapist or submit to a 72-hour emergency hold at a psychiatric hospital.
And in some jurisdictions, small teams of law enforcement officers and mental health professionals were formed to respond to 911 calls fueled by a person having a psychotic breakdown. The goal: respond in a more empathetic and understanding way, rather than escalate the situation into a shootout.
The money for those programs has steadily grown, topping $31 million this year.
The new emergency programs have been busy.
In a one-year span that ended June 30, 2018, more than 163,000 people — 448 a day — called, texted or messaged the state's 24/7 crisis hotline and support line.
Walk-in centers across the state saw more than 31,200 visits during that time . And those mobile law enforcement teams responded nearly 25,600 times to people in crisis throughout the state, or 70 times a day.
Other state agencies are working to keep people from disintegrating into crisis in the first place.
A few years ago, Colorado used a $65 million federal grant to place more psychiatrists and behavioral health specialists in the offices of family doctors across the state in a bid to better coordinate physical and mental health care. The goal: help doctors catch mental health issues early, during patients' annual physicals, for example, or treat them more holistically whenever they have a major medical issue — one that often has an underlying mental condition to blame.
In March, state lawmakers introduced legislation that would crack down on insurers that skimp on behavioral health benefits. That measure, House Bill 1269, was still making its way through the legislature at press time.
Also in March, after facing a lawsuit by a Denver-area nonprofit, the Colorado Department of Human Services agreed to reform its evaluation and treatment of criminal defendants who are mentally unfit to stand trial — in a bid to keep them from languishing in county jails.
And on April 8, Gov. Jared Polis announced the creation of a task force aimed at revamping mental health care in the state — possibly even by consolidating some programs or funding streams so that mental health care is better coordinated.
"There's a lot of problems that we know about, and I expect there are even more problems we don't know about," Polis said. "And that's why we are creating this comprehensive behavioral health task force, to really — from the ground up — figure out what behavioral health should look like in Colorado and how we can do a better job."
Hindman of the state's Health Department said Colorado and states across the nation can do a better job of addressing mental health concerns when they first start. So often, people are proactive about their weight, heart disease and diabetes, exercising more, reducing their cholesterol intake and limiting sugary foods. But that same preventative mindset has yet to become mainstream for addressing mental health concerns.
"The mental health field needs to shift some of its focus to the preventative framework, just like health care has," said Hindman, who oversees the CDPHE's suicide prevention efforts. "Obesity prevention, heart disease prevention, primary care is so hyper-focused — in a good way — on what are the things you could do now to prevent negative outcomes later. We haven't done that as much in the mental health field."
"When you call different facilities … they're going to list off for you all these great things that are available. The challenge is: Go ahead and access those things and see how easy it is." — Cassandra Walton
For people like Cassandra Walton, the ideal of easy access to care remains out of reach. The day she saved her daughter's life completely by chance burns in her mind.
Walton was forgetful that day a couple of years ago — leaving something behind on her way to work, forcing her to turn around and head back home.
But when she walked inside, she interrupted her daughter's first suicide attempt. At first, the girl tried hiding it. But later that day, she admitted to the attempt.
"I said that I was so glad that she didn't do it," Walton said. "And I was so grateful that she was still with us and that I had found her alive when I came home."
Walton was among the lucky ones — able to save her daughter, a mere 12 years old, before it was too late.
Far too often, the consequences of Colorado's disjointed behavioral health care system are deadly.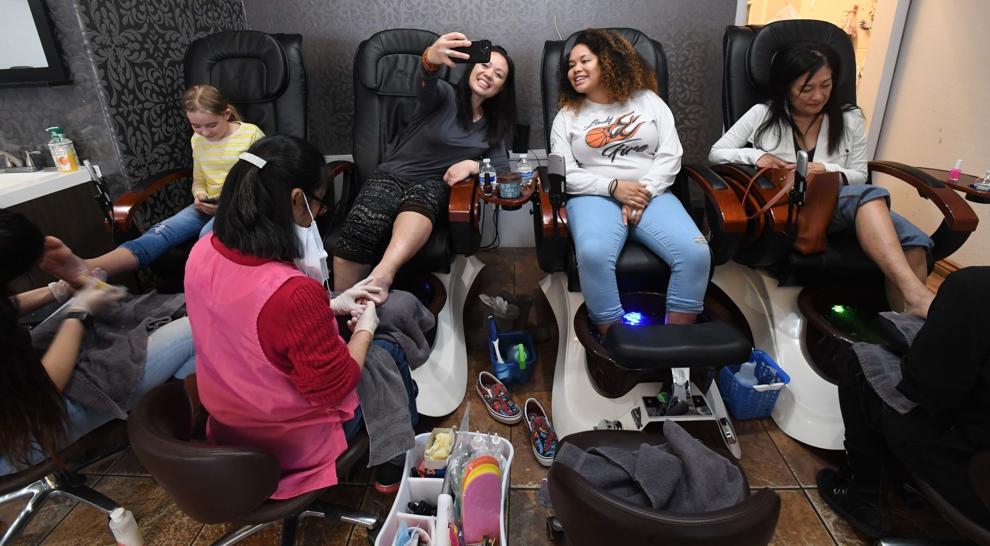 Colorado's suicide rate was ninth highest in the nation in 2017 — a rate that has slowly been on the rise over at least the past 15 years.
Unlike in other areas of the state, including the Denver metro area, suicides in El Paso County have nearly doubled over the past decade.
More people have killed themselves in El Paso County from 2004 through 2017 than any other county in the state, and the numbers aren't even close. In that time, 1,785 people completed suicide here — 384 more people than Denver County, despite similar population numbers.
Roughly once every other day, someone intentionally kills themselves in this region. Such completed suicides routinely account for more deaths every year than crashes and homicides combined.
However, the people who killed themselves here aren't much different by demography or method than those elsewhere in the state. About three-quarters of that death toll were men, and slightly more than half of the people who died here used firearms — both similar to state averages.
Where a difference emerges is their ages. The people who kill themselves in El Paso County are generally younger than those in the rest of the state, and the county exceeds the state average in people ages 15 to 35 who died.
In the 15 years, 24 of them were ages 10-14 years old. And 118 of them were ages 15-19.
"It has to be a real thing that is actually accessed by someone under stress. Because just imagine being a parent who's working, probably raising more than one kid, and one of their kids is in this situation. It has to be more user-friendly." — Cassandra Walton
When the moment of crisis does happen, trying to get help can be frustratingly difficult.
For those who need inpatient treatment, there are too few psychiatric beds across Colorado.
The first time Michelle Kemp's daughter voiced suicidal thoughts, thegirl was sent to a facility in Westminster, north of Denver and 80 miles away from her home. The second time, Kemp's daughter was sent even farther — Greeley. That week, Kemp drove nearly 1,000 miles back and forth to the hospital caring for her daughter, logging more than two hours in the car each time.
"It was a hell year," Kemp said. "Being the second-largest city in the state, I shouldn't have to be driving 200 miles for care for my kid."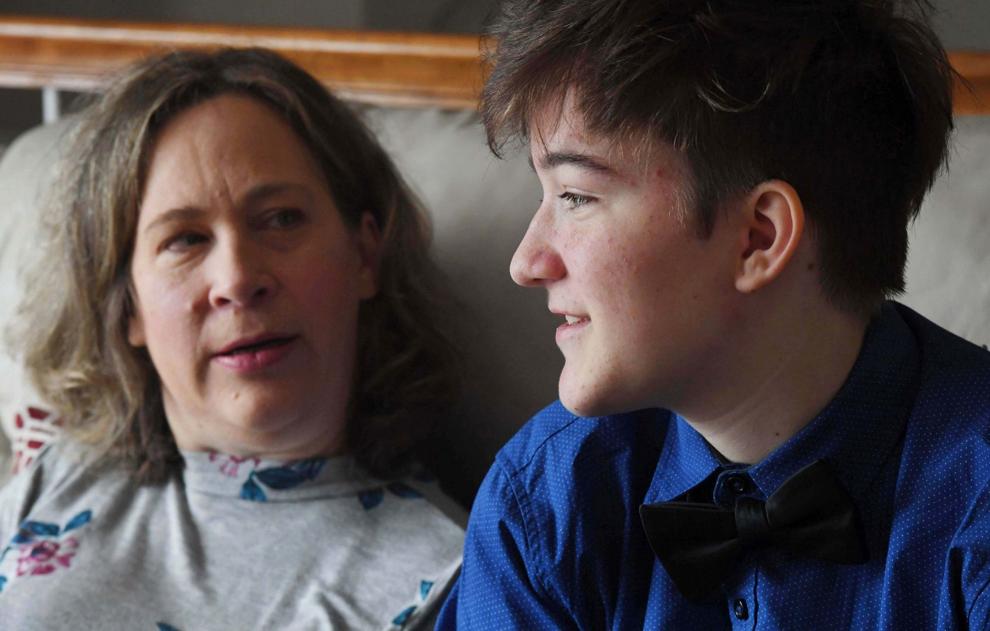 Numerous other parents of suicidal teens said they had to seek care at psychiatric hospitals hours away from home because they were the only ones available. The situation is even more dire for people needing care lasting several weeks or longer.
"Most of these kids are being shipped at a very high expense out of state," said Baskfield of Children's Hospital Colorado. "And when you're talking about kids experiencing anxiety, symptoms related to PTSD, things that come up as a result of bullying, the system doesn't effectively address their needs, either."
Walton's daughter's first hospitalization was an eye-opener — a crash course in the state of the region's safety net for people at their most vulnerable. She went to AspenPointe's Crisis Stabilization Unit in southeast Colorado Springs, and the entire hours-long stay made her feel like a prisoner — kept behind bulletproof glass in a sterile, uninviting atmosphere.
Over the next two years, Walton's daughter was hospitalized four times — once in Denver because there weren't enough beds in Colorado Springs, twice at Peak View and, most recently, at Cedar Springs.
"We're like veterans at it now," Walton said, speaking of psychiatric hospital stays. "But that first one was terrifying. You feel so in the dark to what's happening. And unfortunately, all the staff you run into are disenfranchised. For them, it's like their 20th intake of the day. For us, it was the first of our life."
Between high insurance deductibles and inadequate mental health benefits, Walton estimates she has paid at least $20,000 out of pocket for that care, and an $8,000 bill is pending.
These days, Walton knows how to deftly navigate the system. But she also knows many parents don't have that same experience to draw upon when their child first shows symptoms.
That's a problem, especially considering many parents are juggling their own jobs, other children in the household and the incredible stress that comes with trying to save their child's life.
"It's going to be probably a lifelong thing for us, and for her and our family," Walton said of her daughter. "It's something she is working to live with every single day."
"I'm proud of her every moment of every day because I know that she is trying every day. And she has become much more skillful in how she deals with her feelings."
"But she's still just a baby, and she has other developmental steps to fight her way through. And that's exactly what it's going to be the whole way — it's going to be a fight."
"People with mental illness aren't the 'other.' This is everybody or someone they love.' " — Jeff Venable, 35, a volunteer with Depression and Bipolar Support Alliance of Colorado Springs
Jeff Venable was diagnosed with bipolar disorder as an older teen, after a summer of severe depression. He then spent a month in inpatient treatment at Cedar Springs, during which he celebrated his 18th birthday.
"Cedar Springs had to re-intake me, and there was all this paperwork and all the rules changed," said Venable, who's now 35. "At that point, I decided I didn't want my parents to be part of my treatment, but I was not making good decisions at the time. I was impaired. I think the laws, the HIPPA (privacy) rules, did me a disservice."
Perhaps the state's failing system could take a cue from the charity self-help realm, specifically the Springs' chapters of the National Alliance on Mental Illness and the Depression and Bipolar Support Alliance.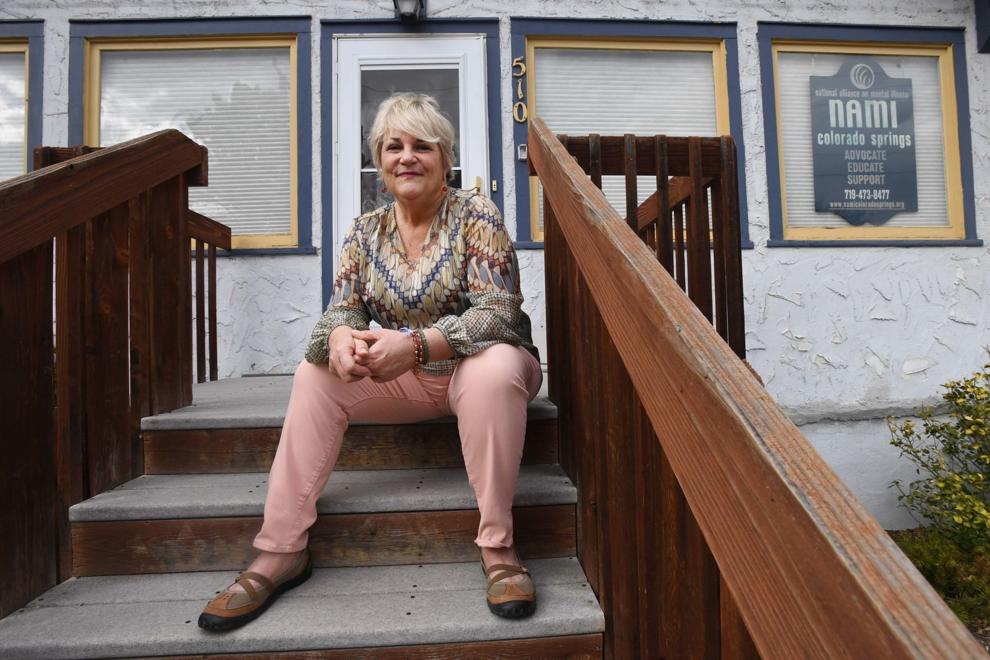 On most any night of the week, small groups of people battling the same conditions and the same broken system huddle with one another — sharing their stories and gathering strength from each other's fights. Through those shared bonds, they gain strength and, often, tips on how to get help, said Lori Jarvis-Steinwert, the local NAMI chapter's executive director.
It speaks to the need for the state to do a better job helping people navigate the system.
"When you have a mental illness, probably more so than other illnesses, you tend to isolate," Jarvis-Steinwert said. "So having a community when you live with a mental illness can make a huge difference in the course of that illness. We create … street knowledge or street savvy. It's what it's like to live day in and day out with these illnesses."
When Karen Fallahi hears her 25-year-old nonprofit, the Depression and Bipolar Support Alliance, referred to as the "best-kept secret in the Springs," it's a compliment that stings.
It means not enough people with mood disorders, their friends and families are aware of what the alliance is doing and what it might be able to do for them, said Fallahi, who founded the nonprofit in 1994 after the death of her son, Erik, who suffered from bipolar disorder.
Fallahi spent the early years operating the nonprofit from the trunk of her car before setting up in the old St. Francis Medical Center on East Pikes Peak Avenue in the Springs, where the alliance was part of a health delivery ecosystem that, she said, was a model of how things could, and should, be.
"There's not a metal plate between the head and the body. Mental health should always be a major part of the equation when we're considering a person's overall health," Fallahi said.
St. Francis closed in 2010, and Fallahi said she was told there was no room for her group at the hospital's new building on Woodmen Road. After a year of searching, Fallahi finally found affordable space and a "wonderful landlord who really understands what we're trying to do" in an office complex off East Bijou Street.
That building sold this year, and Fallahi now worries one of the nation's older and larger chapters of the Depression and Bipolar Support Alliance may once again get squeezed out of a home.
"If he raises the rent, I don't know what we'll do," Fallahi said. "But you know? We will do. We're growing, adding more groups. This problem isn't going anywhere, and neither are we."