Colorado's think tanks on Friday sparred over a new report saying the cost of tackling homelessness in metro Denver is on track to cost $2 billion over three years, with critics calling the study unreliable, even intentionally misleading, and authors standing squarely behind their research, insisting it's transparent and accurate. 
If the intense criticism and vigorous defense seem like déjà vu, that's because they mirrored the debate when Common Sense Institute, which released the study this week, issued a similar report in 2021.
CSI's researchers concluded the Denver metro area would spend a total of $1.7 billion from 2021 through the end of 2023 on homelessness. The spending would increase from $465 million in 2021 to an estimated $660 million in 2023, a 42% spike. The money includes allocations for shelters, services and health care services for homeless people. They said the number of "unsheltered" people – meaning individuals who sleep in tents, parks or abandoned buildings – jumped by 33% between 2020 and 2022, a level unseen since 2008.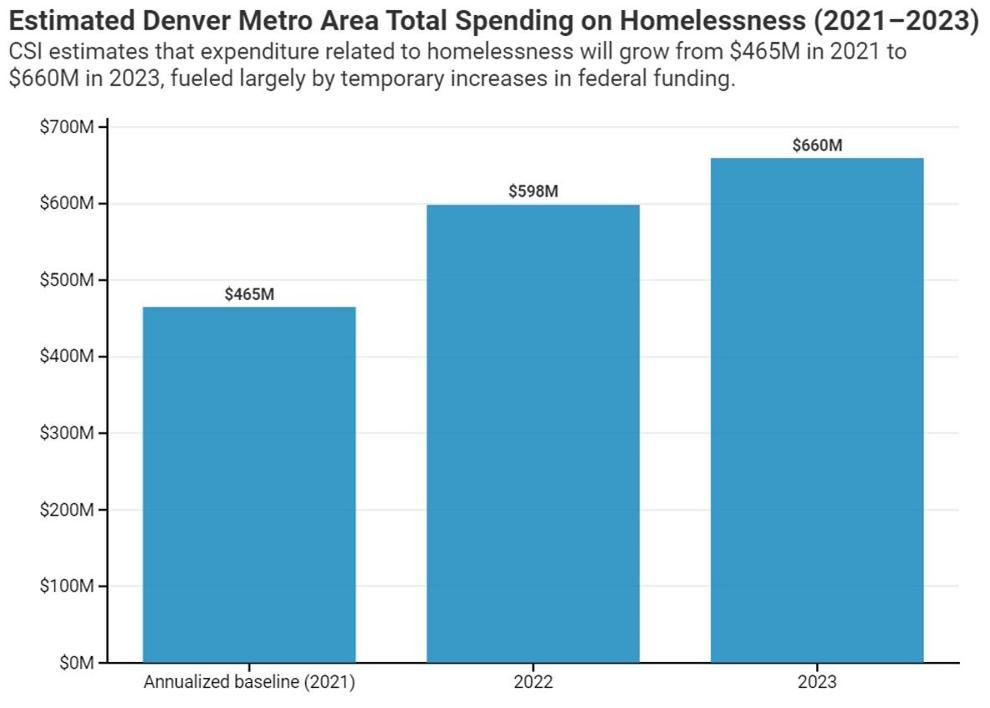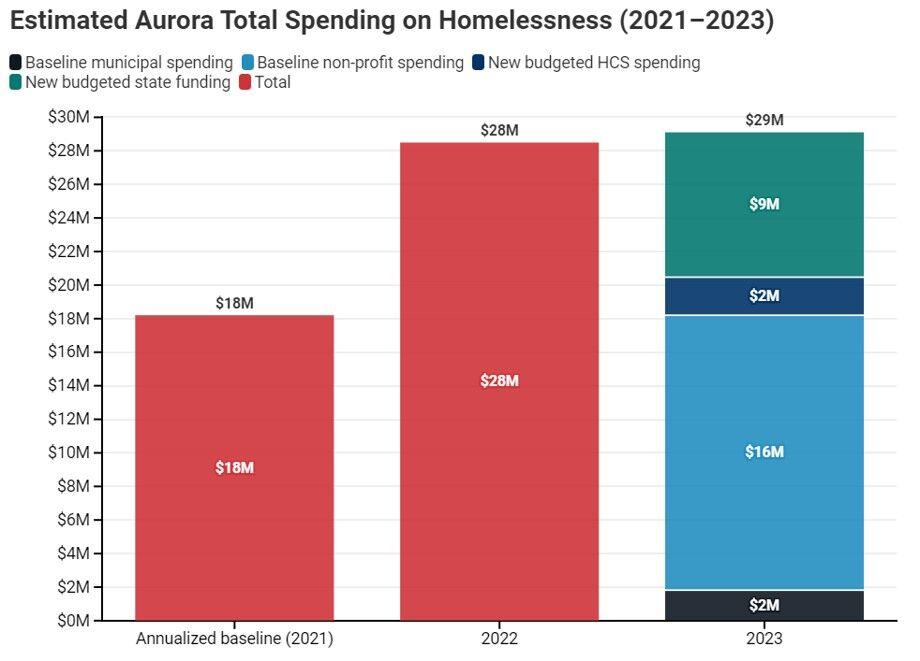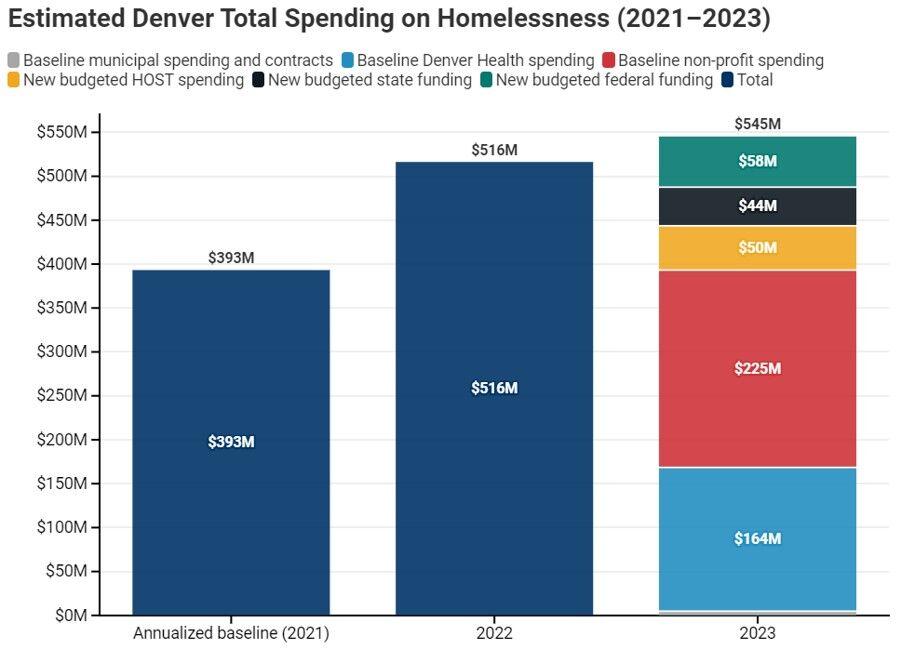 The criticism
Within hours of the study's release, the criticisms piled on.
In a joint news release, the Colorado Fiscal Institute (CFI) and Bell Policy Center questioned the study's methodology and accused Common Sense Institute of "artificially" inflating the costs and coming to "extreme conclusions." 
In particular, CFI senior economist Chris Stiffler said the study's "biggest flaw" is not offering "any meaningful context to their expenditure figures."
"Just giving a dollar amount without any context is like a doctor telling you a test result without telling you whether the number is a good or bad one," Stiffler said in the news release.
When pressed what CFI considers "meaningful context," Elliot Goldbaum, who speaks for CFI, and Andrea Kuwik, a senior policy analyst at Bell Policy Center, said the study does not provide "any frame of reference to understand the numbers."
The two groups also complained that citing expenditures from Denver Health "significantly, and unnecessarily, inflates total costs," and that not all of the cost is attributable to health care due to homelessness.
"What they could have done is taken the health care spending from those experiencing homelessness, and compare it to those of a similar demographic group, but who are housed," Goldbaum and Kuwik told The Denver Gazette in an email. "In examining the difference, that would have allowed for a better comparison of health care costs due to homelessness. Also, indigent care does not equate with care for people experiencing homelessness."
And many homeless individuals pay for their care through Medicaid, just as low-income people who are not homeless, they said.
The two groups contended that looking at organizations' Form 990 – the IRS document that provides financial information about a nonprofit organization – aren't specific enough to delineate what's being being spent directly on homelessness programs or for people who are not homeless. They noted that some charities deliver meals to "housed older people," while others run breakfast programs for "housed kids." 
Metro Denver Homeless Initiative, the region's "continuum of care" entity, also criticized the CSI study, calling it "purposefully misleading" and overestimating the per-person spending on homelessness. "Continuum of care" programs provide funding for efforts by nonprofits and governments to rehouse homeless individuals and families.
MDHI said it identified "several key inaccuracies to CSI during the creation of this report." 
"However, the researchers chose to release the report and include these inaccuracies, knowing they would lead to inflated per person spending and misinformation in the public," MDHI Executive Director Jamie Rife said.  
In particular, MDHI pointed to the study's analysis of dollars spent to support people in housing and other programs related to homelessness. Such spending, the group said, would more accurately reflect "the cost of poverty, housing instability, food insecurity, healthcare costs and homelessness in the region" – and not attributable to homelessness alone.
"To obtain the cost per person, the authors added the costs of permanent housing, homelessness services, healthcare, and programs related to housing and food insecurity over several different years, added them up and divided by the number of people experiencing homelessness and those housed in permanent housing on a single night and published it. This is purposefully misleading to the public," MDHI said.
CSI double or sometimes triple-counted expenditures, MDHI said, adding "the authors failed to account for how funds flow between the federal, state, local governments, and nonprofits."
"MDHI's own budget, included in the report, is evidence of this as our organization serves as a pass through for funding," the group said. 
Rife said homelessness is complex with individuals "having a variety of needs at varying costs."
"For example, our data show that in the third quarter of this year, the average assistance via our Housing Stability Flexible Fund was a mere $975 to either prevent homelessness or rehouse a household in our region," Rife said. "This is a sharp contrast to the numbers included in this report and demonstrates the wide range of costs, depending on the need of the individuals and families."
The defense
CSI President and CEO Kristin Strohm said the study, indeed, only looked at dollars specifically used for spending on homelessness – and not coupled with other services.
She added that researchers took steps to avoid double counting and verified its numbers with organizations cited in the report.
Reached by email, CSI's vice president of policy and research Chris Brown said the study is transparent, and it "includes complete sourcing and notes on the data."
"In addition, we would welcome their input on improving the methodology if they have a different way of estimating expenditures related to homelessness in the metro Denver region," Brown said.
Brown reiterated that the report does not say $1.7 billion already has been spent, but that it estimates Denver metro area would reach that figure by the end of 2023. He also pushed back on Stiffler's comments that the report needed more "context" to assess homelessness programs.
"The funding analysis in the report is of the system overall. It is not an analysis of any specific homelessness program," Brown said.
He quoted the report, saying readers should not use it to approximate costs related to any sub-population or nonprofit program model.
In response to CFI and Bell Policy Center insisting it's unlikely CSI accurately determined what money was spent exclusively on homelessness and not on other services, Brown said the report shows how researchers found that information.
"The report very clearly articulates that the dollars are being spent towards supporting those experiencing homelessness AND those in permanent supportive housing," Brown wrote, adding that Page 36 of the study describes the process they used.
About 43% of nonprofit's total spending is captured in the report, as a result, he said.
Brown also said counting healthcare costs is standard practice and noted that Denver Health produces an annual report for the City of Denver outlining services provided in relation to homelessness. Only Denver Health is included in teh study because it produces such a report, Brown said, adding other systems that do not do so were excluded precisely for that reason. 
Brown also refuted CFI and Bell Policy Center's contention that including expenditures from nonprofits and Denver Health skewed the report and inflated costs. 
"This statement seems to miss the entire point of the report's methodology," Brown said. "Homeless services are primarily administered by nonprofit service providers who operate housing, provide food, along with other services, such as drug addiction and mental health counseling. It does not make any sense to exclude their expenses."
'A bottomless pit'
The CSI report also examined spending in three major metro area communities — Aurora, Boulder and Denver.
Aurora Mayor Mike Coffman noted that federal pandemic recovery spending is fueling recent spending on homelessness. 
The mayor also noticed that the study "kind of loosely references housing costs and drugs."
He'd like to see more research on this front – precisely because he sees drug addiction as the dominant issue driving homelessness.
An analysis of how much is spent on homelessness can be useful, the mayor said, but a more helpful study would be examining the root causes of homelessness.
The mayor has recently proposed a plan to overhaul Aurora's homelessness program and build a one-stop-shop campus that offers services, shelter and housing. The campus could cost $50 million, an expense he's willing to pursue if the city can secure state grants and private funding for ongoing operational costs. He hopes the proposal, which faces pushback, secures council approval on Monday.
What he does know, he said, is that "what we have been doing hasn't been working."
"Spending is kind of a bottomless pit on this particular issue," he said. "And so I think that we can quibble about the numbers but we know they are large and we know they are growing."