It's summer, the state is reopening like a wild Columbine, and that means one thing:
The return of the Great American Road Trip.
After a year+ of doomscrolling on our phones, I think we're all itching for a real-life road to unscroll before our front tires. We're all looking to get away.
A recent survey from travel organizing app TripIt says this is The Year of the Road Trip. The majority of traveling Americans are hitting the road for their summer vacations, opting to drive instead of fly.
"Summer travelers plan to drive," TripIt's Tuesday report said. "For some, it might be the accessibility of their destination; for others, it might be the desire to avoid the crowds associated with flying over these particular weekends. Either way, Americans are inspired to travel in new ways — and that may be here to stay."
Ever since I was a kid crammed into the big white Chevy station wagon with my five brothers and sisters in our feety pajamas, headed for some random mountain road my dad spotted on the map, summer has meant road trip. iPhones may have replaced the Autobingo cards and SUVs the station wagons, but the reasons and the roads remain.
On our first summer road trip this year, a friend Jeff Book and I went in search of the Milky Way last weekend, but found something better.
You can't see the Milky Way anymore in 80 percent of the country, but you can still see its clouds of stars in all their galactic glory in a town named Westcliffe down in the Wet Mountain Valley.
Westcliffe is known as the darkest city in the state. It was the first internationally recognized "dark sky" city in the country, ninth in the entire world, which means it is one of the best places on Earth to see the stars.
Westcliffeans have even aimed their streetlights all down so as not to disturb the sky.
The darkness of Westcliffe is accompanied by a blessed undiscoveredness as well.
The town sits in an immense veldt of ranchland, reminiscent of Colorado's earliest days, that sidles up the Wet Mountain Valley to the Sangre de Cristo Mountains. The "Blood of Christ" range, called that because of the crimson alpenglow at dawn and dusk, is one of the longest ranges on Earth, stretching 100 miles from Poncha Pass in central Colorado to Glorieta Pass south of Santa Fe.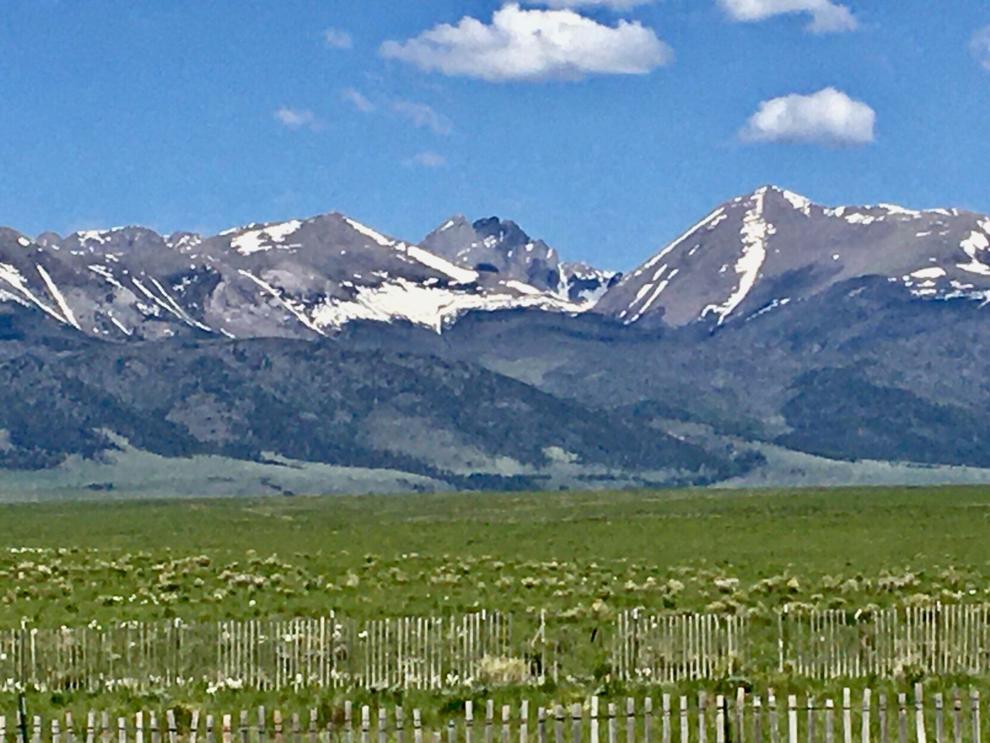 Nine of the states 54 fourteeners and more than two dozen of its thirteeners lend majesty to the mountains, but hardly anyone ever goes down valley to see them. And Westcliffe itself is like a wide lawnchair facing the view in a billion-acre backyard. It reminds me of the way Colorado was 50 years ago, when all was emptier.
Our wives joined us down in Westcliffe as a surprise, and we sat out in lawnchairs as the evening light faded to dusk, all of us waiting a long while hoping the clouds would clear so we could touch all those stars we'd heard about.
We were joined in our wait by a fellow getaway our wives had befriended when she was locked out of her hotel. Getting to know our new 77-year-old friend reminded us all that it's the interesting people you meet along the road that make for the memories, more so than the places or the scenery itself.
People take road trips to the mountains for many reasons. Some go to grieve.
Turns out our new friend, whom I'll keep nameless to protect her privacy, had just lost her husband two days earlier. She needed a getaway more than any of us — from memories and pain and people in general, probably. In such times it seems many folks feel a deep primal instinct to reconnect with nature, and our new friend had never been to Westcliffe before and thought it might be a soothing kind of soul place to escape to.
We listened for a long time while our friend told us about her husband and the road trips they had loved most — to Brainerd Lake and Mount Princeton Hot Springs and Winslow, Arizona, and the quiet pools of Ojo Caliente in New Mexico. Her litany made me realize that all of us are subconsciously collecting such touchpoints as we go, and the places we end up loving the most are probably the ones with the sweetest, sharpest of embedded memories.
Sometimes, at such times, being with a stranger is better than being with a friend. There was something uplifting for all of us about bearing witness to our friend's two-score years of marriage and the places she and her husband treasured. As my friend Suzanne observed to me in a whisper, "You know, I think this is why we're here."
When driving back from our road trip the next day, near Salida I tuned in the "River Rat" radio station, my favorite in Colorado, and we motored happily home with unexpected returns. We hadn't seen the Milky Way, but sometimes the detours — discovering something you didn't expect — are the best part of any road trip.
The River Rat serenaded us back into the city, windshield wipers keeping perfect time to the music, and just the right U2 song came on the radio to punctuate the home stretch:
"One life, you got to do what you should
One life, with each other
Sisters, brothers
One life but we're not the same
We get to carry each other,
carry each other.
One."