When I moved to Denver's northside more than 20 years ago, parents who lived in the neighborhood didn't seem that excited about sending their kids to North High School, but all that has changed.
North has done an amazing turnaround in recent years. Enrollment, test scores, graduation rates — they're all up.
Some posts on North's Facebook page before it closed in March because of the pandemic show a school on the move: 
Congratulations to Ms. Melissa Calvert! Ms. Calvert won the "High School Art Educator of the Year Award" at the CAEA (Colorado Art Education Association) 2019 Fall Conference.
Did you know that North is a national leader in Restorative Practices? Read an article about RP at North and the visits we host several times a year from educators from around the country.
JROTC has brought some seriously impressive hardware to North High. Congratulations!!! (Colorado All State Rifle Team) 
I regularly drove by the historic high school when I moved to north Denver in 1998. My next-door neighbor's kids had attended North High School, and her grandchildren were going to go there, too.
The next year, two Columbine High School seniors massacred a teacher and 12 fellow students. My neighbor was furious at a co-worker who remarked afterward, "I could see if something like this happened at a school like North." 
But it didn't.
It happened at a mostly white suburban school in Jefferson County. A timeline of shooter Eric Harris' and Dylan Klebold's activities before they unleashed their firepower on the school they hated showed they spent an extremely small amount of time interacting with their parents. 
Anybody else remember black comedian Chris Rock's take on Columbine during his HBO appearance shortly after the shooting?
"You know, I was in my hotel coming over to the concert here, and I'm getting on the elevator, and these two high-school white boys tried to get on with me," Rock said in his opening rant. 
"And I just dove off. I dove off and yelled, 'You all ain't killin' me.' I'm tellin' you, I am scared of young, white boys. If you are white and under 21, I am running for the hills. What the is wrong with these white kids shootin' up the schools?"
Now, I'm not saying there weren't concerns about North High, about gang violence and its academic performance. 
I can remember the discussions my sister and brother-in-law had with their friends years ago. Their children had attended daycare together in north Denver and now were scattered across elementary schools in the area. They talked about what they should do for high school. Most were working-class parents who didn't have the luxury of driving their kids elsewhere in the metro area. 
Those who decided to stick with North couldn't be happier. That includes my sister and her husband. All three of their children are at North this year: Bente is a senior, Max, a sophomore and Polly, a freshman. North High Viking signs dot their yard. 
"I've loved my entire experience at North," Bente said the other night.
Their first day of this school year was Aug. 24 — and they were stationed in different rooms in their home. We all mourned for members of the Class of 2020, who missed traditional proms and graduations because of COVID-19, but the Class of 2021 doesn't have football games or homecoming or other fall traditions.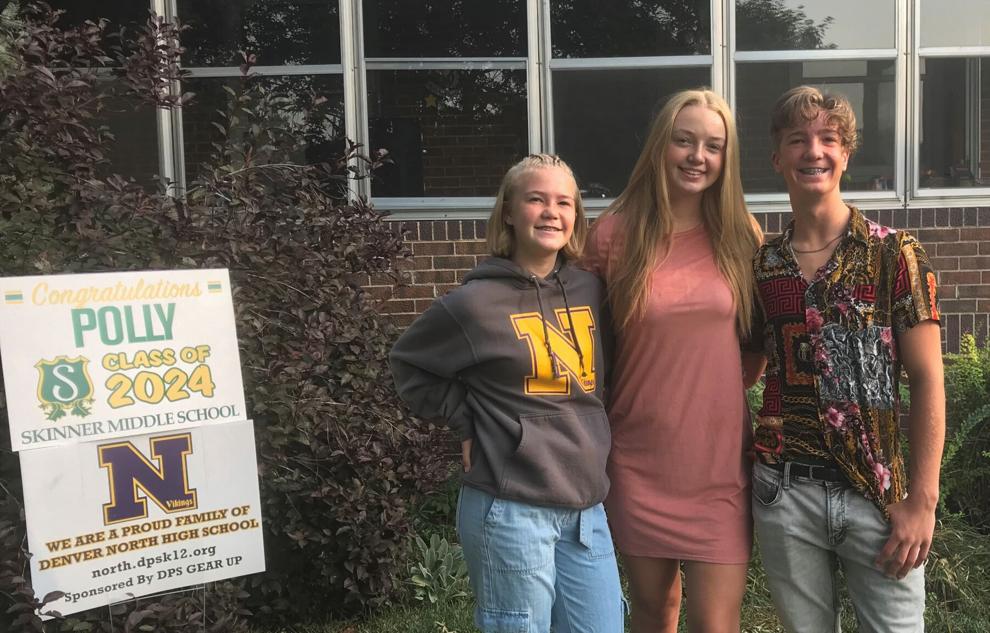 I asked Principal Scott Wolf about North's turnaround. Wolf, who has been principal after serving as deputy principal for the last six years, said it has come in "starts and stops."
One factor, he said, was his predecessor, Nicole Veltze, who became principal at North in 2011. Previously,  she served as principal of Skinner Middle School, a feeder to North, from 2008 to 2011. When she moved over to North, a number of students followed her. 
"When I went to work at North in 2013 I found a school that had a ton of potential, but whose reputation in the community wasn't what I found at the school," Wolf said. 
The student body population at the time was only 776.
To combat fears about gang violence and school violence, Wolf spent time in the community inviting people to drop by North. It helped, he said, that he and Veltze lived in the area. 
The student population has more than doubled. Teacher retention is at 90%, so the school is not constantly retraining staff. The college matriculation rate has gone from about 40% to 60%, while the overall rate for Denver Public Schools is 50%.
"It is so rewarding," Wolf said. 
The vast majority of students at North High School are Hispanic, or Mexican, or Latino — depending on how they define themselves. Fewer than 20% are white. 
I could tell the impact of the ethnic population on Bente almost as soon as she started at North. She began calling me Auntie, instead of Lynnie. It reminds me of my many conversations with Tina Griego, a journalist with New Mexican roots, who always talked about her Auntie Patsy. 
Polly loves being in the minority.
"It's nice to have diversity, to be with people who lead a different life," she said. "That's what makes school so interesting." 
I moved from the 'hood last year — I now drive by South High School — but  when I drop by to see my family there's always news about North.
Bente, who is Junior ROTC, is battalion commander.
When she was a junior, she was selected by her school to attend a military conference for young people in Colorado Springs that focuses on leadership. Almost all of her peers were seniors. At the conference's conclusion, she was one of nine high school students to receive an award.
Polly enrolled in ROTC this year. She wants to get good grades because her  goal is to play soccer for the Air Force Academy. 
Max, who was on the JV football team his freshman year, won an award at the fall banquet for highest GPA. I died laughing when I learned he fainted during biology class while dissecting a pig.
"It smelled awful," he said. "That's why I fainted."
With school back in session news is reappearing again on North's Facebook page, about golf tournaments and school supplies and more.  
Vikings — be sure to watch the 2-minute "Welcome Back" video!  We've missed you so much! 
Go Vikings, indeed.