America's first statewide prison radio station, Inside Wire, launched March 1 with a media blitz that drew national attention and packed the education and library building at Limon Correctional Facility on Colorado's eastern plains.
The half-dozen attendees who weren't free to leave after the festivities returned to their regular schedules, in a facility where the fruit of their labors now streamed from TVs in cells and community rooms, and to lives they say suddenly felt more connected.
"Walking into work these past couple days, it's almost like everything is in technicolor because of the vibe we had the other day," 58-year-old Inside Wire producer Jody Aguirre said on Thursday. "I think part of that comes from feeling human again. We weren't in prison on that day. And in a way we're not in prison now because of the effects of that day."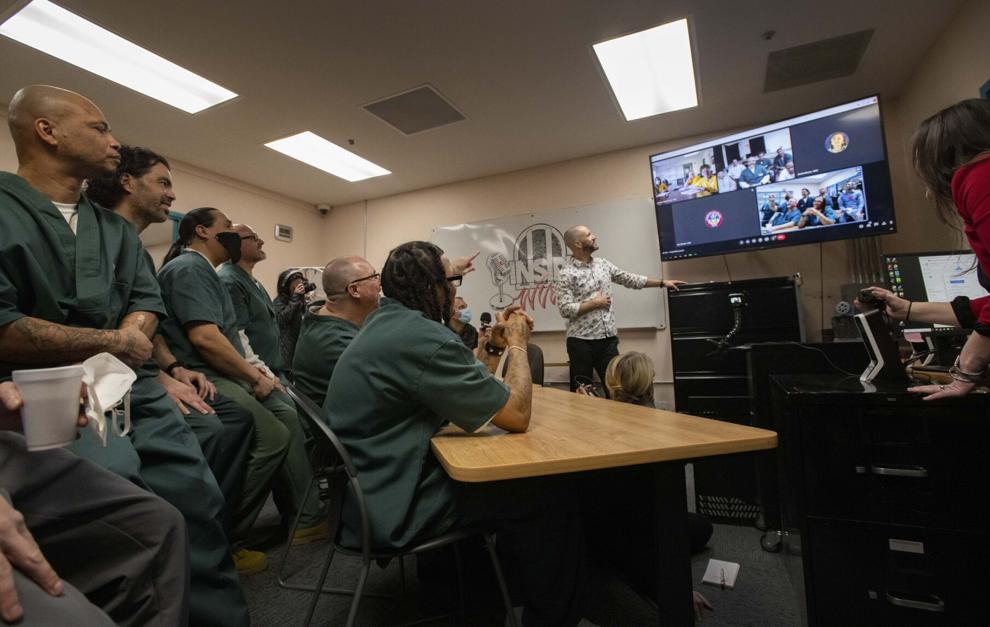 A project of the University of Denver's Prison Arts Initiative, Inside Wire: Colorado Prison Radio originally was envisioned as a first-of-its kind project that could help build trust and connections among the more than 14,000 incarcerated listeners at Department of Corrections sites around the state, and with the staff who work at those facilities, said general manager and program director Ryan Conarro.
"This is our belief about arts-based programming in general, in some ways it's almost more about how you're doing what you're doing as opposed to what," said Conarro, who's on staff at DU. "I think we grow in our relationships and understanding with each other, and I think that kind of growth and impact is what we hope is going to happen to listeners."
The decision was made late last year to go for an even bigger first, making the station, its sounds and insights available to a much wider audience, via app and streaming at coloradoprisonradio.com.
"There's obviously really important reasons we did choose to invite the public listeners to also get a window into this media platform inside facilities," Conarro said. "But at the end of the day the first and most important audience to all of us are the people inside."
Inside Wire broadcasts round-the-clock, airing pre-recorded DJ-hosted music segments, interviews and "spots" that include inspirational messages and history blurbs. All content is created by producers serving sentences at prisons in Colorado — six producers in Limon, three in Denver Women's Correctional, and six in Sterling.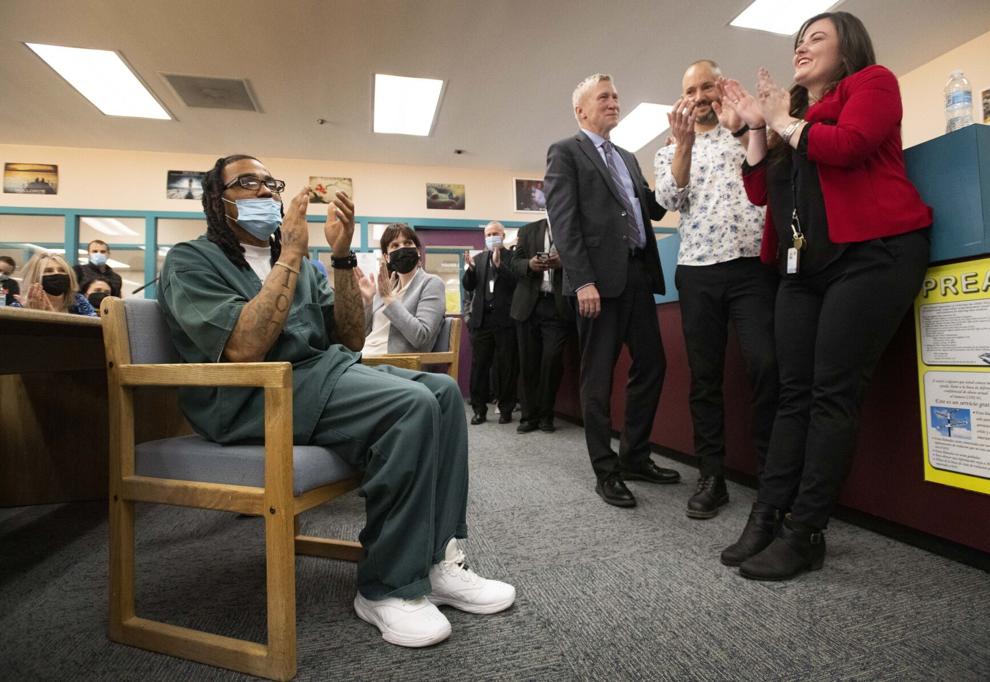 Conarro said project leaders considered a number of factors when deciding which inmate applicants to bring on board.
"The question I was most interested in wasn't about technical experience or audio production or music," said Conarro, of a process that set out to instead gauge enthusiasm and commitment to building a program from the ground up. Because of the length of their sentences, some producers weren't sure how to turn on a computer, or even what a computer was, he said.
One question Connaro said they didn't ask was what had landed applicants in prison.
"As a practice, whenever we do any work with people inside, we do not ask people what it was that led them to the prison, or try to look it up via social media or records. We chose to meet each person we're working with where they are, and where they're meeting us," Conarro said.
Inside Wire is the first station to broadcast statewide and beyond, but it's not the first prison radio station in Colorado.
For generations, as modern tech brought the world closer to the fingertips of those on the outside, within prisons the only sounds filling the space often were ambient noises, and — if you were lucky — hyper-local airwaves.
Seth Ready remembers how vital a role radio played in the rehabilitation of his thinking behind bars, and ultimately his life beyond, after serving a 15-year prison sentence.
"Prison is lonely enough as it is, and to not have access to music, or the kind of music you want? It's tough," said Ready, 46, who was introduced to the medium through a program in Buena Vista that ultimately saw him serving as the facility's part-time rock DJ, while earning college journalism credits. "I got involved in the program because of music, but once I did I found I was good at it, I enjoyed it. To this day, it's the best job that I've ever had. During my time it was the only time when I wasn't in prison, mentally."
Ready completed his prison sentence 12 years ago, and now works for Denver University's Prison Arts Initiative, supporting Inside Wire producers and a project whose potential impact he's seen, and experienced, first hand.
"It was something that even from a distance I could tell was the most important thing, in my opinion, that had ever happened for the Department of Corrections," he said. "You know kind of the mindset that people have about people who are in prison … (and) to have the chance to change that mindset and make it more acceptable for people to come together? That's huge."
Music is just one piece of Inside Wire, and also a way to get to some of the deeper and more universal stories and sentiments that emphasize connection rather than division.
A regular segment, "One Tune," features interviews with inmates and staff and poses a question: If you could listen to only one song, for the rest of your life, what would that song be, and why?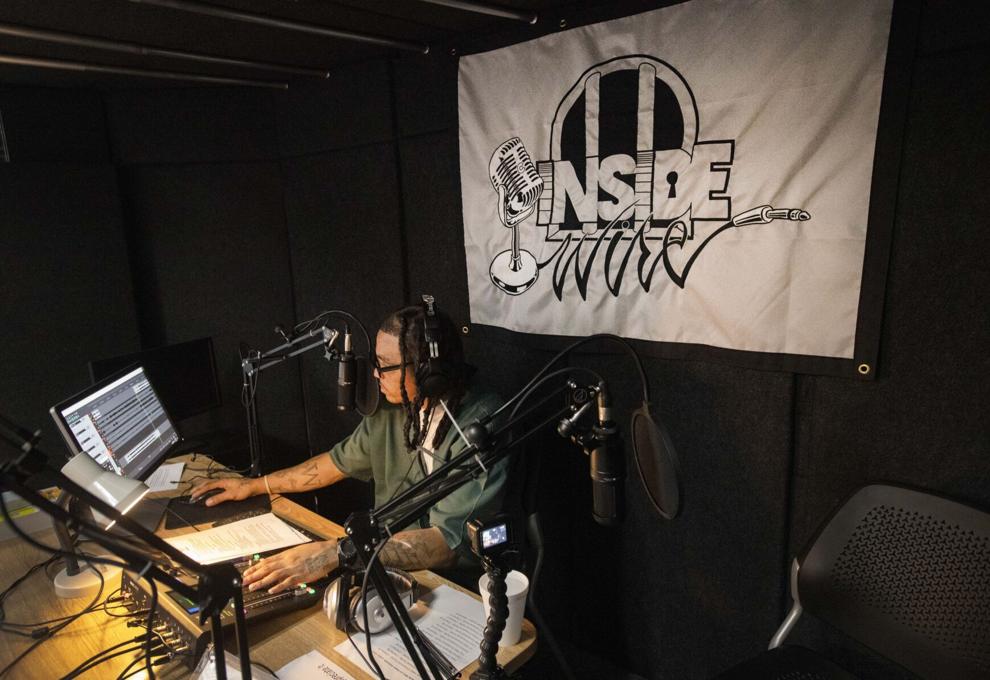 Kelly Kuhns, who teaches customer service to inmates at Limon, was interviewed for that segment. She chose the song "Humble and Kind" by Tim McGraw, a tune with a message that channels the ethos that led her into a career, and community, whose potential she's excited to see being tapped in such a way.
She remembers watching the studio at Inside Wire's home base come together in the classroom next door, and was there to celebrate the project's debut.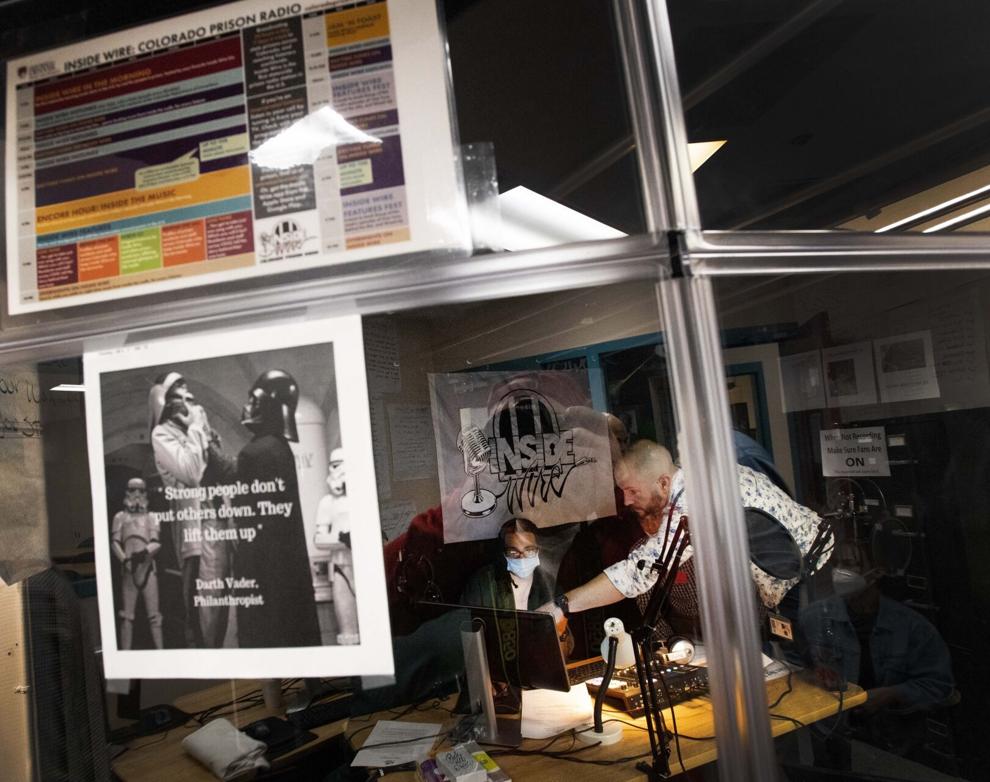 "As a teacher, I think it is really important to support people's efforts to reunite with their potential, and I saw that happening with these guys doing something that they love," Kuhns said Tuesday. "Whatever they had going on before they got incarcerated, it is a mechanism for them to find joy in a job, something they're committed to, something they're creating. I think education is a great vehicle for transformation, because within the scope of education you build relationships and relationships are change agents. We need the relationships with offenders so we can send them home better people, better parents, better community members. We're safer that way."
Kuhns used to teach third and fourth grade, where she saw the impact such programs have in providing tools that inform and empower identity and in encouraging mutual respect and understanding.
"I'd say it's really not that much different, just bigger bodies, more tattoos. Those things that worked for 3rd and 4th grade that built that connection and that community for people are the same things that work for them," Kuhns said. "There are so many people who are incarcerated. We all know someone at some point who has fallen on the wrong side of the law. And I think that when you talk about the basic humanity of people it does connect and build bridges instead of walls."
During the weeks and months features director Benny Hill and the team were banking content ahead of the launch, he said he could see its power at work among his peers at Limon.
Consider the "chow hall face" — the intimidating look that means "don't mess with me or talk to me," said Hill.
"I just had this interview a couple days ago, this guy came in with a chow hall face into the studio. As soon as he got into the booth and in front of the microphone it just all came down. And he was the person who he was in front of his mother," said Hill, 49. "And as soon as he left the studio, as soon as the interview was over, the face came right back up."
Hill said that in five months with Inside Wire, he's learned more about his peers and the staff at Limon than he has in two decades at the facility.
"We're finding that these people come in with these stories that are heartfelt, that they actually care, that they have struggles, they have triumphs, they have victories," Hill said.
"When we start tapping into those little nuggets, these ingredients with these people who have these voices, then we start tapping into human truth.
And when you can get somebody to identify with the human truth of somebody with a chow hall face then you really start getting into something special. Because I've seen dudes breakdown and cry.
"I've seen guys come in and totally become vulnerable, which is something that doesn't happen very often in prison."
Conarro said the hope now is to expand the DU program to other facilities in the state, and continue broadening the programming.
"I've been saying for the last few weeks … we're just about finished figuring out how to launch a radio station and (now) we're going to need to figure out how to run a radio station," he said. "It's been an incredible journey so far, and of course in many ways Tuesday was the very beginning. It was one of those very special moments in life that was both the culmination and the start."
The Inside Wire crew may be locked away from the world, but through the ethereal, timeless medium of radio, their thoughts and their presence reach far beyond the walls.