As Denver enters its property tax reassessment period, 226,000 properties have been revalued for 2021, showing a minimal increase in residential property value throughout the city and inconsistent commercial property value changes.
Compared to 2019, the median property value of single-family residences in Denver increased by 8.3% to $469,000, rowhouses increased by 6.6% to $476,200 and condos increased by 4.8% to $290,200. Apartments also increased by 8.8%.
This is a relatively small increase for Denver as the last six years have seen median increases of around 20% for residential property values, said Keith Erffmeyer, Denver's assessor.
By neighborhoods, residential property increases ranged from 15.5% in Barnum to 0.4% in Belcaro. Only one neighborhood, Country Club, saw a decrease, with median residential property values dipping by 0.9% compared to 2019.
"If I were to contrast this with the last three cycles, it's how similar the changes are around the entire county," Erffmeyer said. "Most of changes are 2 to 3% up to 11%. I can't recall a revaluation that was so similar throughout the county. It's quite remarkable, frankly."
The new property values were determined as of June 30, 2020 and will be revalued every two years.
Erffmeyer said the median property value changes of neighborhoods are not calculated based on the volume of sales, but on how much people are buying houses for in comparison to how much they paid in 2019.
Councilwoman Deborah Ortega expressed concern Tuesday that neighborhoods like Barnum, Barnum West and Montbello had some of the highest residential property value increases in the city.
"What this is starting to show me is that the few remaining affordable neighborhoods that we had left in our city that had not been gentrified are now starting to be gentrified," Ortega said. "It's concerning to me that we don't have the right tools in place to help people stay in their homes."
The median property value of offices in Denver decreased by 6.2% and hotels and motels took the hardest hit, decreasing by 12.8%. In contrast, warehouses increased by a whopping 27.1% and retail businesses increased by 2.2%.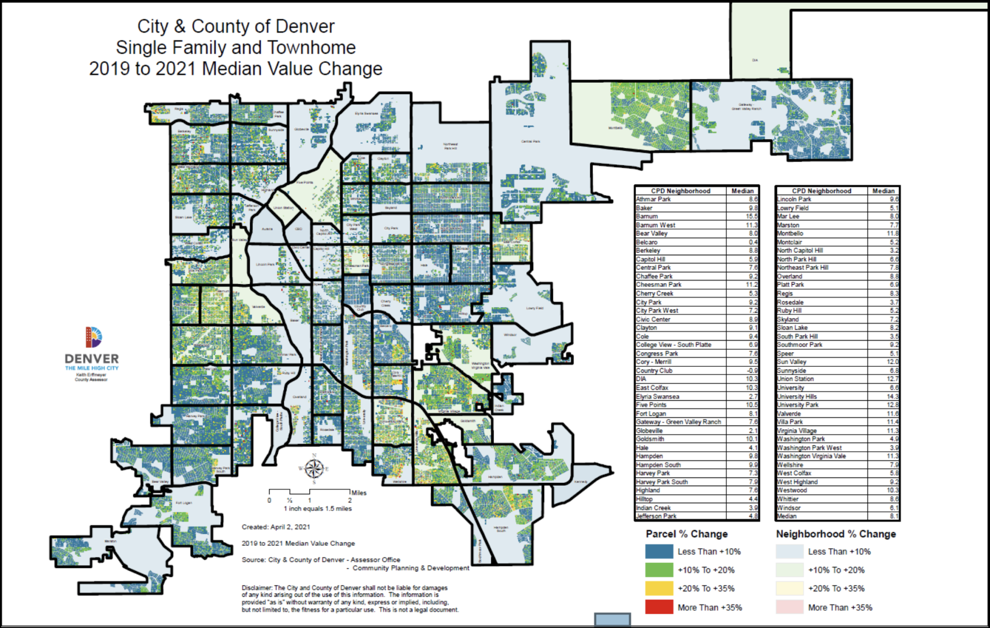 Erffmeyer said the stark decreases in some commercial property value can be attributed to the COVID-19 pandemic; however, the same isn't necessarily true for residential property values.
"The two-year period that we're studying from had 20 months before COVID hit," Erffmeyer said. "I think generally what was happening over that period, not just in Denver but around the metro area, was that the housing market was starting to level off quite a bit."
Denver's property value changes are generally in line with the rest of the counties around the Denver metro area.
Median residential property values increased from between 6% and 11% in Adams, Arapahoe, Boulder, Broomfield, Douglas, Elbert and Jefferson counties. Commercial property value also varied drastically in several counties, ranging from -20% to +30%.
Based on the median property value of single-family residences in Denver, annual property taxes would be $2,487.76. For non-residential properties, using a property value of $1 million, annual property taxes would be $21,516.55.
Brendan Hanlon, Denver's chief financial officer, said the city's median property tax has increased by only 60% since 2013, while median property values have increased by 110%.
Property taxes are calculated based on the assessment rate, mill levy and value of the property. Property value is the only factor determined by Denver officials, with the other two depend on state statutes and various taxing authorities.
"The value is the basis that my office wants to make sure we get right as early as we can," Erffmeyer said. "I would encourage property owners to review their (valuations) and contact our office with any questions or concerns."
Denver property owners can file an appeal with the Assessor's Office through June 1 if they believe their property value assessment is incorrect. Erffmeyer said the office has already received over 100 appeals.
The Assessor's Office will respond to all appeals with a notice of determination by Aug. 16.
Property owners can also apply for property tax relief programs, including exemption for seniors and disabled veterans, deferral for seniors and active military and a partial refund of property taxes paid for low-income residents.