Mental health clinician Lara Cladny stands in Union Station's downstairs bus terminal, trying to reason with a disheveled, barefoot woman. It's a midday in early August. The middle-aged woman shouts at Cladny to get out of her face.
Several RTD police officers now flank Cladny, as the encounter escalates. But she remains calmly persistent in her effort to find out if she can connect the woman to needed services. The woman screams at the mental health worker to shut up.
Cladny backs away. "Absolutely, I can do that," she says.
Eventually, she gets the name of the woman's daughter and her phone number, asking if the woman would like Cladny to contact her.
"Tell her you guys are harassing me," the woman spits.
"OK. We're just trying to help you," Cladny says.
She soon breaks off the interaction, realizing her best intentions have only escalated the woman's anger.
"We're dealing with people who are kind of being a******s to us," Cladny says, before reconsidering. The people she sees in crisis aren't inherently mean-spirited; it's just that she tends to see them at their lowest. 
"I kind of caught myself, (saying) they're being a******s. I realize, no, it's just that we happen to see (them) in that state all the time. I feel like you can't do this job unless you have empathy."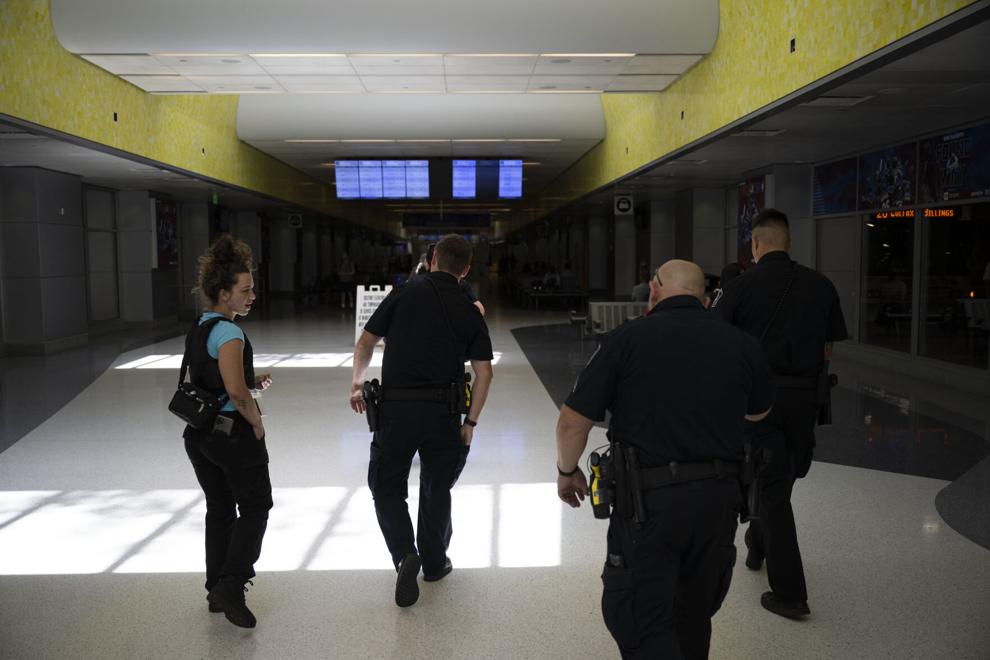 In recent times, Cladny's job and those of others in social services, behavioral health outreach and law enforcement at Denver's iconic train station have become front and center as they confront homelessness, drug use and crime.
When Union Station reopened in 2014, it was hailed as a crown jewel of downtown Denver's redevelopment, the postcard famous "Travel by Train" sign once again beckoning. It is the hub of a transit system that covers 40 cities, eight counties and 2,500 square miles.
The building's grand hall became something of a civic living room, with armchairs and rows of long benches, surrounded by high-end businesses, including restaurants, bars, an outpost of the Tattered Cover Bookstore and the Crawford, a boutique hotel that looks down from the second level. In essence, it became a destination visit — not just a transit hub — including by families to see the annual Christmas tree.
It is the tension between the city's vision of what the facility was redesigned to be, its success and its position at the center of socioeconomic struggles that have only escalated during the pandemic that have led to the battle over the historic landmark's future. 
Particularly the bus terminal downstairs has turned Union Station into a flashpoint of debate about crime, safety, homelessness and drug use in the city. Late last year the station took out benches in the bus concourse and closed its bathrooms because of concerns about drug use.
Many arrests drug related
Denver police made 1,186 arrests at Union Station from January to July this year, according to data recently presented to City Council's safety committee. More than 800 arrests occurred in the first three months of 2022, including 230 in March. In April, the number dropped to 114.
RTD police officers can write tickets, but they can't make arrests, so if a situation escalates they call in local law enforcement. About 35% of this year's arrests were drug-related.
But it is outreach workers like Cladny and the RTD officers she works with who provide the bridge between social services and policing.
She works for WellPower, formerly the Mental Health Center of Denver, and she's one of four who pair up with RTD police officers for outreach work. The police force has partnered with WellPower for its co-responder program since at least 2020, but the program expanded to four clinicians early last year.
Cladny came to WellPower in March. She moved from Durango, where she also did mobile crisis work.
The RTD's deputy police chief, Steve Martingano, told The Denver Gazette in a previous interview he saw the need for the program when he realized that many of those suspended from using transit — which can happen for habitual RTD policy violations or if a person commits a crime on transit property — displayed disruptive behavior related to mental illness.
He said he would hear from organizations such as WellPower and homeless outreach coordinators about their clients who had received suspensions from RTD but relied on public transit to get to treatment or their jobs.
WellPower can link people with case managers, who can connect them with services not only for mental health treatment and family services, but for housing, Medicaid, food stamps and employment services.
Cladny's encounter was at least the second time RTD's teams had seen the shoeless woman that day. Earlier, officers and mental health clinician Leanne Figueroa approached her for a welfare check when Figueroa spotted the woman lying on the train platform, near light rail's  tracks to the airport. The woman said she had shingles, agreed a paramedic check and went on her way, refusing any crisis services.
Hours later, after her encounter with Cladny, officers made the choice to evict her from the bus terminal as she grew increasingly erratic and disruptive. They followed her through the concourse to make sure she left the property.
'I'm able to help'
The clinicians can only do so much. They practice careful persistence and build rapport with people when they can, but they understand that receiving help is ultimately the person's own choice.
"She just wanted a punching bag," Cladny says as she decompressed from the incident.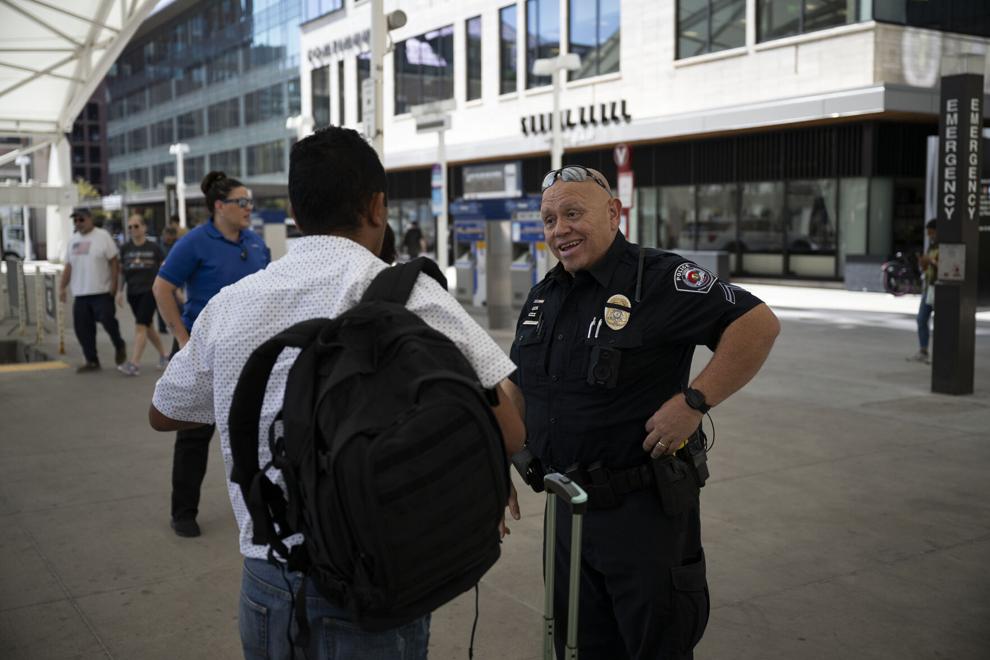 Cpl. Conrad Vanegas, an RTD officer on the police force's mental health team, made his rounds that morning mostly with clinicians and other officers on RTD's mental health team, one of four in the transit agency's police force. A rail team, bus team and community team make up the other three. All the teams spend time around Union Station when they're needed, and officers on the mental health team focus their time on the lookout for people in crisis.
Many of the RTD officers who work on the mental health team are new to the agency. A 25-year veteran of law enforcement, Vanegas joined two years ago from the Adams County Sheriff's Office. Chance Fitzgerald came from the Aurora Police Department last spring, a few months after Enrique Nino, another former Aurora officer who came in January.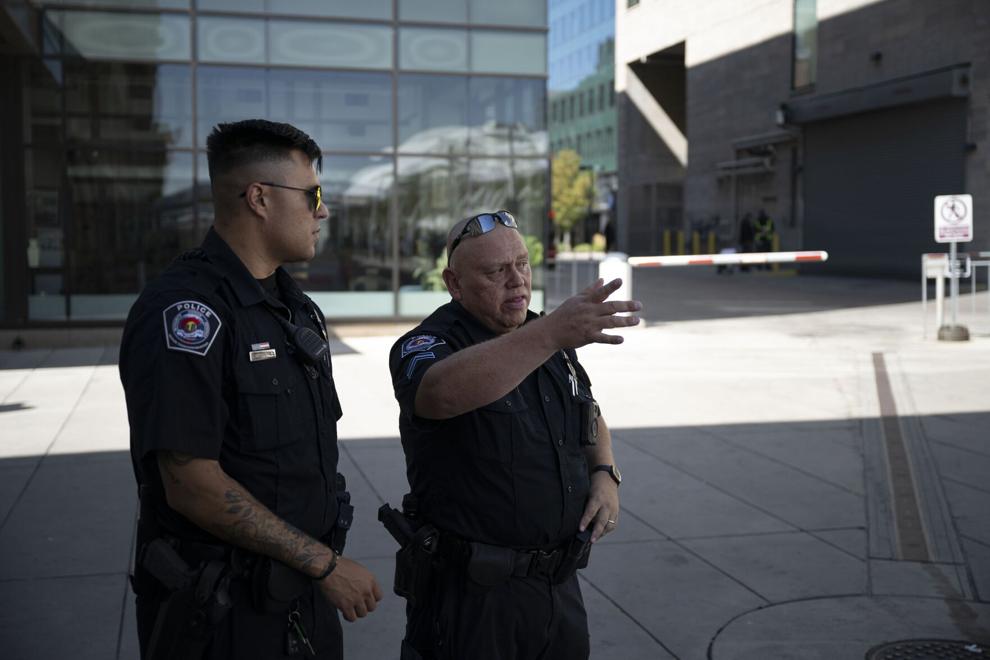 Vanegas joined RTD because he was drawn to Denver's diversity. Originally from Lima, Peru, his Spanish comes in handy. Once it allowed him to communicate with an elderly man with dementia who spoke no English and had taken a bus into Denver for work, but couldn't remember how to get home. Vanegas got in touch with the man's worried family, who picked him up.
"That's one of the things that makes me happy, that I'm able to help people like that."
When RTD's transit police first formed its impact teams, Sgt. Jessica Chaine, who leads the mental health team, insisted that officers should bid to be part of it. Working with people in crisis takes patience and resilience, and she needs officers who want to do it.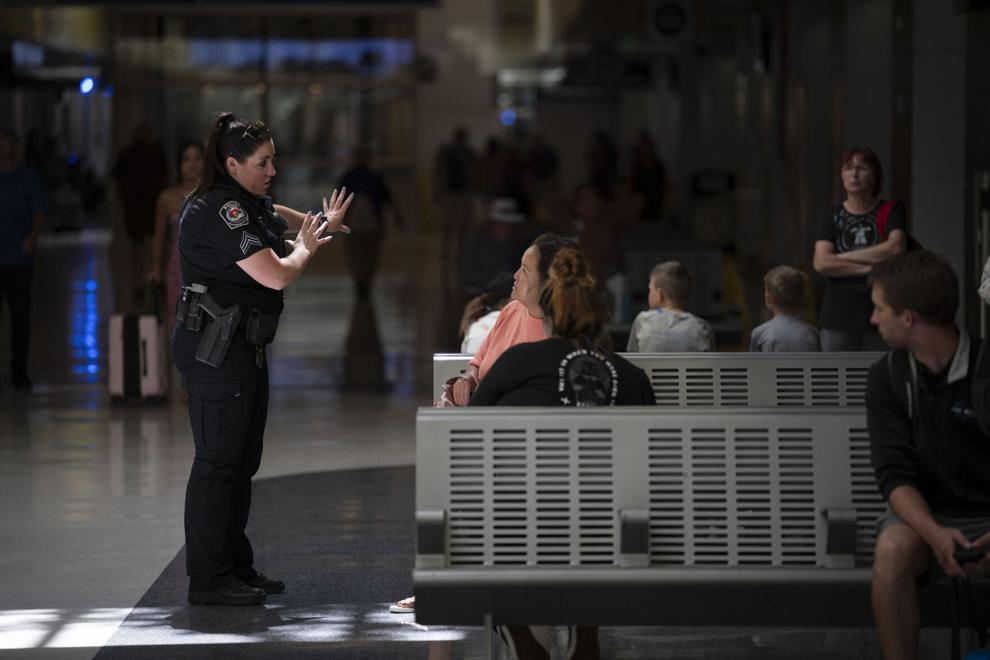 "And I think the willingness to better yourself in the realm of mental health," Chaine said, of the type of personality it takes. "There's so many different mental health disorders out there that if you can pinpoint what they're struggling with, and how to best help them, I think it's important."
Outreach plus enforcement
The co-responder teams have a different role than community response programs — like Denver's Support Team Assisted Response — which don't involve police at all. The clinicians paired with RTD officers who spoke with The Denver Gazette generally had a different view of the role they think police should play.
While advocates of community response programs aim to reduce reliance on police by taking them out of low-level situations altogether, a few of WellPower's clinicians who work with RTD said they appreciate the feeling of safety the officers' presence gives them.
"We want to be the faces that people see for these situations that aren't necessarily going to do well with a police response," Figueroa said. "But … it feels uncomfortable to think about responding to something without law enforcement."
Coming up the escalator of the Chestnut Pavilion, one of the entrances to the bus terminal, Vanegas points out a burnt smell filling the air.
"That's fentanyl," he says. "Maybe six months ago, we were smelling that every day."
RTD officers carry Narcan, a medicine for reversing opioid overdoses.
Those who advocate for harm reduction maintain that drug use in public spaces like Union Station is one result of not having designated sites, where people can use under the supervision of trained medical staff, who make sure people have clean paraphernalia and can intervene if someone overdoses.
The state legislature has so far kept supervised use sites out of Colorado, mirroring the national debate over the idea of sanctioning sites designed for drug use.
"So many of the people we're talking to are experiencing severe substance use issues, and most of the housing requires that you're sober (or) get a job, and I think that's the biggest challenge," Cladny said.
She wonders what might happen if Denver tried the housing first experiment that Houston has tested in the past decade: Moving thousands of people experiencing homelessness directly into apartments and houses — not shelters — without requiring them to first get sober or have employment.
"A lot of people end up just staying on the streets, because it's a lot (to) ask somebody to face their addictions."
Interpreting the numbers
Denver's computer-aided dispatch system recorded about 2,620 calls for service at Union Station to Denver police between Aug. 1, 2021, and Aug. 17, 2022, according to data provided to The Denver Gazette.
Out of those records, 85 logged narcotics as the reason for the call, 143 for trespassing or an unwanted person, 138 for unspecified disturbances and 91 for welfare checks.
Drawing conclusions from the data comes with limitations, though. It's not possible to readily see from the data whether each entry designates a distinct call for service, as a spokesperson said a call may generate more than one entry depending on the circumstances. And many of the data points use vague coding for the entry reason, such as "subject stop" or "self-initiated action" by an officer.
It's also not possible to easily tell from Denver police's data how many calls for service came from RTD police, since the entries don't specify in the format tracked by dispatch. Calls are either coded as officer-initiated, which can include if an RTD officer flags down a Denver PD officer or otherwise makes direct contact, or as initiated through 911, which includes requests for Denver police broadcast by RTD officers over the radio system.
And available statistics are inherently an imperfect measure of crimes committed, as calls for service and arrests don't necessarily reflect actual charges filed. Statistics on charges often don't mirror final convictions.
But Vanegas believes increased police presence around Union Station in recent months has helped decrease crime. Though just the increased attention by law enforcement and media on the transportation hub in recent months also likely played a role in the perception of high crime there, he acknowledged.
Union Station's bus terminal had hundreds of people milling around that sticky August day when Cladny interacted with the shoeless woman. Shortly after noon, a swell of people wearing Rockies shirts poured off the light rail's track outside the concourse into the 90-degree heat for the 1:10 p.m. game.
Still, the terminal was much less busy than when the weather is cold.
"It's definitely a very different place in the winter," Cladny said, referencing the building as a common gathering spot for homeless people.
Said Vanegas, "They're cold. What else are they going to do, you know what I mean?"