For 12 months, we've heaped responsibility atop America's health care providers.
They've acted as stand-ins for COVID patients' families, spokespeople for the patients' disease. They're avatars for the country's response to the pandemic. Their frustration, exhaustion and triumphs have been chronicled in media accounts, and their well-documented feelings have acted as barometers for the severity of the crisis. Protecting them from being overrun became the rallying cry for health officials. 
They went from nurses and doctors and providers to frontline fighters. They were lauded as heroes by most, derided by those who downplayed the pandemic. In the spring surge, they fought a new virus with few treatments. COVID was an invader, with tactics and weaknesses unknown, and the task of fending it off fell to America's nurses, doctors, respiratory therapists, EMTs and every provider in between.
In Colorado, they've weathered two peaks and the valley that connected the spring and fall. They've sacrificed.
Vaccine inequities among Colorado's older citizens shortchange minorities
"During those first couple of months, literally my husband was scared to kiss me or hug me," Tiffany Cunningham, a respiratory therapist at North Suburban Medical Center in Thornton, said. "He didn't want me to kiss my kids on the head. I tried to stay away from them as much as I can. They're little, so it's difficult — they want to hug me, they want to kiss me." 
"When it comes to doing your job, you do your job," said Matthew Bergland, a life-flight paramedic for UCHealth based in Colorado Springs. "The stress comes with going home. My wife is a teacher, and my father-in-law lives with us, and he's in his 70s. So there was a lot of stress and maybe fear that (I) might be bringing home the virus."
There was stress in the home and stress at work. COVID patients "aren't just a body in a bed that needs help. They're human beings with a family," said Jeanine Snyder, a nurse at UCHealth's Longs Peak Hospital. Separated from their families, providers acted as a go-between, relaying the disease's progression over the phone. "That weight was hard to carry. But we're willing to do it. There's no other choice."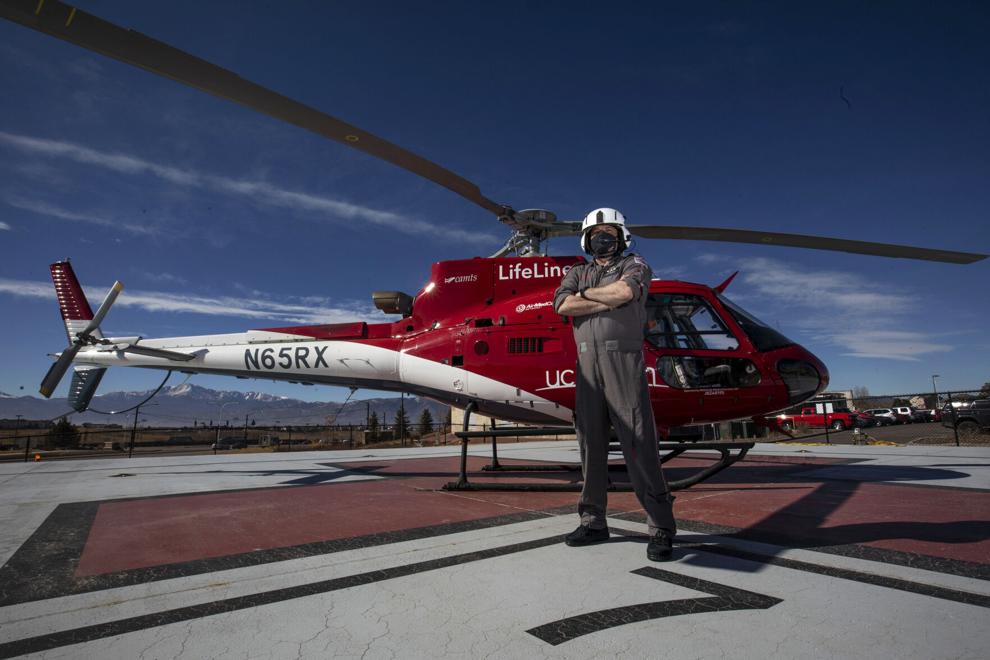 In the spring, life was day-to-day. A vaccine was a distant possibility. It would come, the providers knew, but not anytime soon.
Nearly a year after Colorado's first case was identified and the first wave of COVID patients rolled into the state's hospitals, those providers say they can exhale. Cases have stabilized significantly since the fall peak, which dwarfed the spring. Vaccines are flowing into arms. Gov. Jared Polis has regularly touted early vaccination efforts — particularly those aimed at Colorado's oldest residents — as the beginning of the end. 
There's relief, six providers who spoke to The Gazette for this story said. But it's guarded relief: It'll be months before enough people are vaccinated to make a populationwide difference. If the general public lets its guard down even for a few weeks, the crisis can roar back. 
Colorado's wealthiest areas have highest vaccination rates
"If everybody can be on the same page and do those things, we can really curb this infection even with the new variant," Snyder said. "We definitely feel like we can breathe a little bit more, but we're still on our toes, just in case something bad happens."
Nearly all providers vaccinated
Colorado's frontline hospital workers were at the top of the state's vaccine priority list; they were inoculated starting in December, immediately after the first shipment — tiny in hindsight — was greeted by Polis and a gaggle of reporters. 
Two months later, nearly all of those providers have been vaccinated, first and second dose. The mood at many of those clinics has been happy, a celebration in their own way. There's been a noticeable mood shift in the hospital halls. Snyder said she remembers high-fiving people, albeit "with gloves on."
"I just felt hope for a future," Snyder said. Her relief extended beyond her own inoculation: With the elderly close behind providers in the vaccine priority, she hoped that fewer people would die. "I felt like now we can finally, hopefully get on track and get this thing under control. I felt like maybe we might get a breath of fresh air: 'OK, now maybe these people won't get so sick in the hospital, we can prevent a lot of death and heartache.'"
"It was like a party," said Gaetha Mills, a nurse at Swedish Medical Center in Denver. "Everybody was like, 'Woohoo, yay,' all kinds of celebrating. The people running the clinics were doing it eight hours at a time, and still at the end they were smiling, and everybody was getting their picture taken."
"It was just like, 'Oh yes, here's the beginning of the end,'" she said. "'Here's a light at the end of the tunnel.'" 
She said a friend of hers, a doctor at Denver Health, posted on social media that getting vaccinated "was a weight off my shoulders, everybody's smiling." 
But back in the fall, the vaccine was far from their minds. Joseph Forrester, an ICU physician at the Medical Center of Aurora, figured it would be two years before an inoculation was ready. Mills thought it would be fall 2021, at least 18 months after the pandemic began.
"I definitely thought it would be a longer haul (than it's been)," Bergland, the helicopter paramedic, said. His crew was the first in the state to transport a COVID patient, an experience he likened to a chess match: "What moves do we make so that we're successful?"
Many said they didn't really believe the vaccine was actually coming until it arrived. 
"I shouldn't say (officials) promise you everything, but (they said), 'As soon as we can get it, we'll get it,'" Cunningham, the respiratory therapist, said. "But until you physically see it and know that it's here — that makes you feel better. When we got the vaccines delivered here to our hospital, then I knew."
All of the providers were careful to couch their relief about getting the vaccine with an emphasis on continued vigilance. They'll still socially distance, they'll keep wearing their masks. All of them reiterated that everybody else needed to, too.
Their behavior won't change. But their mindset has.
"It's good, it's kind of like a relief, kind of like a breath of fresh air, a little time here to recover, recuperate, take a step back and look at everything we've done," Cunningham said. "And hopefully, now that the vaccine's out and people are getting vaccinated, maybe we can get back to some sense of normalcy."
'I've seen you do miracles'
Looking back over the past year, providers said the pandemic reaffirmed why they got into medicine to begin with. Though they've been lavished with praise, they were just doing their job, they said, as they've done for years.
"It hasn't changed it," Bergland, the helicopter paramedic, said when asked if the pandemic had affected how he viewed medicine. "It's reinforced it. What kind of got me into medicine, it's just reinforced that feeling that we will do whatever needs to be done to make sure we bring that care to the side of the patient. That's what medicine does."
Though many have talked about fears of burnout among physicians — a reasonable fear — Cunningham said she expected many people to go into medicine because of the pandemic. Some will quit, she said, but she feels more passionate about her work than ever. 
"It's funny," she said, "with nurses in particular, we've gotten so many accolades this year. At the beginning of the year, we were getting free food. But we're actually just doing the same thing we've been doing our whole careers. It's nothing different, and while I appreciate going like, 'Nurses are awesome!' we were actually awesome in 2019, too."
Snyder, the Longs Peak nurse, said the pandemic highlighted the resiliency of health care workers, and it brought her hospital's staff even closer together. One doctor in her ICU brought a journal to the hospital so providers could write in it every day, memorializing their days, their feelings, their triumphs and losses.
"It just feels like this time around, because everybody was experiencing the same thing, it never felt like we were alone," she said. "I feel like the medical community really relied on each other to life each other up."
In a strange way, the unknown nature of the virus built up that camaraderie, too, several providers said. Early on, health care workers across the country were trying to find treatments that would work. It was a collaborative process that strengthened bonds, even in that high-stress environment.
"Sometimes to see one of your doctors — they'll tell you, 'I don't know, I don't know what else to do, I don't know what else to try,'" Cunningham said. "And hearing them say that, it kind of takes my breath away, and sit there and look at them and say, 'Huh, you're one of the smartest people I know, I've seen you do miracles, and now you're saying you don't know.'"
"It changed how I thought about them, but it also made me respect them more, that they could tell us that or they could say, 'Does anybody else have any ideas?'"  
The desire to reconnect
Like everyone else, when the pandemic ends, Colorado's providers have to-do lists. 
They want to eat at restaurants, or go to a grocery store again, or see elderly parents or children who live out of state. Movie theaters, dinner parties, talking to dear friends in person and not over a video screen — it's the simple things as much as it is elaborate vacation plans. Mills wants to go to Target — "I love Target."
The end will also mean moving on from the stress that's hung over their heads for a year, stress that goes beyond what they've seen on the COVID wards. Nearly every provider interviewed for this story said they've felt an added responsibility to stay healthy. Bergland, the paramedic, said he considered staying in a hotel.
That responsibility was above and beyond the collective behavior change impressed upon all of us. They had to stay healthy to protect each other and their non-COVID patients. They had to set an example for everyone else, to set the tone while treating some who may have ignored it.
For Snyder and her wife, the tail end of the pandemic, at least as it appears now, will bring with it new life. The couple was going through fertility treatment during the pandemic, and now, Snyder's wife will deliver their child in July. At one point, they'd talked about sleeping in different rooms to minimize potential exposure. But what if Snyder did get sick, what if she died? They didn't want to have spent those last months apart.
When all of this is over, Snyder wants to meet her brother's baby girl, his first child. She wants her parents to meet their grandchildren and to be a part of this new life that she and her wife are creating together. The past year has shown to her, as much as anything else, the importance of relationships, of human connection.
"Even the simple things," she said. "I want to take my child to the zoo and museum and to do things, have playdates with other kiddos and give them that social aspect of life, instead of being shut out from the world.
"I don't think we're meant to be alone here."