The AdAmAn club will make its 99th trek to the top of Pikes Peak on Dec. 31 for New Year's Eve fireworks. Here's what to expect with the fireworks show as we ring in 2021 around Colorado Springs and the Pikes Peak region.
- Ten AdAmAn members and guests are expected make the trip up Barr Trail, down from the usual number, which is closer to 30. They'll also start a day after the journey would typically start. "It's definitely a strange year, but that should go without saying," said Don Sanborn, a longtime member who plans to drive instead of hike. 
- Traditionally, the famed fraternity of seasoned outdoorsmen heads up Barr Trail on Dec. 30 and stays the night at Barr Camp. In an effort to prevent the spread of COVID-19, the plan is to skip camp and attempt the 13-mile trail to the summit in one wintry push, ideally arriving with several hours to spare before fireworks at the stroke of midnight.
- If all goes accordingly, the trail cadre will meet another 10-person crew ascending the other side of Pikes Peak, following the highway from Glen Cove near 11,400 feet. The split arrangement — again meant to keep the club distanced — is believed to be a first in AdAmAn history.
- The AdAmAn Club has long honored its founders with five colorful blasts at 9 p.m. To celebrate Colorado Springs' sesquicentennial in 2021, the group is set to launch 150 shells at 9 p.m. — on par with the ultimate show at midnight.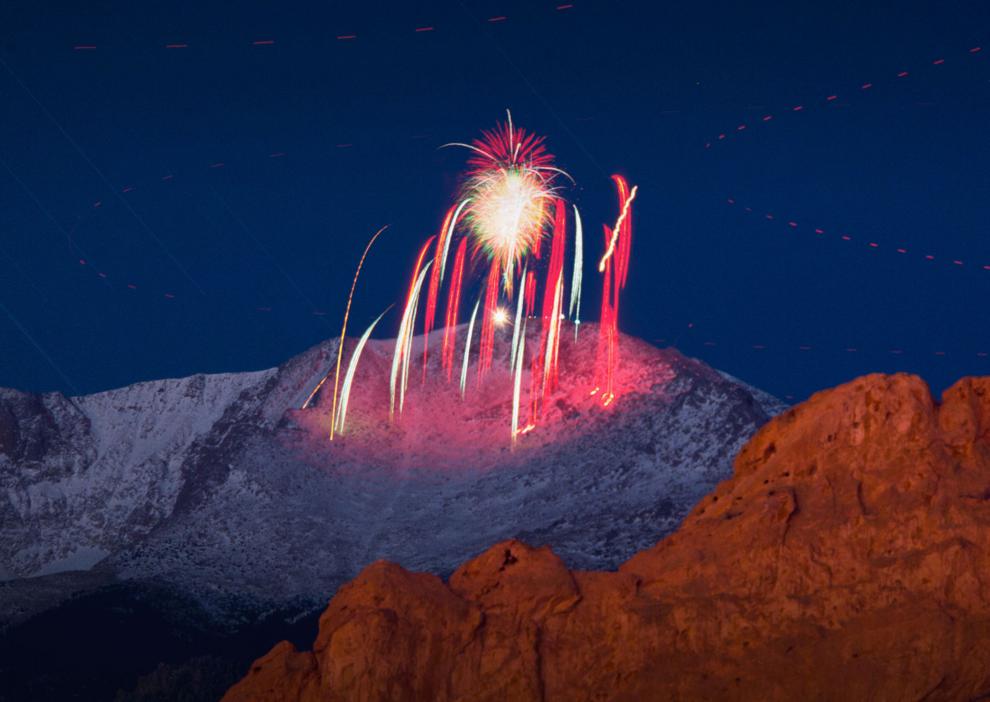 - While different, the hike along the Pikes Peak Highway is not new. With avalanche threats along Barr Trail, the club got permission to use the road in 2006. The highway staff might be on standby "in case we need to help punch a hole or something," said Jack Glavan, manager of the city of Colorado Springs enterprise operating the highway. Plans are considered tentative pending COVID restrictions and, as always, Mother Nature's whims.
RELATED:
Ice Castles in Colorado are-back: How to get your tickets
- In 2010 a ferocious blizzard forced AdAmAn hikers to turn around. That, the club maintains, was the only time the fireworks have been abandoned since 1922, when Fred Barr and four other men scaled Pikes Peak and rang in the new year by shooting 175 pounds of rockets and flares for all to see.
- The 150th birthday is an occasion the city's enduring fellowship does not want to miss. It's about "showing perseverance through adversity," Sanborn said. "A good thing to think about with the whole COVID thing."
RELATED: