After 17 months of intense investigation, the Boulder County Sheriff's Office Thursday announced the Marshall fire was actually two separate fires started by two separate causes within 2,000 feet and an hour apart. 
The first: Human caused by a fire at property owned by Twelve Tribes that was left to smolder six days earlier. Investigators said the fire had been covered in dirt, but on Dec. 30, 2021, the high-wind event uncovered and reignited the smoldering fire at about 11 a.m., Boulder County Sheriff Curtis Johnson said.
The second: An unmoored Xcel Energy power line near the Marshall Mesa Trailhead sparked at around noon, Johnson said.
Johnson referenced a map that showed the second fire started 2,000 feet away from the first one an hour later and said the two fires were not related.
The cause of the Marshall fire was assessed by Colorado-based investigators from the U.S. Forest Service and and an electrical engineer who is an authority on wildfires. 
Investigators looked into the possibility the second fire was caused by embers from the first fire at the Twelve Tribes property, but Boulder District Attorney Michael Dougherty explained that investigators ruled that out.
"Embers would have had to travel 2,000 feet to the south west to reach the trailhead site," said Dougherty.
The wind was blowing the fire to east where it roared into the heavily populated areas of Superior and Louisville.  
The wind was blowing with sustained speeds of 50-60 mile per hour and clocked with gusts of up to 100 mph with the strongest push at 150 mph.
Dougherty said no charges will be filed related to the cause and origin of the Marshall fire due to insufficient evidence.
"We make our charges based on evidence, not emotion," Dougherty said.
After sheriff and DA investigators interviewed the 40 people, including children, who were there at Twelve Tribes, Dougherty said "there is no indication that residents of 5325 [Eldorado Springs Dr.] set a fire on Dec. 30." 
Johnson, the sheriff, noted that the Twelve Tribes property holds a "significant water source that could have been used to put that fire to rest," referring to the fire at their property, but added that no one could have predicted on Dec. 24 that the winds would have uncovered the fire six days later. 
As for the power line, Dougherty said there was no evidence that it had been recklessly or negligently kept prior to it becoming unmoored, but he added that, based on the information they obtained, he did not rule out the possibility that civil suits could be filed. 
Dougherty said that video taken from a Colorado State Patrol car showed that the power line "swung like a jump rope," but, during the press conference, both Dougherty and Johnson stressed that Xcel Energy classifies a downed power line as a line that actually hits the ground.
Xcel officials quickly released a statement on Thursday disputing the damaged powerline accusation from investigators, saying the analysis is flawed. 
"We strongly disagree with any suggestion that Xcel Energy's powerlines caused the second ignition, which according to the report started 80 to 110 feet away from Xcel Energy's powerlines in an area with underground coal fire activity," the company stated. "Xcel Energy did not have the opportunity to review and comment on the analyses relied on by the Sheriff's Office and believes those analyses are flawed and their conclusions are incorrect."
Xcel officials instead put the blame squarely on Twelve Tribes.
"Our thoughts are with the families and communities impacted by the devastating wildfire in Boulder County," the company stated. "We agree with the Boulder County Sheriff's Office report that the Marshall fire started as a result of an ignition on a property (5325 Eldorado Springs Drive) previously reported to be affiliated with an entity called the Twelve Tribes, and that this ignition had nothing to do with Xcel Energy's powerlines."
The company added: "We have reviewed our maintenance records and believe the system was properly maintained. We operate and maintain our electric system consistent with leading energy service practices and we're proud of our employees and the work they do to deliver safe, reliable and clean energy to our communities. As members of the Boulder community, we will continue to support our neighbors in this recovery."
A third possible cause of the Marshall fire — coal mine fires, which have been burning beneath the ground, caused a fire in 2005. During that time, temperatures on those coal seams were measured at 373 degrees. Dougherty explained that after 275 tons of material were dumped into the seams, temperatures decreased to below 90 degrees. He said there was never a high enough temperature to start a fire, but that investigators did not entirely rule out the possibility. 
The Marshall fire's causes were determined using 266 body worn camera recordings and 450 photos captured by the body worn camera system. The Sheriff's Office also reviewed drone footage, and interviewed hundreds of witnesses.
Two people died in the Marshall fire and a third person died later while rebuilding a home destroyed in the blaze.
Robert Sharpe, 69, and Edna Turnbull, 91, died in the fire. Turnbull was evacuating her Superior home but turned around and went back inside to rescue her dogs. The Boulder County Sheriff's Office announced that investigators found small bone fragments in the area and she is presumed dead.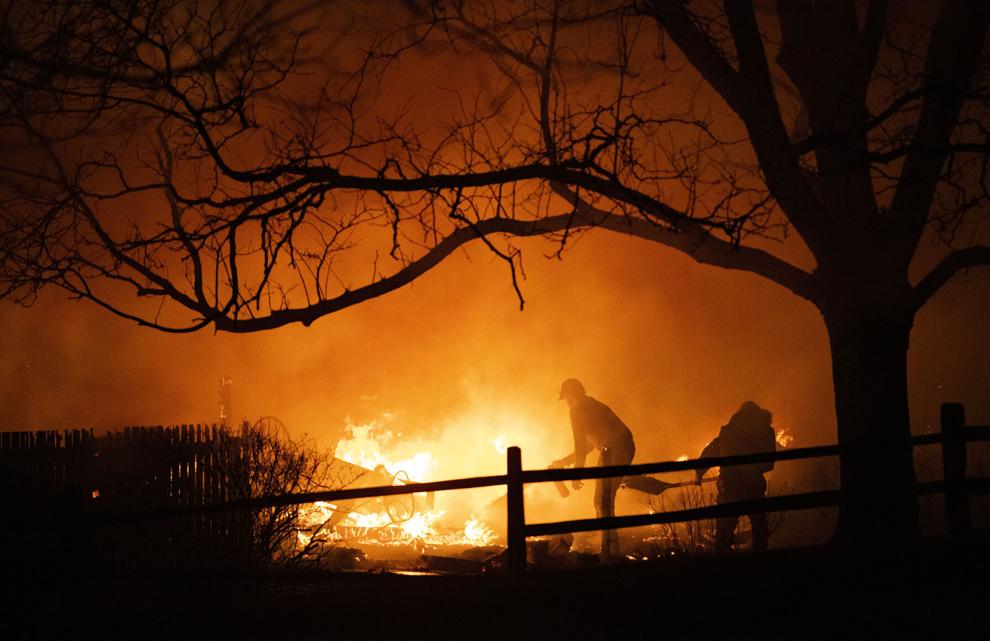 In March of this year, Eli Gabriella died while in the process of rebuilding a home, which was destroyed in the fire.
Gabriella's home was one of the first to be destroyed as it was located near Marshall Road and Colorado Highway 93. His death was the third associated with the 2021 blaze.
The Marshall fire was Colorado's most devastating fire in state history, destroying 1,084 homes, and damaging 149 more in Superior, Louisville and unincorporated Boulder County. It destroyed seven businesses and is estimated to have caused more than $2 billion in damages.
Johnson, a division chief at the time of the fire, lost his home, along with 139 other people who live in Louisville's Coal Creek Canyon subdivision. He worked all night and his wife found out their home was gone from watching news footage. Because she started calling insurance companies on the day of the fire, they were in an apartment the next day.
Johnson had a pair of gym shorts, a couple pairs of socks and no underwear to his name. The Marshall fire changed the way he looks at life, he said. 
"Before, if someone gave me a nice bottle of bourbon, I'd keep it on a shelf," Johnson said. "Now, stuff doesn't matter. I don't need 22 polo shirts." 
Brigitte Towo, who lives near the Twelve Tribe property, is angry about the fact that the devastating fire she called "an inferno" started on their property.
"I'm upset because we'll never really find the truth. I guess we will have to accept that nature played a bad trick on us that day," she said. 
Johnson acknowledged that Marshall fire victims will be all over the spectrum when it comes to their reaction to the cause of the blaze. He and his wife have made the choice to look to the future.
"I'm moving forward because for me it's important to reclaim my life after the fire. I'm going to plant my flag and get back in my neighborhood," he said. 
Boulder County Commissioners released a statement thanking investigators and urging those affected by the Marshall fire to take care if their mental health. 
"The Boulder County Commissioners are grateful to the detectives and many experts who worked diligently to determine the origin of this devasting fire and to Sheriff Curtis Johnson, DA Michael Dougherty, and former Sheriff Joe Pelle for their leadership," the commissioners said. "Our community has suffered deep trauma from the Marshall fire, which will take many years to heal from, and we recognize that today's announcement may very well not bring about the closure that many community members are looking for."
View body worn cameras of Boulder County Sheriff deputies from Dec. 30. 2021, the day of the fire here. 
Listen to audio from various law enforcement entities from Dec. 30, 2021 here. 
Chronology of the morning of Dec. 30, according to dispatch reports
Dec. 30, 2021
11:08 a.m. 
Dispatcher sends fire personnel to Marshall Road and Highway 93 on a report of a possible downed power line. There is a possibility of smoke in the area and of a possible power line down.
11:09 a.m.
Kelly McBride with Boulder County Open Space tells dispatch she is in the area.
11:19 a.m. 
Smoke is seen coming from land owned by The Twelve Tribes at Eldorado Road and Marshall Road.
11:20 a.m. 
McBride and firefighters arrive at the Twelve Tribes property where a fire is burning.
11:23-11:24 a.m.
McBride calls for additional units as the fire on the TT property is getting worse. Dispatch is now calling it a wildland fire.
First house is evacuated.
Smoke is pushing east
11:27 a.m. 
Fire at 12 Tribes grows
11:31 a.m. 
"We have structures involved. I'm gonna need additional engines for this fire," reported McBride. 
Flames have now set a shed on fire on the 12 Tribes property
11:31 a.m. 
Meanwhile, winds are intense and smoke is getting worse at Marshall Mesa Trailhead.
11:42 a.m. 
Shed is going up in flames
11:51 a.m. 
Shed is burnt to the ground.
Noon
McBride notes a new smoke plume near Marshall Trailhead.
This story is breaking news and will be updated.