The Morgan Creek fire exploded in size on Saturday, forcing a large area closure in Routt County.
On Saturday night, it was estimated to be burning around 1,920 acres, up from around 100 on Friday, but has since grown, according to Steamboat Pilot & Today. An updated map and acreage is expected Monday morning after an aerial crew flew over the fire Sunday night.
The fire moved into the Mt. Zirkel Wilderness toward Floyd Peak and the areas already blackened by the Burn Ridge and Middle Fork fires, fire officials said. Many trails in the area were closed.
Residents in areas just east and northeast of the wildfire were asked to prepare for evacuation. Structures close to the fire appear to be four buildings at Wapiti Ranch, reported Steamboat Pilot & Today.
The blaze also prompted the U.S. Forest Service's Routt unit to close a section of the Continental Divide Trail and trails, roads, and campgrounds throughout the Seedhouse corridor. Several forest roads are also closed around the fire.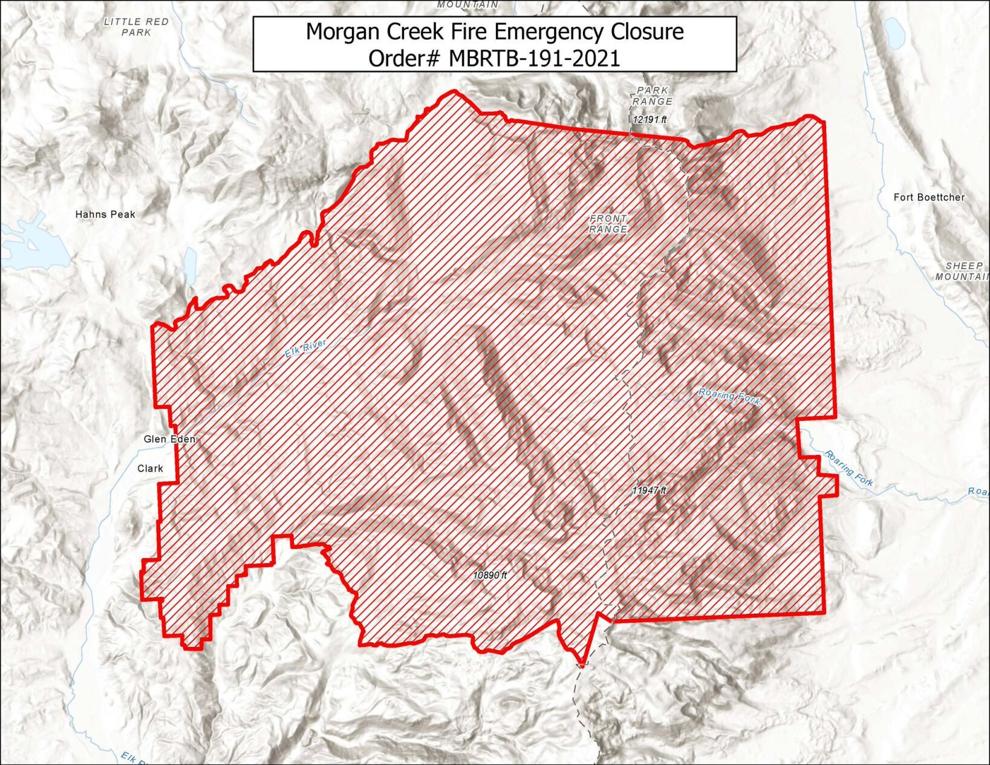 Around 65 people worked to contain the blaze on Saturday, according to an incident management web page for the fire. A wildfire management team from Wyoming was set to take charge of fire operations Sunday morning.
Crews reported extreme fire activity from the blaze, which is burning in dead and downed timber, including crowning runs in which fire spreads from treetop to treetop and spot fires abruptly igniting after winds blow embers.
Smoke could be seen in skies several miles from the fire, which sparked air quality health advisories in Routt, Grand, Jackson, and Summit counties, officials said. 
Air Quality Health Advisory EXPANDED to include all of Routt, Grand, Jackson and Summit Counties. Smoky skies looking north from Copper Mt. #MorganCreekFire_CO #cofire https://t.co/IdEB2C7ws4 https://t.co/o2HSEEeP6S pic.twitter.com/L7EH0zuPH6

— CDPHE Air Pollution (@cdpheapcd) July 10, 2021
The fire was first reported Friday afternoon just south of the Hinman Park Campground, and while Routt County was under Stage I fire restrictions. According to Drew Cosgrove, who works near the fire, the blaze came after he saw lightning in the area the night before, but the Forest Service hasn't yet said what started the blaze.
Morgan Creek fire ignites in northwest Colorado
Elsewhere in Routt County, a rapid extraction team arrived at the Muddy Slide fire on Friday to rescue firefighters in urgent situations. Now being described as a long-duration fire, that blaze, which started on June 20, is estimated to be around 50% contained. It has blackened more than 4,000 acres.