Presented by:
Snow transforms the Colorado landscape into a winter recreation playground. And Summit County, one of Colorado's most iconic destinations, is also one of the best places to head for unforgettable winter fun. From Nordic skiing to snowshoeing, from tubing to flying down groomed trails at the area's best ski resorts, there's truly something for everyone to enjoy. Frisco, Colorado, a beautiful mountain town in the heart of Summit County, is the perfect base camp for your winter getaway. Excellent restaurants and unique, independently-owned shops line the quaint Main Street and the Frisco Adventure Park, which is set on the shores of Dillon Reservoir, is home to some of the best opportunities for winter fun in the area. We've put together a collection of some of our favorite winter activities in Summit County to help you make the most of this season in the mountains.
1. Nordic Skiing
Nordic skiing, namely skate skiing, is a sport that regained its allure in 2018 by the U.S. duo, Jessica Diggins and Kikkan Randall, who broke a 42-year-old US Olympic Nordic medal drought by winning gold in the team sprint final at the 2018 Winter Olympic Games in PyeongChang, South Korea. The triumph shone a spotlight on a sport most often described as hard and seriously sweaty.
At the Frisco Nordic Center, skiers of all ages skate and classic ski, making it clear that Nordic skiing is a life long pursuit, and one that may even allow you to look good in Lycra way north of age 70 because this sport burns an average of 700 calories per hour. It is also a sport that encourages great balance. The Frisco Nordic Center strives to make Nordic skiing attainable for everyone with group and private lessons for beginners, women's specific clinics, and affordable rentals.
Frisco Nordic Center Winter Events
1. Eat, Ski and Be Merry on February 9, 2019: For a third year, the Frisco Nordic Center will be hosting the "Eat, Ski, and Be Merry" ski dinner, which will feature food, drink, three bonfires, and 300 luminaries on a 2k loop at the Frisco Nordic Center. Guests are invited to ski or snowshoe their way along the fire-lit route on the Frisco Peninsula, while enjoying beer, hot wine, and food along the way. It is truly a magical way to experience the Frisco Nordic Center. The evening ends with a party at the Frisco Adventure Park Day Lodge with music, drinks, and more food. A portion of the proceeds benefits the local youth Nordic ski club. Ticket prices: Adults $40; Family (two adults plus two kids 12 and under) $95; Kids (12 and under) $15; and VIP $65.
2. Frisco BrewSki: On Saturday, March 9, 2019, the Frisco BrewSki returns for a fourth year. This happy hour ski tour at the Frisco Nordic Center is family-friendly and designed for all ski abilities and ages. Costumes are encouraged (maybe even a little bit required) at this event, which is absolutely not a race. Beer stations will feature the latest brews from local breweries, along with snacks and root beer for the whole family. A costume contest even includes a prize for "hardest costume to ski in", so don't be shy about getting creative. Registration fees are $15-$35.
2. Snowshoeing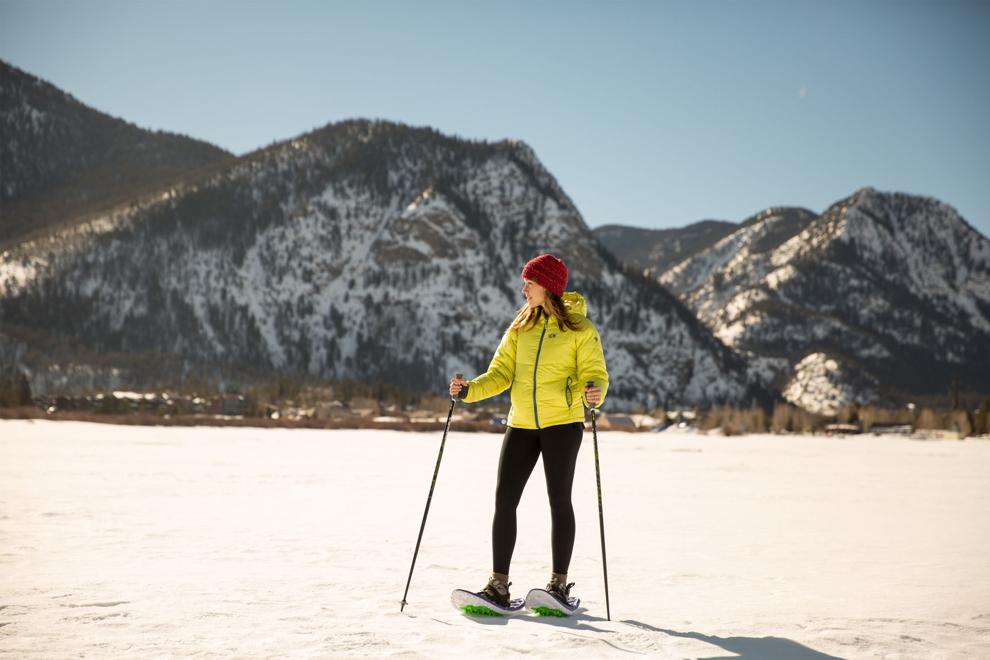 If you like quiet walks through the woods with a fitness twist, then you will find snowshoeing an exceptional way to experience winter in the mountains. The Frisco Nordic Center rents snowshoes and even has 10 kilometers of established trails with great views and interesting terrain just for snowshoers. There are also lots of trails around the town of Frisco, which are ideal for snowshoeing. Snowshoeing is a really accessible sport because it requires low skill level (you just need to be able to walk), and the equipment is fairly inexpensive to rent or own.
The Frisco Nordic Center offers snowshoe tours starting in November on Saturdays and Sundays from 2:00pm – 3:15pm. Experienced staff will show you their favorite trails and will tell you all about the surrounding landscape. Snowshoe tours are $50 for adults and $30 kids for 12 and under. Prices include snowshoe rental and a trail pass.
3. Trail Running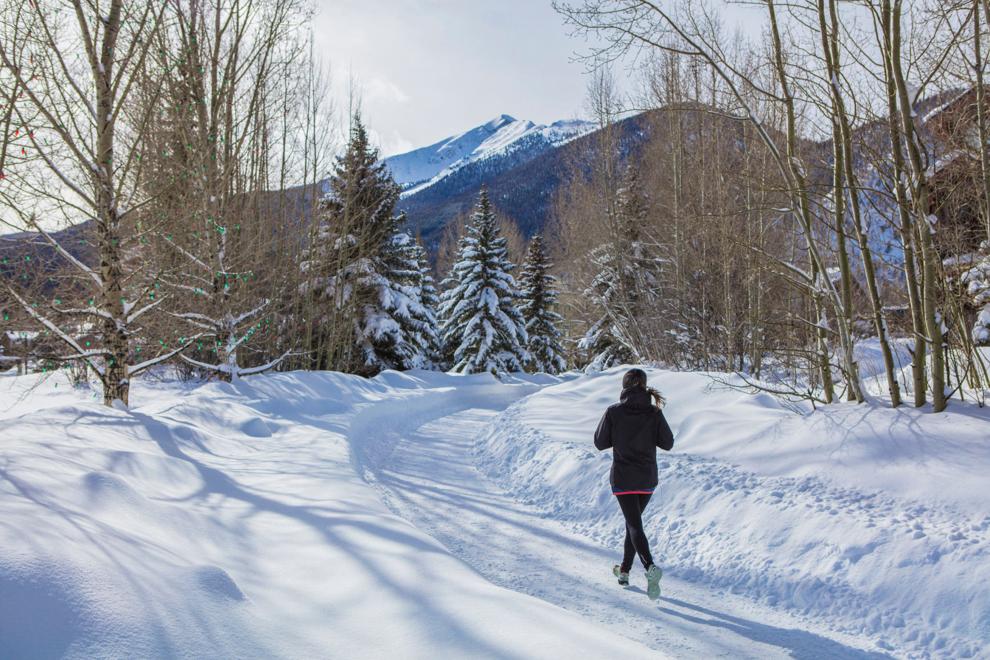 Mountain folks manage to do just about everything on snow, and running is no exception. Though more difficult to do with fresh snow on the ground, when the sun peeks over the mountains and the trails are packed down, you'll find lots of runners out on the hiking trails with a good pair of trail running shoes and some traction accessories. Nothing really beats running through the stillness of a snowy winter day when all you can hear is creaking branches and your breath. For some of our favorite trails in the area, visit townoffrisco.com/play/hiking/best-scenic-hikes/.
4. Skiing and Snowboarding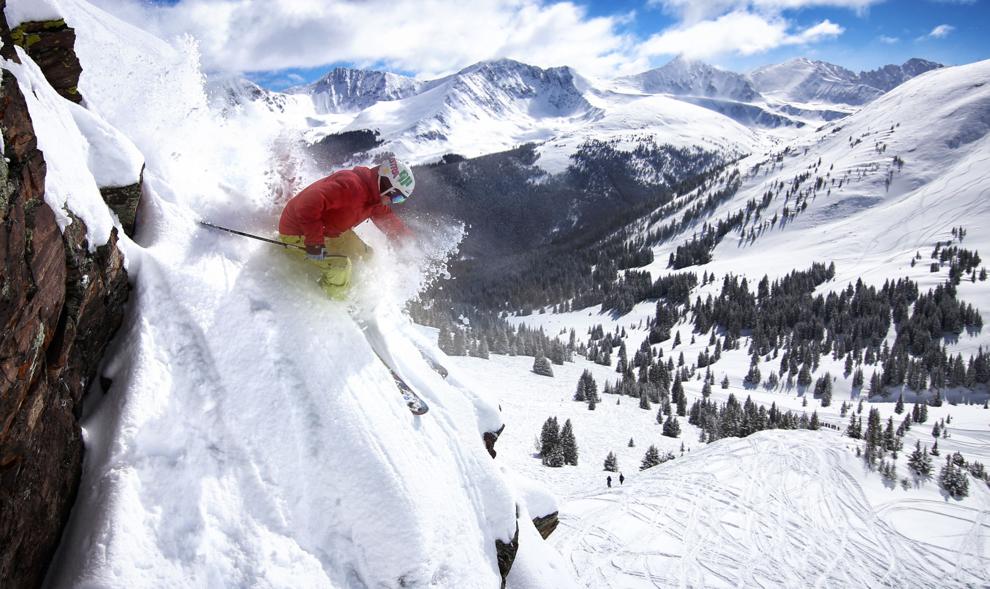 Frisco is surrounded by six ski resorts, including Copper Mountain, known for its varied terrain.  The lower slopes offer a mix of mild and steep wide-open runs, ending at three different base villages, and there are enough green and blue runs for the beginner or intermediate skier to stay occupied for days. Expert skiers will enjoy the massive back bowls and high peaks that make you feel on top of the world. From the top of 12,300-foot Union Peak, you can enjoy long, scenic trails back to the base, and the snowcat to Tucker Mountain opens up the kind of terrain usually reserved for backcountry skiers. With 2,465 acres of trails, there's enough variety to keep a skier or snowboarder occupied for a week – or a lifetime. Copper is accessible from Frisco Main Street via the free Summit Stage bus.
5. Winter Fat Biking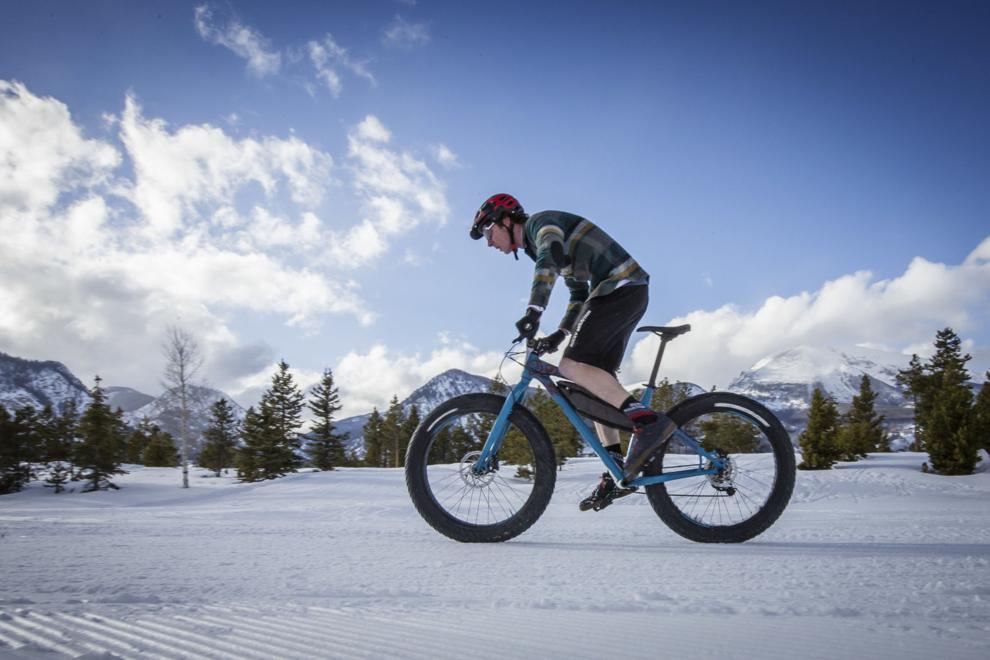 Yep, it's a thing. Imagine a souped up mountain bike with fat tires that is able to take on packed, snowy trails. The sport has become really popular over the past five years, and Frisco even teams up with the Town of Breckenridge in January to groom a more than eight-mile stretch of recreation path between the two towns, which is ideal for fat biking and Nordic skiing. You'll find eager bikers out on most of Frisco's trails to the south of town as long as trails are packed. Rentals can be found for around $45 in shops right in Frisco.
6. Tubing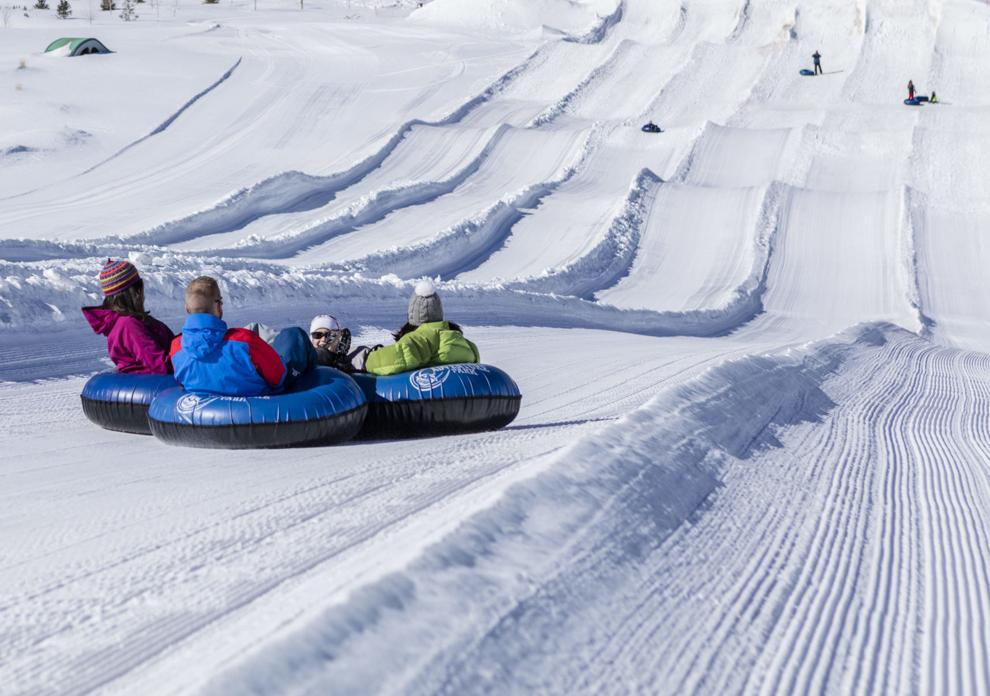 The Frisco Adventure Park features 1200-foot tubing lanes, promising a roaring good time for the whole family. The hill has uphill lift service, so you won't dragging the kids and the sleds back up to the top. Advanced reservations are recommended for this popular activity, and don't forget to stop in the Day Lodge to warm up with a snack and some hot cocoa after your tubing adventure.
7. Yoga
Frisco is home to Summit County's only hot yoga studio, Summit Hot Yoga. Whether you're into Power Flow, or if you just want to Stretch and Restore, these folks have you covered in their lovely modern studio right off of Frisco's Main Street. They even offer some Barre classes, and in the depths of winter, it feels wondrous to sweat indoors in a warm studio.
8. Dogsledding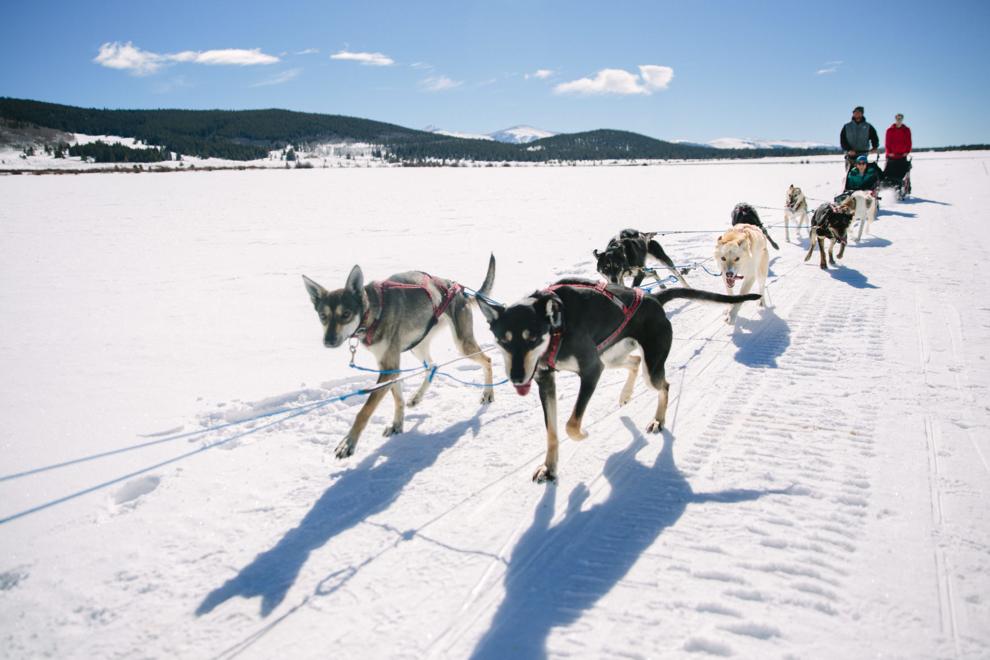 There's no cuter way to explore the mountains than on a dogsled. Though located in Leadville, Colorado, Alpine Adventures Dogsledding will pick you up in Frisco for a morning of puppies and pristine winter landscapes. The six-mile tours run for a blissful hour and 20 minutes during which 10-12 adorable (and strong!) dogs will pull you, a driver, and a sled over the snowy terrain. You can also reserve a kennel tour for before or after your tour to learn about the sport of dogsledding, the Husky breed, and meet the pups.