Presented by:
Formed by prehistoric plate movement and sculpted by millions of years of environmental volatility, the gigantic sandstone formations of Colorado National Monument stand stoically like towering sentinels of sedimentary rock, with sheer walls that breathtakingly plunge 2,000 feet into canyons below.
Early residents of the area believed that the canyons were inaccessible to humans until John Otto arrived in 1907 and began building trails into them. Those trails set events into motion, leading to the area being declared a National Monument in 1911. Covering 32 square miles, the Monument attracted over 375,000 visitors last year.
Being that it's the home of so many distinctive rock formations (many with their own individual names), it's no wonder the area is beloved by locals and known to them as simply "the Monument." Here's a checklist we've compiled to optimize your visit.
1. Cruise for Views along Rim Rock Drive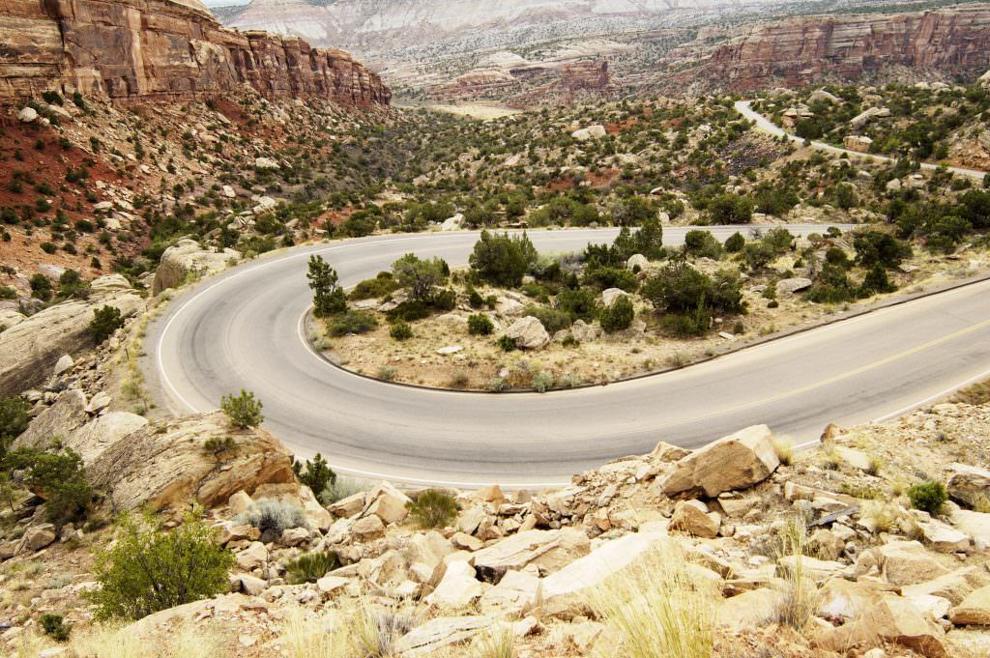 Historic Rim Rock Drive is a 23-mile-long road that provides some of the most spectacularly scenic vistas in the country. Enjoy colorfully stratified canyons, crystal-clear blue skies, and landscapes dotted with nearly thousand-year-old indigenous trees and shrubbery. The drive features 19 viewpoints so you can enjoy bird's-eye views from the comfort of your vehicle.
Tips: The road is challenging, narrow, and steep in some sections with sheer drop-offs. Use caution when on tight corners and hills, and keep an eye out for pedestrians and bicyclists. Use your headlights and do not pass in the tunnels.
Get more details about historic Rim Rock Drive.
2. Hike Trails Named after Serpents and Devils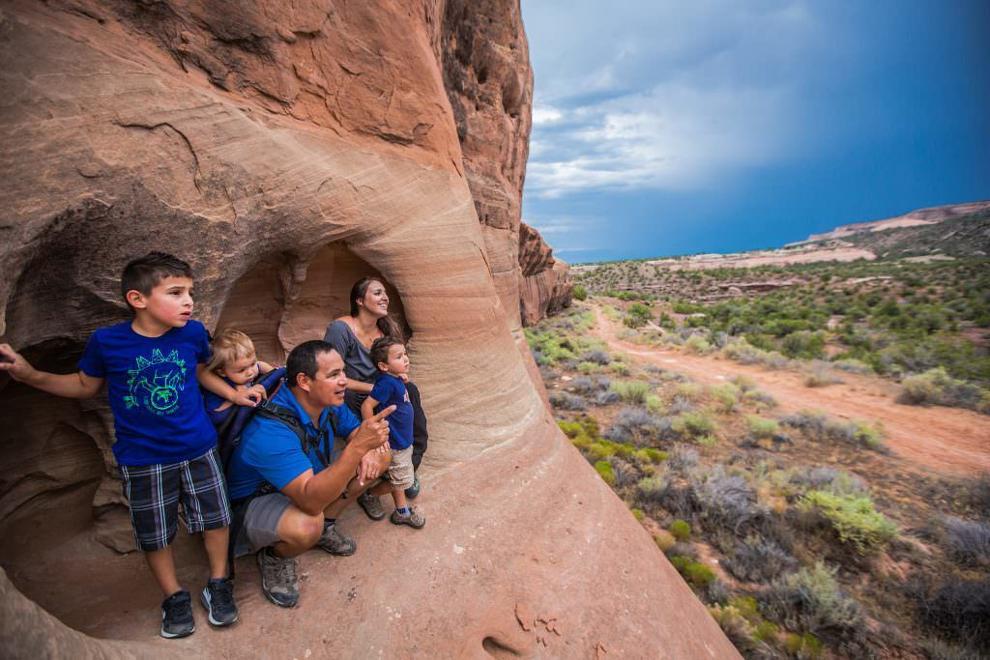 No matter your hiking ability level, the Monument has 40 miles of maintained trails with lengths ranging from a quarter-mile to 14-plus miles so you can experience the awe-inspiring natural wonders of the monument to their fullest. Popular trails include Canyon Rim Trail and Devil's Kitchen Trail on the lighter side, as well as longer hikes like Monument Canyon Trail and Serpent's Trail.
Tips: Bring extra clothing and plenty of water. Wear a hat and sunscreen. Beware of rapidly changing weather, and if lightning is in the area be sure to stay in low-lying areas or return to your vehicle. View wildlife from a distance — do not approach or feed any animals.
More information about the Monument's hiking trails.
3. Camp inside the Monument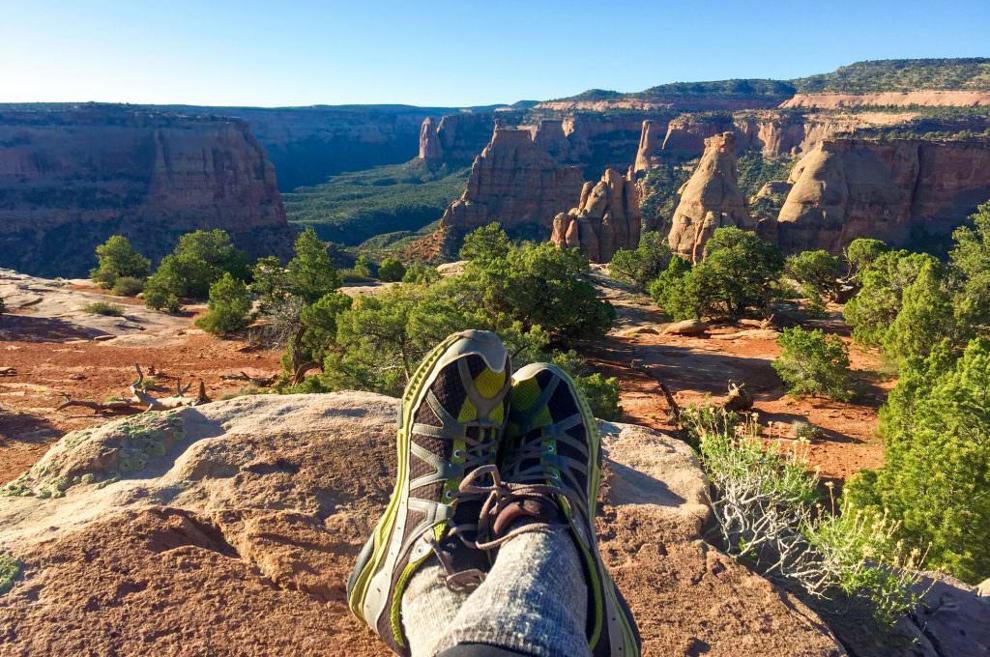 Awake to the amazing views of the Monument in one of Colorado's most scenic campgrounds, offering 80 sites with quick access to hiking and other recreational activities in the park. It's the only established campground within the Monument, and located just four miles from the west (Fruita) entrance. Backcountry camping is also permitted, requiring a free backcountry permit that can be obtained at the Saddlehorn Visitor Center.
Tips: The campground has no electric hookups or showers, and wood fires are not permitted anywhere in the Monument. If you're camping in the backcountry, keep in mind that water is not available there and bring plenty with you. One gallon per person, per day is recommended.
4. Cycle the Loop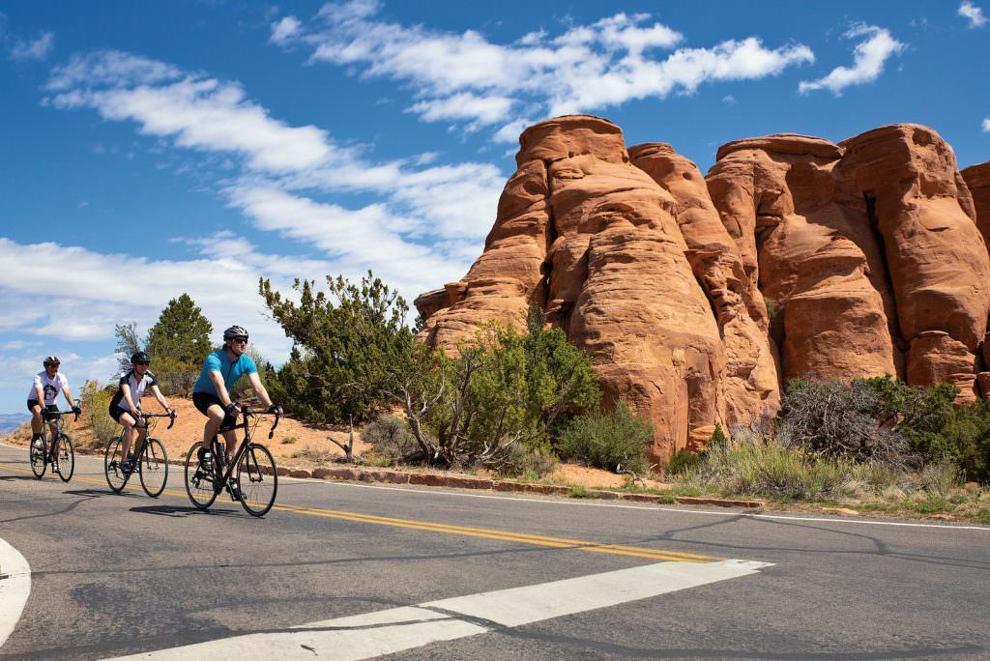 In the 1980s the area gained some fame as being one of the most beloved stages of the Coors International Bicycle Classic. Due to the stark landscape's lunar-like formations, the route was called "Tour of the Moon." It is a challenging ride, best suited to very fit cyclists with some climbing experience, as the ride involves a 2,300-foot elevation climb.
Tips: Bring a headlight and taillight to make sure you're visible to cars in the tunnels. The climb is a little more difficult approaching from Grand Junction, and a bit more gradual from the Fruita side. Bring plenty of water and food, because the only water source within the Monument is the Ranger Station, and there are no food sources.
Learn more about bicycling at Colorado National Monument.
5. Shoot the Wildlife (with your Camera)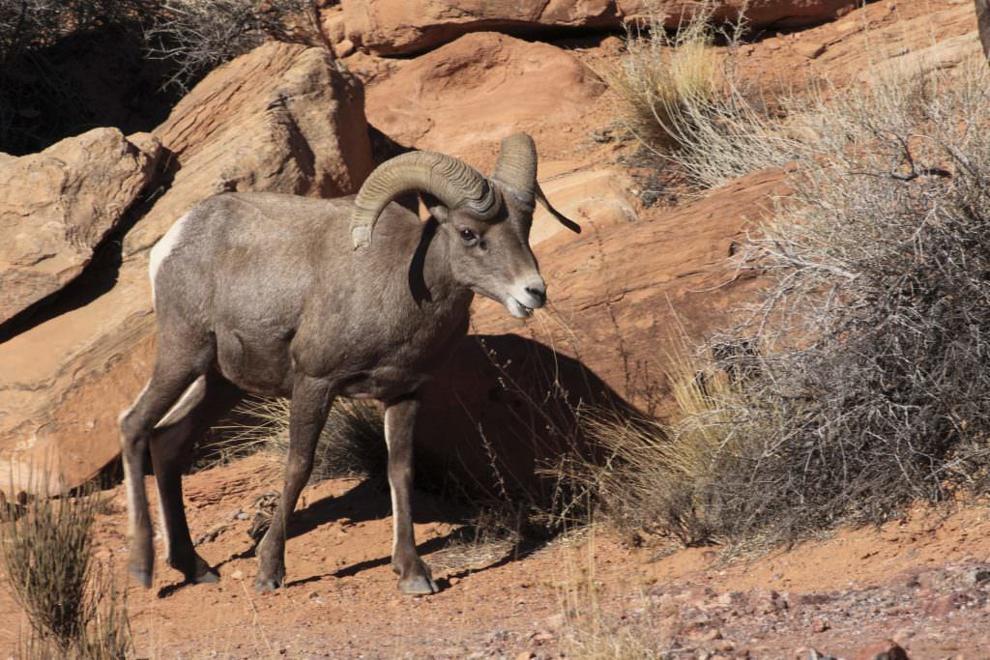 With gorgeous views and easy access, the Monument is a photographer's playground. Whether you're into plants, animals or landscapes, the park is filled with picture-perfect photo opportunities. Virtually all of the lookouts are breathtaking, and each has a spot to park — making it easy to jump out and shoot to your heart's content. The varied terrain attracts wildlife of all kinds, including mule deer, coyotes, bighorns, raptors, foxes, rabbits, snakes and lizards.
Tips: The park's scenery is best photographed in early morning or late afternoon when the sun is low. A sturdy tripod is essential to getting sharp images in low-light conditions where slower shutter speeds are required. Other suggested gear includes a wide-angle lens and telephoto lens.
Read more about nature photography at Colorado National Monument.
6. Climb a National Monument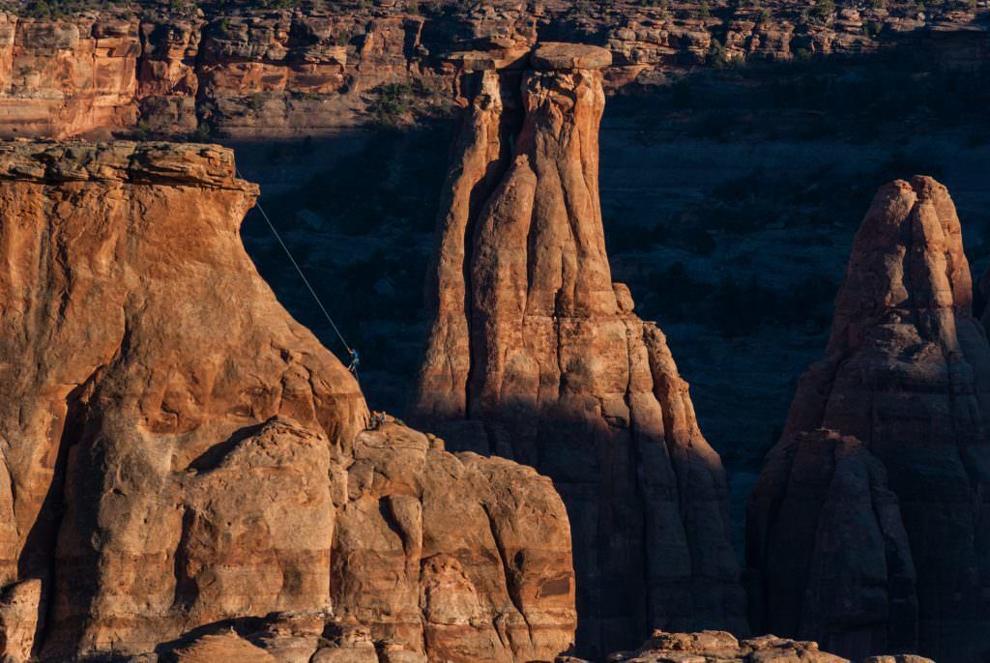 What better way is there to truly get in touch with the rock formations of the Monument than by actually clambering up them? The massive sandstone monoliths of the Monument present a challenge that attracts hundreds of climbers a year. Several climbing guide services are approved to operate within the Monument and may be contacted directly to make trip arrangements.
Tips: No new permanent climbing hardware may be installed. Fixed ropes left in place longer than 24 hours shall be considered "abandoned property" and removed. The physical altering of rock faces such as the chiseling of new holds is prohibited.
More info about climbing at Colorado National Monument.
7. Hear Ranger Stories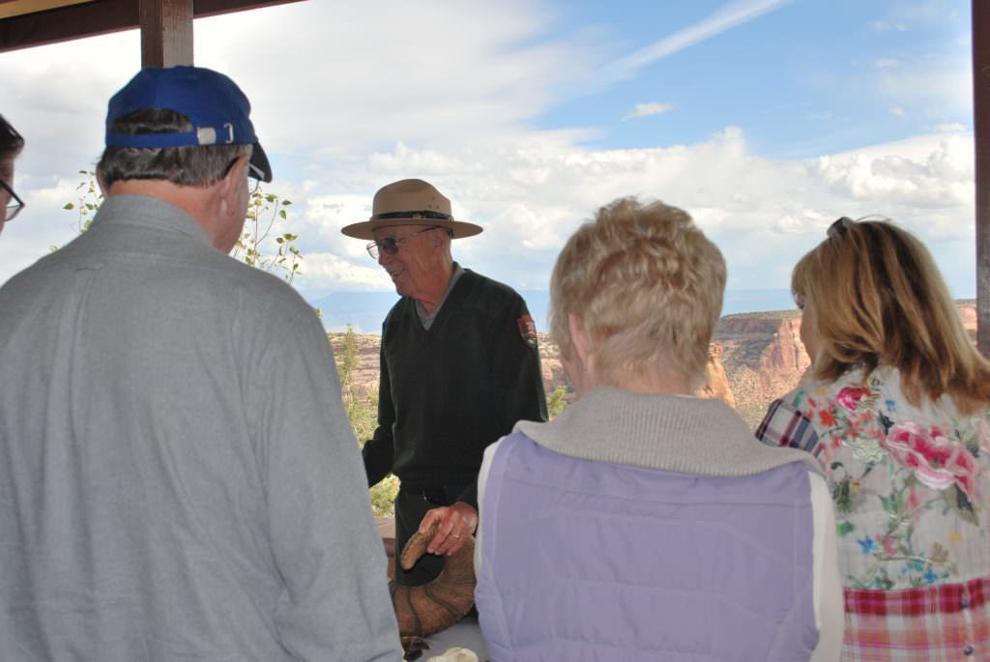 Rangers are the sage experts of the National Parks system, and the rangers at Colorado National Monument love to educate visitors on topics such as the history, wildlife, geology, and paleontology of the park. Various ranger programs run throughout the Monument from the end of June to the end of September, and they're usually free if you've already paid your park entrance fee.
Tips: Ranger programs run through September 29 this year. "Monument Rocks" and "Up Close and Personal" are available daily, while "Evening Program" and "Ranger's Choice" are only available weekly on Saturdays.
 View a list of Ranger programs currently available at the Monument.
8. Learn about the Park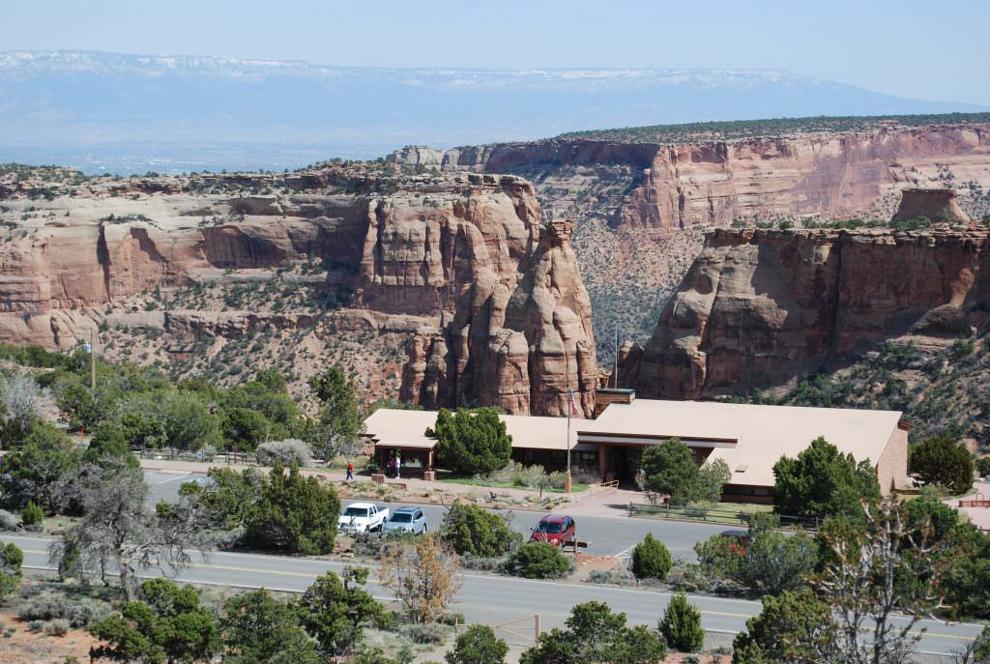 Before heading out on Rim Rock Drive, stop by the Saddlehorn Visitor Center — the perfect place to start your adventure. Located four miles from the Fruita entrance to the park and near Saddlehorn Campground, it includes educational exhibits, two movies that enhance your appreciation of the park, and a gift shop that sells books, postcards and souvenirs.
Tips: Here you'll find an information desk staffed by knowledgeable rangers and volunteers who can answer your questions and make suggestions. You can also load up on maps and brochures to get the most out of your visit to the area.
9. Witness (or Participate in) a Marathon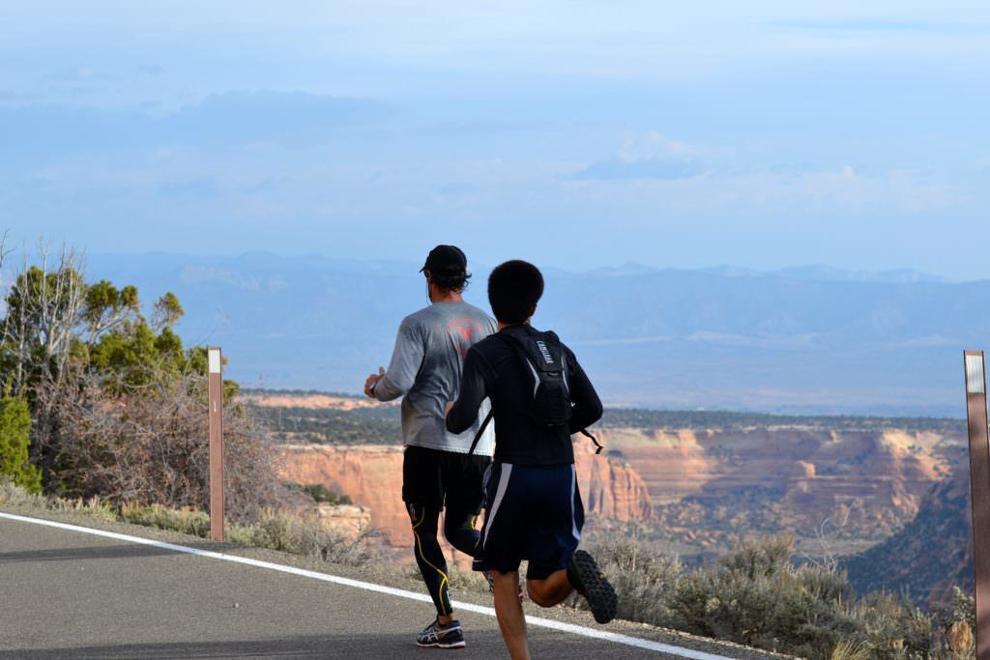 The "Rim Rock Run," one of the most scenic races in the world, will be take place on Saturday, November 3. Winding around the Monument from Grand Junction to Fruita, this endurance event features the added challenge of a 4,000-foot net elevation change over the course of the race.
Tips: There will be limited access to the Monument during the run, with a rolling closure for one direction of traffic. Spectators, friends and families are asked to meet participants in downtown Fruita's Circle Park afterward for a celebration that includes live entertainment, local vendors and a beer garden.
Here's everything you need to know about the Rim Rock Run.
If you're looking for more fun, nearby Fruita has even more things to add to your list. Paleontologists of all ages will love the Museum of Western Colorado's Dinosaur Journey (Highway 340 and Jurassic Court), where visitors learn about the history of dinosaurs in the region, and join an excavation to get hands-on experience in uncovering this fascinating part of the area's past.
Fruita also has some great local shopping options. The Rose Hue Gallery (210 East Aspen Avenue) has fine art, jewelry, cards and gifts created by Western Slope artists, and Vintage Common (116 North Mulberry Street) offers a great selection of handpicked vintage clothing and treasures.
There's also no shortage of delicious local eateries to tempt your taste buds in Fruita. Hot Tomato Café and Pizzaria (124 North Mulberry Street) constructs East Coast-style pies with dough made in house daily, their homemade sauces, and locally raised sausage and bacon. Gears Frozen Yogurt and Smoothies (211 East Aspen Avenue) makes the area's finest ice cream and smoothies, as well as wraps and bagel sandwiches.
Whether you need to power up for upcoming adventures, or mellow out after a long day of exploring, Fruita has you covered there too. Bestslope Coffee Company (129 North Peach Street) makes lovingly crafted specialty coffee, starting with beans sourced from the world's finest growing regions that are roasted in house. Copper Club Brewing Company (233 East Aspen Avenue) brews small batches of craft beer, serving fresh pints in their laid-back tap room.
To learn more about visiting Colorado National Monument and all that Fruita has to offer, visit gofruita.com.