Few things will get me out of bed at one o'clock in the morning – but a fourteener hike is one of them. And in this case, I was getting off the couch – planning ahead, I assumed it would be easier for me to crawl out of the covers in the early morning hours in a less comfortable situation compared to my cozy king.
Waking up at a time when the world was asleep was surprisingly easy, but I knew I had a five-hour drive ahead of me, then a peak bagging adventure to the top of two fourteeners, and then a five-hour drive back. Arriving at the trailhead the night before may have been a better option, but scheduling conflicts forced me to turn my high-elevation excursion into a day trip.
Hitting the road before 2 AM, I was off to 'the most remote place in the lower 48' – Lake City, Colorado.
As it would turn out, the only life on the roads at that hour would come in the form of hundreds of roadside animals along the route, with fewer than 10 vehicles encountered throughout the entire drive.
My plan was to summit Sunshine and Redcloud peaks, 14,001 feet and 14,034 feet above sea level, respectively. I would be utilizing the less-traveled eastern slopes route up Sunshine, which offered a less-crowded trail and easier access, and then traversing over to Redcloud.
Finding parking as easy as could be – the only vehicle in the lot was my own. After double-checking that my emergency GPS unit was working and communicating properly, I was on my way.
The class two route to the summit of Sunshine and back would cover about 7 miles and 4,500 feet of vertical gain, with the push across the saddle to Redcloud Peak and back adding about 3 miles and 1,000 feet of gain for a total of about 10-11 miles and roughly 5,500 feet of gain.
With most of the vertical gain coming in hot over the first 3.5 miles, this portion of the climb proved to be steep and strenuous, gaining elevation fast. It didn't help that the trail to treeline, which probably gained about 2,000 feet over 1.5 miles, was a mix of loose dirt, rock, and mud, with an eventual transition to crusty snow. In other words, I was breathing quite heavily by the time I left the forest behind.
The steady climb continued during the next portion of the hike, with the pounding sun already starting to soften snowy slopes that stood between me and my first summit of the day, Sunshine Peak. I started to mentally prepare for what I knew would be a battle of post-holing through wet and heavy snow on my return trip down the mountain.
The trip from treeline to the summit of Sunshine was a grind, but went smoothly. The ridge was easy to follow to the summit and my mountaineering ax proved helpful for traction and balance.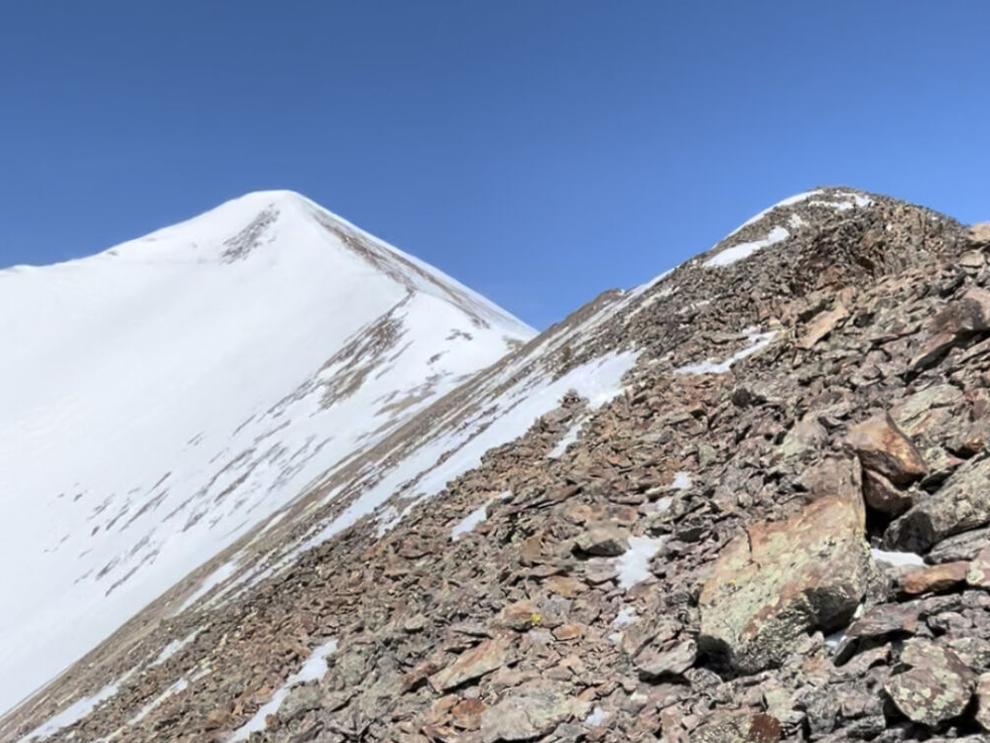 Upon reaching the summit, I checked the time – I was 3.5 hours in – right on schedule and moving at roughly a mile an hour up the steep, slick slopes. With a 30-pound pack of supplies on my back and snow on the ground, I was happy with that.
From the top of Sunshine, I set my sights toward Redcloud. The route seemed simple enough – undulating snow covered trail to a distinctly red-colored summit.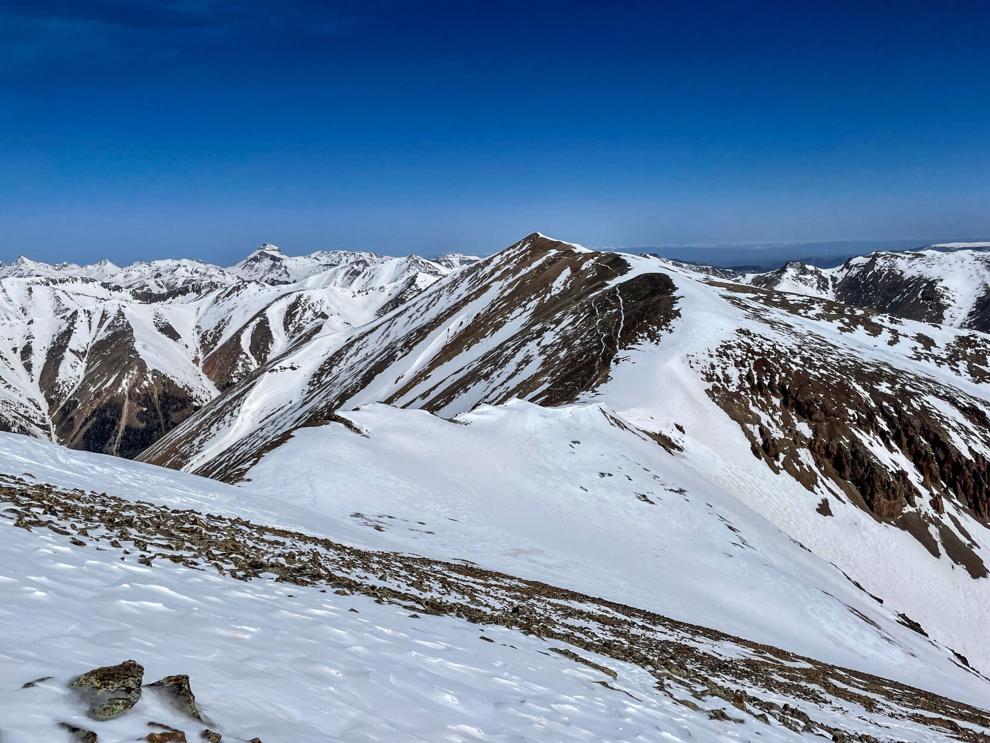 As expected, this traverse posed no wild challenges or surprises (minus a false summit), though my energy levels were waning.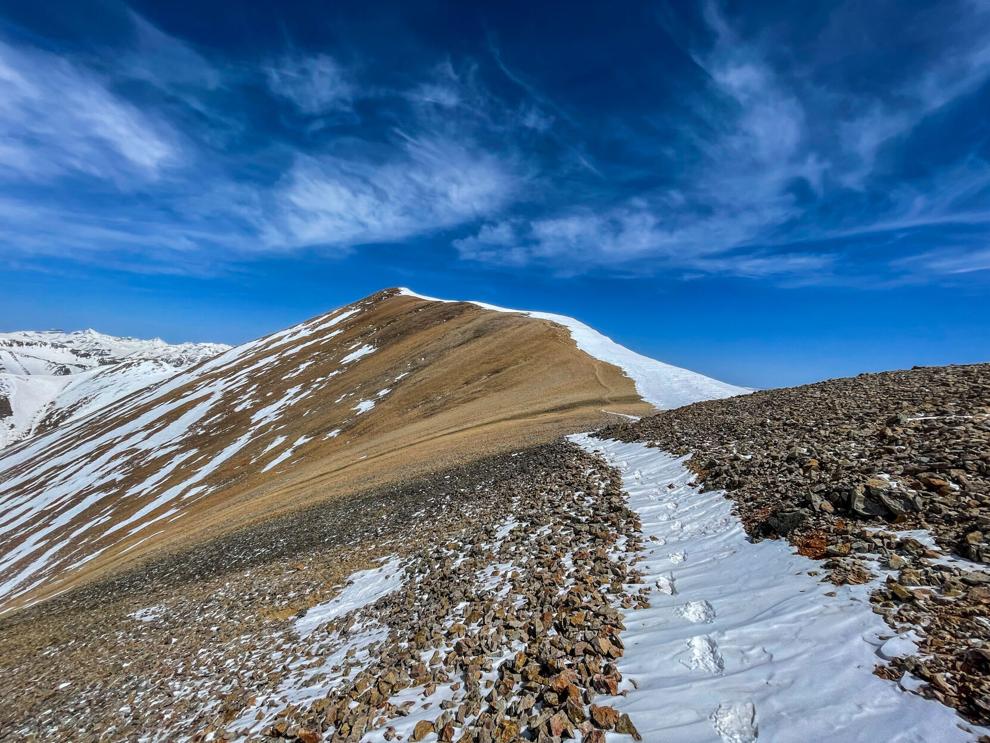 "Thankfully, the rest is downhill," I kept reminding myself, also making an active effort to ignore the likely possibility of miles of post-holing.
From the summit of Redcloud, the views were incredible. 'Warm' temperatures around 30 degrees and a light breeze made it possible for me to spend a bit of time at the top to rehydrate and refuel before starting the long trek back to my car.
Soon, it was time to bid 14,000 feet adieu. I checked the time, I was 4.5 hours into my hike – still, right on time.
Clouds had started to move in and though I hoped this would help keep the snow a little more firm, that wasn't the case by the time I hit about 12,500 feet.
Each step I took, my foot disappeared beneath the snow, sometimes to my ankle, sometimes to my mid thigh, sometimes leaving my boot wedged between rocks hidden deep in the powder or resulting in something sharp striking my leg. Thankfully, I was able to stay upright as I post-holed, to avoid falling forward with downhill gravity and snapping my shin over whatever might be pinning it in place.
I know, I know – snowshoes could have solved this problem. That being said, I opted out of bringing the snowshoes along, fully aware of what type of conditions I might encounter. The additional weight and ever-changing terrain had me thinking the snowshoes would be more trouble than they were worth – I'd still agree with that decision.
I continued to make my exhausting push down the mountain during one of those rare scenarios where the downhill trek was proving to be more taxing than the uphill one.
Eventually, I made it back to treeline and then back through the forest following rare boot prints, directional cues, and occasional cairns back to my vehicle. My elapsed time was about 7 hours.
Overall, the eastern slopes hike to the summit of Sunshine, and subsequent traverse to Redcloud, was exactly the springtime adventure I was looking for. It was rugged, physically taxing, less crowded, and offered stunning views.
I'd compare the first portion of the route to a less-traveled, less-established Quandary Peak (east ridge) climb. The route up Sunshine lacked the switchbacks and was much looser and steeper, but was a similar distance, gain, and feel during snowy conditions.
The second portion of the hike, from Sunshine to Redcloud, was similar to the traverse from Democrat to Lincoln in many ways. The downhill portion wasn't quite as loose as the infamous downhill portion on Bross, but I found it equally annoying.
Maybe I'm more out of shape that usual, but this hike did seem very strenuous for only 10 miles. With that in mind, I'd recommend this climb for those who are in very good shape that are also comfortable when it comes to route finding and have the knees to handle a loose and steep downhill grind.
Note from the author: Never set out on a hike without checking the Colorado Avalanche Information Center forecast first when there might be snow on the ground. During this hike, risk in the area was a one of five, but that still means watching out for potentially hazardous situations, such as steep slopes above a trail. Slopes above a trail can be triggered by movement below. Do not enter the backcountry without the proper knowledge and ability, as this can pose an extreme risk.
STAY INFORMED: Sign-up for the daily OutThere Colorado newsletter here