While it's completely attainable to climb four 14ers in two back-to-back days, it most certainly depends on which 14ers you plan to climb. The Decalibron Loop in the Mosquito Range can be done in a few hours, climbing to summits of Democrat, Cameron, and Lincoln, also skirting the summit of Bross due to private property restrictions. The Chicago Basin in the Weminuche Wilderness of the San Juan Range can be done similarly, only after you backpack in the 20-plus miles. I can think of 13 pairs of mountains, 26 total peaks, that can be climbed together – though not always back-to-back if you appreciate having functioning knees. Granted, speed climbing records for the fourteeners seem to defy what's possible.
And then there are the BABs with their 'big, dumb' ideas.
We've accomplished some challenging achievements: mountain biking a vertical 7,000 feet to the top of Almagre Mountain, Colorado Springs' second tallest peak; completing the 100-mile White Rim Trail with bonus miles in under 10 hours; racing 24 hours straight in the Zuni Mountains. But all of these exploits were on two wheels, not two feet. Turns out, there's a big difference.
Johanna, a former collegiate rower, Lacey, a former national champion gymnast, and I, Rachel, a former elite cyclist, are no strangers to hard tasks and big goals. So we decided to do a doubly hard thing - climb Blanca and Ellingwood followed by Challenger Point and Kit Carson, back-to-back. The challenge would mean more than 16,000 feet of vertical gain over 32 miles in a little over 48 hours. An ultrarunner would scoff at this feat, but our feet had no idea what to expect.
In addition to the core group, consisting of Johanna, Lacey, and myself, attempting the entire adventure, Tatum, the only legitimate runner of the group, and Amy, a former national marathon mountain bike champion, were set to join us for day two.
Prior to agreeing to this big, dumb adventure, I spent no less than 10 hours putting together a meticulous plan that no one would read in great detail. It wasn't just any plan - it had options, carefully plotting out the multitude of ways these four peaks could be climbed in the limited amount of time we had to do them. I created the illusion of choice in order to push the group to choose my ideal itinerary.
To my dismay, the paradox of choice did not apply in this situation. Within 2 minutes of texting this plan to everyone involved, they decided on the worst possible option. Dammit. That particular itinerary - 'the Hard but Doable Option' - was only listed to push them toward my desired itinerary, complete with a built-in rest day to be spent playing at Great Sand Dunes National Park.
Of the group, I had summited the most 14ers and also knew that there was no such thing as an easy 14er climb. Not only did I think a rest day to split up two difficult climbs would be smart, in my mind, it was absolutely necessary to ensure we would have the best chances of completing all the peaks safely.
With the exception of me, these climbs would be the first 'Difficult Class 2' and 'Class 3' routes that anyone in the group had attempted. To top it off, Lacey had never backpacked before. She had no idea how awful it is to hike into a location hauling 30 pounds of equipment up 3,000 feet and then back down on tired legs. I had backpacked in from the South Colony Lakes trailhead for Humboldt previously, and the hike out was a delirious march down a never-ending road. I had heard Lake Como was worse than that – and that turned out to be very true.
The "Hard but Doable Option" consisted of the following:
Friday - Backpack 3,000 feet up the dreaded Lake Como Road because we didn't have a 4WD vehicle. Set up camp.
Saturday - Climb Ellingwood Point, take the Class 3 traverse over to Blanca Peak, and then backpack out and drive to Alamosa to meet up with Amy and Tatum. Grab real food at a restaurant and a real shower. I do like my luxuries.
Sunday - Drive to Willow Lake Trailhead and rip out the 15 mile, nearly 7,000 feet climb up Challenger and Kit Carson and high-tail it back to Colorado Springs.
That was the plan. Things did not go according to plan.
Day 1:
To start the adventure, our group somehow managed to leave on time – a rarity with the BABs, no matter how well thought out and communicated plans may be.
A smooth drive grew rough as we hit Lake Como road. Luckily, my undercarriage survived the baby head rocks, and we even managed to park higher up on the road than a Jeep in my hybrid Rav4.
When we started up the remainder of Lake Como road at noon, the temperature was already above 80 degrees and with absolutely no shade, it felt like temps were climbing higher as we continued upward. Soon, but not soon enough, I realized I had forgotten my hat in the car. If you have a hair part, you know that it's impossible to lather sunscreen on that little line. Too far in to turn back, I took out my handkerchief and styled it overhead as a Swedish fishwife might.
We oohed and ahhed at massive boulders along the road, dubbed 'the Jaws,' wondering how on Earth any vehicle could make the harrowing drive – rated a six of six in difficulty on 14ers.com. We also debated whether or not we would rather ride or walk over those freaky features.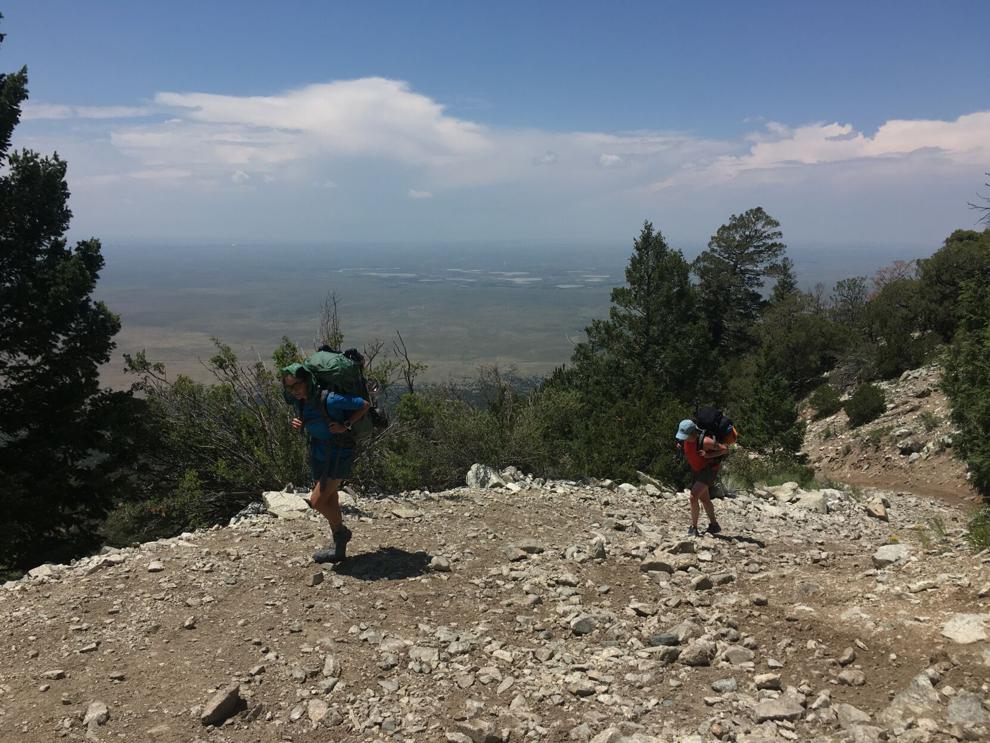 We arrived at Lake Como in roughly 3 hours, just in time for the sky to open up above. Setting up our tents in the rain was actually the good part, because once the rain stopped, we found ourselves facing off with mosquitoes the size of birds. We couldn't leave our tents without being blanketed in hundreds of blood-sucking insects. Unfortunately, we did need to fill our water, so we braved the bugs, covered in Off.
The adventure planning guru - that's me - messed up and didn't test her water filter before throwing it in her pack the night before. I soon realized that it didn't work properly, with water trickling out at about 3 ounces an hour. Thankfully, Lacey's water filter was brand new and she let me borrow hers, but not before I was engulfed in mosquitos.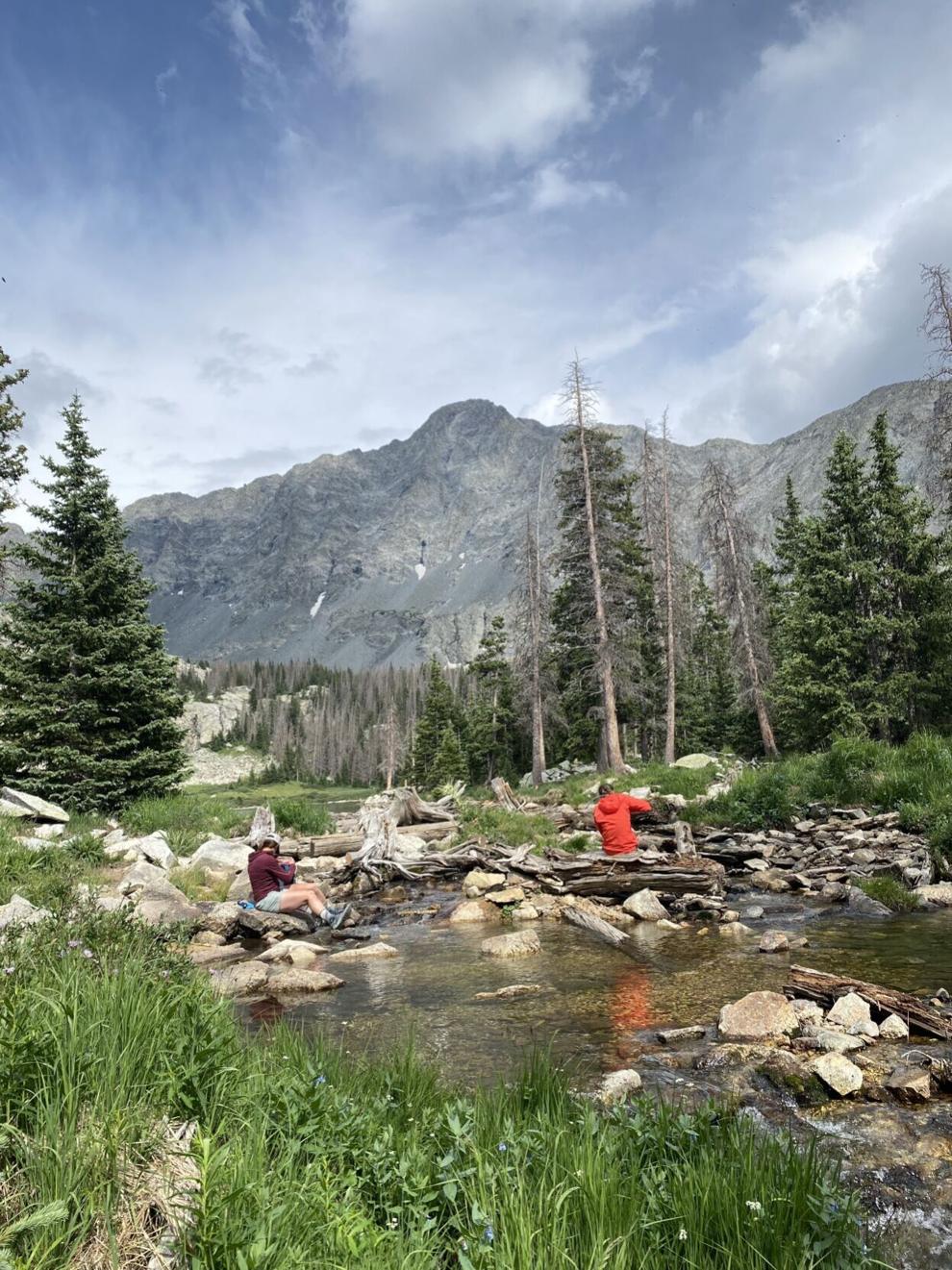 Because the bugs were unrelenting, even with a fire that we struggled to start because of the rain, we ate in our separate tents, prepped for the next day, and tied shirts to our eyes to create faux darkness to sleep in the daylight. I had heard from Lacey and Johanna that the dudes next to us would not shut up all night, but thankfully, I brought ear plugs.
Lake Como proved to be a bustling spot in mid-July on a Friday night. We were glad that we got there at noon, otherwise, choosing a spot to camp would have been challenging only a few hours later.
Day 2:
The next morning came quickly with a 4:15 AM wake-up call. We opted to pack up our tents and belongings before the hike just in case we had to outrun the ever-present afternoon thunderstorms. I've always thought hiking in the dark helps the mileage go by more quickly, also making the return trip feel like you're on a new trail, thus making the tired part of the hike more exciting.
We passed Blue Lakes and Crater Lake in the morning glow. For as unappealing as Lake Como Road was, we were stunned by the beauty around us at 12,800 feet. No one ever talks about how pretty it is beyond Lake Como. It's always just reports of the mosquitos, the treacherous Little Bear Blanca traverse, or how terrible and unrelenting Lake Como Road is. We were equally stunned by a Jeep that somehow made it up to 13,000 feet.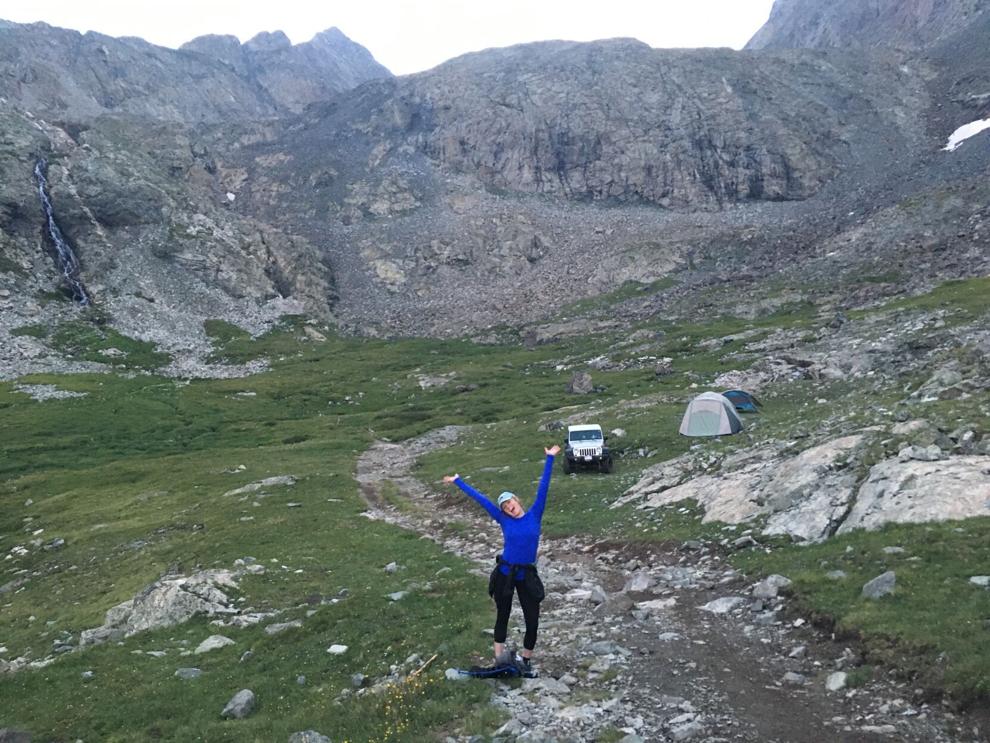 While chatting with the only other hiker we saw that morning, who was planning to climb Little Bear the following day after summiting Blanca, we ticked away the elevation gain as we crossed little streams and gray rock along a well-defined trail.
When the time came to go our separate ways after spotting the mining hole landmarker, Johanna took the lead toward Ellingwood Point. 
With Johanna now in lead, I grew more convinced that she lacks the 'fear gene.'
Ellingwood Point stands at 14,048 feet, barely qualifying as an independent peak with 322 feet of prominence - just above the 300-foot Colorado standard. The name of the peak has sparked controversy, with Ellingwood named after Albert Ellingwood, who accomplished many first post-Columbian ascents in Colorado, such as Lizard Head, Ellingwood Ridge, Kit Carson, and the Crestones. Many don't know that Ellingwood's climbing partner was a woman named Eleanor Ehrman, a teacher at Colorado College and resident of Colorado Springs, who received little to no recognition for climbing the exact same routes and peaks with Albert.
To my knowledge, no 14ers are named after women. And when researching the routes, I struggled to find videos of women climbing these routes, too, which further confirms that BABs Outside is showcasing a little-known fact that, yes, women can, and do, climb mountains.
Our group planned on traveling the class 3 route from Ellingwood to Blanca, as 14ers.com recommends going in that direction between the two peaks to avoid weekend crowds.
Lacey and I continued following Johanna after donning our helmets.
My former personal trainer had once climbed Ellingwood Point with his very accomplished mountaineer wife. A giant boulder dislodged and sent my personal trainer tumbling. Ultimately, he broke his finger while also coming inches from losing his life on the side of the mountain. I chose not to tell Johanna or Lacey this and continued to encourage our group, testing each rock three times before putting body weight on it.
(Side story: His wife has an amazing story of her own. Her father died on the top of Longs Peak with her from a heart attack a decade ago, so she is doing her father's list of mountains in his honor and subsequently became a medical doctor to help others.)
Soon, there was no trail as we climbed toward the ridge.
We passed through a notch with a great bit of exposure, and continued toward the nearing summit, soon on top of it with the sun high in the sky. Lacey and Johanna had officially completed their first 'Difficult Class 2' climb and I had summited my 33rd 14er. If either were nervous, they didn't show it. We basked in our accomplishment, sharing the summit only with each other – a rarity – while eating my favorite hiking food – Chili Cheese Fritos that often make an appearance in our BAB videos. PepsiCo and Yum! Brands' Taco Bell really should sponsor us.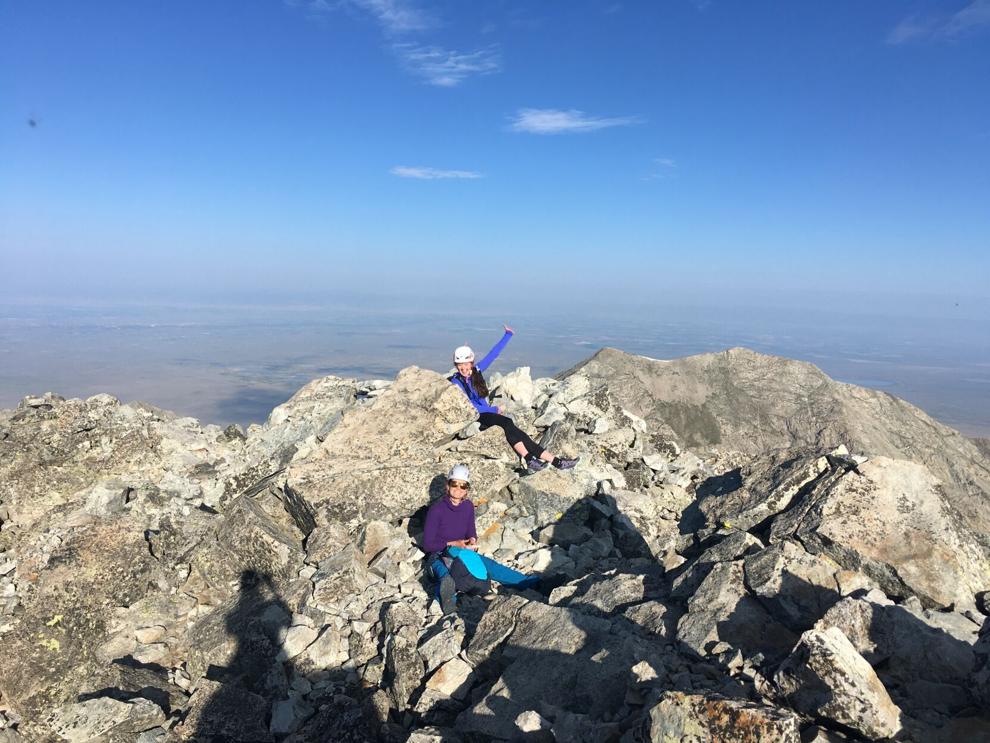 Our time on Ellingwood was short lived because Blanca, our next summit, seemed much farther, taller and more ominous than anticipated.
We trekked toward the traverse between the peaks - Johanna, me, then Lacey - making sure we didn't accidentally go too far down the way we came nor go too high to the more difficult Class 3 ridgeline. The catwalks were wide, the rock wasn't as bad, and I was shocked with how quickly we were moving.
Unfortunately, we ended up not saving much effort after making a wrong turn despite having the 14ers.com pictures saved and the map of the route well-studied. By the time we noticed, we had almost descended to the standard route.
The rock was much more loose and Lacey had a bit of a scare, pulling one off the side of the mountain. We could see a faint trail directly in front of us and a large cairn above us, opting to continue climbing toward the cairn so we could gain the ridgeline. The traverse grew obvious from that cairn, much easier to find had we been traveling from Blanca to Ellingwood. Either way, we made it and began our ascent to Blanca about 3 hours into our hike.
Blanca had a bit more exposure than we anticipated, much to Johanna's delight and my and Lacey's dismay. While I've gotten more comfortable with exposure, if you had asked me if I wanted to climb all the 14ers just one year prior, I would have responded with a resounding "no." But after completing the Sawatch, Mosquito, Ten Mile, and Front Range, I gained a wee bit of confidence and started checking off mountains in the Sangre de Cristo Range, Elks, and the much farther-from-me San Juans.
We continued up the ridge toward Blanca, closing in on the summit. Johanna, energized by the 3,000 foot drop to her left, stayed left. I went right on a slick slab that looked safer to me - though a fall would still be lethal. Lacey, unsure, followed the person who showed less fear, Johanna, and found herself on rotten rock.
The 14ers.com description mentions this problematic spot, cautioning "as you ascend, do not climb left of the ridge crest because it doesn't take long to encounter steep terrain with loose, rotten rock. There are a few spots where you have to scramble around some large boulders, but it's always possible to keep the difficulty at 'Difficult Class 2.'"
Though on different routes, I arrived at the 4th highest 14er summit seconds after Johanna. We briefly celebrated, ate and waited for Lacey to follow. Three minutes passed, then five minutes.
I walked across the narrow ridge, screaming, "Lacey!" I didn't hear anything.
Johanna and I packed up quickly to start our descent, yelling her name every few feet until we heard her faint reply.
She was okay and only 20 or 30 feet from the summit. Others aren't so lucky, with an experienced climber dying on the same mountain this year, albeit on a different route.
I asked Lacey if she wanted to go my route instead, but the initial scare of the other route was too daunting to overcome, which I understand. I have attempted less difficult peaks and failed, including Princeton, Lindsey, and even Sherman, just feet from the top. When you know you know, and trusting your gut is imperative in the backcountry.
Unfortunately, in our haste to find Lacey, I had left my helmet and GoPro at the summit of Blanca. Because Johanna was the least timid mountain goat of the bunch, she went back for it while I stayed with Lacey. Once Johanna returned, I cinched my helmet tight and made sure Lacey was never more than 5 feet behind or in front. Had we done that from the split on Blanca, she would have summited no doubt. Don't leave BABs behind. Ever. Period. Full stop.
We took the standard route down from Blanca, nearly 5.5 hours later. Big cumulus clouds were billowing up from behind the summit and we were shocked with how many hikers we saw coming up the mountain, still heading toward Blanca.
Ask anyone, I'm absolutely terrified of the weather, because she always wins. And given the late hikers' pace, they most definitely were going to get caught in storms. We even spoke to a guy who drove from Kansas who didn't sleep and hiked from the bottom of Lake Como Road that morning.
I'm always amazed more people don't die in the mountains, if not from weather, from lack of climbing and route-finding experience, appropriate gear, or in more severe cases, HAPE or HACE, especially if coming from lower elevations.
As we got lower off the mountain, the landscape started to change and we noticed more green grass, wildflowers, and waterfalls that we missed in the morning darkness. At camp, we quickly fashioned our day packs on our backpacking gear. Fully loaded, we started down the way we came 24 hours prior, waddling from the storms that most certainly were affecting those still on the peak.
The hike down wasn't completely uneventful.
We were baking in the heat, stopping at every water stop to drench our shirts and my Swedish Fishwife handkerchief.
For some reason, the hike down seemed excruciatingly longer than the way up, especially for Lacey whose heel had cracked down the middle. If not for hiking poles to unload some of the weight on our backs, the hike would have taken twice as long. My arms cramped from putting so much weight on my poles as we were hyped ourselves up to cross the worst section of the road that was statistically going to take an ankle from one of us.
Soon, we heard a car approaching from above. We duckwalked over to the side of the road and must have looked pitifully miserable because they stopped, rolled down the window and said, "you look like you could use a ride."
Normally, I don't take rides from strangers despite having given a few in the mountains to upper trailheads. We screamed "yes" in unison, throwing our packs in the trunk of his 4Runner. 'Jaws' feature be damned, we didn't care. Our trail angels included a girl named Hailey that just recently blew her ACL skiing. She happened to also live in Colorado Springs. New BAB acquired.
The air-conditioning was glorious and the White Claw they spared, even better. We exchanged numbers and knew we'd see our trail angels again in the Springs.
Six hours and 53 minutes after starting the hike, my car came into view. We were delirious, exhausted, and happy we made it off the mountain safely, albeit not completely without injury. Nothing that duct tape and super glue couldn't fix though. I called Amy, who was carpooling with Tatum, to let them know we were on our way to the motel we booked in Alamosa, located about 30 minutes away from the trailhead. We beat them only a hair thanks to them having to make a Taco Bell stop on the way down.
We celebrated our climb at San Luis Brewing Company, stuffing our faces and doing the math to maximize the amount of sleep we could get before the longest and most difficult hike, set to take place the next day on Challenger and Kit Carson - 15 miles and 6,250 feet of gain on tired legs for ⅗ of our group. It would be an hour's drive to the Willow Creek Trailhead just outside of the quirky town of Crestone. That rest day was sounding much better than the 3:30 AM wake-up call we agreed upon. And Lacey finally decided to read the route plan that I shared before this adventure started.
Visit the BABs Outside website to find 'part 2' of this piece.