Some places in the Rocky Mountains are so remote, so tough to reach, that just driving there can feel like an epic adventure. To get to Silverton, 9,318 feet up in the San Juan Mountains, requires braving Red Mountain Pass to the north or Coal Bank and Molas passes to the south, on U.S. Highway 550, known as the " Million Dollar Highway." This road is so steep and twisting, it is breathtaking in summer and downright terrifying in winter.
Make the effort to spend a weekend in Silverton, and you'll experience the Colorado Rockies at their most majestic, a landscape of jaw-dropping peaks and remote valleys. You could spend a lifetime exploring the nearby Weminuche Wilderness, Colorado's largest wilderness. But most of us only have a weekend, so here is your guide to a perfect weekend in Silverton.
Day 1 — Sightsee by Train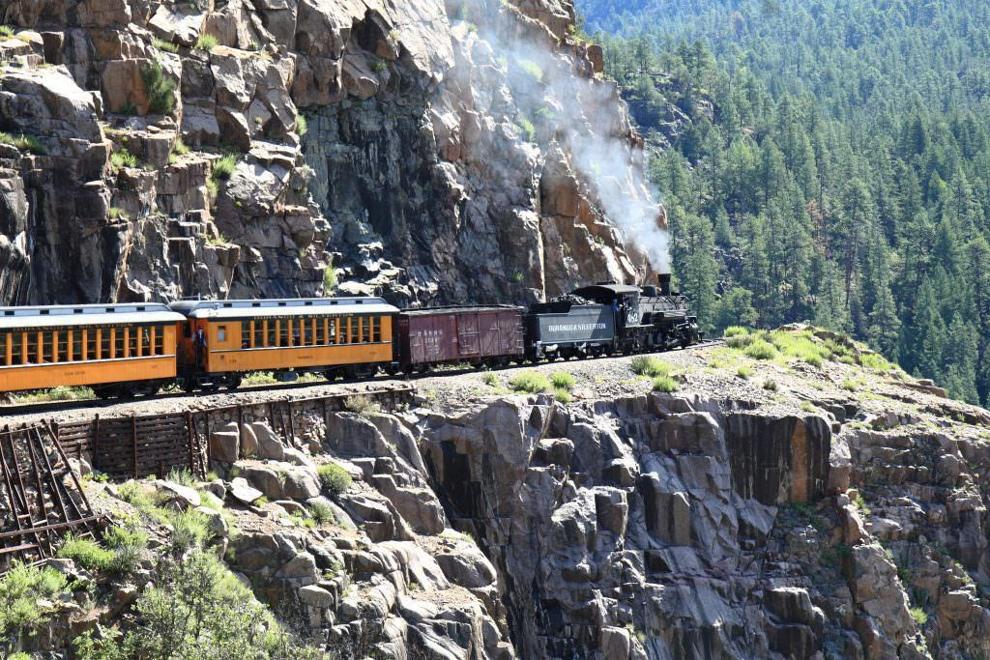 You're probably tired from all that driving so it's time to let someone else take the controls for a while. The Durango & Silverton Narrow Gauge Railroad is probably the most amazing of the many tourist trains in Colorado. It follows the historic tracks laid to Silverton during its boom days, through places untouched by any road. Most people pick up the train in Durango, but you can buy a cheaper ticket (not to mention enjoy free parking) by starting in Silverton. Ride alongside the Animas River, have dinner in Durango, and get a van shuttle back to Silverton. Ambitious hikers can even be dropped off at two points along the tracks for a backcountry experience in the vast Weminuche Wilderness.
If trains aren't your thing, spend the day exploring some of the many old mines and ghost towns in the area. Passenger cars can head northeast out of town to the Animas Forks ghost town located high in the mountains, and yet surprisingly well-preserved. High-clearance, four-wheel-drive vehicles can continue past this point to Engineer Pass, deep in the Rockies.
RELATED:
Day 2 — Hiking
While roadside and train-window views are stellar, to fully appreciate this area's beauty you'll want a good set of boots.
There are too many amazing trails to hike here in a complete summer, much less one weekend. The trail to Ice Lakes Basin (Trail No. 505) is short and steep but leads to several lakes with some of the bluest water you'll ever see. The Highland Mary Lakes Trail (Trail No. 606) is also steep and strenuous but rewards the hiker with numerous lakes high above timberline. For a tamer hike, drive north over Red Mountain Pass to the Bear Creek National Recreation Trail (Trail No. 241), which is less strenuous but no less stunning as it runs along a cliff-side above a steep gorge to an old mine.
As you wander these mountains, you'll probably see evidence of the boom days – old cabins, mine equipment, or tailings piles. Try to imagine the fortitude it took to build these mines and towns in such extreme locations, without the benefit of modern technology.
All this hiking has probably made you hungry, so be sure to spend some time visiting some of Silverton's restaurants. Try Handlebars Food & Saloon, the Eureka Station for family dining with an Old West flair, or Avalanche Brewing Company for some locally brewed craft beer and pizza.
One weekend will barely scratch the surface of what these mountains have to offer. As you make the long drive out of the San Juans, you just might be planning your next weekend in Silverton.