Every time I head out into Colorado's wilderness, I find something new and more beautiful to capture. After 40 years of photographing Colorado's mountains, rivers, valleys, and plains, I know Colorado better than I know any other place on Earth. The winter season in Colorado is particularly beautiful; the snow-capped peaks sit starkly against quiet valleys and a warm, golden light reflects off the fields of snow. Winter transforms my favorite destinations into black-and-white scenes, making them even more intriguing photograph subjects. Whether you're a long time local looking for a new place to discover or a visitor interested in venturing off the beaten path, I've put together a collection of some of my favorite Colorado winter destinations accompanied by my photographs to help you make the most of the winter season here in Colorado.
NORTHERN COLORADO
1. Elk River Valley, Routt County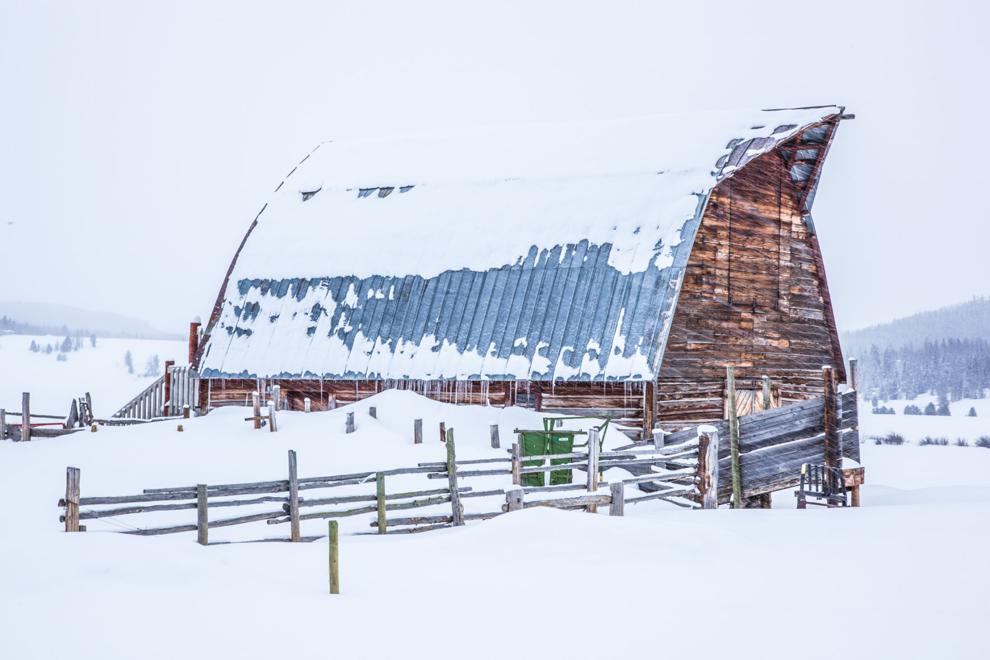 From mountains to river valleys, snowy summits to ranch lands blanketed in white, the Elk River Valley has a stunning array of scenery. The Elk River drains from the Mount Zirkel Wilderness north of Steamboat Springs, and though Steamboat Lake State Park is the area's iconic destination in spring, summer, and fall, it's under eight feet of snow by January. The cozy, sturdy ranch fences and barns provide much needed contrast to the snow-covered Elkhead Mountains in the background. Grab the keys to your most-snow-worthy car, and head to Routt County Road 62, which circumnavigates the park and provides extraordinary photography of aspen forests as well as ranch scenery.  It's a well-maintained and plowed road, but your SUV in 4-wheel drive will be best for the journey if it's snowing. The scenery is so sublime, that I've chosen to teach my annual John Fielder Winter Photography Workshop here.
Getting There: Head north from U.S. Highway 40 on Forest Service Road 129 just west of downtown Steamboat Springs. Drive about 25 miles to the Clark Store. The store makes a mean breakfast and lunch, so fill your belly before heading west on the 62 road. Photograph prominent Hahns Peak where 62 meets up again with 129. Before driving back to Steamboat, check out the cozy rental cabins nestled in deep snow farther north at the town of Columbine.
2. Lower Blue River Valley, Summit and Grand Counties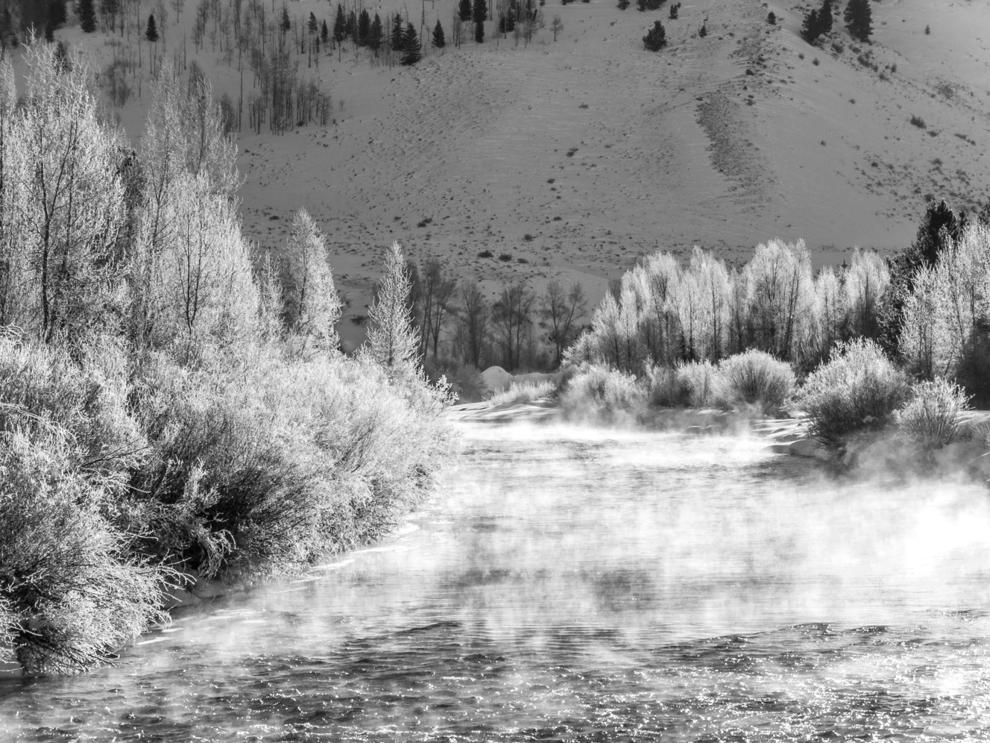 If you're heading to Steamboat Springs from the Front Range, you'll want to head north on State Highway 9 from I-70. The 35-mile drive from Silverthorne (named after a finger-like mountain in the Gore Range, not the outlet stores!) to Kremmling bisects one of Colorado's most beautiful mountain valleys. Build in some time to your drive so that you can enjoy the Williams Fork Mountains on your right, the Gore Range on your left, both of which are federal wilderness areas (Ptarmigan Peak and Eagles Nest, respectively). The Blue River is visible along the drive and at places can be photographed with the mountain ranges in the background. Cold air settles in the valley at sunrise, so drive the highway early to photograph frozen mist on the trees and steam rising from the water. (This happens when air temperature is colder than water temperature, common along the Blue.)
Side Trip: Make a right on the Ute Pass Road 12 miles north of Silverthorne. This is a paved road open in winter that will drop you into the Williams Fork of the Colorado River and eventually take you up to U.S. 40 west of Kremmling, a nice loop drive. On the way up, look back to the west for scenes of the entire Gore Range capped with solid white. Beautiful ranches line Highway 9 the rest of the way to Kremmling, so stop and photograph both mountain ranges behind ranch meadows and barns.
3. Willow Creek Pass, Grand County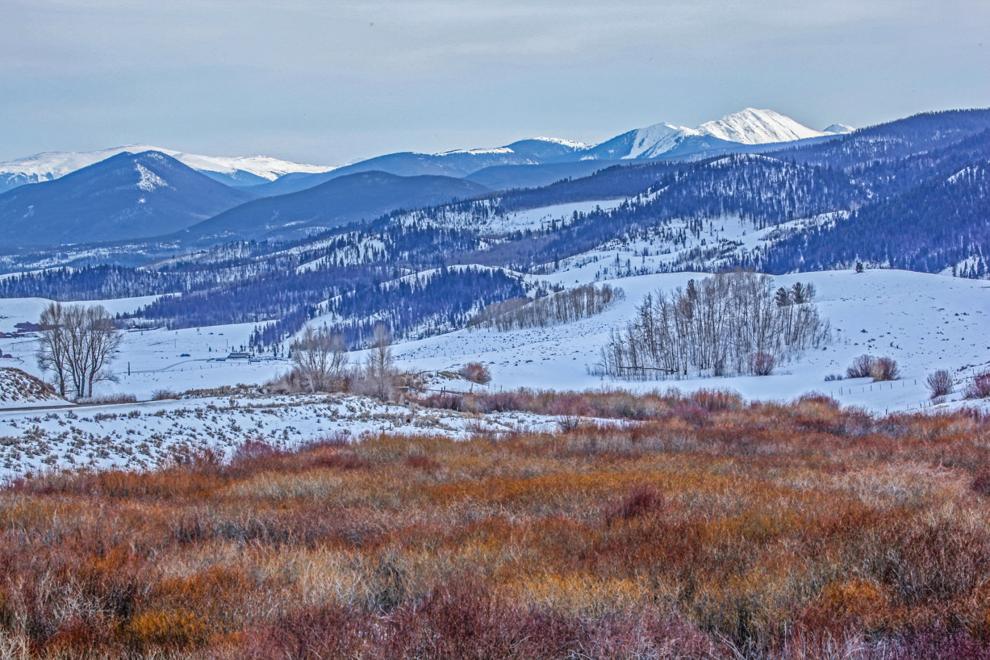 Along Willow Creek Pass runs a highway that bisects another extraordinary Colorado valley as it makes its way to the top of the Rabbit Ears Range. From there you may continue into North Park, one of Colorado's four massive intermountain valleys surrounded on all sides by mountains, and a wonderful, remote place to photograph in winter.
Getting There: If you do hop over Ute Pass into the Williams Fork of the Colorado drainage, you will end up on Grand County Road 3, which takes you north to U.S. 40. From there drive east towards Granby, but make a left on State Highway 125 before you get there, and head north to Willow Creek Pass. Lodging is available in the town of Walden.
CENTRAL COLORADO
4. Boreas Pass, Breckenridge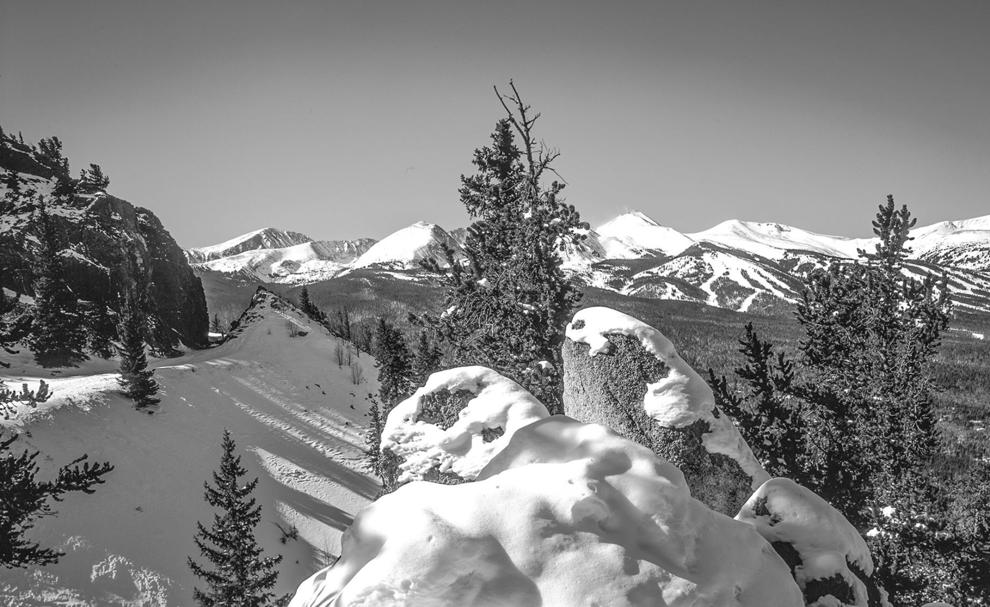 With the right layers and some snowshoes, you can get to some of Colorado's most beautiful winter views. Boreas Pass, once only navigable by a narrow gauge train, can be driven from Breckenridge to Como in South Park all seasons except winter. In winter the plowing stops about three miles outside of town, but that's when the fun begins.
Getting There: Park your car and take a glorious winter hike along the road. Snowshoes are handy after a storm, but hiking boots will work on the road usually well-packed by other hikers. You ascend a moderate incline into the Mosquito Range and eventually reach the Continental Divide about six miles later. Along the way, look back to the Tenmile Range and the Breckenridge Ski Area. On a clear day, you'll get some incredible shots.
COLORADO FRONT RANGE
5. Daniels Park, Douglas County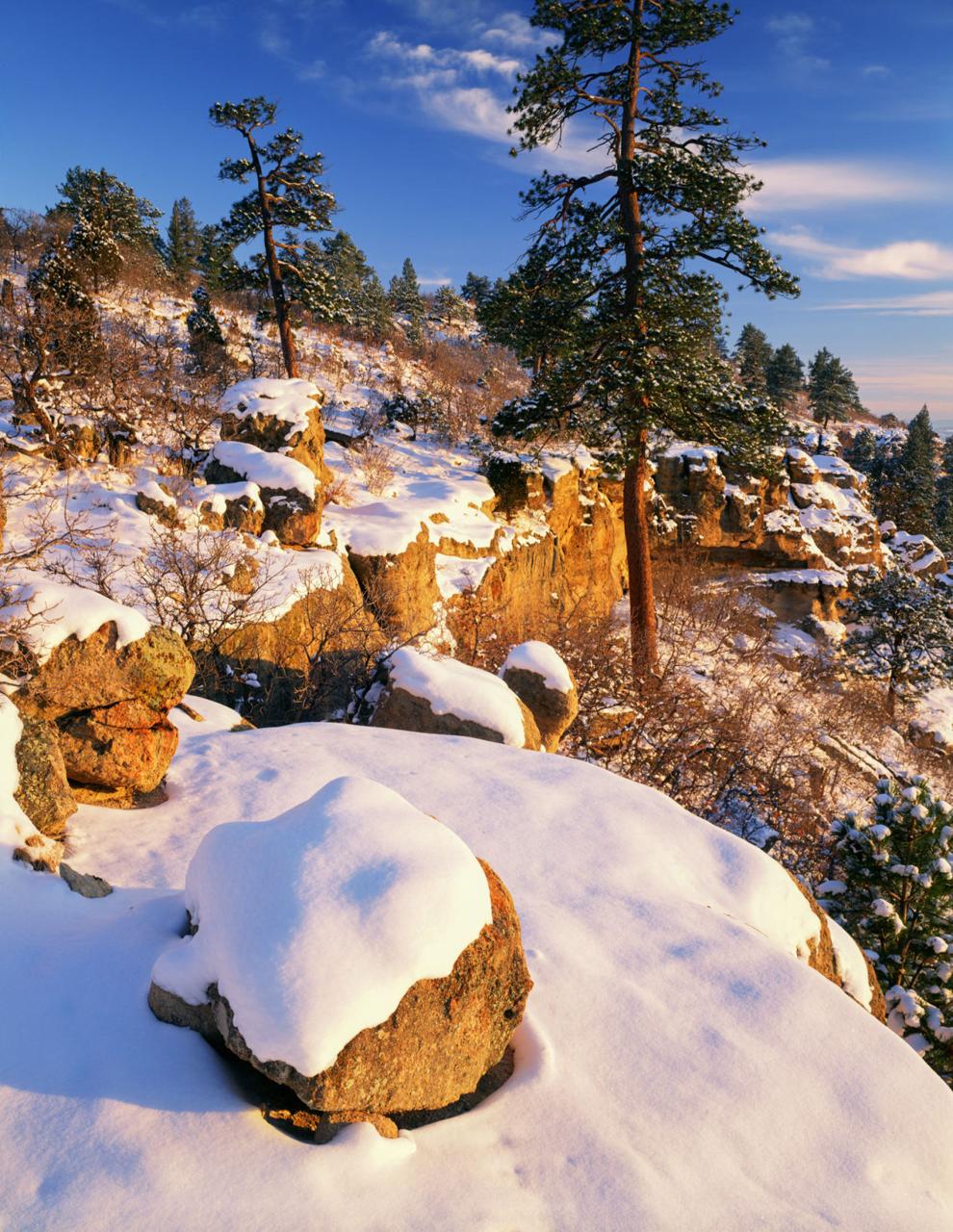 The establishment of Daniels Park dates back to a generous donation of 1,000 acres to the City of Denver by Florence Martin in 1920. Best known for its bison herd, Daniels Park is a Denver Mountain Park, listed on the National Register of Historic Places. It's home to historic ranch structures, and it's said that Daniels Park is the site where Kit Carson made his last campfire. It is also home to the Tall Bull Memorial Grounds cultural area.
For photographers in winter, it is a place to make images of snow-covered ponderosa pine trees and long distance views across Plum Creek valley all the way to Mount Evans.
Getting There: The redesign and paving of the Daniels Park Road within the park was completed in August 2018, making available an additional 21 acres of park space that accommodates a new two-mile trail parallel to the road as well as four new, paved parking lots. It is easy to find by taking Castle Pines Parkway Exit 188 off of I-25 west to Daniels Park Road.
6. Roxborough State Park, Douglas County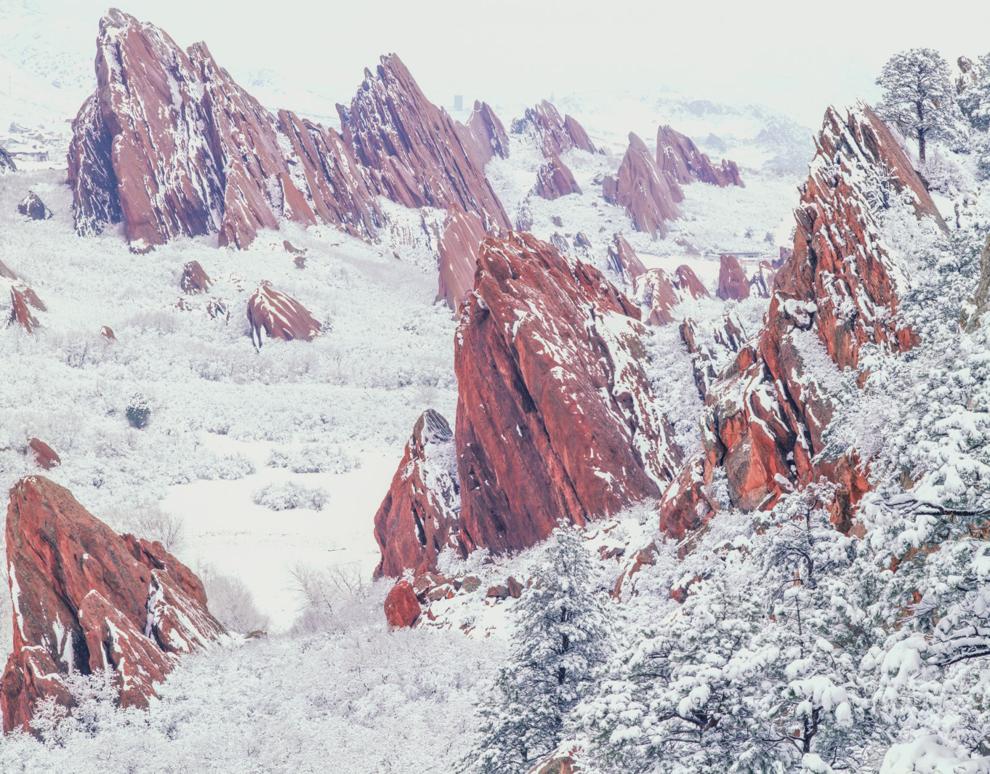 Roxborough State Park is one of my 10 favorite places on Earth, and it is only 45 minutes from downtown Denver. Gambel oak and cottonwood trees nestle among the 300 million year-old red sandstone rocks. These vertical rocks complement the greens of spring and summer, whereas reds and yellows of autumn blend with the big red slabs. With 4,000 acres and many miles of trails, there is no limit to the photography opportunities.
The most extraordinary photograph you can make at Roxborough is of the sandstone draped in white. Watch the weather forecast and head to Roxborough the morning after a snowstorm. The snow melts quickly as the sun heats the rocks, and keep your fingers crossed for blue skies.
Getting There: Take the Lyons Overlook Trail 1.3 miles from the Visitor Center for the best possible composition.
SOUTHERN COLORADO
7. Wet Mountain Valley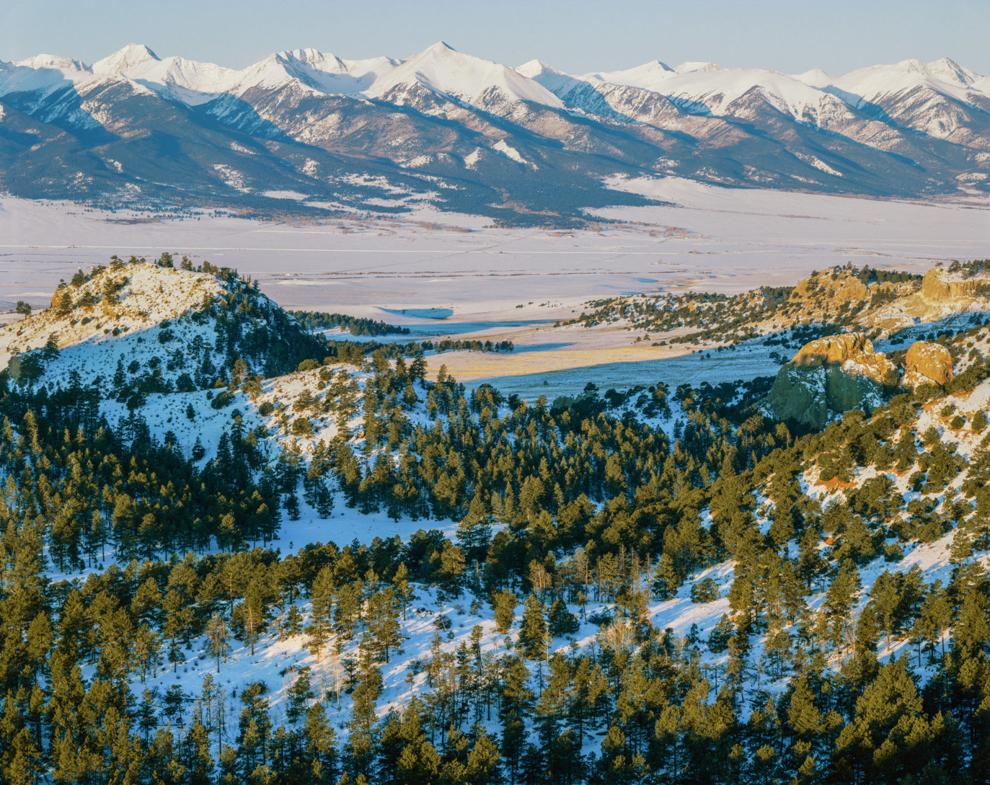 I first visited this most remote of mountain valleys in the summer of 1967 when I was hired at age 17 as a ranch hand on a cattle/quarter horse ranch. The valley is bounded by the Sangre de Cristo Mountains on the west and Wet Mountains on the east. This part of the Sangres boast fourteeners Crestone Peak, Crestone Needle, and Kit Carson. The ranching valley is still untouched by development, and the towns of Westcliffe and Silver Cliff are as laid back as any in Colorado.
Side Trip: Drive south from Westcliffe on State Highway 69 to the Rosita-Schoolfield Road. Head east to the old mining town of Rosita, then south on County Road 323. Along the way, you will gain views of the valley floor below and the looming Sangres covered in white. The entirety of Highway 69, both north and south of Westcliffe, provides views of the entire Sangre de Cristo and Wet Mountain ranges. The Wet Mountain Valley can be accessed from three directions, the easiest of which is connecting State Highways 115-67-96 from Colorado Springs to Westcliffe.
8. Great Sand Dunes National Park & Preserve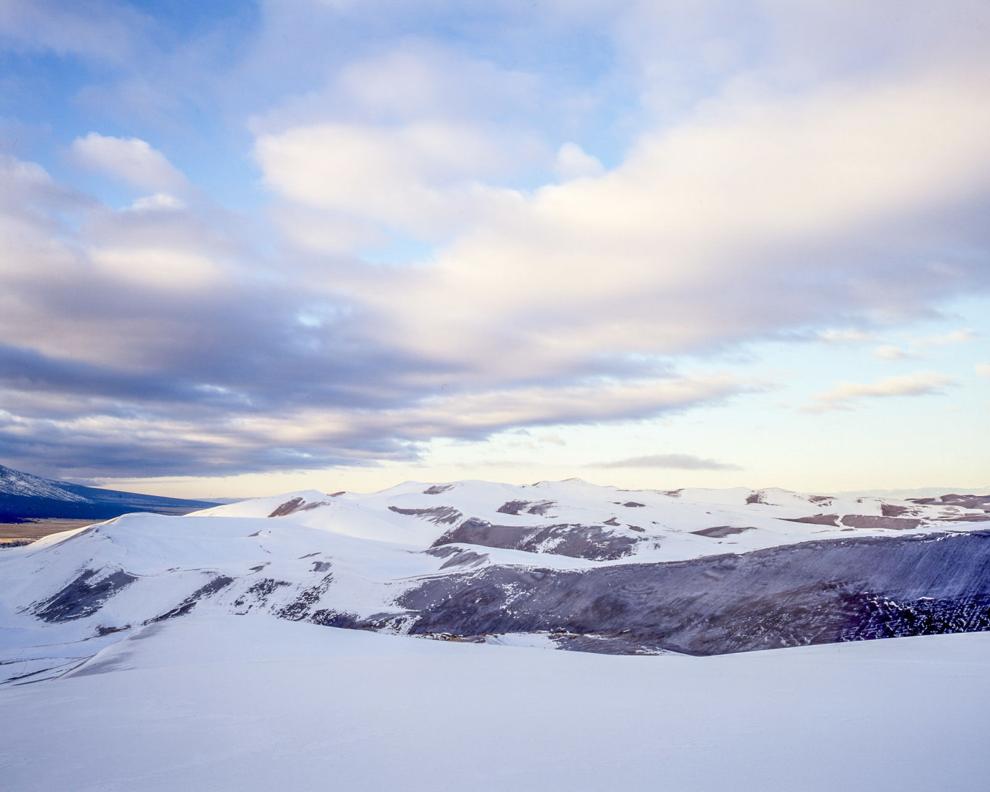 The tallest and highest elevation sand dunes in North America lie in Colorado's San Luis Valley. The Sangre de Cristo Mountains lie behind the dunes, creating a unique marriage of sand and granite. Better yet, interspersed around and between these geophysical features are vast ranches protected by conservation easements that preclude development. Essentially, this is a 250,000-acre preserve that connects ecosystems from 8,000 feet to 14,000 feet, critical to preserving and promoting the biodiversity of the valley.
Getting There: As with Roxborough State Park and its sandstone, valley snow melts quickly when the sun hits the dunes. Check the weather forecasts and make a beeline to the dunes when snow is on the way. Snow decorates the dunes in very abstract ways that afford unique images of nature.
SOUTHWEST COLORADO
9. Dallas Divide, Sneffels Range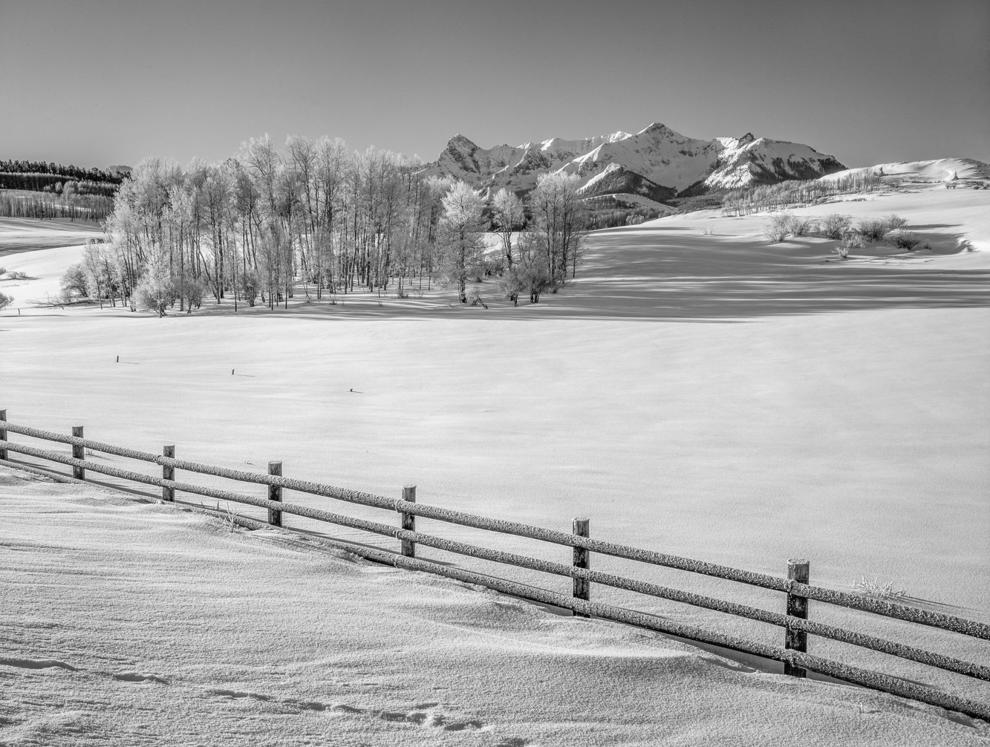 One of America's most iconic mountain views is from a mountain pass called Dallas Divide in southwest Colorado. The Sneffels Range features a fourteener, Mount Sneffels, and many other craggy, dramatic peaks. In the foreground are the meadows, fences, cottonwood trees, and Gambel oaks of Ralph Lauren's (the Polo guy) Double RL Ranch. Though stunning in any season, in winter the colors disappear leaving only stark white and blue to dramatize the mountains. Add a fence and a few leafless aspen trees, and the image you capture will be unforgettable.
Getting There: State Highway 62 leads to Dallas Divide. Find your way to the town of Ridgway, the center of action for the filming of the original True Grit movie starring John Wayne, and head up and west.
10. Telluride, Colorado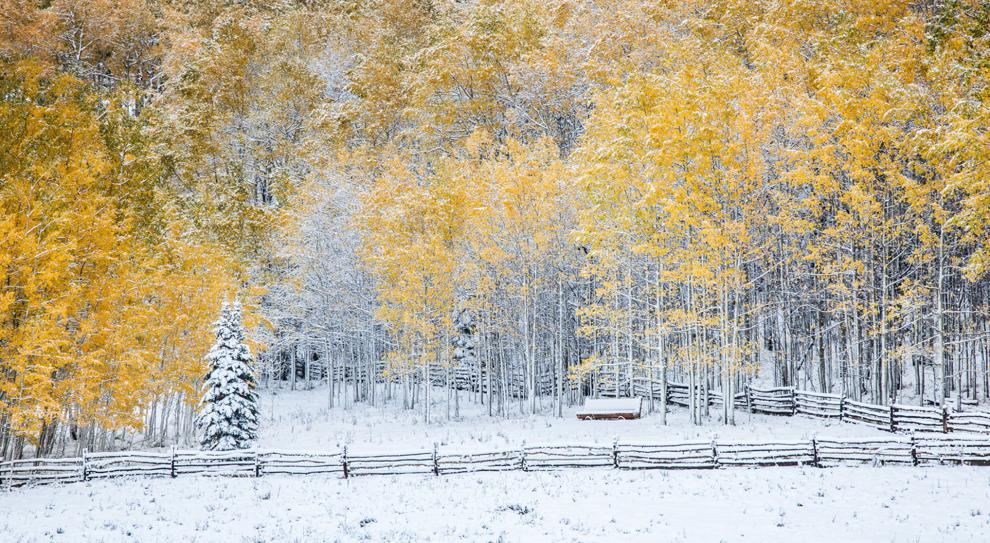 Folklore says that the name of this historic Colorado mining town was derived from the phrase "To Hell You Ride!" It lies at the end of a precipitous valley where avalanches regularly cascade from the peaks to the valley floor in winter. The skiing is superb, and the town hosts some of America's best music and film festivals throughout the year. With expansive views encompassing several fourteeners, the scenery is unique to anywhere else in Colorado. The fall colors boasts yellows of aspens, oranges of cottonwoods, and reds of Gambel oaks. It's so special this time of year that I've chosen to teach my annual John Fielder Autumn Photography Workshop in and around the Telluride area.
Though I do love fall in Telluride's box canyon, the winter scenery never disappoints. Perhaps my favorite photographs of the Telluride area are images blending fall and winter. Almost every single October, early winter combines with late fall to make a marriage of white and yellow, one of my favorite color combinations (As a teenager, I coveted a yellow Camaro with a white convertible top).
Getting There: State Highway 145 provides easy winter access to mountain views unlike any others in Colorado. Wilson Peak and Lizard Head are just a couple of the peaks that you can photograph right from the highway.
For more detailed driving directions, things to do, where to stay, and where to eat in and around all of these destinations, see John Fielder's Best of Colorado travel guide.
50 books have been published depicting John Fielder's Colorado photography. His newest book, "Colorado Black on White", renders 230 images from his life's work collection into black and white, highlighting the unique forms, textures, and lines of the Colorado landscape. Fielder lives in Summit County, Colorado and teaches photography workshops to adults and children. Fielder's iconic images have not only inspired a whole genre of grand Western landscape photography, he's also a dedicated environmentalist. His advocacy work has garnered him national attention: in 1993, the Sierra Club awarded Fielder with the Ansel Adam's Award and, in 2011 he earned the Aldo Leopold Foundation's first Achievement Award given to an individual. More information about John's work and his books can be found at johnfielder.com.