The hike to the summits of Colorado's Castle and Conundrum peaks lives up to it's 'difficult' class two rating – straight-forward, but encouraging simple mistakes.
Found at the end of a long dirt road outside of Aspen, Montezuma Basin beneath the peaks is nothing short of stunning. Ripe with green flora and flowing water during the early summer, mountain views stretch high for as far as eyes can see.
Many of those seeking to tackle either peak are able to cut-off much of the 14.5-mile hike by traveling a portion of a four-wheel drive approach that ultimately reaches 12,800 feet, but in my small sedan, I could not.
As one might expect, the long approach is scenic, but otherwise, not noteworthy. It's rough enough to prevent most vehicles from reaching the top, but is easy to walk. A number of campsites and pull-offs can be found along the way.
Once hikers reach a point where the road ends, the fun starts.
Most summit-seekers head up the northeast ridge of 14,274-foot Castle Peak on a quest to summit that mountain first, then moving across a saddle to Conundrum Peak. Those unable to drive any portion of the road are looking at about 15 miles and 4,850 feet of gain throughout the entire day – if they stay true to the standard route.
As the true hike begins, it starts by moving through rocky, potentially snow-filled terrain with a sort of 'choose-your-own adventure' approach heavily impacted by conditions. Snow tends to stick around late in the season during this portion of the hike and in another gully where glissading is common – more on that later. Don't be fooled though – this first portion does follow a trail, though it can be hard to spot at times.
As the trail eventually gains the ridge, hikers enter the section described as 'difficult' class two. That description is true to form, as this portion requires careful hands and feet, but doesn't quite resemble the class three terrain found on other, more difficult peaks. Climbers attempting this section should be competent in their mountain hiking skills, including route-finding, as getting off-route in this section can mean entering loose and dangerous terrain.
Eventually, this rocky stretch tops out on Castle Peak to reveal stunning views of mountains for as far as can be seen.
From the summit of Castle Peak, the rocky, class two ridge to Conundrum is hard to miss.
In total, this adds about a mile to the trek, but hikers should know that this is a relatively slow-moving mile and one that means spending a bit more time at a higher elevation – something that can trigger altitude sickness in some.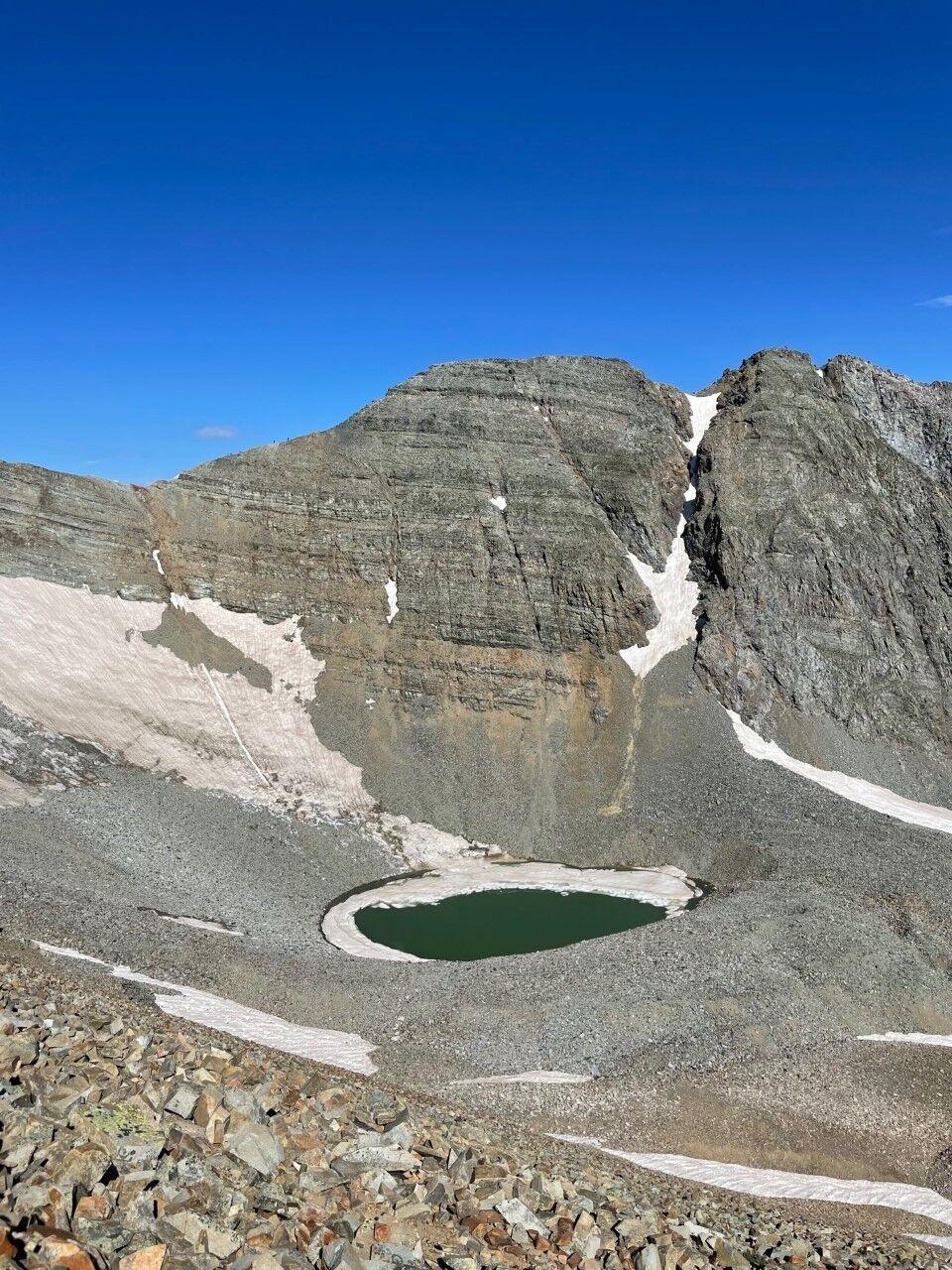 After reaching the 14,037-foot summit of Conundrum Peak, most hikers are faced with a decision of heading back to the summit of Castle Peak or descending via a snow-filled couloir between the two mountains, typically by glissade. During my late-July trip up both mountains, there was just enough snow missing to have me headed back to the Castle Peak summit, though this undoubtedly stays snow-filled into July most years.
Those glissading down from the saddle are eventually dumped out into the basin below with a short, rocky descent to the closest, but difficult-to-drive to parking lot. Those resummiting Castle Peak will follow the same route they used to ascend to descend from the mountain. Additional opportunities to glissade down short stretches may exist along the way.
One notable aspect of the Castle Peak – Conundrum Peak combination climb is that while it's a 'class two' route, there's plenty of opportunity to get stuck in a hairy situation. Getting off route probably means entering dangerous and loose terrain and attempting to glissade brings along a long list of associated risks. Do not underestimate this mountain climb.
That makes fourteener number 41 and 42 for me – 16 left to go until I've reached the most accepted fourteener total of 58.
STAY INFORMED: Sign-up for the daily OutThere Colorado newsletter here