Offering a hiking experience that's great for beginners, those looking for a less crowded option, and trail runners, alike, summiting the 14,014-foot San Luis Peak is one of the few 'easy' options when it comes to bagging fourteeners in Colorado's San Juan mountain range. There are two routes up the peak – the standard northeast ridge route and the south ridge route. Both are rated as class one, meaning the trail is about as polished as can be found given the elevation.
Myself driving one of the least fit vehicles for backcountry roads (I know, I know...), I opted to summit San Luis Peak via the non-standard south ridge route. From the four-wheel-drive trailhead, this route requires 11.25 miles of round-trip hiking, with 1.5 miles added each way from the two-wheel-drive trailhead option – where I parked. Found just outside of a remote mountain town called Creede and in the southwest region of the state, Front Range hikers can expect a long drive to get to this one, though they will likely be rewarded with a sparsely populated trail.
My day started with me leaving my house at 3:30 AM, followed by a 4.5 hour drive with my eager 17-pound canine companion. After leaving my car behind as the only vehicle at the two-wheel-drive trailhead, we cruised up the 1.5-mile stretch of four-wheel-drive road to the start of the actual trail.
Once on the trail, the route winds through high elevation terrain, at one point entering a forest for a brief bit before ascending above treeline. Hikers travel over multiple saddle-like features on their way to a rocky, albeit very straightforward final push to the summit.
From the top, stunning views can be seen of the surrounding San Juan mountains, though San Luis Peak is the tallest mountain for quite some distance, relatively isolated from other, more rugged behemoths of the west.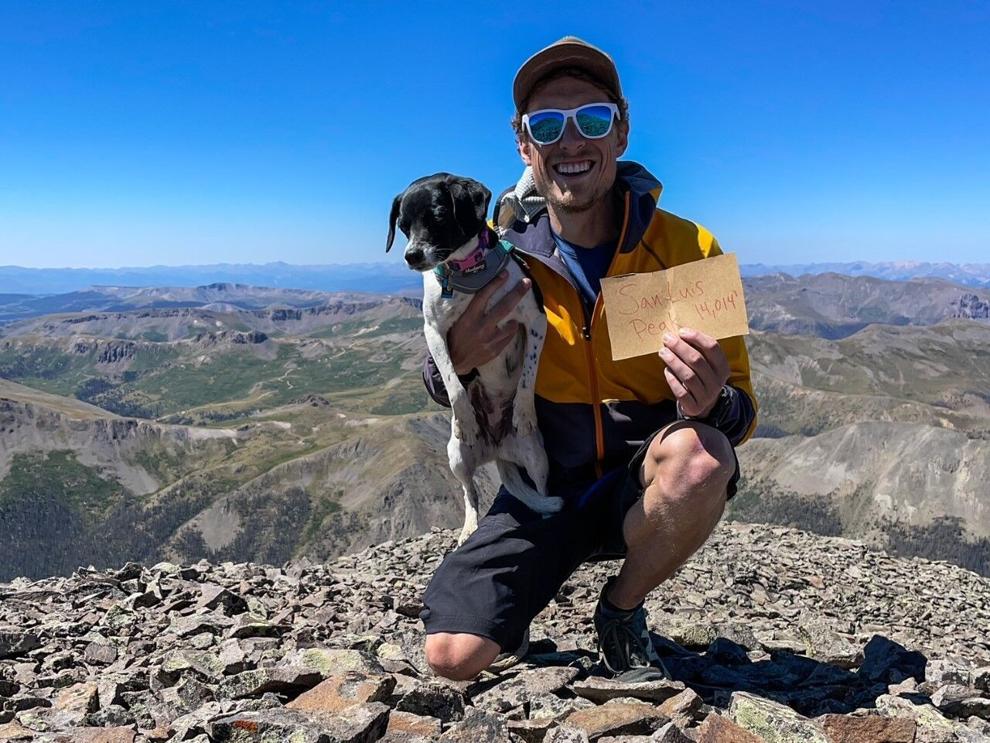 With a vertical gain of at least 3,400 feet and double-digit mileage, the physical aspect of this route is where some may find difficulty, coupled with the undulating nature of the trail in some sections. There's nearly no exposure and route finding is simple, especially if one downloads images on the 14ers.com app for offline use (highly recommended for any fourteener climb).
If you're looking for a peak that offers a fulfilling, but less intense experience, this might be it. Don't forget to stop in Creede if you end up tackling the climb via the south ridge.
RELATED: Summiting Little Bear Peak, Colorado's 'most dangerous' fourteener
Editor's Note: Hiking always carries inherent risks. Be prepared and expect limited cell phone reception. Always let someone know where you're going and when you'll be back and never assume that sunny skies will stick around for long. Be highly aware of changing weather and find no shame in tapping out before reaching the summit, if needed.