Once the world settles down a bit, we want to offer our kids outdoor memories and a place to unwind far from the everyday. Families with children will enjoy Fruita's wide-open spaces, miles of mountain bike trails and delightful local welcome. Fruita is only a five-hour drive from the Front Range and caters to the needs of active families—and those who just want to chill, too. From trails to winding rivers, there are so many activities to try: in fact, Fruita was voted the #1 kid-friendly outdoor destination by Elevation Outdoors Magazine.
Presented by:
Located in Mesa County near Grand Junction, Fruita is nestled on the western edge of the Grand Valley. Mountain bikers love the miles of trails; and so do families who bike and hike. Everyone will enjoy the bygone-feel of the campgrounds, where older kids run in packs and explore the desert safely, with parents relaxing nearby.
1. Hiking for all levels in beautiful surroundings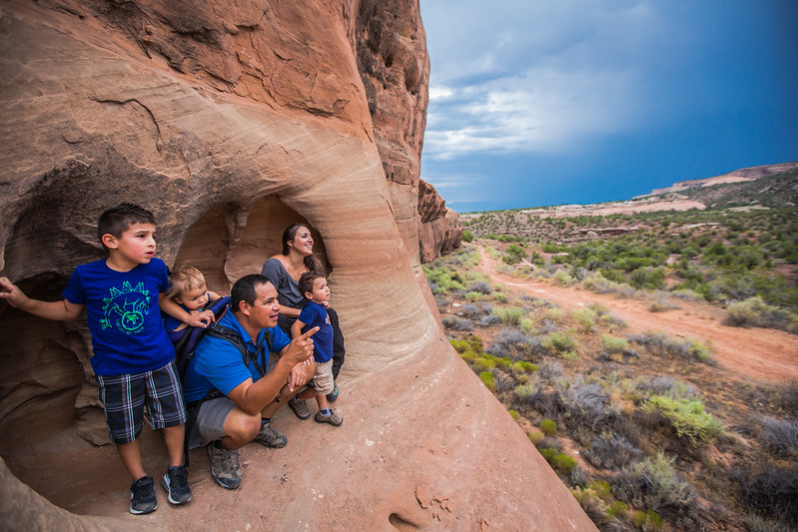 Beautiful rock formations, miles of trails and exciting hiking opportunities abound in the Colorado National Monument, McCinnis Canyon and around town. Kids can stomp around in red sandstone near the trails adjacent to the 23-mile Rim Rock Road, where you'll enjoy sweeping views of the Book Cliffs and the Grand Mesa. Serpents Trail, an abandoned road up to Glade Park Plateau, was once known as "the crookedest road in the world" and can be hiked in less than two hours.
Visit summitpost.org for maps and GPX to additional designations, including an easy hike over kid-friendly rock fields near Devils Kitchen. Try Cleopatras Couch, on the road between Monument Canyon View and Coke Ovens Overlook, where kids can climb fun rock formations and picnic in the shade of the cottonwoods.
2. Best boating, wakeboarding and swimming in Colorado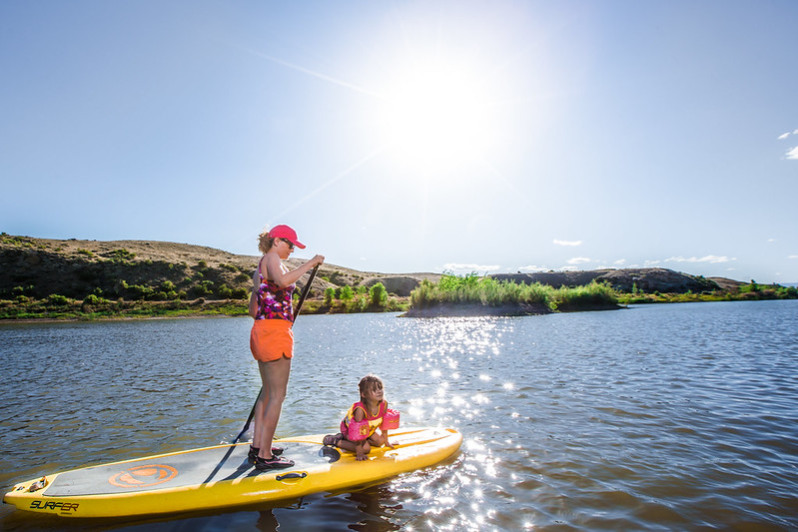 Families who enjoy swimming, boating, kayaking or wakeboarding will find fabulous, fun options in Fruita. Whether you're in the mood to relax and float down a lazy river or try exciting wakeboarding or whitewater rafting, several places, including Highline State Park, Colorado River and the Imondi Wake Zone, will satisfy your splash seekers.
Highline Lake State Park campsites offer a pleasant way for kids to swim and boat just feet from where parents can watch them and relax. They'll meet new friends and run around freely, like we did as kids, making for a fun-filled summer adventure they'll never forget.
If you need to rent watercraft or would like a rafting tour, contact Shelley and Travis Baier of Rimrock Adventures, who guide one-day or multi-day river rafting tours and rent "duckies"—1- to 2-person inflatable kayaks. At Rimrock Adventures you'll meet characters like Captain Steve, the head boatman, and Willie and Waylon, Travis' miniature schnauzers.
Cable wakeboarding, knee boarding, stand-up paddle boarding and more are available at Imondi Wake Zone, where anyone can pick up these fun skills. Trust us, the experts at Imondi promote a friendly atmosphere where everyone's learning and it's okay to be a newbie. You can also hang out and splash in their family-friendly Qua Park, where inflatable tubes provide a relaxing respite from sporty endeavors.
3. Legendary trails for mountain bikers of all ages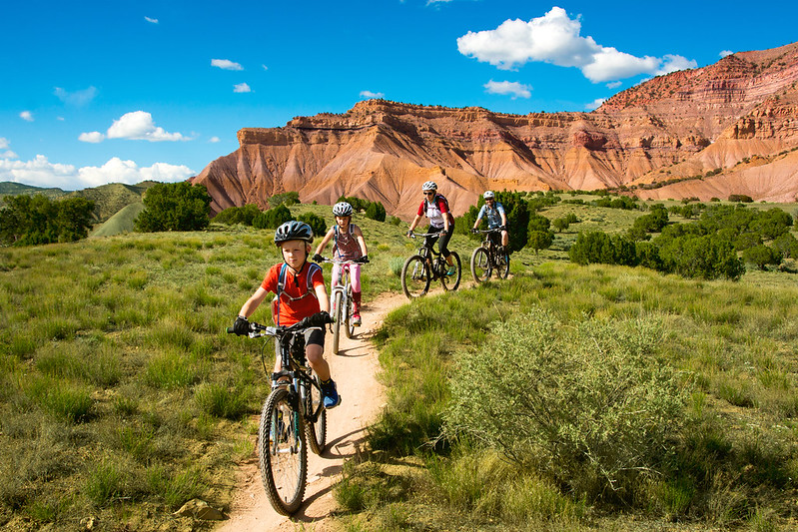 Wake up early and ask your partner to hang with the kids while you ride the expert mountain bike trails at Fruita's famous 18 Road Trails in the north desert.
However, if you'd like to cycle as a family, Fruita is home to world class trails for everyone— many nearby some of the great lodging and campsites that are ubiquitous here. The whole fam can head out to Kokopelli Trail, much of which meanders around the Colorado River and features rolling hills for the kids, but big drops for parents who want to take an extra lap.
If you need any type of rental bike,  Colorado Backcountry Biker has mountain bikes and street bikes, as well. They've also gotten the highest ratings nationwide for hut-to-hut cycling adventures where families might camp out in the woods between challenging, daily cycling bouts. Over the Edge Sports also has some great options for family outings, including large tire bikes for rougher terrains and a staff that's happy to suggest trails and treks for every experience level.
4. Eating and drinking in Fruita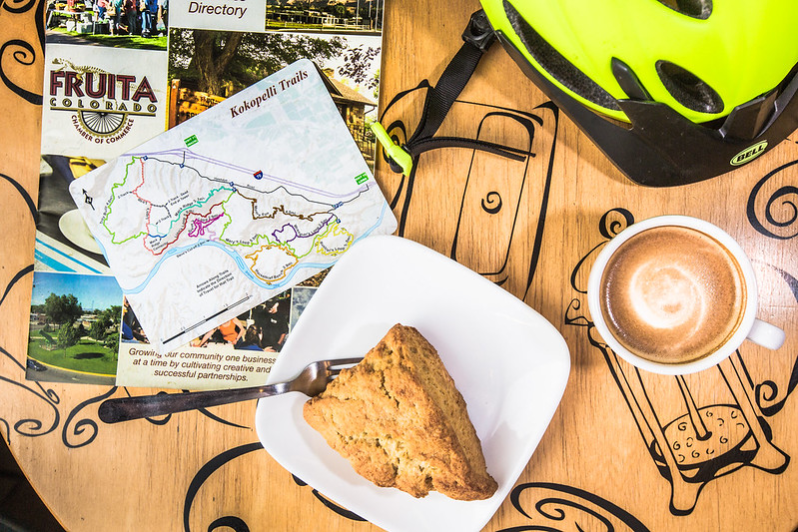 Fruita is a well-rounded destination, with plenty of options for family meals and couple's date night as well. For example the laid-back pizza place, Hot Tomato, delivers delicious, East Coast style pizza with a friendly vibe welcoming people of any age—they won't raise an eyebrow at the kids' exuberance. You'll source some great microbrews here, as well!
Other delicious destinations include Judy's Family Restaurant, famous for their Belgian waffles, homemade soups and to-die-for fries. Hit up Aspen Street Coffee for delicious juices and lattes or an incredible chocolate croissant—if you come in August, make sure to order their delectable peach coffee cake, baked with local peaches. Or try Starvin Arvin's for their renowned homemade cinnamon rolls or family-friendly fare like their signature chili cheese burger or fish and chips, with breakfast available any time of the day.
For the brewery-bound traveler, the beer at Copper Club Brewing Company, is fresh, foamy and cold. Locals call the pub-like atmosphere "Fruita's living room" and we predict you'll call their 18 Road American IPA an instant favorite. At Copper Club, you can order in food from one of the restaurants in town or check out the food truck offerings they host for options like street tacos or burgers.
Whether it's biking, hiking, or rafting on the gentlest stretch of the Colorado River, Fruita's the one-stop family vacation all of you can enjoy. For more, visit Fruita's website, for details on how your whole family can enjoy their vacation when we're back on the road again.