Presented by:
Western Colorado's West End is a diverse ecosystem of mesas, high alpine environments, and dramatic red rock canyons. This unique corner of the Western Slope of Colorado draws those in search of the road less traveled and other-worldly landscapes.
Whether you're looking to take your family on an adventure this summer or just to have a quiet few days away from computer screens and cell phone notifications, this remote destination will satisfy all those answering the call of their wanderlust. You can expect to find old-growth pinyon and juniper pines, deep canyons, and roaming wildlife, and whether you like to hike, paddle, fish, or explore the backcountry in your off-road vehicle,, there's truly something for everyone on these untrodden pathways.
The towns that dot the West End—Norwood, Naturita, Nucla, Bedrock, Paradox, Redvale, and Gateway—were all founded at the turn of the century as mining towns, and today are hubs for outdoor recreation; Miramonte and Buckeye Reservoirs are perfect for a paddling adventure, while the San Miguel River is a haven for wild trout and anglers alike.
We've put together a guide to some of our favorite family-friendly activities in the West End to help you and your family make the most of your summer vacation this season.
1. Water Sports Heaven: Kayak, Stand-Up Paddleboard and Canoe with the Whole Family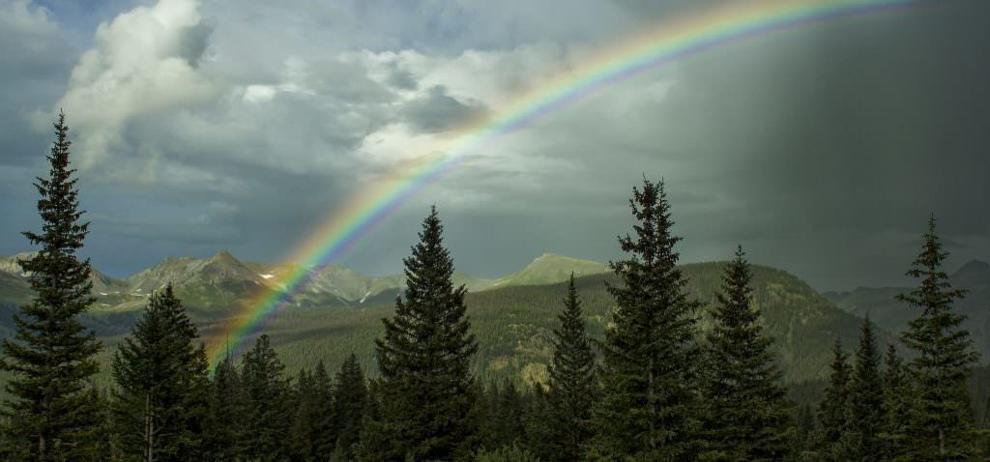 The Miramonte and Buckeye Reservoirs in the West End offer the perfect setting for a kayak, stand-up paddleboard, or canoe adventure with the whole family. Lone Cone Peak rises above Miramonte Reservoir near Norwood, Colorado, and you'll also find stunning mountainscapes at Buckeye Reservoir as well.
Both Miramonte and Buckeye Reservoirs offer camping options, making it possible to spend a full weekend at these beautiful destinations. The Pioneer Campground features 30 single-family reservable sites and 18 less developed, dispersed sites scattered around the reservoir. Campsites at Pioneer include gravel parking areas, concrete picnic tables, fire rings, and vault toilets. Miramonte also has a first-come, first-served campground in the Dan Noble State Wildlife Area.
2. Hiking Adventures: Easy to Moderate Trails Your Family Will Love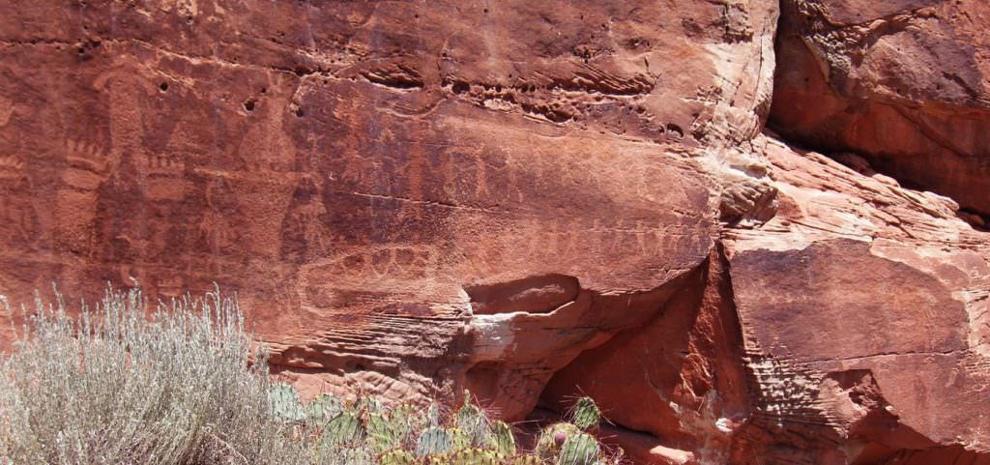 Dolores River Trail
Length: 7.2 miles, round-trip
This trail begins at a BLM developed campground and then winds its way along a long-abandoned state highway roadbed that was active from the 1890's to the 1930's. You can expect to find stunning views of the Dolores Canyon, the Dolores River, and at 2.5 miles into the hike, you'll come across a large boulder field. Be sure to pause at this spot because amongst these boulders you'll find petroglyphs, pictographs, and dinosaur footprints. As with every backcountry adventure, please keep Leave No Trace ethics in mind as you tread lightly through the landscape. Pack out all trash and leave ancient sites such as these undisturbed. Make memories that will last a lifetime and take only pictures with you when you head home.
Roc Creek Petroglyphs Trail
Length: 2 miles, round-trip
Pre-historic petroglyphs found on a rock overhang along the trail are the main draw of this destination. You can also expect to find stunning views of Sewemup Mesa and Blue Mesa as you make your way through the desert-like landscape.
Gurley Ditch
Length: 6.1 miles, one-way
The trail begins at the upper trailhead and then follows the Ditch service road and the creek for the next six miles through rolling meadows and stunning landscape. Expect to find truly amazing views of the dramatic Lone Cone Peak, often still snow-capped through most of the summer. If you're an angler, Gurley Ditch is a great place to dip in your line for trout and for the kids to practice their casting skills.
3. West End Off-Roading Destinations: Explore the West End in Your Favorite OHV Vehicle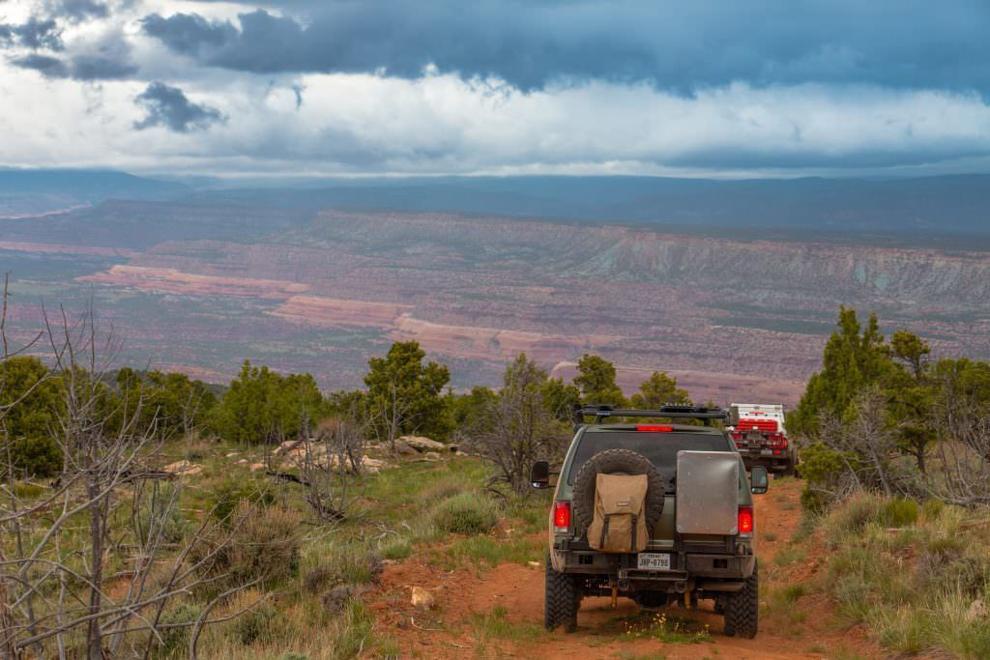 Rimrocker Trail
This 160-mile route connects the towns of Montrose, Colorado with Moab, Utah. The trail traverses alpine, high desert, and riverside landscapes as it winds its way from the town of Montrose through the West End of Montrose County to Nucla and up and over the Uncompahgre Plateau through the La Sal Mountains and finally ending in Moab, Utah. The trail is split into four parts and is well marked from beginning to end: 1) Montrose to Nucla, 2) Nucla to Highway 141, 3) Highway 141 to the Colorado-Utah State Line, and 4) Colorado-Utah State Line to Moab, Utah.
Begin your journey in Montrose on Highway 90, which gradually climbs up a well-graded dirt road to 9,840 feet above sea level to the flat top of the Uncompahgre Plateau. You'll pass into the Uncompahgre National Forest, and it's there that you're most likely to spot your first sign of wildlife. Keep an eye out for coyote, elk, deer, fox, and birds of prey. You'll arrive in Nucla, Colorado after about two hours into your drive and a steep descent off the Uncompahgre Plateau.
Part Two of the Rimrocker Trail takes you from Nucla to Highway 141. On this section of the route, you'll pass through the Uravan mining country. The name "Rimrocker" was originally given to the miners who worked the land in this part of Colorado. The mines included the Joe, Sandy, Fox, Dolores, Club Sandwich, Last Change, and Ophir, among others, and you're sure to see evidence of this turn-of-the-century history scattered throughout the hills. Keep your eyes peeled for old train tracks and mining structures along the way.
Part Three extends from Highway 141 to the Colorado-Utah State Line. You'll be riding parallel to the Dolores River with Utah's La Sal Mountains on the horizon and a stunning landscape extending as far west as you can see.
Once you cross the Utah State Line, you'll pass into the fourth section of the Rimrocker Trail. This section follows Geyser Creek Road through the La Sal Mountains to the community of La Sal, infamous for being the retreat of the Wild Bunch outlaws. It's said that Butch Cassidy and his crew used this remote destination as a hideout after completing their bank robberies in the surrounding areas. Approximately 54 miles from the border you'll find yourself in Moab, Utah at the completion of the Rimrocker Trail.
Note that access to facilities along this route are few and far between, so come prepared with water, snacks, sun protection, and paper maps, as cell service is spotty throughout the route. It's also a good idea to bring a temporary shelter along with you (i.e., a tent) in case you want to spend the night under the stars or in the event of an unforeseen mechanical problem with your vehicle. More detailed directions and GPS coordinates can be found at rimrockertrail.org.
Thunder Trails System
19 miles of singletrack organized into four interconnecting loops await you at the Thunder Trails system four miles south of the town of Norwood. The loops include: 1) the Goshom Loop beginning near the southern parking lot, 2) the Naturita Rim Loop situated north of the Goshom Loop, 3) the Portis Loop, and 4) the northernmost Thunder Loop located by the trailhead parking lot closest to Norwood. Some of the trails provide a rockier, more technical riding experience, while others wind their way through ponderosa pine forest and open meadows. You'll also find some dispersed camping spots along Forest Service Road 609, so it's easy to set up camp and spend a weekend exploring!
4. Angling for Trout: Fish Western Colorado's Stunning Waterways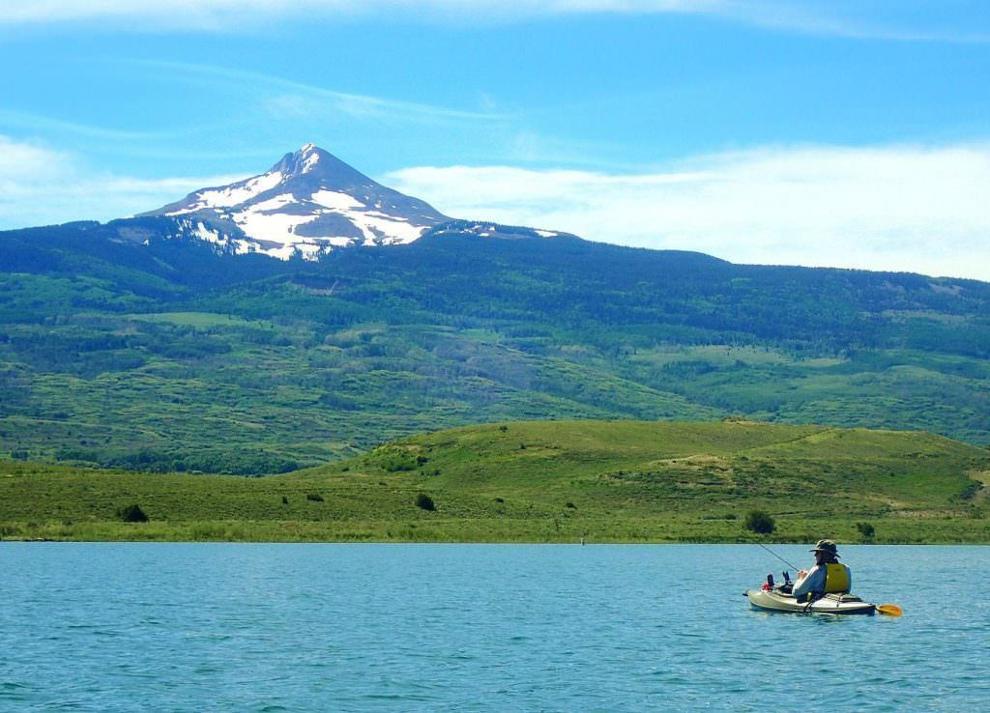 Trout are native to this part of Colorado, and you can expect to find rainbow, brown, cutthroat, and brook trout in the streams, rivers and lakes in the region in addition to the occasional Kokanee salmon.
If it's river fishing you're after, there is plentiful public access and year-round fishing along the San Miguel River between the towns of Telluride and Norwood, making it the perfect place to dip your line into the waters of Western Colorado. This continuous drop river begins high in the San Juan Mountains above Telluride and converges 72 miles downstream with the Dolores River near Uravan. The San Miguel drops over 7,000 feet from a high alpine to a desert ecosystem, and it's mostly free-flowing with some diversion dams to alter its flow as the summer season progresses. Along this continuous drop river, you can expect to find secluded shorelines lined with swaying cottonwood trees and beautiful red rock cliffs rising above the riverbeds.
Situated near Norwood, Colorado, Miramonte Reservoir also offers great opportunities for fishing for rainbow, Snake River cutthroat, and brown trout. You can expect stunning views and up to 405 surface acres of fishable water in addition to the camping and boating opportunities mentioned above.
There are so many family-friendly activities and places to explore in the West End that you'll be planning your next trip even before you leave. Can't wait to see you this summer!