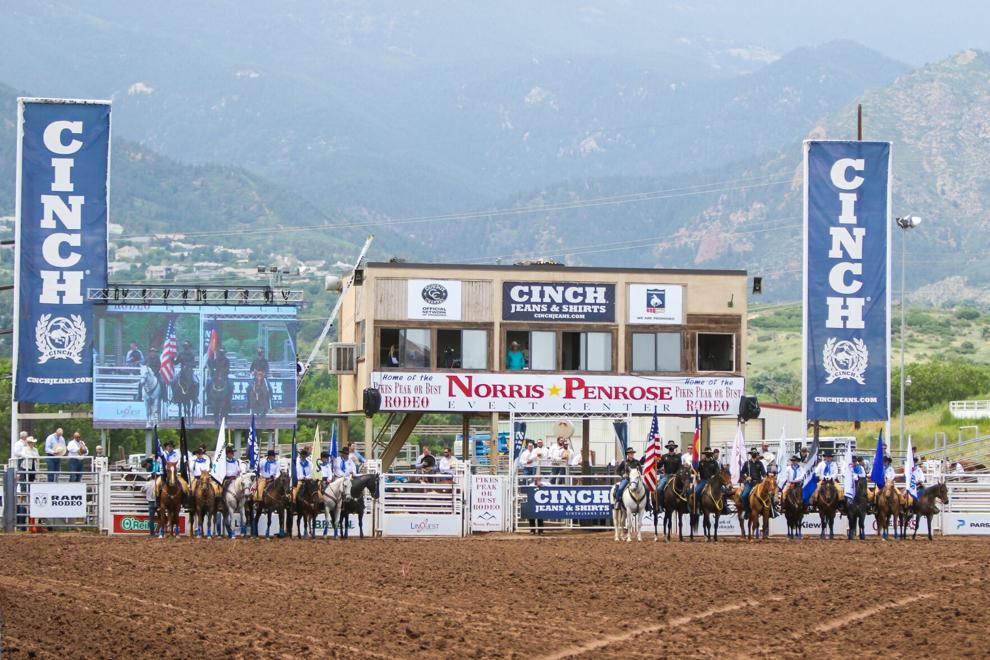 One of the most eagerly anticipated local traditions of the past 80 years, the Pikes Peak or Bust Rodeo presents all the pageantry, culture and heritage of the West that the Colorado Springs community has come to love.  
This year, the Professional Rodeo Cowboys Association (PRCA) is moving its circuit finals championship from Florida to Colorado Springs. The 81st Annual Pikes Peak or Bust Rodeo, presented by CINCH jeans and shirts from July 13-16 at the Norris Penrose Event Center, will welcome the inaugural NFR Open (formerly the National Circuit Finals Rodeo) – powered by RAM – increasing the prize money from $300,000 to $1 million and making it one of the biggest, most prestigious rodeos of the ProRodeo season!  
Other "firsts" will be a new event from the Women's Professional Rodeo Association: Ladies Breakaway Roping will be added to the lineup – and that the Cowboy Channel will broadcast every event. 
Presented by: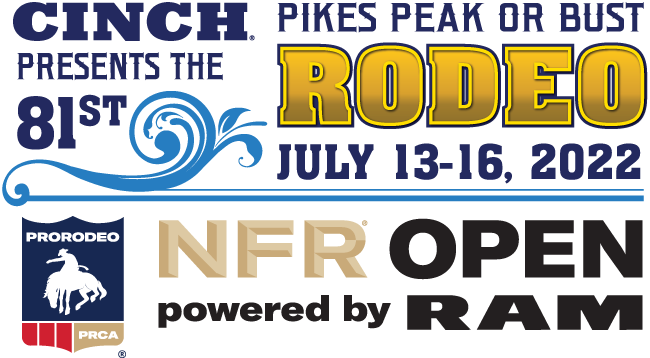 "The Pikes Peak or Bust Rodeo and the Colorado Springs community check all the boxes needed for an event like this," said Tom Glause, chief executive officer of PRCA, in a news release. "A great rodeo, with a lot of community support, the event will feature more than 200 contestants and culminate with the crowning of national circuit champions – key for those trying to qualify for the Wrangler National Finals Rodeo in Las Vegas."  
"This is truly a national event, and we will crown national champions," said Pikes Peak or Bust Rodeo Board Member Scott Stuart. "It's an important step for our rodeo to be in partnership with the PRCA and its circuit system. Champions of this event will be one step closer to the National Finals Rodeo at the end of the year." 
The mission of the Pikes Peak or Bust Rodeo is a steadfast commitment to quality-of-life initiatives for local military members and their families. All rodeo proceeds will provide support services to this esteemed group who have earned our thanks and respect. The fact is, Colorado Springs is – and has been – home to a vast number of service members, whether those on active duty at the U.S. Air Force Academy, U.S. NORAD/NORTHCOM, Air Force Space Command, Schriever Air Force Base, Peterson Air Force Base or Fort Carson, or those who return to the area as retirees. 
"The Pikes Peak or Bust Rodeo is a common thread that connects generations of military and our community," said PPBR President Dan Ferguson. "I've heard stories from many veterans and active-duty soldiers from all branches who appreciate what our event represents and how much it means to our local military and their families.  Many former Air Force Academy cadets have told me of their first "break" from Basic Cadet Training being a trip to the Saturday matinee performance, and how meaningful and appreciated that was in so many ways!" 
Head 'em up, move 'em out 
First-time rodeo-goers, rodeo fans and everyone in-between are invited to witness the sport and lifestyle that is rodeo, as cowboys and animals take center state. These stars – and a large supporting staff that includes announcers, contractors, secretaries, timers, pickup men, chute laborers, specialty act personnel rodeo producers, and top livestock from 17 stock contractors chosen on their merits. 
More than 220 contestants from each of the 12 U.S. Circuits and the Canadian Circuit will be competing in first-class events that preserve Western heritage, including Rough Stock Events that depend on cowboy and animal performance equally – bareback riding, saddle bronc riding, bull riding – and Timed Events like tie-down roping, steer wrestling, team roping and breakaway roping, and barrel racing.  
Three hundred "Ramrods," as volunteers are known –many of whom are from the military and American Legion – will be working hard to make this year's rodeo a success. 
Evening performances are at 6:45 p.m. (grounds open at 4 p.m.) and Saturday matinees start at 12:15 p.m. (grounds open at 10 a.m.), with something for everyone to see and do before, during and after the contests, from pony rides to longhorns, a barrel train, a petting zoo, roping demonstrations, and a horse-drawn wagon for the kids, to live music and dancing for the adults at the Coors Roadhouse Saloon.  
Each day of the rodeo is dedicated to local military facilities:  
Wednesday, July 13 – Fort Carson Night, sponsored by Northwestern Mutual 
Thursday, July 14 – Missile Defense and First Responders Night, sponsored by UC Health 
Friday, July 15 – Space Night, sponsored by The Boeing Company 
Saturday, July 16 – U.S. Air Force Academy, sponsored by USAA (Matinee) and NORAD/U.S. NORTH COM, sponsored by Lockheed Martin (Evening) 
"Our sponsors are the key that unlock a wealth of opportunities for local military members and their families," continued Ferguson. "We couldn't do what we do without the support of our sponsors, who allow us to give back." 
It is not every day that you get to ride a mechanical bull, take in an old west show, or do some axe throwing. . .or participate in Mutton Bustin' (an event for 4- to 9-year-olds who are not tipping the scales above 50 pounds, with no pre-registration required). Imagine the lasting memories created for a few lucky kids who advance from the Fan Zone's prelims to a rodeo performance in a helmet and protective vest with a speedy sheep in front of 7,000 people!  
A rodeo is a family affair! You will be able to check out a wide variety of vendors as a family and have a meal or purchase a souvenir! The fact is, you will feel like one of the family and right at home at the Pikes Peak or Bust Rodeo as you watch bullfighters, the barrel man, the Pikes Peak Range Rider Pivots, and the fan favorite Rangerettes, or the Fort Carson Mounted Color Guard and the 2022 Girl of the West and her aide. Fun fact: Girl of the West, Georgia Strimenos and her aide, Brooke Soltwedel, have devoted two summers to sharing their Pikes Peak or Bust Rodeo story, making 150 appearances at assorted Chamber of Commerce chapters, businesses and military bases.  
Whether a rodeo novice or expert, audience members can rest assured that they will understand what is going on, thanks to explanations and information provided by some of the best announcers in the business. Their narrative is interesting, entertaining, and educational! 
You will not want to miss a moment of the action and working relationships on display at the Pikes Peak or Bust Rodeo. Make a day of it; you will not be disappointed! Sell-out crowds are expected! Tickets to the Pikes Peak or Bust Rodeo are available now at https://www.pikespeakorbust.org/#tickets.  
SAVE THE DATE! 
Pull up a hay bale and chow down on pancakes, eggs, coffee juice and milk for $5 per person (children under five eat free), served by Army and Air Force volunteer, on Tejon Street. Enjoy the festivities from 5:30 – 9:30 a.m., including breakfast, the Pikes Peak Range Riders on horseback en route the Norris Penrose Event Center (where the rodeo will be held), appearances by Girl of the West and Aide to the Girl of the West, fun activities for children in the Kid's Corral, entertainment by a Trick Roper, Gunslinger, Native American Dancers, and music by the Flying W Wranglers and Exit West. The fundraising event, hosted by The Pikes Peak Range Riders Foundation, will support local military and their families. Commemorative wooden tokens, serving as event tickets, are available ahead of time on Eventbrite and can also be purchased on-site.