It's hard to point to an aspect of life that didn't face a major upheaval as the COVID-19 pandemic shut down the world just two short years ago. Offices went dark, spending time around loved ones became taboo, and the topic of toilet paper scarcity worked its way to the tips of many fretful tongues. Everyone sought to find some sort of way to cope amid the chaos and for me, I turned to running.
Prior to 2020, I'd spent my entire adult life convinced that I hated running, probably able to count the times I'd jogged for any reason in the past decade on a single hand. That made it no surprise that my friends and family were a bit shocked to hear that I had signed up for the infamous Pikes Peak Ascent race to start the new year – resolutions, am I right?
A month later, I'd run the qualifying half marathon required to compete in the 13.1-mile race to the 14,115-foot summit of 'America's Mountain,' and fueled by the hype from the qualifying race, I immediately signed up for a full marathon – the Revel of the Rockies Marathon – that was set to take place later that spring.
Granted, a few weeks later, I'd have already given up on running completely, telling myself I'd eventually train for the Ascent once the August race got closer and that I might as well withdraw from the marathon to avoid pushing myself too hard and getting hurt.
Meanwhile, news of a virus that was spreading at a notably fast rate continued to dominate headlines and life started to feel like the first few scenes in some sort of apocalyptic flick.
And then the world shut down.
At the time, a single male in a small Colorado Springs apartment, my life changed quite a bit when I suddenly found that meeting friends at the climbing gym or at a happy hour after work was no longer an option, essentially killing my social life in one fell swoop. A relatively introverted person, I found that this sudden shift was something I could cope with, but I did start to get very bored.
Desperate for some sort of entertainment that wasn't banned or discouraged, I remembered my fleeting friend from a month before – running – and I quickly turned to spending free time on local jogs around my neighborhood accompanied by my favorite podcast hosts.
As the two-week shutdown stretched to a month and then another, I somehow found that I cared less about being locked inside by the day – as long as I could get my run in.
I quickly developed a routine of eating up as many miles as I could, followed by Epsom salt soaks for the knee pain and with updates posted to social media to let the world know I had gone running that day. In a way, those social media posts oddly became my 'running buddy,' holding me accountable with my knowledge that others could see whether or not I had gotten my workout in.
As might be expected, it didn't take long for both the springtime marathon and the Pikes Peak Ascent to get canceled due to pandemic concerns. It also didn't take long for me to realize that I wasn't running to compete or for the challenge, but that I actually was running for the love of the sport.
Unfazed by the cancellations, I continued to push myself harder and harder with the ultimate goal of using trail running to move quickly around the highest parts of Colorado. I set my sights more intentionally toward the fourteeners and kept running as much as I could, regardless of the conditions and regardless of how I felt – something I would later realize was a mistake.
Eventually, races started to pop up again and I would again sign-up for the Ascent and for the same marathon that had been canceled before. I'd run the Ascent in 2021 in about three hours and 22 minutes, but the Revel marathon would get canceled for a second time.
As the end of 2021 hit, pushing through a foot injury post-Ascent would soon become something I came to deeply regret, ultimately sidelining me for most of the first four months of 2022. Unable to run at the time, I signed up for the same Revel of the Rockies Marathon for a third time, hoping that my injury would heal in enough time that I could adequately train for what would be one of the most difficult runs of my life.
Weeks ticked by and though my injury was slow to heal, by the last week of April, I was able to regularly run again – six weeks out from race day.
Let the training begin.
There's something that's important to note about the marathon I kept signing up for – The Revel of the Rockies Marathon. The race is extremely unique in that it descends roughly 5,000 feet over the course of 26.1 miles, starting at 10,500 feet of elevation. The majorly downhill aspect of the race might sound like a nice thing, and while it does mean a bit less of a cardio struggle, it also means much more impact on the legs and feet.
Training for a race with so much continued downhill can be a bit daunting, especially when limited on time. Short of someone dropping me off at the top of a dangerous mountain road and running downhill in the shoulder, it's tricky to simulate that style of extended downhill route in training.
Not quite sure what to do and not wanting to slam my freshly recovered foot on the pavement quite yet, I turned to running the foothills in Colorado Springs. While this gave me some of the downhill training I was looking for, it came at the steep price of a step up for each step down, often leaving me exhausted by the time I reached the long and extended descent I had been seeking.
The days slipped by and eventually, I had worked up to running about 15 trail miles once a week as my longer training run, with a few shorter jogs scattered between. And before I knew it, I was a week out from race day.
Wanting to make sure I was mostly rested by race day, I went on one final longer 14-mile run the Monday before the marathon before turning my focus to better sleeping and eating habits as the Saturday race approached.
And then race day arrived.
I naturally snapped awake at 1 AM, five minutes before my first alarm of the morning was set to go off. As is tradition, I avoided the tempting comfort of the bed for the couch.
The first step of the long day meant driving an hour and a half to a shuttle in Morrison that would take me to the start line at 10,500 feet of elevation, with the shuttle loading at 3:30 AM. After boarding the shuttles, the roughly 900 marathoners of the day would be dropped on top of a mountain pass with about an hour and a half until the gun.
My drive to Morrison went smoothly, as did the shuttle.
After making it to the top of the pass, I joined a massive group of race-ready runners working to finding whatever warmth they could under mylar blankets. Nervous chatter filled the air, as lines for the many on-site porta-potties never seemed to shrink.
The start time of 6 AM neared as the day broke, with racers clinging to their blankets for as long as possible before funneling toward the start line.
And then we were off.
As soon as the race started, the positive effects of its downhill nature became apparent, though that wouldn't be the case for long. The air started to warm, the sun was shining, and I was feeling great.
With the help of gravity, each step seemed to send me soaring down the mountain. Even with the several-month-long break from running due to injury, I was close to hitting seven-minute splits – close to my all-time personal best for any long distance run.
Cool morning breeze still in the air, my mind started to bounce around a number of possibilities – could I hold this same pace the entire race? Should I somehow push a little harder and try to qualify for the Boston Marathon with a finishing time of three hours? Should I slow down and save my body for the latter and flatter half of the route?
Fueled by adrenaline, I kept pushing hard.
And I would keep pushing hard for about 18 miles, hitting splits in the range of seven to eight minutes consistently.
And then mile 19 hit – one of the flatter miles of the race with a small hill. I cruised up the hill in stride, but the toll of the race on my leg muscles immediately became very apparent.
Then mile 20 hit. Another mile that didn't come with much help from gravity and another mile that slammed already fatiguing legs.
By the time mile 21 rolled around, I was starting to have serious doubts about whether or not I'd be able to finish the race. My pace had dropped past nine minutes a mile, closing in on 10 minutes fast.
The next few miles were a few of the worst running miles I'd experienced in the past two years of running. My upper half felt fine, but each step started to take a more and more painful and obvious toll on my legs. My pace rose past a ten minute mile and though I was surrounded by a stunning canyon scene, it took every piece of mental capacity I had to focus on keeping my feet pushing me forward.
Eventually, the marker signifying the last 1.2 miles of the race was in sight. With the end near, I took a deep breath and forced myself to returned to a better running form, bringing my pace back into the eight-minute range.
As the finish line neared, spectators started to multiply. I could see hands clapping and see people shouting, but I had put in headphones and turned them up to block out the pain. With a few final steps, I would complete the race.
In a state of exhaustion, I waived off the finish line photographer in order to catch my breath. I quickly removed the finisher's medal from my neck, finding that its weight seemed to be pulling my entire body toward the ground. A bit dramatic, I know, but that's no exaggeration.
After a few minutes, I hobbled over to the results table. I had finished in 200th place of 839 participants, with a pace of eight minutes and 22 seconds per mile. My final time spent covering the 26.2-mile route was 3:39:16.
Feeling more drained than ever before, I tagged along with another runner in search of the beer garden. In true Colorado style, the closest craft IPA tends to give me the quickest recovery from a post-run energy lapse.
I guess it took a pandemic for me to adopt a new, healthy hobby. Next time, I hope I won't be so hesitant.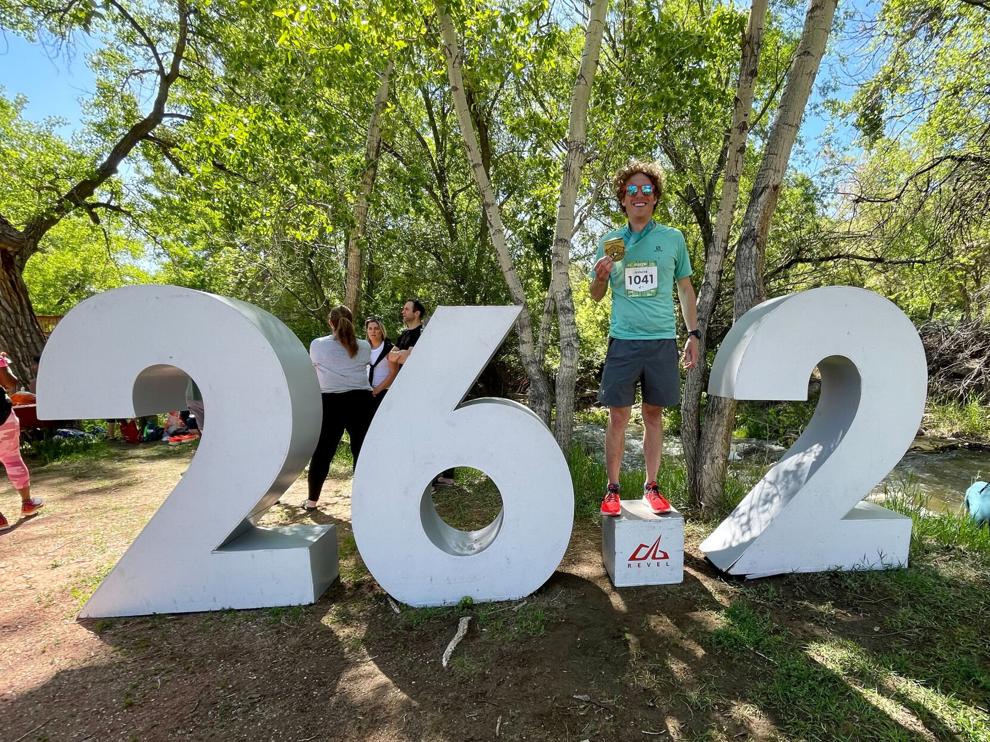 My gear:
It would be hard to write about this experience without also writing about the shoes I wore.
If you've read much of my writing over the past couple years, you know I'm a big fan of Altra shoes. Whether I'm climbing mountains, running trails, or hitting the pavement, they're my go-to brand thanks to the wider toe box. I've found this shape of the shoe seems to prevent my toes from smashing together during steep descents – crucial for a race that is entirely downhill like the Revel of the Rockies Marathon.
Trying to give myself every advantage as possible for a successful race and not willing to skimp on quality and risk another injury, I splurged on Altra's 'Vanish Carbon' style. Extremely lightweight, fast, and built to protect the foot, I would make that same decision again. If you're willing to shell out the dough for these sneakers, they're a good shoe to keep in the closest for the right occasion.
STAY INFORMED: Sign-up for the daily OutThere Colorado newsletter here