It was impossible not to notice that a long streak of hot fall days had broken as I rolled out of bed last Saturday morning. The forecast predicted that the 80-degree days would finally fade, but with how consistent the heat had been throughout the early fall, I had to feel the change to believe it. The cool 50-degree morning was met with my relief, as I was about to clock-in from home, tucked away in my stuffy upstairs office that has no air conditioning and a tendency to trap heat.
About a week or so before that morning, I'd gotten an unexpected email in my inbox asking if I wanted to interview Mahatma Gandhi's grandson, Gopalkrishna Gandhi. He was set to travel to Colorado for the first time, destined to be a featured guest at a festival in Boulder that would be premiering a film about his grandfather. He would also be promoting his recent book – Scorching Love, which was a compilation of many letters that Mahatma Gandhi wrote to his son, Devadas, who was Gopalkrishna's father.
Obviously, I had to say "yes" to the interview, though I wasn't quite sure where the conversation would lead.
While our discussion was originally meant to be held in-person, tight schedules relegated us to an online video chat. Thus, as the call time approached, I readied my at-home work station and finalized the phrasing of a few questions I wanted to ask.
Prior to the interview, I didn't really know what to expect from Gopalkrishna. I've traveled around India a bit in the past, but wasn't familiar with him outside of what I'd read online.
Gopalkrishna is perhaps best known by most as a politician, once the Joint Secretary to the President of India, later the governor of the Indian state of West Bengal, and most recently, a candidate for the vice presidency of the country in 2017. That being said, he's also an established author and is very involved in academia, teaching at Ashoka University as a professor in the fields of history and politics.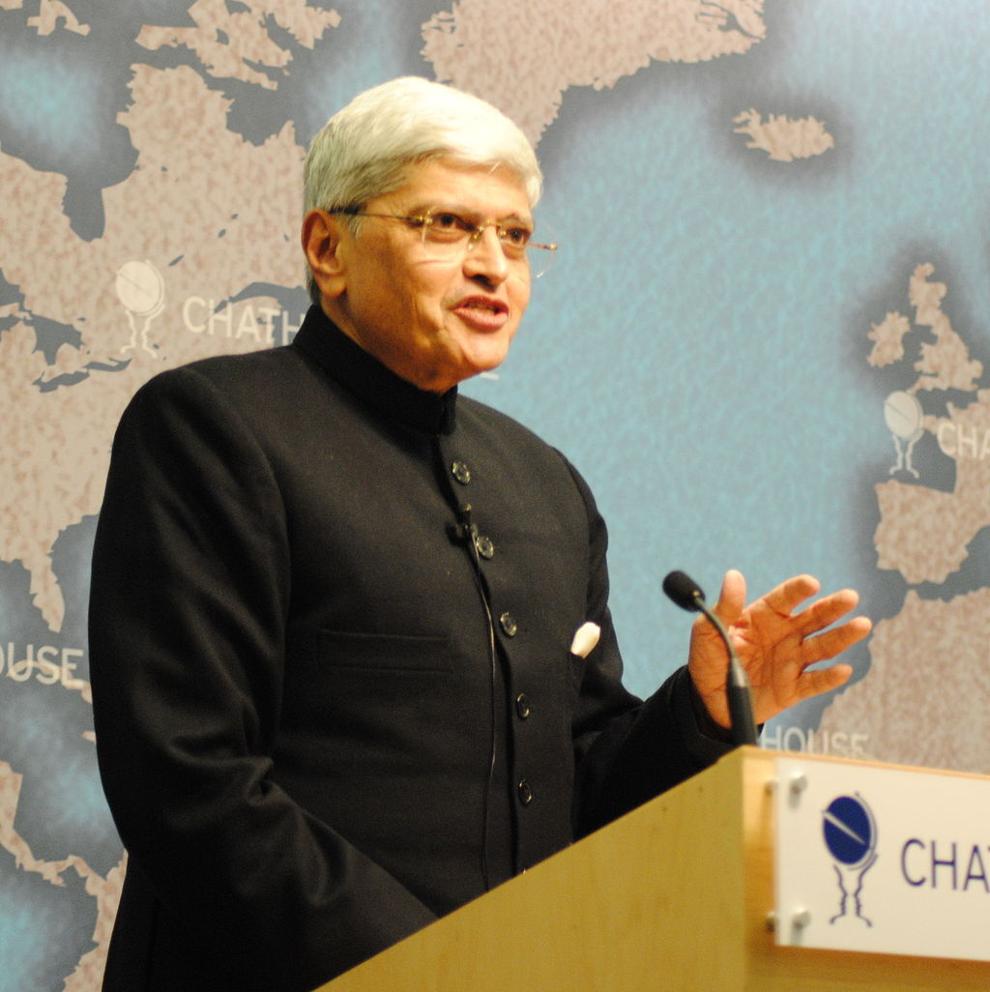 I had jotted a few of these tidbits down in my notes, along with the detail that his wife was very involved in the outdoor space as an ornithologist and how the two of them enjoyed spending time in nature.
As my laptop clock switched to 8:28 AM, I joined the online meeting room and waited for Gopalkrishna to appear. And within a minute or two, he did, giving a friendly wave with a smile on his face, looking exactly like the person in the many photos I'd seen of him during my preparation for this moment.

We started off with small talk – Gopalkrishna told me that he hadn't been to Colorado before and while he was familiar with Denver, he hadn't heard of Boulder. That being said, he seemed very excited to visit a place that was completely new to him during the upcoming weekend.
At that point, I asked him about his upcoming trip to Boulder and what the book he had published and his ongoing effort to share Gandhi's message meant to him.
He described Gandhi's letters that comprise the book, many of which were written in prison, as very humanizing, depicting Gandhi as a man that was restless with imperfections, but also a man that wanted to do right, both in the eyes of his family and in society.
In Gopalkrishna's eyes, the biggest takeaway from the collection of letters is that "a man can be of heroic dimensions, but also very human. He can be a maker of history, but he can also be an extremely solitary and sometimes an agonized person, very vulnerable to conflicting emotions, including deep depression and anxieties."
Gopalkrishna continued, describing his takeaway from the collection of letters: "Great events in the world happen very often at the hands of very simple human beings that are faced with the chance to take very decisive steps according to their conscious. [...] Gandhi was a man that was deeply human, deeply conscious of his failings and his weaknesses, but also feeling as though he had been touched by a power bigger than himself."
After chatting about the letters for a bit, the two of us got on the topic of what political and social issues Mahatma Gandhi would care most about if he were still alive today.
Gopalkrishna narrowed it down to three topics – climate change and conservation of natural resources, the weaponization of the world, and the improvement of prison conditions.
"If Gandhi were alive today, which means he would be more than 150 years old, he would be deeply concerned by three major global situations," said Gopalkrishna. "His first concern would be the visible collapse of the physical environment due to global warming, which can be due to human error and human callousness."
Gopalkrishna continued, discussing how the impact of some changes can have a global impact, using the example of how ice melting in Antarctica could mean the disappearance of the Maldives near India, even though these islands are so far away from this southern continent.
Gopalkrishna then moved to the second issue he felt would be a top concern of the hypothetical modern-day Mahatma Gandhi – the weaponization of the world in terms of nuclear, chemical, and biological weapons.
"The amassing of destructive warheads across the world requires a drastic intervention," said Gopalkrishna. "Even as we are talking, error or terror can unleash a global blow-up, and Gandhi would have been working eight days a week toward disarmament."
And then we spoke about the third concern that Gopalkrishna felt would weigh heavy on Gandhi's mind – the improvement of prison conditions.
"As a person who had been in prison, I think he would have worked for the improvement of prison conditions across the world. Improvement in the way prisons and prisoners exist."
At that point, we switched gears a bit. I wanted to dig deeper into Gopalkrishna's own opinion on climate change and conservation, specifically how he thought the world could approach finding a solution to the issue that Mahatma Gandhi would have held so dear.
After taking a moment to ponder the topic, Gopalkrishna gave me his answer:
"The solution [to climate change] is not just with governments, but with society. [...] We, the people of our countries, need to do a great deal to curb consumption, to curb the way we dispose our garbage, the use of plastics, and the use of scarce, non-renewable resources. We are living blindfolded and we think that all the resources we have, all the facilities we command in terms of energy, in terms of electricity, in terms of fuel, in terms of water, have no limit, but the fact is, they do have a limit, and they can just turn off. We need to do as much as people as governments need to do, but we also need to push governments to their ultimate limits in what they can and should do in terms of policy, and what they're doing under the guise of development. [...] The combination of people and government working together to tackle this issue, across the world, is far from where it should be, and it is too little, and it should not become too late."
Gopalkrishna spoke with certainty, passion, and confidence. It was obvious the dilemma had long weighed on his mind.
He continued, "We do not know the value and vulnerability of our conservation needs. We do not appreciate fully the urgency of the situation, allowing ourselves to drift into the current of wastage and misuse."
Given Gopalkrishna's opinion that a dual-approach that involves both the government and the people is needed to make a true difference, I asked him how he thought this could be accomplished at a societal level.
"This is where frank talk is required," said Gopalkrishna. "Gandhi believed in talking frankly, critically, and self-critically to the country. He did not mince his words, he spoke the bitter truth and I think that is what's needed today. For the leadership across the world to speak frankly about what is happening to the world's climate, to the earth's surface, what is happening to our rivers and our ice caps, what is happening to our glaciers, what we are doing to our beaches. This is something where hard talk to the extent of being harsh is required."
After a slight pause, Gopalkrishna continued, "We need leaders to be social philosophers and social philosophers to be leaders."
Striking a local chord, Gopalkrishna moved on to use the Colorado River as an example of how change can be a bad thing, noting how a faraway California gets water from Colorado, saying "rivers must remain rivers, not becoming what were once rivers. We around the world have mistreated our rivers and our beaches, and our mountains and our forests. And that must stop."
Suddenly, the interviewee was interviewing the interviewer, with Gopalkrishna turning the tables and asking me about my own thoughts in regard to climate change and preservation.
I explained that I believe the key to increasing interest in taking care of natural resources is to get more people into the natural space, whether that is through outdoor recreation or otherwise. I told him that getting close to nature is where I've found my own appreciation for natural resources has grown and where I think others will find that same passion that may lead to the societal interest in conservation that he feels is necessary for the future of humanity.
He asked me if my generation, in general, cared about preserving the planet. I told him that I think it does, in general, but that my generation can also feel a bit powerless, at times. Though I also noted that I think technology developed by my generation could help cover that gap, the gap created by the lack of power needed to create change.
We shared in brief conversation about India's historic water saving tactics, one that I had seen first-hand in a mountainside fortress above the small Rajasthani town of Bundi – one that involves massive water stores, called stepwells, that collect rainwater during the monsoon season for use throughout the year.
He expressed that this stepwell system was one example of how the Indian people have long had an appreciation for natural resources – at times, out of necessity due to life in a harsh environment.
This tangental discussion sparked another example from Gopalkrishna that seemed to best exemplify his desire to develop a societal interest in preserving the planet – the Chipko movement.
In the 1970s, a logging effort backed by the Indian government sought to chop down trees in a rural part of the country – a place where locals relied on the forest for their livelihood. The movement crescendoed in March of 1974, when lumberman showed up to a village to be met by the woman of the village hugging the trees that were destined to be cut down. Despite threats of violence, the women found the strength in their common mindset to keep hugging the trees, thus preventing the logging from taking place. After a multi-day stand-off, the contractors left and the forest was saved.
Similar to how the Chipko movement started with the people realizing that they were about to lose a crucial resource and doing something about it, it's a similar mindset that Gopalkrishna thinks should be present in the world today.
"They have shown by example what simple people can do to say 'no' to what can be called the onslaught of the modern gospel of development, as against the wisdom of conservation," said Gopalkrishna. "Balance is what we need, balance is the answer. [...] A fair balance where the needs of development, which are real, are balanced with the needs of conservation. We can not let the whole forest go for the need of timber. We can not throttle a river to make a city. There has to be balance. There has to be wisdom. Easily said, but not so easy to do."
According to Gopalkrishna, the approach toward finding this balance in conservation should follow three key aspects of the Mahatma Gandhi mindset – the pursuit of balance between development and conservation must be "non-violent, passionate, and restless."
Gopalkrishna Gandhi will be present at an event taking place in Boulder, Colorado this Friday called 'Ahimsa! The Power of the Powerless, A Celebration of Gandhi & JFL Colorado.' Find more information about attending that here.
STAY INFORMED: Sign-up for the daily OutThere Colorado newsletter here