The birds refuse to be canceled.
Just because bird festivals, such as the High Plains Snow Goose Festival and the Monte Vista Crane Festival, have been canceled due to the virus, doesn't mean the birds won't be around. Their travel plans haven't changed. Pandemic? What pandemic?
One festival is still going strong: the Feb. 6 Bald Eagle Festival at Barr Lake State Park in Brighton, about 90 minutes north of Colorado Springs. The two guided hikes are full, but another one might be scheduled. You can search for updates on the park's Facebook page. There will be a live bald eagle presentation at 10 and 11 a.m., noon and 1 p.m., and crafts for kids. It's free, but you'll need a $9 Colorado State Parks Pass to enter.
Even if you can't make the festival, go up another day to get a gander at the gloriously large birds with wingspans of 6 to 8 feet. They spend their winters at the lake, typically arriving at the end of November and sticking around until mid to late February. They roost in the giant cottonwood trees on the edge of the lake and sit on the ice where they can grab a quick fish snack.
"We always call Barr Lake the bed and breakfast for birds," says Michelle Seubert, park manager for Barr Lake State Park. "We have everything here: food, shelter, water."
Over the past year, there's been a bit of "Days of Our Bald Eagles" drama at the park. Since 1986, Barr Lake has had a nesting pair of eagles, and 51 eaglets have fledged from the lake, meaning the baby birds have taken off successfully out of the nest.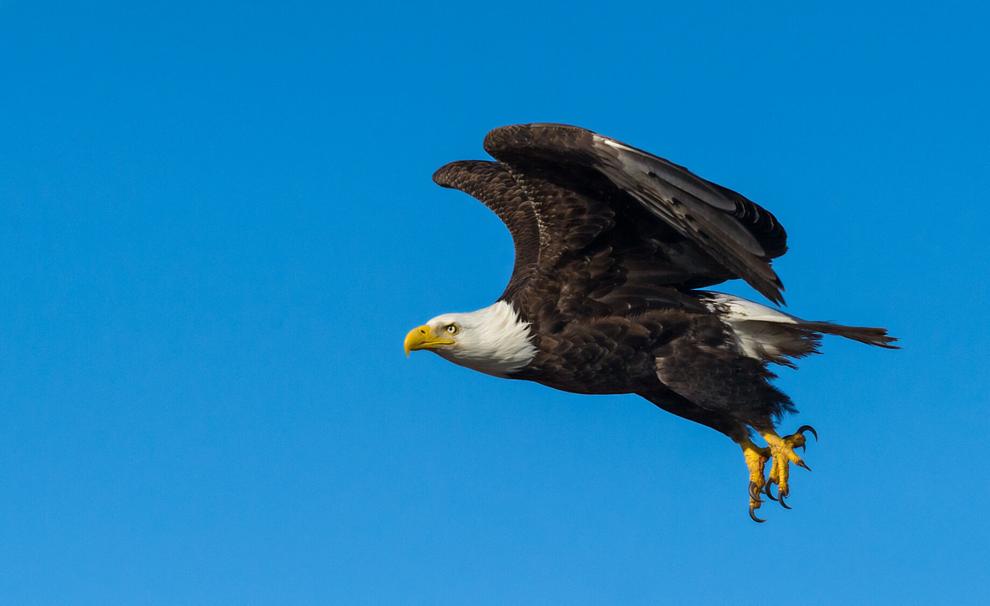 Last year a pair of eagles, who mate for life, built a second nest in the park, an "unusual" event, Seubert says. Both nests were successful, though there were no eggs. Seubert thinks a younger pair came and chased the older pair out of the existing nest, who then had to go build their own new nest.
"They got all discombobulated," she says. "When a younger pair gets together they're usually not successful for the first couple of years because they're playing house. They don't know what they're doing, to be honest."
It remains to be seen what will happen this year. There's been some activity at the old nest on the southwest side of the park, and not as much at the new nest on the west side. Seubert speculates the birds will use the old nest come mid to late February, when they potentially lay their eggs. The incubation period is 35 days, so if successful, the eggs will hatch and baby birds will be in the nest until around Father's Day when they start to fly.
The best way to see the eagles is to park at the Barr Lake Nature Center, walk over the bridge and head south 1 to 3 miles to the gazebo boardwalk, where you can see the birds and their nest.
Other spots to see the majestic creatures, Seubert notes, include St. Vrain State Park in Longmont and Cherry Creek State Park in Aurora.
Snow geese
There's quite a party going on out east near Lamar. About 40,000 snow geese are making their home now around John Martin Reservoir. And about 25,000 to 30,000 are wintering at the farm scrabble pits between Granada and Holly, south of U.S. 50. It's an old working gravel pit that's not working anymore, but still offers plenty of water for the geese and serves as a nice resting area.
The geese are still accepting visitors, even though the High Plains Snow Goose Festival, which would be happening right about now, is canceled. They've been around since about October and will mostly move on by late February and early March.
If you're an early bird, you can catch the loud creatures take off first thing in the morning as they search out food at nearby agricultural fields. But don't worry if you're anti-rising and shining. The geese come and go during the day, says Kevin Mahan, district wildlife manager for Colorado Parks and Wildlife.
"They don't go too far, usually within a few miles," says Mahan, who helps plan the festival every year. "If it's colder, they're looking for corn fields for more protein. If it's hotter, they're landing in wheat fields or some other type of grain without as much protein."
And you're not imagining things if you notice one goose is larger than another goose — there are indeed two species. The Ross's goose is similar in appearance to a white-phase snow goose, but about 40% smaller with a shorter bill. You also might notice a bit of a color difference.
"There's a color morph, which is what we call blue goose. It's not a separate species," Mahan says. "They're either a snow or Ross's goose, but there's a bluish or grayish color phase to them. When birds are juvenile they look grayish or whitish. That's not to be confused with a blue goose."
Sandhill cranes
The San Luis Valley is about to get hopping. From the end of February through early April, about 20,000 sandhill cranes will pop by on their way from Bosque de Apache National Wildlife Refuge in southern New Mexico. They come for the wetlands and barley fields that provide them with their prime habitat and food resources.
After their short stint in Colorado, half the population heads to Nebraska and the other half flies to northwest Colorado and the greater Yellowstone National Park area, where they nest and raise their chicks over the summer.
The Monte Vista Crane Festival, the state's oldest birding festival, would typically take place in early March, but you can still head to the Monte Vista National Wildlife Refuge for your viewing pleasure. You'll hear the distinctive trilling of the big birds and can watch their creative courtship dance of hops and twirls.