The National Weather Service has issued multiple warnings regarding extremely strong winds set to push through Colorado from Wednesday morning through Wednesday afternoon. Gusts reaching up to 100 miles per hour are expected in populated areas, with winds likely to blow down trees and power lines. Widespread power outages will be possible and blowing dust is expected to reduce visibility to less than a quarter-mile, making travel dangerous.
The area impacted by the high wind warnings spans the entire eastern half of the state, including major population centers like the cities of Denver and Colorado Springs. The Front Range Foothills are also likely to see some serious impacts.
The initial blast of wind is expected to take place from 7 to 10 AM, with a peak wind event expected in the late morning through Wednesday afternoon.
Fire danger is expected to be extremely high.
At high elevations, wind gusts are expected to be even stronger.
According to mountain forecasting service OpenSummit, a member of the OpenSnow family, gusts on southern Colorado's West Spanish Peak may hit 192 miles per hour around 9 AM on Wednesday, with consistent wind speeds expected to be around 97 miles per hour. Granted, this is above 13,000 feet and it's unlikely anyone would be in this area given the conditions, but still, the instance will put nature's power on display.
Editor's Note: This prediction was published on OpenSummit on Tuesday morning and may be subject to change as this storm develops.
Meanwhile, it's also expected that Pikes Peak will see consistent winds of 72 miles per hour, with gusts reaching 138 miles per hour.
To put these wind speeds into perspective, the fastest wind speed ever recorded in the United States – not including tornadoes or hurricanes – took place on the summit of New Hampshire's Mount Washington in 1934, when winds hit 231 miles per hour.
If the expected 192 mile per hour gusts were to take place, this is stronger than the 157 mile per hour threshold for a category 5 hurricane and in the 158 to 206 wind speed range of a F3-level tornado.
Specific warnings vary by county and are subject to rapid change. Find updates to area-specific warnings on the National Weather Service website.
As the strong winds blow through, a winter storm is also expected to hit the state. Some pockets of the southwestern mountain region may see accumulation in the range of 18 to 24 inches. The mountains surrounding Glenwood Springs, Aspen, and Steamboat Springs also also expected to get hit, seeing up to a foot of snow.
See the most realistic snow scenario below: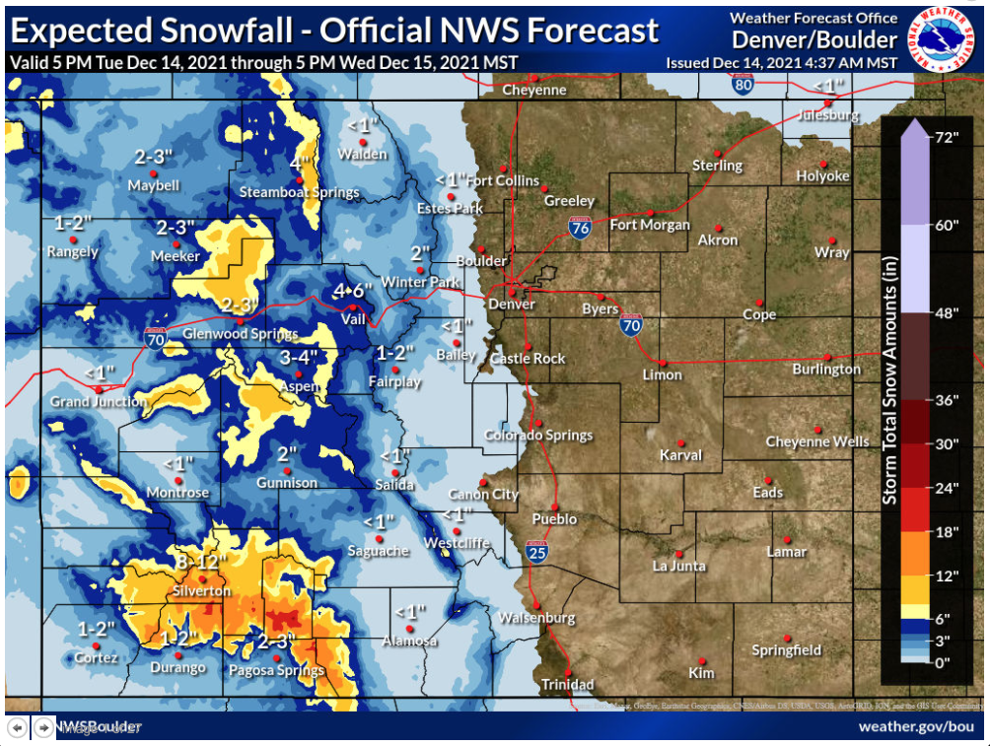 STAY INFORMED: Sign-up for the daily OutThere Colorado newsletter here