According to the US Drought Monitor, drought is at its lowest level in Colorado since October 1, 2019, with just 33.83 percent of the state classified as being in technical drought in this week's report. This comes after heavy rounds of wet snow hit the state around the turn of the new year.
This recent update compares to 42.37 percent of the state being in drought when the report was released last week – nearly a nine percent drop in just seven days.
This shift also resulted in a major drop in the Drought Severity and Coverage Index rating, which is now at a 108. The last time this number was that low was also on October 1, 2019, when it was a 97. Between then and now, that number has gotten as high as 398 in late December of 2020 and into the first week of the following year.
It's also worth noting that 39.97 percent of the state has no drought classification at all, which includes areas in this 'D0' level of drought, termed as being 'abnormally dry'. This number hasn't been that low since September 7 of 2021.
In other words, the drought situation is as good as it's been in Colorado for a long time. That being said, some areas of drought do exist. As seen on the map below, extreme drought is still present in the northeast and southeast corners of the state.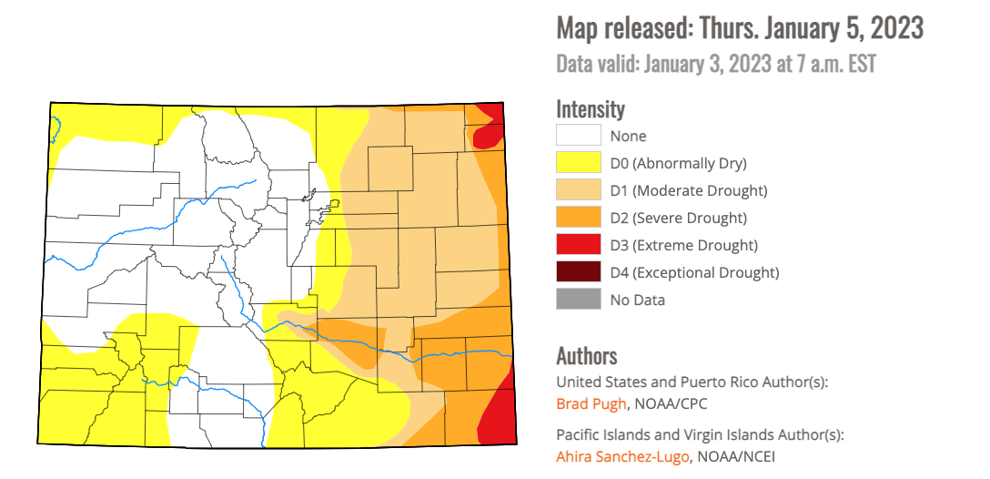 It's also worth noting that Colorado's snowpack saw a huge jump compared to the norm over the past week, now at 124 percent of the 30-year to-date median, as of January 5. Prior to the most recent wave of winter weather, snowpack was roughly at the typical norm through the start of the snow season.
Better yet, it's looking like more big snow might be on the way.
It's likely next week's drought report will look even better.
STAY INFORMED: Sign-up for the daily OutThere Colorado newsletter here