A new name has been written into the Manitou Incline record books.
Andrea Sansone of Golden recently shattered the women's mark for most laps in 24 hours on the grueling, vertical set of ties gaining more than 2,000 feet in less than a mile.
From 3 p.m. one day to 2:36 p.m. the next day, she went up and down the mountain 19 times. That was five more than the next most by a woman. According to the Incline's record keepers, Sansone's mark is second to Brandon Stapanowich's 22 laps in 24 hours, set in 2014.
For Sansone, the sufferfest amounted to about 34 miles and 38,000-plus feet of straight-up elevation gain in one relentless push through daylight and darkness.
"Pretty ridiculous," Sansone admitted. "I totally shocked myself."
Based on a pace she logged at previous Incline visits, she set a goal of 16 laps. She estimated she could do back-to-back ascents in the upper 40-minute range. But from laps three though 15, she maintained a pace on the lower end of that, between 41 and 43 minutes. Most of those laps were notched though the night.
Sansone's partner, Andrew Hamilton, was on hand for support.
Toward the end, "my emotions were very unstable," Sansone said. "When I finished a lap, I would just fall into Andrew's arms crying."
But Hamilton kept insisting she keep going, just as she has done for him on several, record-setting pursuits in the mountains. Hamilton has a reputation as "King of the Fourteeners" — a reputation that he has credited to Sansone for her support on sleepless missions.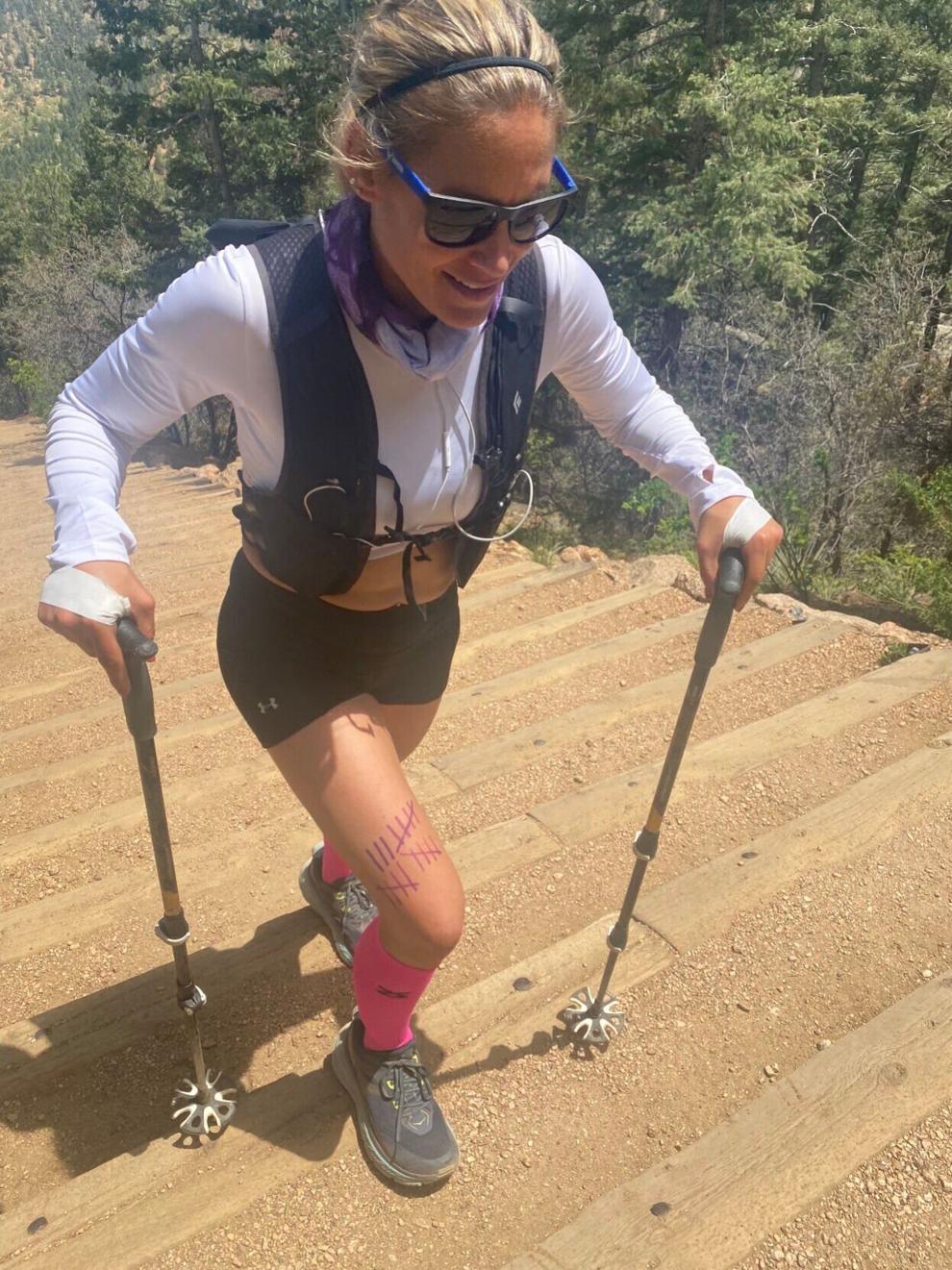 The Incline was a much different record for Sansone. It was one without the logistics required by linking up peaks, for example. Coming off a foot injury, the Incline represented a purely physical test she sought.
It was about "wanting to just prove and show myself what I'm made of basically," she said.
It was about mental fortitude, too. Through the burn and tears, her headlamp illuminated her thigh, on which she scrawled a tally of her laps.
She was only satisfied when she descended to find 24 minutes left on her 24-hour limit, not nearly enough time for another lap.
"I kept saying in my head, I just gotta keep going, just gotta keep going," she said. "I knew I would regret it if I had two hours left and I called it quits."
STAY INFORMED: Sign-up for the daily OutThere Colorado newsletter here