Mike Johnston, a former state lawmaker, won Denver's mayoral runoff election following a decisive performance on Tuesday night.
He will succeed term-limited Mayor Michael Hancock.  
Kelly Brough, a former head of the metro area's chamber of commerce, called Johnston shortly after 10 p.m. to concede the race. Brough had watched Johnston's lead increase at each tally, foreclosing any avenue of catching up.
"I just received a call from Kelly, who very graciously wished us the best on the road ahead," Johnston told a crowd of supporters. "I thank her for her incredible service to the city, for her creativity, for her generosity."
He said Brough "brought great ideas to the stage" that he wants to make sure are part of his vision for the city, including encouraging access to apprenticeship for young people and reforming the permitting process to make it easier to build in Denver.
Looking to the road ahead, Johnston outlined a vision — a dream for Denver — in which its residents are safe, secure, and prosperous.
"In Denver, we have the drive to dream something different, which is to believe we can build a city that is big enough to keep all of us safe, to house all of us, to support all of us," Johnston said after he took the stage to thunderous applause. "That is our dream of Denver."
Turnout is expected to be high in the all-mail, nonpartisan election, with ballots received from roughly a quarter of Denver's roughly 447,000 active, registered voters by Tuesday morning, with total turnout estimated at 27% by the time polls closed.
Johnston expanded his lead to nearly 11,000 as officials tallied more votes, maintaining a 54% to 46% edge. Johnston secured 71,335 votes, compared to Brough's 60,634, in the latest count. The initial round of unofficial returns posted just after 7 p.m. had showed Johnston ahead of Brough, 53% to 47%. Succeeding tallies expanded his lead as the night wore on. 

About 173,000 voters cast a ballot in the April 4 general election. So far, about 132,000 have been counted in Tuesday's runoff election.
Johnston gave shout-outs to others who ran in the initial round, including state Rep. Leslie Herod, Terrence Roberts, Jim Walsh, Ean Tafoya and Lisa Calderon.
Noting that he had also just gotten a call from Hancock, Johnston said that, if things go well, the outgoing incumbent "will be the first mayor in Denver history to have presided over a Super Bowl, two Stanley Cups and an NBA championship," drawing roars from the crowd.
Outlining what he termed his "dream agenda," Johnston said his vision for Denver encompasses a Latino teacher who longs to own a home and start a family in the neighborhood where she was raised; a Black man married to a White man who move to Denver from a city where they don't feel welcome and can build a life here; and, an Iraq war veteran who returns to Denver after being injured and getting addicted to opioids and will have a roof over his head and access to services. 
"Well, folks, tonight Denver decided that we believe in a city that can do all of those things," Johnston said.
"Denver has always been a city that dreamed that we can find a way when nobody else believed that we could," he said. "And that believed it was our opportunity not to be the victims of our own story, but to be the authors of our own story. So, tonight, we started a chapter about a city that is going to be big enough to care for all of us, to support all of us, to house all of us. That is our dream of Denver."
Meanwhile, flanked by the campaign's team members and volunteers, several wiping tears, and with the crowd chanting "Kelly!" Brough confirmed the race is over.
The room was filled with power and love "that money can't buy," she said, a nod to the large contributions that fueled outside spending on the race. The city is challenged, and needs a lot of work, she said.
But she thinks her campaign already spurred some of the change she hoped to pursue as mayor.
"We set out to restore the promise of Denver," she said.
Earlier in the night, a cheer went up at Johnston's watch party in the main hall at Union Station when initial results posted, though few of the several hundred supporters seemed surprised and quickly returned to visiting with one another.
Although many of the shops and some of the restaurants have shuttered for the evening, throngs of Johnston supporters clad in the candidate's distinctive yellow and blue T-shirts are prowling the venue, some enjoying at drink at the Terminal Bar and others snacking on a treat from the Wafels & Dinges stand — Belgian for "waffles" and "toppings" — located on the periphery of the watch party.
Herod, who finished in fifth place in the initial round of voting in April and endorsed Johnston last month, smiled when the clerk's site showed Johnston's lead had increased slightly with results posted at 8:30 p.m.
"It's still early in the night, but I'm excited to see that Denver understands that Mike should be the next mayor," she said. "The choice was really clear, and while I would love to say that it should be a woman of color, we've got Mike here, and Mike really does care about the community, and that's what I love." 
Gesturing to Johnston's son, Seamus, who was sharing an elevator with Herod and other supporters, Herod said, "As I said earlier, it wasn't Mike who convinced me, it was his kids. They talked about their passion for fighting for people who are underrepresented, people of color, particularly Black folks."
As Seamus nodded, Herod added: "It was something that I saw, that if Mike believes this, it's not just happening in the public sector, it's happening in his home, and that means a lot to me."
Seamus, who identified himself with a grin as "his favorite one," said he had made it known that, if it wasn't his father, he wanted Herod to be mayor.
"I know that my dad loves Leslie Herod too," he said with a nod.
At Brough's watch party, the candidate earlier told reporters, "I'm seriously not a politician. I'm not running to be an elected official. I'm running to change our city."
Brough also said she is not running for another office, adding that people want a mayor who they can relate to and her life experiences resonate with a lot of people.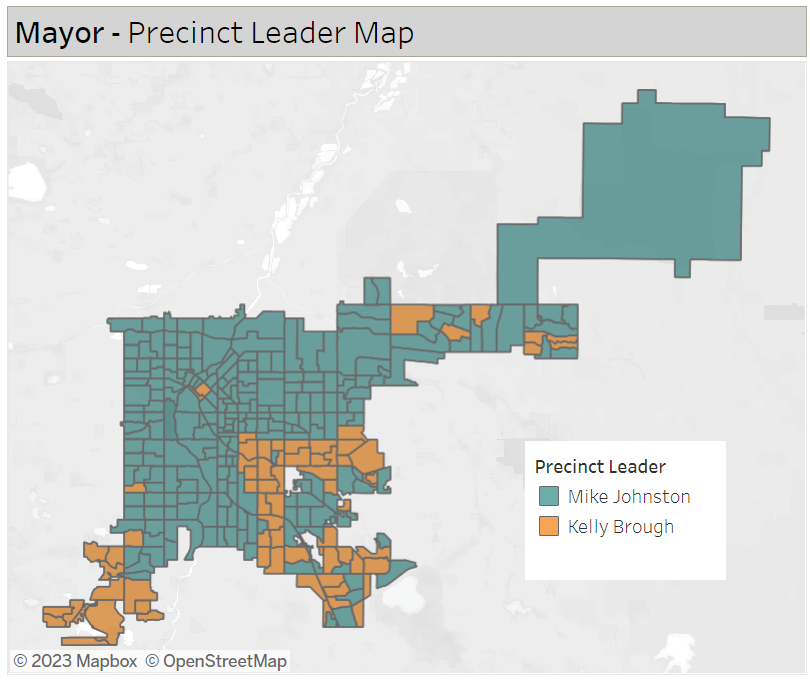 Before polls closed, Brough had vowed to do more to keep people from ever experiencing homelessness. "You'll see a shift in my administration to prevention," she said.
During the campaign, Brough said she was surprised by the number of people who asked her to take pictures with their daughters. In reflecting on what it means to have had a chance at becoming Denver's first female mayor, Brough noted she's been the first woman to step into other positions she held throughout her career.
"I am very aware of expectations and the pressure on you to do everything perfectly. I would just say this to anybody who's been first — I'd ask you to give me a little grace if I make it there, and my hope is together we can prove women are perfectly capable of doing these kinds of jobs," she said. 
With the first results coming in, Brough supporter Cathryn Crookston wondered over to a projector screen displaying early returns. She had moved to Denver from Chicago a year and a half ago and was drawn to Brough's approach to curbing homelessness, which she said feels worse in Denver than in her previous city.
She liked that Brough pushed for getting people into services, saying job training, mental health resources and substance use treatment are key. Any kind of encampment is bad for public health, she said.
Crookston also likes Brough's career experience, viewing her as a candidate who knows how systems work and how government can help address Denver's key issues.
"I think she just had the best, very honest approach," she said.
The two candidates emerged from a crowded first round of voting on April 4, when none of the 16 candidates on the ballot received more than 50% of the vote, forcing a runoff.
It's the first Denver election in a dozen years without an incumbent mayor on the ballot. Hancock, a former city council member, was elected to the first of his three terms in 2011.
Voters are also electing four of Denver's 13 city council members in Tuesday's runoff — in District 8, where Brad Revare faces Shontel Lewis for the open seat; in District 9, where incumbent Candi CdeBaca faces challenger Darrell Watson; and in District 10, where incumbent Chris Hinds faces challenger Shannon Hoffman. District 7 candidate Flor Alvidrez is unopposed in the runoff after her opponent, Nick Campion, dropped out.
The Denver Elections Division said it plans to post additional vote totals at 8:30 p.m., 10 p.m. and around 11:30 p.m., with counting likely extending into Wednesday.
The winner of Tuesday's election will be sworn in as Denver's 46th mayor on July 17, leaving just under six weeks to form an administration.
Denver's next mayor faces a thorny set of problems, including homelessness, housing affordability and a crime rate not seen since the 1990s.
"I'm very optimistic about Denver," Johnston had told Colorado Politics in an interview. "Denver has some hard times right now. I think we'd be blind to say that's not the case. It is the case. But for me, what I'm so optimistic about is these are solvable problems, and particularly with broad coalitions of people that care about them and are willing to work together — which is what I hear all the time, people saying, 'Hey, we want to help, we'll do our part, what can we do to help on homelessness? What can we do to help on affordability? What can we do to help with school safety?'"
Following the Denver municipal election, how are you feeling about the city's future over the next four years?
He added: "Denverites want to be called into service and called into action. We need a leader who's going to build a vision for that and who's going to call people into the role they can play to get it done. And that makes me very optimistic."
Johnston supporter Doug Linkhart, a former Denver councilman and 2011 mayoral candidate, told Colorado Politics he is confident Johnston would prevail and compared the night to Federico Peña's 1983 election as mayor.
"I'm just so happy that Denver voters chose vision over continuation," Linkhart said. "It's not continuing the same things that we've tried over and over but rather more of a vision toward the future. And I think Mike has what Federico Peña had 40 years ago, and that's vision. I think Mike's vision is similar — it's looking to the future of the city and what we can be, not just managing things the way they have been."
Added Linkhart: "I think Kelly would be a great manager, but Mike's a better leader. He'll focus on investing in people, which is totally different from what the last three mayors have done. They've invested across the board, their priorities have been everything but mostly business development. I think Mike is looking at bottom-up economic development and investing in people, from the homeless on up."
Acknowledging that Johnston's homeless program is quite ambitious — the candidate vowed to end homelessness in his first term —  Linkhart noted that the candidate drew criticism for aiming too high.
"I guess we'll see. But I think people are willing to take the gamble, because they want to see. You're not going to succeed unless you take a chance," said Linkhart, who is president of the National Civic League but stressed that he is cheering Johnston on as a private citizen, not in his official capacity as a nonprofit head. 
Back in Brough's camp, as the room waited for 10 p.m. updates, KieAnn Brownell held out hope the candidate could catch up to Johnston. Brownell, former president of the Denver Sports Commission, met Brough in 2008 when she worked as Hickenlooper's chief of staff.
"I think she just has the chops, quite frankly. She's done it," Brownell said, calling Brough one of the hardest workers she knows.
She believes Brough is the candidate who can "clean up the city" and restore its image on the global stage. A decade ago, Brownell remembers travelling to promote Denver to groups such as Olympics commissions, but thinks the downtown, in particular, has lost its ability to attract those opportunities.
Brownell has been off-put by Johnston's campaign and supporters, saying she received frequent mailers attacking Brough's qualifications. And while Brownell expects Johnston to seek higher office, Brough is only focused on being mayor, she said.
"This isn't a stepping stone for her," she said.
Speaking with reporters after his speech, Johnston said he saw signs of Tuesday's victory in his performance in the first round of voting in April, when he won more than 100 precincts and showed strength in what he called "the inverted L," representing Denver neighborhoods from the West Side to Northeast Denver.
"Those people came out to vote, dramatically," he said. "And so I think it was bringing together a coalition of people who really wanted change — they want to change around affordability, they want to change on public safety, they want to change on homelessness, and they wanted a solution that felt like Denver, that felt like it both represented our values and can deliver results. I think that was the tent we were trying to build from beginning (the campaign)."
The two candidates each spent just over $2 million in the race, including matching funds from the city's Fair Election Fund, but an independent expenditure group backing Johnston spent more than three times as much as groups backing Brough, with nearly $5 million in his corner to just over $1.4 million in hers.
While Johnston and Brough differed in the margins on their proposed approaches to tackling the issues, they mostly avoided sharp disagreements and instead focused their campaigns around each other's backgrounds and supporters.
Both won endorsements from prominent Democrats, unions, former rivals from the first round of voting, and a former Denver mayor, but Brough also drew support from leading conservatives and Republicans, while Johnston counted well-known, out-of-state billionaires among his backers.
Johnston's endorsers included former Denver Mayor Federico Peña, former Colorado first lady Dottie Lamm, and progressive politicians state Sen. Julie Gonzales, Lisa Calderón and state Rep. Leslie Herod, who finished in third place and fifth place, respectively, in the first round.
Brough received backing from former Denver Mayor Wellington Webb and his wife, former state Rep. Wilma Webb, as well as from former Gov. Bill Ritter and state Sen. Chris Hansen, who came in sixth in the April election for mayor.
The two most recent state Democratic Party chairs split their endorsements, with Morgan Carroll backing Johnston and Rick Palacio backing Brough.
But it was the outliers that landed in attacks from both sides.
Brough and her supporters blasted Johnston for the vast sums poured into Advancing Denver, his independent expenditure committee, by billionaires Michael Bloomberg, the former New York mayor, who ponied up a reported $500,000, and Reid Hoffman, a founder of LinkedIn, who contributed roughly $1.7 million to Johnston's group.
"Maybe these guys think Denver is for sale," scolded Brough's closing TV spot, released last week.
Advancing Denver highlighted Brough's support from Pete Coors, an heir to the Coors brewing fortune and former GOP U.S. Senate nominee, who gave $50,000 to her independent expenditure committee, A Better Denver, and the Denver Republican Party, which endorsed Brough last month. Her group also got more than $471,000 from the National Association of Realtors Fund, $61,000 from the Colorado Construction Industry Coalition and $50,000 from Denver-based developer Cal Fulenwider.
"The SuperPAC supporting her has received more than 70% of its money from developers and the real estate industry," an Advancing Denver ad said. "She even has the support of wealthy Trump donor Pete Coors."
Brough's supporters went on the attack early in the runoff with a TV ad that called Johnston a "liar," accusing him of overstating the extent of his roles in passing gun control bills at the legislature and helping set up the state's COVID testing program. Johnston's campaign fired back that he played crucial parts on both fronts.
As Election Day approached, Advancing Denver tore into Brough for positions she took when she headed the chamber of commerce, including in an ad that charged her "history of helping corporate polluters is exhausting," next to a photo of a belching car exhaust pipe. Brough maintained she was simply doing her job representing the business group's interests.
Scant publicly available polling in the runoff showed Johnston with a slim lead in April, though more than one-third of likely voters said they were undecided.
The 48-year-old Johnston grew up in Vail and is a former school principal, two-term state senator from northeast Denver and recently headed Denver-based Gary Community Ventures, a major local philanthropic nonprofit. He has an undergraduate and a law degree from Yale and a master's degree in education from Harvard.
This is Johnston's third run for office in the last five years. He finished in third in the 2018 Democratic gubernatorial primary and withdrew from the 2020 U.S. Senate race after John Hickenlooper, a former Denver mayor and Colorado governor, jumped in that primary.
Johnston's wife, Courtney, heads up the Juvenile Unit in the Denver District Attorney's Office. They have three young children.