In roughly a month and a half since the April 4 general election, Kelly Brough marginally outraised Mike Johnston, raking in $225,586 in direct contributions compared to the former legislator's $222,225. 
The devil, of course, is in the details.
A closer inspection reveals Johnston has far more support from an unlikely source — those who identified themselves as "unemployed" or some variation of the category. 
Of the roughly $222,000 Johnston collected between April 5 and May 17, close to a quarter came from people who said they are unemployed, including 50 who forked out $500, the maximum amount one can donate to a candidate participating in Denver's matching funds program.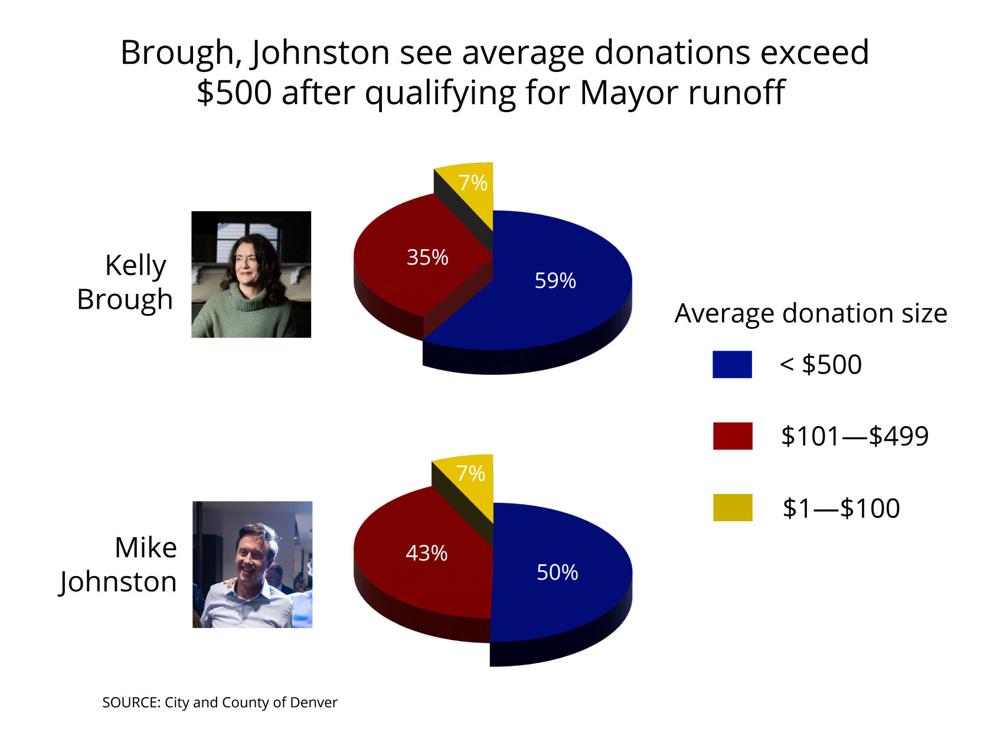 Nearly 400 "unemployed" people contributed a total of $48,687 to his campaign, according to an analysis of publicly available data. They included 46 individuals who gave $500 each. A majority of the unemployed contributors, 298, gave $100 or less, bringing in a total of $13,500.
In contrast, unemployed individuals contributed only $4,793 to Brough, including five who gave $500 each.  
Strategists and pundits often view money as a reliable metric that affirms a candidate's viability in the political marketplace, and while the top fundraiser doesn't always win, candidates who get the most often do.  
Indeed, both Brough, a former business chamber executive who served as then-Mayor John Hickenlooper's chief of staff, and Johnston, a former educator who served in the General Assembly, raised the most money during the first stage of the mayoral race, when 17 candidates ran.
They also received the most in outside support — nearly $4.6 million since their campaigns began, although Johnston has benefited from three times as much in independent expenditures. 
For this analysis, The Denver Gazette included only funding from direct contributions, not counting money spent by outside groups or dollars from the city's system of matching candidates' fundraising.  
All told, Brough counted support from more Denverites, accounting for roughly 68% of total direct contributions. Johnston received 60% of contributions from Denverites.
Brough also had more support from within Colorado at 89% of contributions, with her out-of-state funding supporting totaling only $18,454.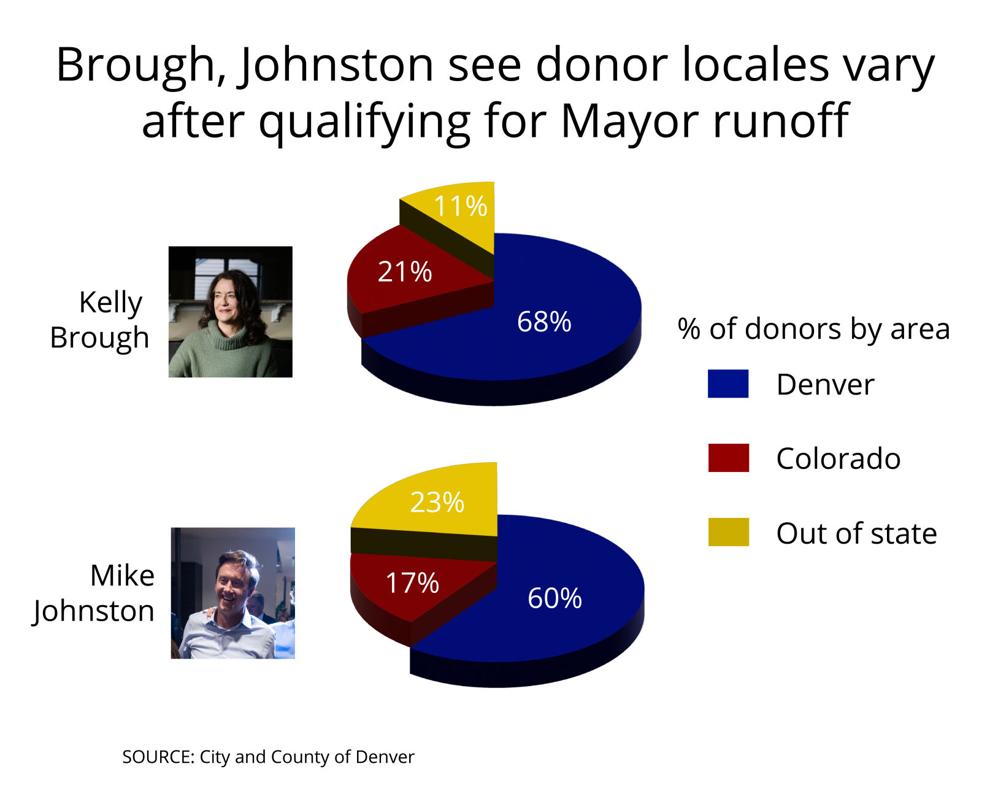 Meanwhile, 77% of Johnston's contributors come from within Colorado, with close to a quarter of his total fundraising coming from out of state, totaling $68,026. 
Brough enjoys the support of eight lobbyists and two legislators, while none of Johnston's contributors identified themselves as either. 
Rep. Alex Valdez, who was a mayoral candidate but dropped out early, donated $100, while Rep. Shannon Bird, who represents Adams and Jefferson counties, donated $103.70 to Brough. 
Lobbyists Jenifer Brandeberry, Julie McKenna, Dana Malick, Kayla Tibbals and Joshua Hanfling all maxed out, contributing $500 each. Lisha Burnett, a lobbyist and spokesperson for Suncor, gave $258.95 to Brough's campaign. Landon Gates, meanwhile, forked out $250, while Gayle Berry sent in $103.70. 
Brough enjoys far more support from executives, executive directors and executive vice presidents, with 60 who identified themselves as such giving to her campaign. Johnston received funding from eight executives and three executive directors. 
However, Johnston received far more support from CEOs — 29 against Brough's 14.
Both enjoy somewhat equal support from attorneys and lawyers, with Brough having 107 against Johnston's 103. 
Johnston, the former educator, also outpaces Brough when it comes to support from educators or those involved in education, a category that includes college professors and teachers. In total, 45 gave to his campaign, including 29 from out of state educators.
Brough received financial help from 17 educators. 
All told, Brough received more $500 donations than Johnston.
Denver's mayoral runoff election is June 6. Ballots began mailing to residents on Monday. For information on where and how to vote, visit denvergov.org and navigate to the elections division hub.