The Denver mayoral candidates' latest fundraising reports offered a glimpse into the viability of the two dozen or so candidates hoping to succeed Mayor Michael Hancock, but the race remains incredibly difficult to handicap, including who might be leading the pack, longtime political observers say. 
That said, a few candidates appear to meet what typically are considered to be the attributes of a serious campaign, and political observers identified five aspirants they believe to be the front-runners.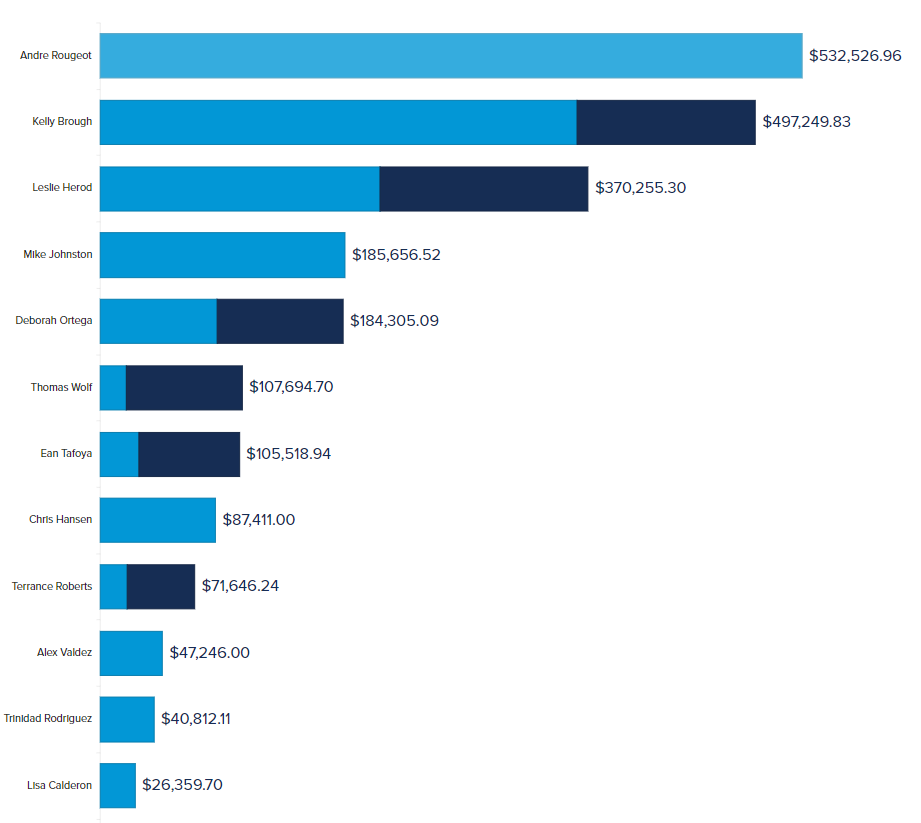 They are at-large councilmember Debbie Ortega, state Rep. Leslie Herod, former business chamber executive Kelly Brough and former state legislator Mike Johnston.
They also added newcomer Andy Rougeot, an Army veteran and small business owner, by virtue of his war chest — he raised $533,000 so far, of which $500,000 came from his own pocket — to the shortlist.    
The "front-runner" designation comes with a lot of caveats. It connotes viability — sometimes measured by endorsements and finances — and some degree of name identification.
And it's fairly early still in the campaign, particularly given how crowded the field is with more than two dozen aspirants. So far, 20 candidates are poised to make it to the ballot, having turned in sufficient signatures to qualify the Spring election.     
"City races are notoriously hard to handicap, and, as result, today's leaders are just as likely to be also-rans by April," said Steve Welchert, a former legislative liaison for Gov. Richard D. Lamm and advisor to Denver Mayor Federico Peña. 
Municipal races also exhibit their own nuances, and their timing, which does not coincide with legislative, statewide or congressional elections, often means a different set of forces are at play. Indeed, unions and business interests sometimes hold a bigger influence in municipal elections than in statewide ones.
Michael Dino, who served as campaign manager for former mayor Wellington E. Webb, picked Brough, Herod, Johnston and Ortega as leading the pack.
Ortega, he said, is a 30-year tenured Denver elected official who has strong name recognition and who will benefit from the Fair Elections Fund, Denver's program that offers public financing for candidates.   
Herod, meanwhile, is a "savvy" state legislator, who, among other things, championed a ballot measure on mental health that voters approved in 2018, he said.
Brough, he said, is a "highly capable executive" with policy expertise who has a strong fundraising base. That base, Dino said, is complemented by public financing.
Finally, Johnston, he said, is a respected politician "coming off the momentum of passing the statewide affordable housing Proposition 123."
Eric Sondermann, a columnist for Colorado Politics and The Denver Gazette, said the label front-runner carries some baggage that candidates might not want attributed them.   
"Given the history of Denver mayoral races over many decades for an open seat with no incumbent, the 'front-runner' label is one that candidates seek to avoid," Sondremann said. "In some cases, they actively push back against it."
That said, not all candidates are created equal or start from the same point, he said.
"Here in late January, it strikes me that the 'front-runner' designation would have to be shared by Kelly Brough by virtue of her deep establishment ties and fundraising prowess; Debbie Ortega due to having been elected to citywide office a number of times and now receiving labor support; and, Mike Johnston based on name recognition from past candidacies as well as money on hand."
He added: "As to how much that designation is worth in such races, ask Chris Romer or Ari Zavaras or the late Norm Early. All were perceived to have the inside track. All came up well short."
Romer is a former state legislator who ran for mayor in 2011 and lost to Hancock; Zavaras, a former Denver police chief, ran in 2003 and lost to John Hickenlooper, now Colorado's U.S. senator; and, Early, who died recently, vied for the seat in 1991 and lost to Wellington Webb.     
Welchert said fundraising is the first primary factor, and, by that standard, Rougeot, Brough, Herod and Ortega have put themselves in a position to compete. 
"Ortega has the best potential voter base followed by Herod," Welchert said. "That means they can do with one dollar what others will need 5-10 dollars to do."
Welchert said it also remains to be seen how robustly independent expenditure groups will play in the mayoral race and who they will back.
"I expect Brough and Johnston to have significant third-party help," Welchert said. "I don't know Rougeot, and I don't anybody who does, but as the only Republican combined with his ability to self-fund, he commands attention." 
The new mayor faces gargantuan challenges magnified by Denver's unique characteristics, notably a homelessness crisis that is spiraling out of control, a housing affordability challenge that is pricing low-income and often longtime residents out and a sense of resignation that soaring crime is here to stay — all happening amidst a population explosion that caught Colorado flatfooted.
The new mayor will also need to resolve lingering problems, including the city's ability to pick up trash on time, as well relatively new ones, notably Denver's snow plow issues. 
Denver's general election is scheduled for April 4 — following a voter-approved move from its traditional date in early May — with a runoff scheduled for June 6 if no candidate gets more than 50% of the vote. In addition to mayor, Denver voters will elect an auditor, clerk and recorder and city council members to four-year terms.